Results are in from the first major day of play at the World Ultimate Club Championships.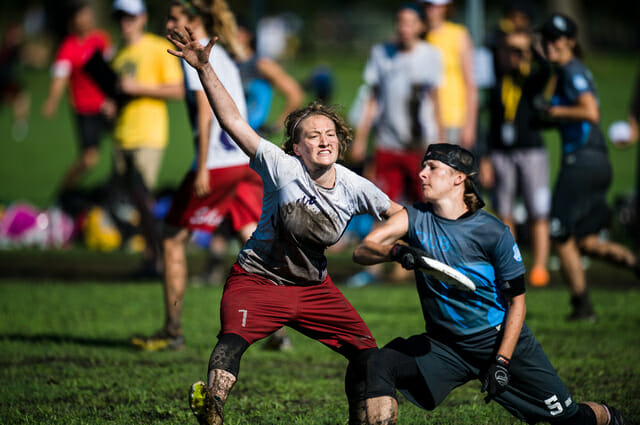 LECCO — After a lethargic 24 hours, play resumed today in Lecco, Italy, for the first major round of games at the World Ultimate Club Championships. Heavy rain on Sunday left the field complex soaking wet and made for a sloppy, muddy day of ultimate. Though some fields have held up fairly well, others are basically wrecked and everyone is hoping for no further rain.
Despite all the mud, there was a lot of ultimate played today. It is a vast field complex that takes 10 minutes to walk end-to-end. Here's what happened today.
OPEN DIVISION
No significant surprises today as every one seed went undefeated with many looking dominant in their performances. Revolver (USA), Johnny Bravo (USA), and Buzz Bullets (JPN) looked particularly impressive in their victories today; each allowed their opponent to score only six points. But it wasn't just the margin of victory over the #2 seeds in their pools: the teams were simply crisp and in top form.
Colony (AUS), Clapham (UK), Ironside (USA), and Freespeed (SWI) also easily handled their matches today.
Other one seeds had a tougher road.
Sockeye (USA) had their hands full in the first half against Ragnarok (DEN). The Copenhagen side has picked up some serious ringers for the weekend: Jerrod Wolfe, Jeff Loskorn, Mike "Tank" Natenberg, and Kiran Thomas [all of Doublewide fame] as well as Elliot Trotter (Voodoo, Skyd Magazine).
The teams traded to 4-4, with both offenses making some beautiful hucks, before Sockeye started to pull away. Ragnarok made some poor turnovers — a drop made it 6-4 as Sockeye's Donnie Clark bombed a shot to the endzone. Then a poor reset look created another short field turn. Half gladly came early on a time cap (40′) at 7-5 with Ragnarok set to receive.
But a drop near the goal line on a swing pass gave Sockeye another bunny and they never looked back, taking the game 13-7. But Ragnarok is talented, and many on the roster felt they should have played closer with Sockeye. The team is eager to learn from its American stars, but they are often failing to execute the fundamentals: looking to the dump early, taking high percentage looks, etc. There is still plenty of time for the team to grow, but they will have to play sharper later this week to make it into the bracket.
Bad Skid (GER) had a tense match with CUSB (ITA) out of Bologna in the final round of the day in the 1/2 match in Pool K.
It was a call-heavy game with a lot of disagreements and frustration (and 'send-it-backs'). Bad Skid has been historically strong against CUSB, but looked tight and very average in this game. Many of the team's deep shots — normally a scoring staple — were hanging and finding the hands of defenders.
At 9-9, Bad Skid's Tilman Grimmig took exactly one of those deep looks and it was easily blocked. After a timeout, CUSB took a quick shot to Davide Morri who made a great catch for the go-ahead goal.
Phillipp Haas had an excellent point for Bad Skid on offense, including an assist, to tie it at 10, and the Germans followed that up with a break to retake the lead at 11-10.
CUSB worked smoothly through the zone to force double game point.
After another Bad Skid deep turnover, CUSB hucked to a receiver with steps, but the throw hung in the air just in front of the endzone. Haas ran into the play and immediately bodied up with the CUSB receiver, using his forearm to jostle for position. He appeared to push off, extending the arm, and the CUSB player called 'Foul!' as Haas leapt for the disc.
There was a long discussion; the receiver was insistent that he had been fouled. Haas seemed to waffle a bit, but said that he was just legally fighting for position. The disc went back. CUSB promptly turned it over on a blading 15 yard forehand into a dead space. Bad Skid worked patiently for the game winner to move to 2-0 on the day.
While opinions on the play differed on the sideline, I had a good view just a few yards from the play. Had I been an observer asked to make a ruling, I would not have hesitated to uphold the foul call — Haas' arm extended, effectively stopping the CUSB player from jumping for the disc. Unfortunate finish to one of the day's few close games.
Regardless of the outcome, Bad Skid will need to play much better if they want to make a deep run into the tournament.
Furious George (CAN) had a very tight game with Viksjofors (SWE), and needed a break late to win 14-12; Chevron Action Flash (UK) only beat Euforia (COL) by two; and Flying Angels Bern (SWI) had two tight games against Magon (NZL) and Tchac (FRA). Didn't get a chance to see these games, though.
Notes:
– Iznogood (FRA) and Crackerjacks (SNG) played a great game in the first round this morning. So fun to watch the contrasting styles (Iznogood a more 'textbook' style, Vert stack, huck to tall receivers; Crackerjacks more 'Buzz Bullets' style — lots of inside backhand breaks, quick motion). Iznogood pulled away late, but Crackerjacks held their own. Final: 14-10
– Heidees (GER) looked good today, winning two solid games in a deep and balanced pool. They took down Euforia and Wildcats (NZL), setting up an exciting match tomorrow against Chevron Action Flash for the pool. Heidees is very disciplined, and looked surely a step above Bad Skid today (and in fact beat them recently at Windmill Windup).
– GOAT, out of Toronto, is not at Worlds; they played at the USAU's Chesapeake Invite last year instead of Canadian Nationals, where they surely would have earned a bid. But an amazing number of their players are at the tournament on various teams. Lots of GOAT shorts around.
WOMEN'S DIVISION
Like the Open Division, the Women's bracket is fairly chalk. But, tonight at the showcase field, a #1 seed did fall.
Pool B's #2 seed Revolution (COL) toppled #1 seed MUD (JPN) 14-12 in a great game that weaved back and forth. Both teams are packed with athletes, and surely both teams have visions of reaching the semifinals (which is still quite possible). Revolution was surprisingly underseeded as a #2 — they are quite good and play host to some of the world's very best women's ultimate players.
A layout-packed game treated fans and Revolution went home happy. Be sure to catch Akina Younge's diary about the game in the Day 3 diaries post (out later tonight).
Otherwise, there were few surprises. Fury (USA) obliterated the #2 seed in their pool Brilliance (RUS) 15-2; Iceni (UK) looked very strong as well with two big wins over Atletico (FIN) and ZUF (SWI).
Riot (USA) never faced a scare in their 14-9 win over Cosmic Girls (RUS), but they didn't look as sharp as we've seen them stateside when they dominated the field at the US Open. There were lots of overthrows and general sloppiness, but some of that could surely have been due to the rough field conditions.
HUCK (JPN) made fairly quick work of Showdown (USA), which was not an on-paper upset but felt like a game that should have been closer. Showdown was very flat right out of the gate and never had an answer for the relentless cutting from HUCK, who play a beautiful style of ultimate: lots of nice up the line movement and great, streaking cuts for big hucks.
UNO (JPN) also came out undefeated, though they had a very tight game against QUB (CAN). Traffic (CAN) finished 2-0, but also needed to eke out a one point win. Theirs came against U of Cologne (GER).
MIXED DIVISION
As usual, seeding proves a bit more challenging in Mixed and upsets are more frequent.
Cambridge Ultimate (UK) had one of the biggest of the day with a win over Wild Card (USA), right after losing to Panthers Bern (SWI). Pool G is now a total, if you will, wild card — every team is 1-1. Wild Card's big win over China United Ultimate Party could give them a point differential edge if they can win tomorrow against Panthers.
Disc-O-Fever (GER) took down Roadkill (AUS) 15-14 in another big upset.
Other notable upsets: Hanabi (JPN) took down Stache (CAN) 12-11 and Black Sheep (NZL) wallopped Hippo (AUS) 15-10.
At the top of the bracket, though, things went to seed. Drag'N Thrust (USA), Union (CAN), Polar Bears (USA), and The Ghosts (USA) all won easily.
LOOKING AHEAD
Tomorrow's schedule is going to wrap up pool play (following the planned schedule from Sunday). There is still no information about how power pools will be changed/reduced to handle losing an entire day of ultimate.
There is some speculation that power pools could be made smaller, essentially giving 2 seeds the chance to crossover against another pools 1 seed but reducing the number of games. That is a pure hypothetical, though — there have been no indications from the tournament organizers about what will happen on Wednesday.
Lots of big games to watch tomorrow as teams battle for those vital power pool spots.