Recap of the prequarters and quarterfinals at 2014 WUCC.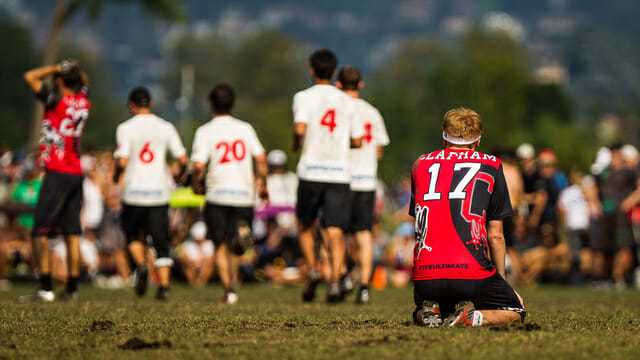 LECCO — What a day! The ultimate continues to intensify and surprise, and we are now set for what we've all been waiting for: the world's best teams battling it out for medals and glory.
Let's see how we got here.
OPEN DIVISION
Things kicked off at 11 AM with the prequarters round, and almost all eyes were locked on the showcase game: Ironside (USA) v. Buzz Bullets (JPN). After an early break, Ironside controlled the tempo in the first half and went into halftime up two. They would extend their lead to three and hold that for much of the second half. But the wheels came off.
Ironside's defense didn't do a good job of containing Buzz Bullets' big crossfield hucks, and that kept Ironside's offense on the field. Some lucky moments foreshadowed worse things to come, like Josh Markette's stall nine scoober for a score. The offense wasn't flowing.
After giving up a break and watching their lead fall to one, Ironside's D line came through in a big way and opened the lead back up to three. But Buzz Bullets would break again as the errors mounted for the offense. Still, Ironside had the disc at 16-16. It was their game to lose.
The offense worked slowly up the field and got the disc into the hands of Jake Taylor, just a few yards from the endzone. He stepped around the mark to try to float a small backhand into the endzone for the win, but he botched the throw and it hit the turf. Advantage Buzz Bullets.
They marched slowly down the field…very slowly. An extended stoppage on a hotly contested foul/contest after a layout D attempt by Brandon Malecek held up the game for over two minutes, and travel calls and other assorted calls slowed the game to a crawl. But Buzz Bullets stayed calm, working the disc back and forth, until a defensive breakdown opened up an easy backhand from Yasuo Takahashi to Jun Kusano for the game-winning score.
"The beginning of the game was patient," said Buzz Bullets captain Katsunori Tanaka through a translator. "But in the second half we smashed the defense in transition."
Indeed, Ironside's offensive line struggled to generate blocks after turning the disc over and ultimately the O line's mistakes cost the team the game.
"Buzz is a great team," said Ironside coach Josh McCarthy. "And it wasn't meant to be."
"We're not going to be playing for a medal, but we have a chance to keep getting better," he added.
McCarthy was visibly (and audibly) frustrated with some of the calls and contests in the game, but was clear that calls did not decide the game, nor did the late turnover from Taylor.
"We can't highlight our one turnover here as the reason we lost," said Will Neff. "There's probably 15 plays, including a number of turnovers, times we didn't fill into the right spots, times we didn't swing the disc, that caused us to lose."
Buzz Bullets advanced to the quarterfinal round where they took on Johnny Bravo (USA). There, their luck ran out. Buzz was not sharp with the disc, wilting in the face of strong dump defense from Bravo and missing their targets. They stayed close early (even got the game's first break), but fell into a hole at halftime and eventually conceded a lopsided defeat, 17-12.
***
Most of the other round of 16 games simply weren't interesting. The only other close game came between Phoenix (CAN) and Heidees (GER). Phoenix didn't capitalize on some early opportunities, and Heidees took advantage, carving out a small lead in the middle of the game.
Phoenix started applying pressure late, and got back within one after some sustained excellent defense, but could not find that key block late as Heidees took it 14-11.
Unfortunately, the game was marred by some horrific calls by Heidees and an increasingly angry tone on the field. A late bid from Kielan Way didn't help things, and the game ended with a sour taste in everyone's mouth. (Just another game that shows how much WFDF needs observers).
Otherwise, one seeds dominated the first round of bracket play, cruising to easy wins. Clapham (UK) got a win over the current #2 UK team emo — who has had a great tournament — after a close start.
"I think they were a little bit fitter than we were," said emo deputy captain James Bauld. "We got tired, started making mistakes."
Despite the loss, emo was a surprise top 16 finisher and did well just to make it to the game against their UK rival. They have been rising for some time and are now eager for what's still to come this year.
"It's exciting with the rest of the season on the line," said Bauld. "We're excited to see what we can do at the European tournament, what we can do at Nationals. What we've acheived so far is going to put a big target on us, but we're going to rise to that."
***
The quarterfinals were another story. The game of the day, and maybe of the tournament so far, came between Revolver (USA) and Clapham (UK). A tight first half saw Revolver take a one break lead into halftime up 9-8. The San Francisco team would hold on offense to begin the second half, opening up a two point lead. Clapham has been in moments like this before against top US teams, and often seen their game unravel. Not this time.
Clapham would take advantage of some miscues by some of the less experienced players on the Revolver offensive line to tie the game up midway through the second half. Though Revolver would break again, Clapham would get it back to even and then take a 15-14 lead. After a Revolver hold, Beau Kittredge came up with a huge layout block for Revolver, who scored to regain the advantage. Clapham's Justin Foord made a beautiful catch just outside the endzone and put it in to force double game point.
Kittredge again proved why he's the best in the world. After catching an in cut, he squared up and bombed a 60 yard huck to a streaking Cassidy Rasmussen, who caught it for the game-winning score. It was a remarkable finish to a great game.
"Both teams were very even in terms of strategy," said Revolver captain Ryo Kawaoka after the game. "Also in athleticism. That shouldn't have caught us off guard."
Each of the teams emphasized to Ultiworld just how narrow of a margin it was. When I asked Kawaoka what the difference maker was, he said, "Beau. Beau was big."
This was one of Revolver's closest games in a major tournament's Championship bracket in quite some time. "I think we showed that we're in the mix," said Clapham captain Marc Guilbert.
There's no question about that. Clapham proved to be an elite contender on the global stage today, and they will only get better as they continue to play US teams in tournaments year after year. "We're not the kind of team that waits four years for these games," said Guilbert.
***
Sockeye (USA) handled Furious George (CAN) fairly easily in a 17-13 win.
It was a far cry from the loss Sockeye took to Furious just a month ago at the US Open. Sockeye jumped out to an early lead and never looked back.
"We were much more accountable about staying in charge of the pace," said Sockeye captain Danny Karlinsky. He added that the defense did a great job of "pressuring all positions."
Furious was down four breaks quickly and could never recover.
***
Colony (AUS) had no trouble dispatching Heidees in quarters and continue to dominate their opponents here at Worlds. "We came here ready," said Colony captain Joel Pillar.
The defensive line started opening up some breaks early in the contest, and Colony slowly grew their lead over the course of the game. The team did a nice job of staying focused in the long game. The offense gave up just two breaks in the 17-11 win.
Looking Ahead
Tomorrow, Revolver and Johnny Bravo face off in one semifinal and Sockeye and Colony in the other. Read the game previews.
WOMEN'S DIVISION
The quarterfinals round may have finished with what you might have expected — four US teams in the semis — but it certainly wasn't an easy road for those teams to get there. Scandal (USA) overwhelmed Revolution (COL) in the round's only blowout, 17-6. Revolution never found a rhythm and Scandal's ferocious zone was the perfect counter to Revo's aggressive hucking game. Sandy Jorgensen was on patrol in the backfield.
Showdown (USA), who had some lackluster games early in the week, was very sharp against Traffic (CAN), and maintained a lead from very early in the game to win 17-12. It never felt close.
"We've seen our girls really dig down and find some grit," said Showdown coach Sean McComb after the game. He said the time has done a great job coping with the shifting field conditions, schedules, and opponents.The heat may have helped a bit too.
"The conditions are starting to get more Texas-like," he said.
Showdown has really improved over the course of the last two days, though it's important to note that they are playing without eight of the players that will be on the team during the USA Ultimate Series.
***
Fury (USA) needed some great defense late to fend off a tough HUCK (JPN) team in their quarters matchup.
The game stayed close to the end, and HUCK had an opportunity to tie the game at 15 and capture all of the momentum. After a Fury turn, HUCK worked it sideline to sideline until they had an open receiver deep. They put up a great throw, but Fury's Lisa Pitcaithley made an outstanding play to get her fingertips on the disc and knock it away. Fury would convert the point to make it 16-14 and then break to win.
"Our constant challenge was to keep the disc moving," said Fury coach Matty Tsang, noting that the Japanese defenders were waiting to poach the lane on long underneath cuts. He also said the team had a good lead-in to the game by playing UNO in their final power pool game. "It was a good adjustment to play the Japanese style," he said.
***
Riot (USA) also faced off against a Japanese team, UNO. It was a wild game in its own right — each team got a break, then neither team scored a defensive point until 15-15, when UNO broke to gain a huge late edge. A Riot hold forced double game point.
Here's full footage of the game's final point, with Riot pulling, from Luke Johnson:
Looking Ahead
Tomorrow's semifinals matchups are rematches of the 2013 USA Ultimate National Championship semis: Scandal v. Riot & Fury v. Showdown.
These games have a bit of a different feel than last year's. Riot has been the hottest team in the US so far this season, and Scandal has been in a (relative) slump. Showdown is heating up at the right time at Worlds and should give Fury a better game than last October.
This will, of course, be a great opportunity to see these top women's teams in action as a preview of what could be coming in Frisco later this year.
MIXED DIVISION
US teams dominated the Mixed Division today, sending a team to three of the four semifinals spots. In the all-Canada quarter of the bracket, Team Fisher Price emerged as the victor and will take on Polar Bears in tomorrow's semifinal round. The Ghosts will play Drag'N Thrust in the other.
The quarterfinals games weren't close, but many of the round of 16 games were. The Ghosts needed a big block and sky on double game point to take down Wild Card (USA), Cambridge Ultimate (UK) narrowly defeated Bear Cavalry (UK), and Roadkill (AUS) got just a two point win over Batmania (AUS).
Looking Ahead
The semis tomorrow should be fun — all four teams are quality and are capable of beating the others. Expect Drag'N v. Ghosts to be another classic, like last year's semifinal at the National Championships.
NOTES
– There has been absolutely no wind at all this week. None. Haven't seen a single game affected by wind. The muddy ground is another story.
– Big party tonight in the dormitories as most teams are now out of contention.
– There is a chance of rain showers and thunderstorms in the forecast over the next two days.