Some big names changed teams this offseason, but these seven players are making their influences felt without the attention.

Ultimate has a growing group of star players, who fill up Twitter, tournament recaps, and highlight reels with their exploits. This healthy development creates discernible characters that populate the storylines of the season. It provides personalities and recognition that fans can attach to and root for or against. There's an incredibly talented crop of players who deserve to be applauded for what they can do, as is the case in all major sports.
But they aren't alone. Some players never become stars, even when impressing at every turn. Sometimes, they are burgeoning stars, who either have seen a change in scenery, role, or ability – or some combination therein – and are ready to break out. Every sport has them and Ultimate is no different. Sometimes, they are "glue guys", sometimes they are "role players", but whatever you call them, do not neglect them.
This group of players are seven key examples this season of players whose newfound presence will provide huge benefits to their teams and their quest of success in Frisco.
Ashley Daly (Scandal)
When you see Daly in action, "fast" is the first word to sprint to the forefront of your mind. Daly brings athleticism and aggressive cutting to the Scandal roster in her return to the team. She played with BENT last season, serving as the team's leading cutter, and one of the nation's best – she led the women's division in goals at nationals last season.
The former award-winning varsity swimmer at Stanford eases the load on Sandy Jorgenson, taking on the job of opening the field with her deep attacks for Scandal's offensive unit. Daly has the speed to match up with some of the game's most dangerous cutters, enabling DC to line personnel up in new ways. She's tough, gritty, and vocal, contributing more than great top speed to the reigning national champions. 
Chelsea Witte-Garcia (Brute Squad)
Witte-Garcia's name went under the radar, understandably obscured by the excitement over Boston's big name recruits. On the field, however, the 5'10" cutter is tough to miss, and true to opponents' fears, she's a force deep. She was an impact player for Brute Squad at the US Open, winning battles in the air and running defenders into the ground.
It isn't her first go round with the Boston women's team, coming off a year-long break. Nor is she a new name, having already played in the club circuit with Zeitgeist and teaming up with Blackbird for the World Championships in 2012. With Becky Malinowski around the disc more often, Witte-Garcia gives them a new imposing presence deep.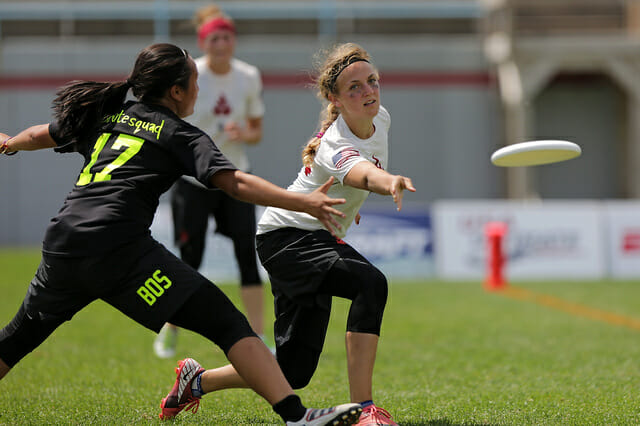 Sarah Davis (Riot)
Both the players covered previously are returning to their teams, as is Davis, and perhaps it is cheating to include a player who never really left. But Davis's injuries sidelined her for her final college nationals with Washington Element, the 2013 U-23 tournament where she was on the women's roster, and for Riot's season last year. And her return was overshadowed by the returns of Alyssa Weatherford, Rohre Titcomb, Bailey Zahniser, and the addition of Kelly Johnson.
Davis has been excellent for Seattle both in the States and abroad. The energetic handler has fit in well with the break-throw heavy offensive sets and is a capable playmaker. Davis has done a little bit of everything so far and is reminding people why she was Washington's 2013 Callahan nominee and an All-Region 1st teamer that year. And her play has served as a reminder that she has the potential to be a star player.
Lauren Doyle (BENT)
Doyle is an unknown name with few accolades. That might make her the perfect fit to characterize BENT. The former Ohio State Fever player has reappeared onto the Ultimate scene and is taking a big role in the backfield for the New York ladies. Liz Middleton is probably one of the country's most underrated handlers, but Doyle takes some of the burden off of Middleton and Rebecca Tucker for New York.
With smart play that is intelligently aggressive, Doyle brings some valuable skills to the BENT offense. For a team looking to build more consistency and move up in the competitive ranks, those resources are not always readily available. Doyle could be a part of helping them make that move.
Liza Minor (Heist)
Iowa's Callahan nominee from last season seems to me like a classic college stud. Start with a quality athlete with the ability to make big plays downfield on both sides of the disc. Give them the experience to do that consistently. As the team loses other experienced and skilled pieces, push them behind the disc, increasing their touches and throwing load. Watch them develop disc skills that make them versatile and difficult to defend.
Minor is the type of player that just gets the job done. She's got good hands and is used to playing a variety of roles. Heist lost significant downfielders such as Biz Cook and Minor is able to step in wherever needed. That sort of dependability is key for a still-young team that's relied on a couple of players to make a lot of the skill plays for the past few seasons. 

Julie Malecek (Showdown)
It was easy to lose Malecek is the midst of Showdown's marquee losses and college star recruits. Malecek (formerly Eagle) is far from unknown, having played elite club with Brute Squad and Phoenix and on Team USA U-23. But she hasn't taken a lead role on a team quite yet and Showdown gives her ample opportunity to be an immediate and consistently impactful presence. The Texas squad is looking for people to fill big shoes.
Malecek is big, strong, and fast, but she's added enough poise with the disc to be in the backfield, where Showdown sometimes needs her. She's a high quality defender who can hurt an opponent after the turn, making her a strong fit to counter the losses of Enessa Janes and Sarah Blyth. Should Showdown show up to nationals and outperform their seed again, it is likely Malecek will be noticeable part of that.
Lauren Baecher (Molly Brown)
You can't really overstate the impact of adding Claire Chastain, but you can understate the influence of bringing in Lauren Baecher. The former Vermont star was toiling far enough from Ultimate spotlights to build a name and she's only played one season of elite women's. After her rookie season with Brute Squad, however, Baecher looks ready for recognition. 10 years of Ultimate have prepared the 23-year old to handle the pressure of handling at the top level.
Baecher fits in well with Molly Brown's offensive style, playing loose and aggressive. This is not a team that tightens up and wants extended possessions, and Baecher's penchant for completing difficult breaks and long range hucks is helpful to capitalize on Molly Brown's considerable team speed. She began the season with a very impressive Chesapeake and looks primed to help Molly Brown compete for a semifinals spot in Frisco.