With just one bid, Great Lakes Regionals looks to be a Nationals warm-up for Chicago Machine. But there are plenty of storylines further down the seeding chart.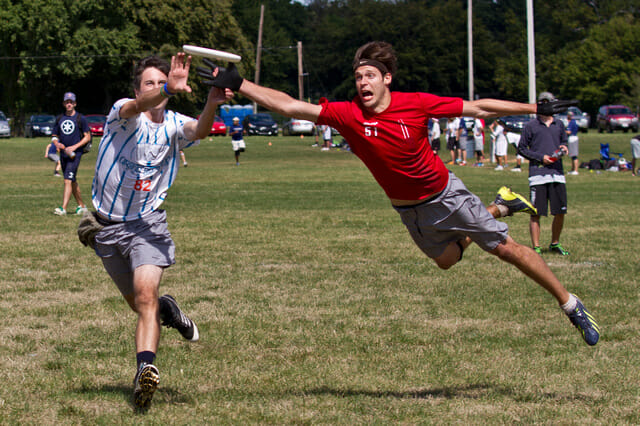 Disclosure: The author plays for Chicago Haymaker.
This year, controversy may overshadow competition in the Great Lakes Region.
Chicago Machine is the team being talked about around the country, suddenly a pick to go all the way. Coming off of an excellent Emerald City Classic tournament win in the Pro Flight Finale, they are sitting at number two in the final rankings, one spot behind defending champion San Francisco Revolver.
But it is the lower part of the rankings that has drawn the most attention of late. In the wildcard watch, both Columbus Madcow and Michigan High Five, after attending several tough tournaments and coming away with mixed results, failed to earn a strength bid.
High Five, especially, is seen as perhaps the biggest victim of the rankings scenario, fueling another round of complaints about the bid allocation system.
The team finished with an impressive slew of wins in their final tournament and were still just outside the computer's algorithmic magic number. As a result, there is only one bid in the Great Lakes, and that, almost certainly, will be captured by the dominant Machine.
The Midwest, a strong part of the country in the college region, has, for many years, paled in comparison to the strength of the coasts in the club division. But this year, after all the Worlds hype and pre-roster ripples have faded away, people are talking about Machine with excitement, as the squad hopes to make semifinals and perhaps even more. They are looking past Regionals at bringing a national championship back to Chicago.
Their post-season road starts at Regionals.
Chicago Machine
What's Exciting
Machine is hot right now.
They have won two of the most competitive tournaments of the 2014 season, the Chesapeake Invite and the Pro Flight Finale. What's more, those two challenges were at both the beginning and end of the summer, pre and post-worlds; both featured many of the best teams in the country.
Sitting at number two in the rankings, Machine has shown that the new coach and the pre-season roster additions have made an impact, and that the decision to fully merge with the AUDL Chicago Wildfire has not affected the group negatively. They are deeper than they ever been before and have a lot of weapons for other squads to attempt to deal with.
What's Troubling
Machine hasn't been perfect this season.
Most notably they were upset in their home tournament, losing Chicago Heavyweights to a revenge-minded Madison Club team (after Chicago poached three players from Madison in the offseason).
Madison used a lot of zone to force Machine out of its set plays, and made them to play small ball rather than huck to their athletes. It made the game close, muffling several of Machine's best weapons as cutters on offense often were taken out of the game.
Machine has some very solid handlers — led by Bob Liu and Walden Nelson — but many rightly believe they are vulnerable to zone, especially in windy conditions, when Liu and company's very excellent over the top throws are limited or more likely to float.
Revolver has also taken down Machine, largely by disrupting Machine's plays and playing tight, physical defense on their handler core, making resets extremely difficult.
If other teams follow these similar strategies, limiting Machine's hucking and play-calling, the games may become more even.
The goal
Machine's one primary goal all year has to been to win the region.
The squad has been excited about its success, but the captains have also been clear about the need to improve.
"There were plenty of road bumps and glaring areas for improvement that we became aware of at each tournament," said captain Kevin Kelly. "We talk each game about playing two great halves of ultimate. We've been fortunate to win some games where we only played one half to our standards, and we've lost games we absolutely could have won because we were unable to maintain consistency during both halves."
Similarly, Machine feels the need to work their tournaments in the same fashion. In both major tournament wins, Chicago has lost an early game before elevating to their peak on Sunday. They need to avoid similar stumbles at Regionals to make their path to the lone bid smooth.
"Ron's been driving home a philosophy of playing with discipline and executing our strategies and tenets without improvising," said Kelly. "As long as everyone maintains discipline and trusts their teammates we will be putting ourselves in a position to succeed."
This is undoubtedly the team to beat in the Great Lakes and it will be a major surprise if they don't earn the spot in Frisco with relative ease.
Michigan High Five
What's Exciting
High Five, since the team's inception two years ago, has been an immediate contender against top level teams.
Led by stars like Eastern Michigan's James Highsmith and Johnny Bansfield, this team has the athletic talent to compete with the elite.
They've proven consistently that they deserve to be in the top twenty in the nation and have knocked off solid opponents. Last year they earned a strength bid, thanks in large part to a great run of play at the Chesapeake Invite.
This year they had up and down tournaments in the early part of the season, struggling at Chesapeake and Colorado Cup, but did come away with wins over Truck Stop, Sub Zero, and Boost FC. Colorado Cup was especially frustrating as they were short a full squad.
"Due to money constraints and injuries," said captain Matt Wilken, "we were missing many of our key contributors, and only had 15 players available to play. In the end, this decision to roll with such a small crew is what prevented us from earning a second bid for the Great Lakes Region."
However, they finished the regular season in excellent fashion at Heavyweights. In that tournament, High Five lost the first game against Madison but then went on a roll afterwards, knocking off PoNY and Prarie Fire by one, and winning bigger over Temper and Truck Stop.
Yet it wasn't enough; close games and early season losses cost them as they came up just short of a strength bid.
What's Troubling
High Five's regular season ended on a high note. Unfortunately, their postseason may end in heartbreak.
Despite their very strong regular season, the computer ranking system determined they were just outside of the wildcard strength bid window. They were ranked 17th in the country, literally one spot away, eight points short of a realistic shot of Nationals.
What's especially frustrating is that the big end of the season wins at CHC came over opponents that were ranked just in front of High Five; the late season head to head wins over higher ranked teams have them cause to complain, but not the necessary points to make up the early season struggles.
Also of note is High Five's play in their sectional tournament this past weekend; their results were not as dominating as might have been predicted.
"We squeaked out some close games at Sectionals, and this was a real wake up call for us," said Wilken.
While High Five was the sectional champion, their success only came after very close wins over Smokestack and Bro Cats, teams that they will meet at Regionals.
High Five's tendency for close games cost them this year and may cost them at the tournament; they will need to be at the top of their game to survive through to the championship and have any chance at knocking off Machine.
The Goal
"Going into Regionals, we want to beat the rest of the field and solidify our second spot," said Wilken. "We've had a rough season, and are really just hoping to walk away with a little pride at this point. We've been spread out as a team, and haven't had much time to practice outside of the handful of tourneys we attended. Our game plan is to hang our hat on man defense, and see what we can do."
The entire group will continue to play hard, but realizes just how hard the battle for Nationals is at this point, as Machine may be out of their league.
"We're obviously going to give it our best shot and hope for a miracle," said Wilken, "but our season sort of ended when the final rankings came out. After getting bumped from the 16th spot, we kinda saw the writing on the wall… Not to say all hope is lost, but I think we can all agree that it would be an upset for the ages if we were able to beat them in the Series."
"We have some great players, and a really fun group of guys, so if nothing else, we want to keep our heads high and have fun playing this sport. If we can do that, then we'll have a successful tournament, regardless of the outcome."
Columbus Madcow
What's Exciting
Madcow has found ways, time and time again, to be competitive.
Every year, it seems they are underrated or overlooked, and every year they come away with quality victories over ranked opponents.
"2014 has been a rebuilding year that has been trying and yet very exciting for Madcow," said Phil Cherosky. "Due to various reasons (retirements, moving, playing Mixed, starting new teams, etc.) we only returned 10 players from our 2013 Nationals qualifying season (four of whom were rookies last year)."
Madcow was able to reload with some of the best talent of Ohio's solid college programs and usually has height and veteran experience to come to their aid. What's more, those vets who returned do have Nationals experience. The squad has been to Nationals a few times, including last year, when they nabbed High Five's strength bid to go to Frisco.
Young players have been stepping up big for this squad and they see only bright things for the future.
"From the outside our season would most likely look like a disappointment," said Cherosky. "But from an interior perspective we have a very positive outlook for what this season means for the future of Madcow and Ultimate in the state of Ohio. Madcow is a team that has the intention of bringing together the best talents throughout Ohio. With the addition of several new, young players from Cincinnati, Cleveland, Columbus, and Akro,n we hope to increase the amount of talent coming to Madcow for years to come."
This season, Madcow has come away with quality victories; while Chesapeake and Colorado Cup had more losses than wins, they did take down PoNY, Boost FC, and Florida United in the process.
They've stolen bids before and have given Machine close games in the past; they will undoubtedly be in the mix come Sunday.
What's Troubling
Madcow's best wins came back at the beginning of the summer and although they have danced around the top twenty all season, they finished 27th in the rankings. Chicago Heavyweights was not a good tourney for this team. They only came away with one win and that was by one point over Streetgang.
There is no second bid for them to steal this year, and this squad may be too busy dealing with challenges from other teams to focus on the top two ahead of them.
Even more troubling is the results of their first postseason tournament, as a power shift may be forming in the section. Madcow, at least as things currently stand, may not be the best team in the state of Ohio.
Bro Cats, a team that has been flying under the radar all year long, knocked off Madcow in the middle of the sectional tournament, winning 15-13, before Madcow avenged the loss in their final game, reversing the score. Both close games indicate that Bro Cats — who have former Madcow players and know the Columbus squad well — are seeking to challenge.
Currently, Madcow is able to draw from the very best players across the state; they are also currently very young and their talent is widespread, so things bode well for the future. However, should a power shift occur, should Bro Cats develop into a legitimate and continuing foe, then all that could change. If Madcow can't handle their new in-state rivals they will have a hard time maintaining their dominance as the best club team in Ohio (which could mean big changes in the future) to say nothing of knocking off Machine.
The Goal
"Having only one bid will definitely make for an interesting and exciting Great Lakes Regionals," said Cherosky.
While the squad is disappointed with the sole ticket to Nationals, believing the GL deserved two (and hoping USAU is spurred to make changes), they know that the power was out of their hands. For this regular season, at least, they were wildcard watching another squad, and as High Five came up short, so too did the probability of getting to another game to go.
Still, the team from Columbus isn't losing sight of what's important.
"While our goal every year at Regionals is to qualify for Nationals," says Cherosky, "it is important to us not to lose sight of the big picture. We have made it a goal this year, regardless of results, to continue to grow and improve as a team and have fun playing the sport we love. Specifically this weekend, we want to be playing the best ultimate of our season. If we are able to accomplish that, we will be playing in the game to go to Nationals."
The Up and Comers
Unfortunately, due to the fact that there is only one bid in the region, the most exciting things to watch this tournament may be from the 4th-8th teams in the region.
It seems very unlikely that Machine will give up any ground on their regional championship. However, the intra-region rivalries and power struggles below them will offer some key insights into the future.
Black Market, Beachfront Property, and Haymaker will be fighting to determine who is the second team in Chicago and Illinois and who gets the pick of the top recruits outside of Machine. Black Market is the first team to really establish a presence in the suburbs, and was also a surprise Sectional champion. All three squads have talent, but have had struggles this season and look to jockey for regional position and pride this weekend.
Brickyard is the top squad out of Indiana and is always fun to watch, as they bring fiery intensity in every game, and Smokestack out of Cleveland, in their first year under the new name and leadership, could surprise some people as they only narrowly lost to High Five at Sectionals.
Bro Cats, based out of Athens, Ohio, is a team that has really been overlooked all year long and may be the most exciting team to watch outside of the top three. In their first year, they went undefeated at Motown Throwdown before a decent Chesapeake Open (that did witness one lopsided loss to Temper). The team had a rough Heavyweights, with only one win on double game point, but was very strong at Sectionals.
The Bro Cats feature a few top Ohio University players, including a few former Madcow vets, at the core; this is not a team to be casually overlooked.
All for One
The Regional fight is set for one bid and unless something very dramatic happens on Sunday, Machine will be the team heading to Nationals.
The rest of the battle will be for pride and position in the region, and while it may be bitter, especially for a team like High Five, it will be interesting to see which teams take the spots behind Machine. Will Madcow hold on to the second spot in the region, or will High Five come and play like they belong in the show? Will a new team challenge for the top three? Who will be the fourth semis contender in the region this year?