With Nationals over and the winners crowned, it is time to take a moment to recognize the top performers in the Men's Division this season. The Ultiworld staff has watched and researched the players that were making a difference for their teams this season. While the talent of the division reaches far beyond short lists, these players put together what we believe to be the best seasons in the Men's game this year.
Players were selected based on both their regular season and postseason performances.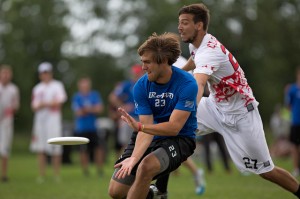 Jimmy Mickle (Johnny Bravo)
By now, most know that Jimmy Mickle became the first player ever to win a College Championship, Callahan award, and Club Championship in a calendar year. He didn't luck into it.
Mickle, for the second straight year, was a no-doubt pick for All-Club first team after leading Johnny Bravo to the team's first Championship. What was remarkable about Mickle this season was his ability to go up against the Division's elite defenders and still dominate. He consistently made the right decisions — though he had occasional turnovers, they were far outweighed by the great plays (both memorable and routine) that he made throughout the year.
He uses his size very effectively both as a dangerous deep cutter and as a reset option, bodying for position and stepping out for easy around flicks. He may not be a pure handler, but he is lethal in the red zone and can bomb the disc with the best of them. He finished 4th at Nationals in assists with 19.
He has grown tremendously as a player and a leader over the past two years and has a good case for being the best player in the world right now.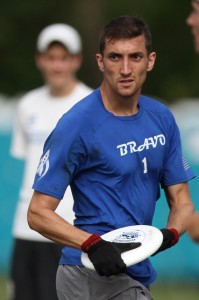 Kurt Gibson (Johnny Bravo)
Kurt Gibson's move to Johnny Bravo this season after years playing with Doublewide was one of the most-talked about moves of the offseason. It paid off in spades for Denver.
Gibson was an instant upgrade on the Bravo offensive line and, playing alongside Mickle, was a handful for defenders. His value to the offense was neatly summed up in his seven goal performance against Toronto GOAT in the National semifinal.
He has a wide-ranging skill set: defense, strong throws, intelligent cutting, and a very high ultimate IQ. As seen in the semifinal, he has significant "takeover" ability. Few players can plug in so seamlessly anywhere on the field: D line "every other" handler, offensive cutter, you name it.
His talents were only amplified by a strong supporting cast; last year, he was asked to do so much for Doublewide that he sometimes forced the issue. This season, he let the game come to him.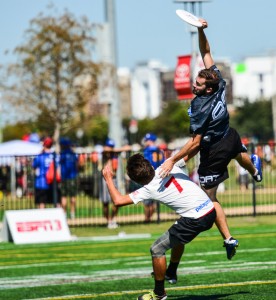 Mark Lloyd (GOAT)
It's not as if Mark Lloyd has only burst onto the elite ultimate scene in the last two years. He played on the Canadian Juniors team in 2008 and the Canada U23 team in 2010. But he has shot to the top of the game, thanks in part to his play with the Toronto Rush and GOAT's remarkable 2013 regular season.
Now he's gone one step further; he led GOAT to the biggest upset of this year's Nationals over Revolver in the quarterfinals. And lead them he did. With GOAT trailing 4-1, he stepped up and started making huge play after huge play to breathe life back into the team with five first half goals.
But Lloyd has been this good all year. He was the best player on the field in the Northeast Regional final vs. Ironside. Like Mickle, he uses his big frame extremely well. He is superb in the air and has elite level hucking ability. Often, his play dictates GOAT's chances in a game. When he comes up with big plays (like he did v. Revolver), they win. When he doesn't come down with everything (like v. Johnny Bravo thanks to outstanding defense from Stanley Peterson), they lose.
Either way, Lloyd is a top 5 player in the world right now — with room to grow.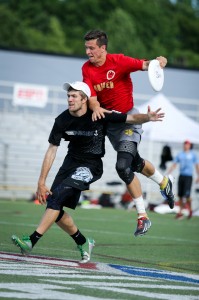 Beau Kittredge (Revolver)
Beau needs no introduction. Time and again, he shows up in the big moments and sends Revolver to new highs. Though the San Francisco team came away empty at Nationals, Kittredge was the #1 reason they won gold in Lecco at Worlds and took home another US Open and regular season crown. He almost single-handedly fended off Clapham on double game point at Worlds and dominated in the final v. Sockeye.
He has to be given an incomplete at Nationals. He hardly played on Thursday, then finally started to see significant playing time v. GOAT, especially in the second half. He switched onto the defensive line to cover Mark Lloyd and limited the damage, even if he wasn't shutting him down. It's easy to second guess Revolver's decision to rest him so much — but last year they did the same thing and he carried them to another title in semis and finals.
Though he is getting older, he still has plus-plus speed and uses his height very effectively. He's not a monster in the air, but if you put a shorter, fast player on him, he will roast him deep. If you put height on him, he will use his speed. You have to pick your poison.
There's a reason he's been considered the world's top player for years. Will a disappointing Nationals fuel him even more next season?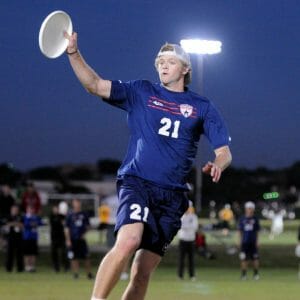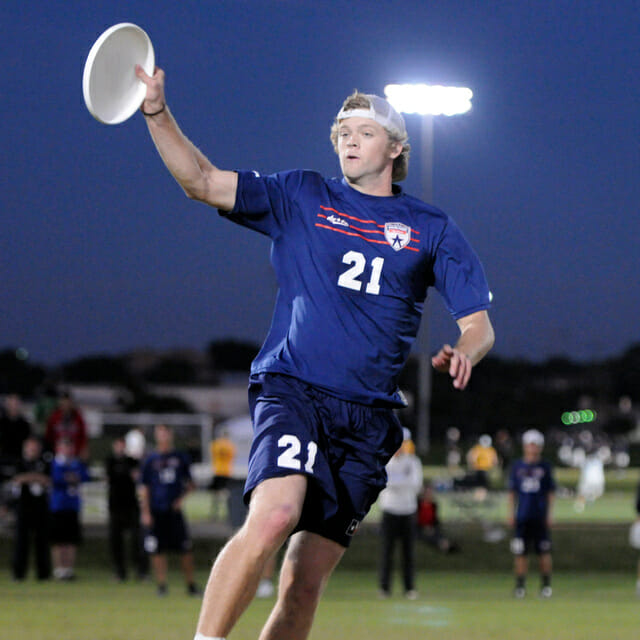 Will Driscoll (Doublewide)
In a rebuilding year for Doublewide, Will Driscoll, fresh out of college, looked like a veteran.
Despite his relative youth, in many ways he is. He has played on the team since 2009. And he's done nothing but improve.
On one of Doublewide's biggest games of the season (Regional Final v. Johnny Bravo), Driscoll was a terror, coming up with superstar plays one right after the other. He entirely changes the team's offense; they initiate through him and look to him to keep getting open. He does. He finished Nationals with 18 goals and 16 assists; no other player matched him on such high totals in each category.
His high motor and excellent field sense makes marking him extremely challenging. Like most players on this list, he is extremely comfortable in most any role he's asked to play. But he excels as a cutter, where his tireless work creates flow for the offense in a way few other top level cutters can.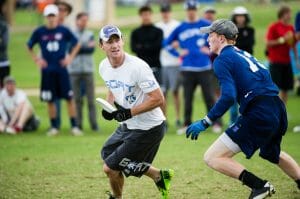 Derek Alexander (GOAT)
The only pure handler on first team, Derek Alexander was the other cog in the GOAT run to semis alongside Mark Lloyd. Though Lloyd often gets a lot of the showstopping plays, Alexander does all the dirty work and, in many ways, is just as exciting to watch if you know the game.
Alexander has incredible quickness which he pairs with a throwing creativity few can match. He can do this. He can throw a fearless pop scoober (a trademark throw) on double game point to beat Revolver. And he frustrates defenders to no end: he always gets open, and he just doesn't seem to turn the disc over.
While Alexander is still not a major contributor on defense, he was so good on offense this year that he earned first team stripes.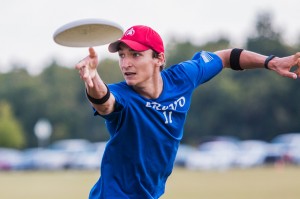 Nick Lance (Johnny Bravo)
Nick Lance may have been somewhat overshadowed at Nationals thanks to the unbelievable performances from Jimmy Mickle and Kurt Gibson, but don't let that fool you: he was a vital piece of Bravo's championship run. Lance has been a defensive specialist that plays almost every big offensive point. He comes up with huge, athletic blocks. He creates offense after the turn. And he found a new level of consistency at Nationals that pushed him onto the first team.
Lance isn't tall, but he is explosive off the ground and has a knack for making highlight reel plays. He has a compact, quick release as a thrower and played very smart with the disc at Nationals, though somewhat less so during the regular season. He can be very creative with his release points and angles of attack.
Despite the immense talent on Bravo this season, Lance still stood out as a superior talent and made them better on both sides of the disc.