A look around the College Division this weekend.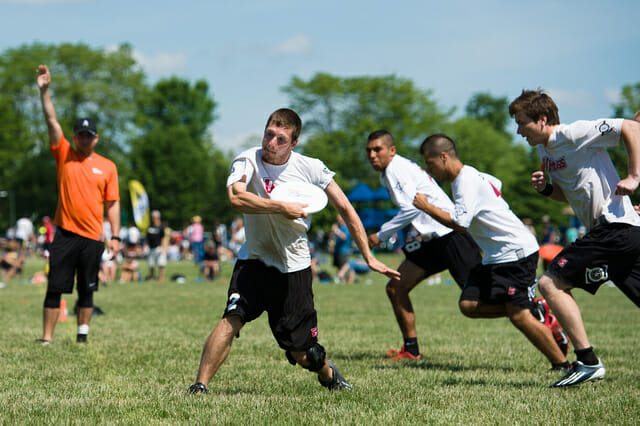 The fall College season has already been humming along, but this weekend, with Club Nationals now behind us, hosted many of the bigger fall tournaments of 2014. Teams are now preparing for big upcoming tournaments including Classic City Classic (Men's) and Missouri Loves Company.
Huck A Hunk O' Burning Pumpkin — Providence, RI
The Northeast's top fall tournament drew all the area powerhouse programs. Here's a look at the top line results.
Men's Division
It was a dominant performance from Massachusetts, who clobbered everyone en route to a 15-3 win over tournament host Brown in the final. UMass used an effective zone and skill in the wind to roll past nearly every one of their major competitors in the Region.
Here's coach Tiina Booth on why they weren't challenged: "I think the fact that we chose our team a month ago and have been practicing hard since then was a factor. Other teams were using it as a tryout tournament. Super windy and we have a team that can throw in the wind. Played a lot of zone and other teams are not that deep yet.
"[Jeff] Babbitt is a factor too; he came up with some ridiculous grabs. Winning the tournament means something for the next day or so but absolutely nothing long-term."
Other results of note: Brown got a nice win over Cornell in semis, and Tufts topped a very short handed Harvard 10-7 in quarterfinals.
Women's Division
Tufts went 1-2 on Saturday, but upset top-ranked Northeastern 11-10 in the quarterfinals and went on to win the tournament with a strong 10-4 victory over Boston College in the finals.
Fall Brawl — Columbus, OH
Men's Division
Top-seeded Cincinnati came out on top at Fall Brawl this weekend. They had a big fall tournament win last year as well at the Steel City Showdown.
Women's Division
Coming out of the 4 seed, Pittsburgh rolled through pool play, beat Michigan 11-4 in the semis, and defeated Purdue 12-11 to take home the Fall Brawl title. Ohio State was running split squads — neither team reached the semifinals.
Steel City Showdown — Pittsburgh, PA (Men's)
Pittsburgh got off to a slow start on Saturday in power pools, but looked like an entirely different team on Sunday, especially in the finals v. Eastern Michigan, where they controlled the entire second half to win 15-11, avenging a loss from Saturday.
Full tournament recap coming later today.
Wolfpack Invite — Raleigh, NC
Men's Division
UNC Chapel Hill's split squads both reached the finals to secure Darkside's fourth straight Wolfpack tournament victory. Many of the other North Carolina programs, including UNC Wilmington and NC State, were in attendance.
Women's Division
Virginia took down UNC-CH 15-10 in the final, giving us an early season preview of what could ultimately be the Mid-Atlantic Regional final.
Classic City Classic — Athens, GA (Women's)
Georgia beat 2013 Regional champion Central Florida in a mostly Southeast warmup tournament at CCC. While of course just a fall tournament, it's still a sign of the early jockeying for top Southeast contender, especially with UCF reportedly running fairly tight lines. Should be an exciting year.
Eau Claire Chillout — Eau Claire, WI (Men's)
Minnesota-Duluth went undefeated and took down Wisconsin-Parkside 12-6 in the final.
Pigglyfest — Newark, DE (Women's)
Delaware blew past Maryland 10-4 in the final in a mostly Regional-level tournament.