Wisconsin's Colin Camp answered some great questions about his time on the NexGen Tour.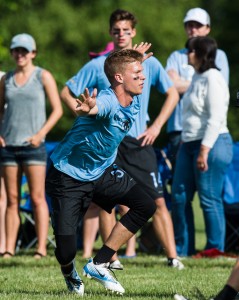 Wisconsin graduate and former NexGen Tour player Colin Camp took to Reddit to answer questions in an 'Ask Me Anything' Q&A. Here are some of the best questions and answers from the thread, which can be read in full here.
Hey Colin, big fan. Enjoyed watching you play on the tour, as well as on the [Wisconsin] Hodags. I've been meaning to ask this question for a while. Did NexGen have a specific offensive system? It seemed like the team ran a lot of different set plays, but was there a system that you always followed?
Thank you, I appreciate it! We ran a lot of vert stack and really focused on working the break side and taking shots from there. When you have the throwers we did that was a viable offensive strategy. The sets plays were normally drawn up on the line and were typically just vert plays that guys ran on their college/club teams. We never actually practiced plays. We had a very basic offense conceptually but it was extremely effective because we had guys that could make any throw.
If you had to be select two tour mates to form a mini (3v3) team, who would they be and why?
Wow that's a great question. I think I would have to go with [George] Stubbs and [Dylan] Freechild. Probably the two quickest guys that I have ever played with or against. I just can't imagine either of them being shut down in mini. George has every throw in the book and I don't know anyone better at the give and go than Freechild. I hate having to pick only 2! Ha.
Best players not on the Nexgen tour at the time?
Mike Ogren, Christian Johnson, Jon Nethercutt, Nick Stuart, and Brian Hart (I know that's biased but I truly believe it) come to mind. I'm probably leaving someone out.
I just watched your 2014 Callahan video, good stuff! Anyway, did your experience playing with your 2011 NexGen teammates help you when playing against them in the next college season? And if so in what way?
Thanks! It's hard to say it truly helped but it did give me an idea of guys tendencies. The thing you have to understand is that these guys don't get completely shut down, you have to pick your poison. So the tour gave me an idea of what certain guys like to do (i.e. [Simon] Montague wants to be around the disc) and you can try to take that away (force him deep). But like I said, these guys are so good and forcing a guy like Simon away from the disc doesn't mean he won't hurt you deep.
Most embarrassing stories from the tour?
Oh boy…
I certainly had some weird drops on the tour, I try not to remember those 🙂
Off the field, people were walked in on hooking up with girls, most of us really sucked at surfing and I think everyone threw up in Eugene when they gave us their "pink drink" (it was Everclear and pink lemonade).
One of my favorite moments was watching Alex Thorne try to eat a stick of butter after he bet me that I couldn't do a beer mile in under 8 minutes and lost.
What game from the tour was the most fun/memorable for you as a player?
Beating Revolver in 2012. We beat the best team in the world by 4 or 5 points in front of their fans. That's when I knew I was a part of something special.
So if you were Kevin, and got to host/recruit your own tour this summer…who would you pick right now in the college game?
So to start off there are 5 returners from the 2013 team: Aaron Honn (Oregon), Dylan Freechild (Oregon), Chris Kocher (GW), Elliott Erickson (UGA), Trent Dillon (Pitt).
The other 10 would be: Chris LaRocque (FSU), Jesse Bolton (CUT), Stanley Peterson (COLO), Dalton Smith (TA&M), Bobby Ley (FLA), Max Thorne (Pitt), John Stubbs (Harv), John Nethercutt (UNC), Christian Johnson (UCSC), Ben Snell (UNC).
Who's the hardest player you've had to guard in your entire ultimate career?
I have never had fun trying to guard Nick Stuart. I can imagine Matt Rehder being equally as hard but I've never matched up against him. I've also never had to match up against Beau Kittredge or Kurt Gibson but I can imagine that's no fun either. Side note: Hylke Snieder is the toughest defender I have gone against.
At the level you're at now, do you still find yourself continually improving year to year? What are your personal goals for 2015?
I am still very hungry to improve year to year. I think my all around game has a lot of room for growth. I would call myself an average club thrower, that's one thing I really want to improve in 2015. I am also focused on improving my leg strength to help prevent another leg injury in the future.
Further down the road I would like to make the Worlds Game team. I know I am no where near that level so I'm always working towards that goal as well.
If you were going to play pro: AUDL or MLU and why? Or is it a toss-up?
That's hard to say. I live in Madison so my only option is the AUDL. With that being said, I still think I would choose the AUDL. My biggest knock on the AUDL is that they might be expanding too fast and that in return hurts the product on the field (see teams like the Mechanix) but I applaud their efforts to try to expand into more markets. Also, they seem to be attracting the the top players in their respective areas when in comes to the better teams (SJ, TOR, MAD, CHI). If they can do that in places like SEA and DC where there are also MLU teams that will be a big step for the league. We'll have to see how that plays out.
I will say that I think this won't even be a discussion in 5 years though because there will be a merger or a league will go out of business.