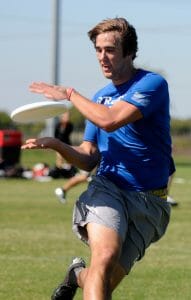 The already-competitive AUDL Western Division got more interesting this week as Denver Johnny Bravo stars Jimmy Mickle, Kurt Gibson, and Josh Ackley all signed contracts to play with the San Diego Growlers, a new expansion team beginning its first season this spring, sources tell Ultiworld.
More players from the 2014 USA Ultimate championship team may also join San Diego. Other star Bravo players, including Stanley Peterson, Nick Lance, and Brett Matzuka, are reportedly considering signing contracts as well.
Both the Growlers organization and the AUDL front office confirmed that Mickle has joined the team, but declined to comment on any other roster additions, except to say that more announcements are forthcoming.
"It's tough using exciting too much, but it's probably an understatement too," said Growlers co-owner Justin Goodman, speaking about the Mickle signing. "We're ecstatic to have him. It puts us on the map."
Co-owner Will Griffin said that adding Mickle to the core of San Diego talent will help the team be immediately competitive. "I'd like to have all of the playoff games home in San Diego," he said.
Mickle is excited as well.
"The owners have been exceptional and made me want to be a part of what they were doing in San Diego," Mickle told Ultiworld. "I was pretty set on playing in the Western Division because it makes my travel a little easier." Mickle will remain living and working in Colorado and will fly out for games.
He also mentioned that playing with his club teammates was a real plus. "That was a big reason I signed with San Diego; we all wanted to play together," he said.
After winning a College Championship, Club Championship, and Callahan Award in 2014, Mickle will now look to add an AUDL trophy to his shelf in the new year.