The warm up drills you are doing might be hurting your team.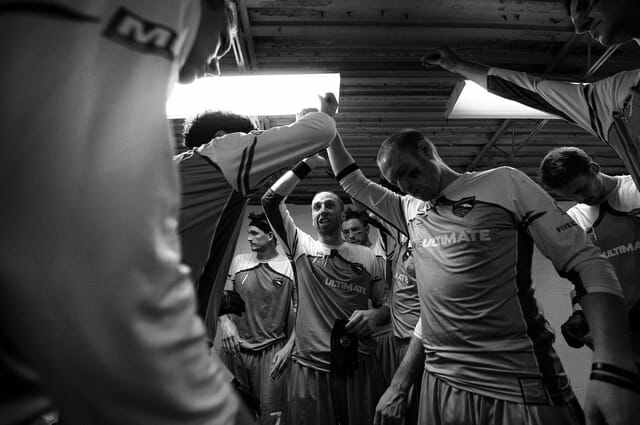 Your team arrives at the tournament at 7:00 am. The first round of games is at 8:00 am. Everybody cleats up and goes on a jog. Then, everybody (but the team's franchise player) works through active warmups in the endzone. What a team does next is a good indicator of how they will perform in the first game: good teams will get increasingly physically active and noisy—and  many not-yet-good teams will run one of the following two drills:
Breakmark go-to
Dump-swing-score
These drills are so popular. They're like the grandma and grandpa of team warm-ups. They generally give off a warm fuzzy vibe akin to nostalgia for the board game "Trouble" or the original iPod classic. I'm calling 'em out.
But why am I picking on these time-tested classics? It boils down to this: great warm-up drills maximize the number and variety of cuts and throws that each player actively practices before the game. These old drills result in too few throws and catches for too few players (plus, there's nothing more depressing than an incomplete pass during a dump-swing-score). With that in mind, here are a few recommendations for effective pre-game warmup drills:
Shallow Vs and Deep Vs
The first thing I like to do after active warmups and casual throwing is to pair up and take turns making shallow V-shaped cuts* in a triangle about 10 yards between thrower/cutter. The cutter focuses on warming up footwork and catches and the thrower works on touch OI throws to space. Imagine making small dump cuts and resetting the disk to the cutter. Recommended: 15 throws/catches for each player.
Next, I like to tighten up the angle of the cut and take turns making deeper V-shaped cuts with about 20 yards between thrower and cutter. The cutter focuses on changing direction and accelerating and the thrower focuses on flat throws to a cutter's chest. Imagine making in-cuts to either side of the field.
This is a great warm-up because:
It maximizes throws and cuts for each receiver
Each player practices 2 cuts
Each player practices 2 throws (4 if you count forehand + backhand!)
Throwing Progression
The entire team sets up four lines at midfield. The two outside lines are throwing lines and the two inside lines are cutting lines. The entire team cycles through all four lines throwing and catching a variety of passes (hint: you switch to the opposite side of the field after you've thrown). The 'progression' of cuts is up to you. I recommend: 1. Upline handler cuts 2. Dump cuts 3. Deep shots 4. Comeback cuts (in cuts). If you're having a hard time visualizing the drill, Ajax Ultimate has a pretty awesome animation of the 4 Line Drill.
I love the throwing progression because:
Every player practices four throws
Every player practices four cuts
It encourages lots of high-fives and chatter
Seriously, if you're not chatting and cheering throughout this drill, you should ask yourself why you play frisbee in the first place. The best teams encourage one another and pump each other up before games, so cheer your teammates on throughout the progression!
7-on-7 Near the Endzone
A good number of teams have started scrimmaging in their warmups, which is great! But let me quickly explain exactly what I mean when I say 7-on-7 near the endzone and then explain why it's a terrific warm-up. The team should split into two and simply try and score 7 on 7 from anywhere on the field within 10-20 yards of the endzone. After one side takes 3-5 attempts, switch offense and defense and repeat.
This warmup is terrific in any context and it is the ideal complement to the two others that I've mentioned. It calls on 14 players to activate their spacial awareness because they're playing on a condensed field and need to actively create open space. It introduces the element of timing cuts, rotations and throws/catches. Throwing in a live game is a lot different from throwing in a drill, so 7 on 7 gives us a chance to throw in rhythm to a defended receiver. Finally, it calls on players to be vocal and communicate with their teammates: "Force flick" "No around" "Nothing to the cone." On-field and off-field vocal cues are critical to a team's success, so it's great to get vocal before you start playing another team.
The most challenging aspect of 7 on 7 is leaving yourself enough time to run this drill. It takes a solid 15 minutes to really get value out of this drill and so often we find ourselves finishing our active warmups with only 20 minutes to spare. It requires a team-wide effort to arrive on time and work through the rest of our warmups efficiently.
Takeaways
There's nothing better than coming out hot on your first day of the game. On the flip side, it feels horrible to come off a bye with no energy or rhythm. These 3 warmup drills get everybody involved, moving, and getting lots of touches. So consider which drills you run before games and ask yourself "Why?" Let me know what you learn.
*Credit to Ajax Ultimate for the creative use of Marching Band visualization software (see "Throwing Progression")