Stanford crushed the competition at the Santa Barbara Invite. What's next?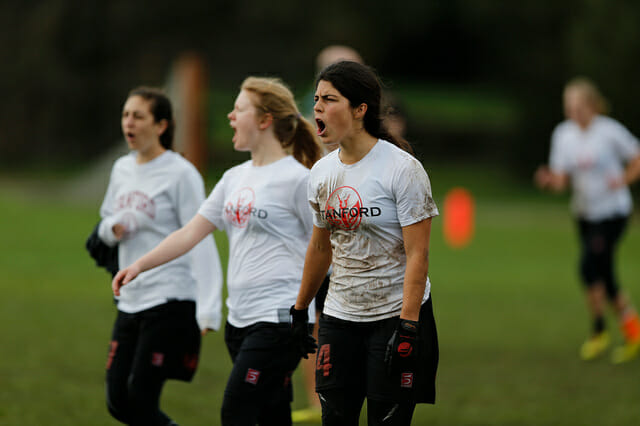 SANTA BARBARA — Two top-10 ranked teams warmed up for the Santa Barbara Invite finals. It was no surprise to see #4 Stanford facing off against #10 UC Santa Barbara — they were a cut above the rest of the competition and neither had lost a game. But right now the gulf between #4 and #10 is very wide.
Stanford demolished UCSB with blanketing defense, taking leads of 5-0, 7-1, and 11-2 before conceding four meaningless goals late in the contest to finish with an 11-6 win and the tournament title.
An inexperienced Santa Barbara team was exposed by Stanford's aggressive offense and superior athleticism and was clearly out of the game within the first three points.
"Stanford was beating us everywhere on the field, whether that was with their throws or open side unders," said UCSB captain Lisa Pitcaithley.
UCSB's cutters struggled all game to find separation against their defenders, putting immense pressure on the handlers to make challenging throws. They couldn't find an offensive rhythm and watched a lot of hanging hucks get blocked and difficult inside breaks miss their target.
Stanford scored the first five points of the contest, featuring excellent play from Steph Lim and Monisha White in the backfield.
UCSB got on the board with a very nice catch from Joy Kang on a Pitcaithley huck to make it 5-1.
Stanford's offense wasn't perfect — they had a lot of unforced errors and throwaways. But they simply didn't allow UCSB to get anything going offensively and were quick to take advantage on the turnover. Their fast break transition offense looked very comfortable.
"That's not something we've been working on, but I think we have a lot of confidence," said Stanford coach Robin Davis.
Stanford got plenty of contributions from their well-known starters like Lim and White, but it was their rookie class that truly impressed. 6'0″ rookie Courtney Gegg — a PhD student — played excellent defense against Lisa Pitcaithley for much of the first half and has a natural talent for defensive positioning and field sense. She caught the game's first break after heavily limiting Pitcaithley on the point.
"Her positioning was perfect and she even got hit in the back with the frisbee when she was positioned correctly," said Davis.
Freshmen Francesca Olguin and Shayla Harris also had excellent weekends; Harris was a scoring force when she was on the field. "We had a great recruiting year," noted Davis. "The new people we picked up are super athletic."
UCSB still looks top heavy and their relative lack of experience is clear. They have a talented handler core that was able to maneuver against various Stanford zone looks late — including a clever wall zone with man coverage on Pitcaithley — and find a rhythm. But when the team needed the cutters to find space against man defense, there wasn't much there. The team also struggled to contain Stanford's offense, giving up lots of breaks and easy movement.
"On the whole, our defense and fundamentals are seriously lacking," said Pitcaithley, adding that they will be working hard to improve on both fronts before the President's Day Invite in three weeks.
Stanford will also be attending Prez Day for the first time in a long time. They usually opt for a trip to the Kaimana Klassik that weekend.
"The girls historically have gone to Hawaii, but this year they are really gunning for a Championship and want to really do everything they can to take the season seriously," said Davis. Don't take this decision lightly: foregoing a long-standing tradition shows you just how committed this Stanford team is to making a run in 2015.
They'll also hope to return Michela Meister to the lineup. She was an absolute force for the team two years ago, but took last season off. She's back on the roster, but she injured her groin last week and didn't play in Santa Barbara. "It's nice to know we can win, and she'll be a bonus," said Davis.