With Jon Nethercutt leading the way again, UNC won't be satisfied with anything less than a National title.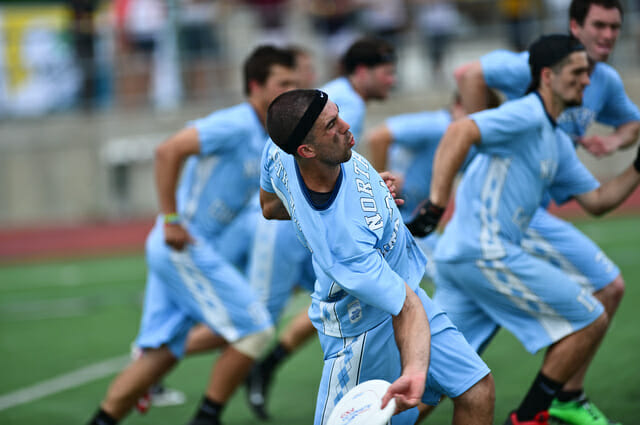 2014 Runner up. Finalist. Second place.
For the ultra-competitive, few titles toe the line between pride and frustration like the above. At once, the bearer knows the distinction of being in the 99th percentile and the fingernail-gnawing sense of being that close to glory and just missing. This is UNC Darkside in 2015.
Overall Indicators
2014 Nationals: 2nd Place, entered seeded 6th
2014 Mid-Atlantic Regionals: 2nd Place
3 regular season losses (Pittsburgh x2, Minnesota)
2 postseason losses (Florida State, Colorado)
Positives
Impressive list of veteran returners, including a healthy Ben Snell and Jonathan Nethercutt
Untested but high-level talent in rookies, led by Nathan Kwon
Strong set of experienced role players, including Tim McAllister
Concerns
Coping with the loss of Christian Johnson
Who takes the role of deep defender and big body Charlie Shaffner?
Keeping Nethercutt and Snell healthy to go the distance
Finding efficient roles for new rookie talent
Season Outlook
Measuring improvement can be very tough at the top. With all eyes on the team and everything but the national title on the record in 2014, the boys in baby blue will certainly be seeking a championship. Here's the bad news: there's very little room for improvement and good long way to fall. The good news: they return a bevy of talent, a seasoned coaching staff, and a full knowledge of the pressure of the title game.
The talent starts with the captainship: Jonathan "Nutt" Nethercutt, Justin Moore, and Ben Snell. Nethercutt, as we've already seen this spring, brings a throwing prowess that is unmatched in the college game. Snell, recovering from a season-ending knee injury at Easterns in 2014, will make himself a dynamic partner for Nethercutt in the backfield on offense.
The pair absolutely dominated at the Stanford Invite in 2014 — each player combines experience and a high field IQ with their physical presence. Their ability to get open for sneaky resets will give cutters downfield plenty of time to work the offensive sets put in by coach Mike DeNardis and the staff. Add in Nethercutt's throwing ability, and Darkside immediately becomes one of the most dangerous teams in the Men's Division. As his health improves, Snell's impressive handler defense will reemerge as well. Take a look at what they accomplished together against eventual national champion Colorado Mamabird at last year's Stanford Invite.
Along with Moore, these three have the kind of big game experience necessary to lead the rest of UNC's team, and DeNardis hopes to be able to focus on strategy. "Snell, Justin, and Nutt are great leaders," said Denardis. "I don't have to do much in terms of organizing and leadership; I'm almost more of a GM."
Having such experience and consistency in back-to-back years is a blessing in the college game, especially on offense. Where many teams struggle to find high-level flow as stars come and go each year, UNC will benefit from top players who know each other well in 2015 and make them a very difficult team to crack.
The chemistry in the captainship will be a great starting point for UNC, but battle-tested players appear further down the roster as well. "Tim McAllister will be one of the guys we look to be the lockdown [defensive] type player," Denardis said. "J.D. Hastings will be more of a handler defender, but he can really do both," he added.
Vikram Sethuraman, who performed well as a role player on the national stage in 2014, will also step into a larger defensive role. Darkside also returns Jimmy Zuraw and Aaron Warshauer, both of whom saw a lot of field time during big games for Darkside last year.
There has also been a notable buzz about the young talent making its way onto the field for UNC, particularly Norman Archer, Walker Matthews, Aaron Wan, and Nathan Kwon. Kwon, in particular, has received plenty of attention, and may slide into a very big role for a rookie.
"He's a total package in terms of intensity and emotional stability," said Denardis. Kwon's height (5'2″) — to his chagrin — is the most talked-about detractor, but it doesn't bother his coaching staff at all.
"We had Charlie Shaffner last year, who's just a freak athlete. Nathan is on the opposite end of the spectrum," said DeNardis. "Charlie is such a big monster and it's almost impossible to match up with him [in size]. Nathan, on the other hand — there are very few people who can match up with him because of how quick his first step is. For a guy that size, you have no idea how fast he is."
With the Triangle Area YCC teams churning out talent like Kwon and Archer, Darkside reaps the immediate benefit in their quest to bring home a national championship. Denardis believes that Kwon, a freshman, is already able to use his current skills at maximum capacity. Where Darkside featured Johnson and Shaffner last year as big targets downfield, Kwon can play a valuable role underneath defenses this year for UNC.
"It's difficult to game plan for him," Denardis said.
Even with the combination of promise and experience, the UNC of this year looks a little different than 2014. "We go as far as our young guys take us [this year]," said Denardis. "We have the firepower at the top, but through the tournament push, you have to have those six or seven young guys that can step up and play heavy minutes in some of the important pool play games."
Where the team that played at Queen City Tune Up in February of 2014 may have had nearly all of the pieces already in place, the 2015 edition of Darkside will just be settling into its looks on offense in Charlotte this weekend, and maybe still tweaking the personnel on their defensive lines. Top players may even become more flex-fits for UNC on both side of the disc, as the coaching staff looks to spread out their experience and allow their younger talents to gel in larger roles.
"Some of these [rookies], I don't even know what kind of level they can get to in the next three or four months, which is nice," said Denardis. UNC will have more top-level talent going both ways, providing support and consistency to the middle of the roster.
As they feel out their new players and tweak their lines, UNC will have to contend with a Mid-Atlantic Region that is growing stronger. Darkside was felled by a surging UNC Wlimington team last year during Regionals, and the Seamen will again present a looming challenge. In an interesting turn of events, DeNardis got a good look at the competition during tryouts for the AUDL's Raleigh Flyers; he is a co-owner of the team.
Speaking of the talent at UNC-W he said, "You'd have no idea if you heard some of their names walking into a game, but once they walk off the field — I took note of all of them during that tryout because they're impressive — they're going to be that team where you're like, 'Who's that guy?!' I expect them to be top notch again."
And such is the nature of the college landscape. But the newcomers and rising stars should allow UNC to borrow some of the element of surprise from their Wilmington counterparts. Denardis is mindful of the eyes (and video cameras) on his team, and he will use his looks on both sides of the disc sparingly.
Even with new pieces to figure out, the talent at UNC is palpable. They'll remain a team to beat, sitting at #2 in Ultiworld Power Rankings, gunning for retribution and the division's highest achievement: National Champion.
Likely Ceiling
Likely Floor
Quarterfinal exit at Nationals