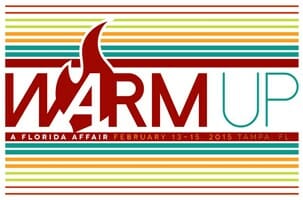 Carleton fought back in the second half against Central Florida to win 11-10 on double game point and advance to the semifinals of Warm Up where they will face top-seed Florida State.
Carleton went down two breaks in the first half and trailed 8-5 before going on a 6-2 run in the second half to get the win.
"I think legs had a lot to do with it," said Carleton coach Phil Bowen. "Numbers-wise, we're a deeper team."
Offensive execution was difficult for both teams in the windy conditions. Winds flared up midway through the game and were as severe as they've been all weekend. The breaks came first for UCF, and then for Carleton. UCF couldn't hold it together long enough to get the W.
"Same story, different game," said UCF coach Andrew Roca. "We lost our composure and it cost us."
While Carleton clearly outplayed UCF in the second half, the pivotal, game-tying break came after a questionable up call by Jesse Bolton on a disc that bounced off the grass after being slightly macked by UCF's Jeremy Langdon on a layout near CUT's attacking endzone. Both teams made some bad calls in the observer-less game (UCF had a pair of bad calls in the first half), but none was more suspect — or more critical — than the Bolton up call. The disc went back to the thrower, and three throws later, Carleton tied the game at nine.
It was an exciting finish. Carleton cautiously worked down the field, before Justin Lim fired a high stall, inside flick that somehow snuck past two UCF defenders into the endzone for the game-winning score.
Arizona State Upsets Late-Charging Florida
Something didn't quite feel right about this a Sunday morning bracket play game between Florida and Arizona State Prime. The pregame roles of both teams seemed too defined; Florida was the favorite and Arizona State was the dog.
That only lasted a few points, as Prime proved early that they weren't just happy to have made the bracket.
Some early Florida offensive mistakes and some frozen rope flick hucks built a 5-1 Arizona State lead. Florida was listless. Prime was fierce. Arizona took half up three breaks and on fire, 8-5.
"Energy, energy, energy," head coach Cyle Van Auken said at halftime about necessary halftime adjustments.
"We're not a team that likes the sideline cheering or kind of the Ultimate-ness but we need to change from the sideline to the field."
Energy – along with a fulltime backhand force on ASU throwers – would lead to four straight breaks. Florida found their first lead of the game at 9-8.
There were tons of calls from both teams throughout this game; 22 stoppages in the second half and a borderline unwatchable 10 calls on the first point out of half alone. But both teams kept it pretty respectfully chippy. Interesting connection between the two squads: Arizona State coach Fernando Lugo was coached by Cyle Van Auken while in school at Florida.
So the game is all Florida. All experience. All pedigree. Very comfortable in games that are heavily self-officiated. Arizona has their work cut out for them.
"We're not a team that rolls over," ASU handler Nate Bridges said of Prime's mindset in the face collapse.
"Our goal is to go to the show and you can't roll over if you want to go there," he said. "There are going to be times at regionals where you've got your backs up against the wall. You've got to push back. That's what good teams do."
Arizona State holds on offense after some punt and set zone looks and needed an upwind break to win at 9-9. Florida fields a deep pull and Prime sets their zone. Inexplicably, Florida's O line doesn't punt down wind, miscues on short pass and sets the table for upset with the disc on the ground four yards out of the upwind end zone.
Nate Bridges found Andrew Kohl after a nifty cut near the front cone and that was the game. 10-9.