The top two seeds -- Pitt and FSU -- cruised to finals.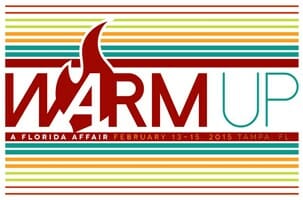 Florida State outclassed Carleton in their Warm Up semifinal, opening up a small lead in the first half that ballooned into a 15-6 victory.
TAMPA — FSU put outstanding pressure on Carleton's handlers in both the windy first half and the calmer second half.
"In the first half we were a little too concerned about their deep game, and we started playing a little harder on their unders and their insides and it kind of blew things open for us," said FSU coach Peter van de Burgt.
Carleton may have just been out of gas after a hard fought win in the semis play-in game against Central Florida. "They were faster than us, definitely," said Carleton coach Phil Bowen. "There were a lot of execution errors on our part but it was because we just had tiny windows to throw into because they were better than us today."
Connor Holcombe scored FSU's first break to make it 4-2. FSU extended the lead with a break to take half as a part of a 7-0 run spanning halftime. Bobby Patterson had one of the plays of the game with a big layout block and immediately thereafter the bookends score.
FSU advances to take on Pittsburgh in the semifinal. FSU talked briefly about their game plan.
"I think one of the biggest things we need to do defensively is not let them dictate the pace," said van de Burgt. "Not let them space the field the way they want to and run their set plays and initiate vertically. We're going to try to take away their first look." That's worked well for Pitt's previous opponents — we'll see how it works for DUF at 2 PM Eastern.
***
A great tournament from Arizona State came to end as Pittsburgh cruised to a 13-9 semifinal win.
Hats off to Prime. They flew to Warm Up and got some great wins. Their goal is to get to Nationals and they are clearly doing their homework to take the next step.
Pittsburgh would prove too much for the cinderella team. They gave up a break on the first offensive possession but responded with an early Callahan before eventually taking half 8-4 and trading points to win.
There have been scares for Pitt this weekend. They've been the winners of two double game point contests and have found that extra gear when they needed it but athletic, chest-high bidding Florida State brings a unique set of challenges.
"Hit the floor!" was something you could hear Pitt coaches yelling to players throughout the semifinals, urging their team to bid. It paid off, as Pitt generated some in cut turnovers. Making hard bidding defense a cultural change will be crucial for this team moving forward. Get out the notebook. FSU has been doing that all weekend. This final should be a good one.