Colorado Mamabird is in transition: can their former role players quickly become stars?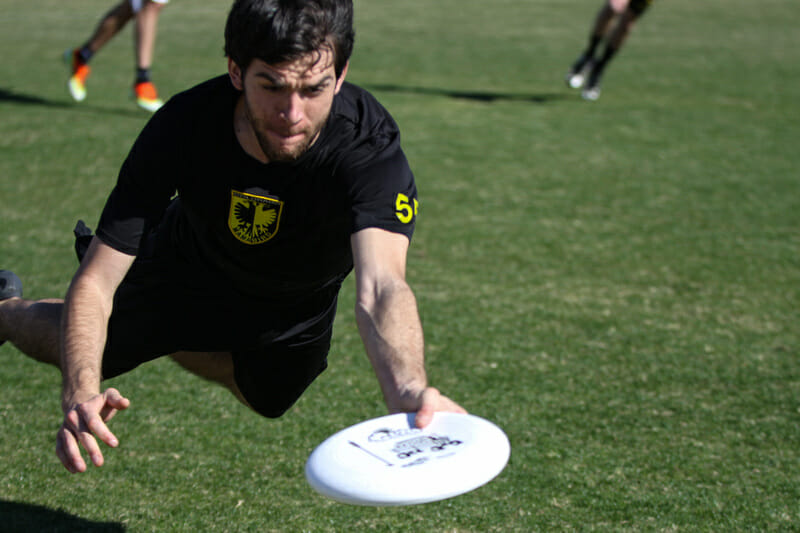 Mickle, Morrissey, Bechis, and Snieder. At this point we all know the names of Colorado's departed players. The tetrad of fifth year superstars who returned to Mamabird in 2014, led them to the promised land, and rode off into the sunset. The graduating class of 2014 garnered just about every title and commendation imaginable, and their accomplishments weigh heavily on Mamabird's 2015 season. That's what happens when you reach the top; your shadow looms over everything.
The 2015 edition of Colorado Mamabird will not only be playing against their opponents on the field, but also against the legend of their team's wild success last season. Defending a national title is already a tough task. Having to do so after losing the coach, Jim Schoettler, who led the charge makes it even tougher. And when one of the departing players is the reigning Callahan winner and one of the most dominant players in the history of the college game, the task is daunting.
Most teams would buckle under that sort of pressure. Of course, most teams are not Colorado. For the players and coaches of Mamabird, 2014 is over. A new season, and with it the chance to shape the next era in their team's history, has begun.
Burden Of Opportunity
Mamabird's 2015 season is a test case in opportunity. The team is filled with talented players who clearly have the potential to shine, but now need to turn that potential into tangible performance on the field. Many players on the roster have excelled in supporting roles in the past, and will now have the opportunity to prove they can handle the mental and physical rigors of a leading role.
Three key players for Mamabird this year — Jeremy Harker, Matt Bubernak, and Tristan Voss — were all on the Johnny Bravo practice squad this past club season. They have experience playing important minutes for Mamabird at Nationals but by and large those minutes came in supporting roles. Rarely were any of these players the first option on a line. Undoubtedly they have all proven themselves to be talented players, having forged their skills in the crucible of college Nationals and by going head to head with the likes of Bart Watson, Kurt Gibson, and Ryan Farrell at club practices. Now we need to see if they can take what they have learned and use it to fill the roles left by the departed superstars.
Mamabird's long-time assistant and new head coach Brent Zionic is confident that his players will be able to step up and perform when called upon. "We spend a fair bit of time on mental preparation, we try to spend at least as much time on mental training as we do on physical training," Zionic told Ultiworld. He outlined how the program's emphasis on mental preparation leaves players focused and confident heading into big games. He says that this year is no different and he has every confidence his players "will be mentally strong enough to play a role that they aren't used to."
One player who will be asked to carry a much bigger burden this year is Stanley Peterson. The heir apparent to Mickle's throne, Peterson had a big breakout last year and demonstrated the tremendous ability that has him near the top of the Callahan shortlist.
Unquestionably, Peterson has gamebreaking talent. The question is how he will adapt to a dramatically different role this year for Mamabird, as the responsibility to run the game falls on his shoulders. We have seen Peterson excel when his responsibilities mostly pertain to playing intense defense and wielding his athleticism, but can he run the offense? His performance at the President's Day Invite shows that there are still questions marks regarding exactly what his role on the team will be and how much of a burden he will be asked to carry.
Peterson has the talent to be the centerpiece of a title contender, but he hasn't been one before. Colorado's rivals for the title this year — Pitt, UNC, Oregon — all have stars that have shouldered the responsibility of being the team's most critical player in years prior. This puts Peterson and Mamabird at a disadvantage, as their star player will have to learn on the job what it means to be the best player on a contending team.
Same Blueprint, New Parts
Suffocating, punishing, and relentless are adjectives usually reserved for defenses, but they all applied to Mamabird's offense last year. The team's ability to reset the disc, to change the field at will,  beat teams into submission at the College Championships. Mamabird ran their system so efficiently that once the defensive line got a break or two, games were all but out of reach for their opponents.
In big games last year Colorado almost never gave the disc away, and really never even gave their opponents the chance to go get it. This year, the same offensive system returns and familiarity with it should provide some comfort to the players who find themselves in bigger roles.
While Colorado's offense might not have all of the flash or big play capability it did last year, players like Peter Gleason and Wes Chow should be able to take the reins and keep it running smoothly. In fact, coach Zionic thinks that the personnel this year might actually be better suited to running his system than the star studded crew from 2014. "Jimmy is a once in a generation talent," explained Zionic, "and a problem we have had in the past is that he became so dominant that other players become static. So without that kind of presence we are hoping for more motion to be occurring naturally."
That could very well be the case, and if true would take the pressure off of Colorado's players to emulate Mickle, instead allowing them to play within themselves. When run properly, the offense didn't require spectacular feats of athleticism, it ran on patience, fundamentals, and high ultimate IQ.
A player like Pawel Janas, a retuning captain for Mamabird, who does not have the kind of phenomenal playmaking ability of Mickle, can be very effective running this system. With his rock solid fundamentals, intense work ethic, and the field awareness to know exactly when to push the pace and break open the defense, Janas is perfect for the role.  The handler who played largely a supporting role last season has been tapped as one of the key players for Mamabird this year and if he can keep the pieces moving fluidly on offense it will go a long way towards getting 2015 Mamabird out of the shadow of its predecessor.
Productive Fall
Seeing as much of Mamabird's success this year is going to depend on how their players can adapt to new responsibilities, the team's success this fall should be considered very encouraging. Take this as the standard disclaimer that needs to accompany any discussion of preseason results, but what Colorado was able to achieve shows that their players are getting comfortable in their new roles. Mamabird won Missouri Loves Company in November over quality competition, demonstrating the combination of playmaking ability and systemic polish that they will need this spring.
In both of the past two seasons the eventual national champions also won MLC in the fall. Those teams, Pitt (2013) and Colorado (2014), were both veteran heavy squads operating at a level that put them head and shoulders above their competition in the fall. This doesn't mean that 2015 Mamabird is necessarily going to continue the trend, but it demonstrates that they have been able to run their system successfully and execute in a way that should have them encouraged about their potential this spring.
One red flag coming out of the fall is unexpected loss of junior handler Mark Rauls following eligibility issues. He was a key part of the team's success this preseason and one of the most experienced players on the team in big game situations. His skill set was tailored to the team's offense and the O line will need some recalibration without his lightning quick handler cuts and efficient break throws. His absence may partially explain why the team never clicked into top gear at President's Day and looked a little uncomfortable at times moving the disc.
Trust The Program
At the end of the day, predicting Mamabird's results this spring comes down to how much you trust in their program to bridge the talent gap that exists from last year. Everything demonstrated by Colorado over the last decade plus should be enough for supporters to believe that 2015 can be more than a rebuilding phase.
Colorado has one of the country's best B teams, a program that really molds players into assets who go on to make an impact at the top level. Last year's veteran dominant team was comprised of approximately 40% former B team players — that number is about the same this season. Colorado's former B team players know the system, run it with confidence, and several of them will have a significant role to play before everything is said and done.
Producing viable players from a B team, teaching the mental focus to be confident in a new role, engraining players into a tried and true system: this is what elite programs do and is why they are successful year after year. Mamabird is exhibiting all the signs of a team ready to overcome the loss of their top players and keep rolling into the next era of the team's history.
Last season Pittsburgh lost Alex Thorne and Tyler Degirolamo and still came within a wild double game point of reaching the semifinals at nationals. Players like Marcus Ranii-Dropcho and Pat Earles thrived in their elevated roles and became household names as Pitt showed what being an elite program really means. This year Mamabird is looking replicate that formula, and show that their team and their program is bigger than one player could ever be.
There will certainly be bumps along the way, but don't be surprised if this May the black and gold of Colorado reappears on ESPN at Nationals. The legend of Jimmy Mickle and the 2014 title will live on in Boulder, but it won't stop this 2015 Mamabird team from writing their own chapter in Colorado's illustrious history.
A previous version of this article said Mark Rauls was a senior and a captain; he is neither. He is a junior, and has not served as captain. We apologize for the error.