Easterns Qualifier finished almost to seed, but there was plenty of drama in Myrtle Beach as Auburn earned the bid to Easterns.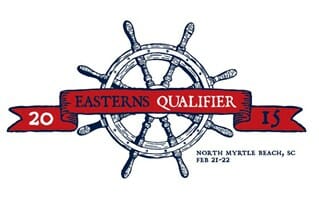 Unpredictability.
We love and hate sports for it and should've learned by now to expect it when the on-paper trends say we shouldn't. While the results from this past weekend's Easterns Qualifier may look unsurprising, there was no shortage of drama in Myrtle Beach as 18 teams other than UNC Wilmington and Georgia battled for a bid to Easterns.
Wilmington Shakes Injuries, Mistakes To Win Final On DGP
After a blazing run through the competition at Queen City Tune Up, UNC Wilmington was the favorite by a wide margin heading into Easterns Qualifier. They'd see some familiar faces, but the competition featured a slew of middling regional competitors trying to establish a program where QCTU offered more Nationals-caliber competition, at least on Sunday. With the offense on fire and the defense throwing out athlete after athlete onto the field, Wilmington's path to a tournament victory seemed more than obvious — it looked easy.
On Sunday evening, it was clear that the weekend hadn't quite played out that way. Wilmington scored the tournament-winning point on a hero ball iso to Jack Williams from Luke Hancock, 17-16 over Georgia. That double-game point victory followed a scrappy 16-14 win over a wily North Carolina State, who led Wilmington at half time.
Expecting the win is just the kind of mental trap Seamen coach Greg Vassar spends his time helping the team avoid. His comments just before the weekend were bordering on clairvoyant. "We have to play up against every team; that's our focus and has been a struggle in the past," he said.
Wilmington spent much of the weekend running fairly open lines and finished pool play relatively unscathed. Like it or not, that kind of easy first day can often create some overconfidence heading into the bracket. The Seamen defense had their first big stumble trying convert against NC State. Wolfpack's Mason Garden recorded a pair of point blocks on Wilmington's defensive leader Charlie Lian during punt attempts. That saved two holds for NC State's offense, allowing their junky-heavy defense back onto the field. Vassar gave full credit to NC State's play in what he referred to as "…by far, our worst game of 2015."
Late in the game, Wilmington got their edge after throwing threat Luke Hancock shed his street clothes and entered the game. According to team leadership, he had been resting due to soreness. Hancock, the keeper of a dangerous flick huck, continued to be a difference-maker for the Seamen, and they closed out the win over NC State.
The difficulties continued into the final with Georgia, who had come charging out of a 15-5 win over Auburn in their own semifinal. "We just played poorly and UGA didn't," said Vassar. Some of the missteps for Wilmington in bracket play were surely due to the team's loss of a lightning-quick cutter, a favorite target for Wilmington's big throwers. Wilmington's cutter broke his fibula during play on Saturday and is unlikely to return before the series.
Still, grit, talent, and a little bit of luck left the EQ trophy in Wilmington's hands. There were signs of the streakiness we saw from this team during the 2014 regular season, but the mental ups and downs seem to be somewhat less frequent in 2015. Still, they're not satisfied. "We need more reps and to work on our mental game," said Vassar Monday afternoon.
Auburn Is Going To Easterns
Third place rarely feels as sweet as it must for Auburn after this weekend. While Wilmington and Georgia (both already part of the Easterns field) battled for the tournament title, Auburn took complete advantage of a mentally and physically exhausted NC State to win 15-8 and snagged the real prize of the weekend: a bid to Easterns.
Headed into the weekend, Auburn knew that Easterns Qualifier signified a chance for both overall team improvement and the chance to make a splashy, statement win. Captain Ryan Landry had the team's process goals at the top of his list coming into the weekend, knowing full-well that they would be testing new sets on both sides of the disc, while simultaneously looking for big win margins against lesser teams in pool play. "Earning a bid to Easterns would be a big step for our program due to the caliber of competition," said Landry in an email on the way to Myrtle Beach.
With improving efficiency in the red zone and intensity in every game on the brain, Auburn started the weekend defending the overall third seed and still held it at sunset on Saturday, although not without a few scares. Down a break or two at times, Auburn buckled down and closed out two games by  just one point. Their largest margin on the day was a 14-9 win against Tennessee.
In quarterfinals, the Appalachian State Nomads nearly ended Auburn's run after leading for most of the game. Three breaks in a row for the Auburn defense flipped the lead and gave them the win, 15-13. Landry would like the team to be able to harness that kind of energy at any point, not just with their backs against the wall. "It's nice to know that we possess that ability to come back and make the plays late in a game, but playing with that same intensity and efficiency for the whole game is what we are looking for," he said.
The semifinal matchups, as a result, were all chalk: #1 UNCW vs #4 NC State and #2 Georgia vs #3 Auburn. With both underdogs looking to mark their success with the lone bid to Easterns on the table, Landry said that Auburn suspected the third place game would leave a lot to play for. Though they had no intention of throwing their semifinal matchup, a rash of mistakes early on allowed Georgia to quickly pull away from Auburn. "We went in with the mindset that this is a team we can beat if we play like we know how to play. Apparently we forgot how to play for that game," remarked Landry on the 15-5 loss.
The quick loss allowed Auburn to rest through the last half a dozen points of the opposite semifinal and Landry watched with his team as NC State left it all on the field against Wilmington. While Auburn may not have necessarily have wished for a mistake-heavy loss against Georgia, it quickly became clear that they could find redemption in the third place game. A dog-tired Wolfpack arrived for the game to go, coughed up the disc on offense, and allowed Auburn to cruise into third place and Easterns.
This season marks new territory for this Alabama-based team. With the invite back to Myrtle Beach secured, Auburn will compete in two of the regular season's top Division I tournaments, the Stanford Invite in the beginning of March and Easters at the end. "We get to put Auburn on the map for the first time in program history. It's a wonderful opportunity that has been building for the past couple of years," said Landry.
North Carolina State Has The Talent, But Lost The Focus
Any player, captain, or coach knows the unsettling feeling of saving mental energy and legs in one game to play better in another. For the North Carolina State Wolfpack, 2015 is all about learning how to win when they go toe-to-toe with powerhouse programs. Throwing their semifinal against Wilmington just wasn't an option.
"To me, saving ourselves for the presumed 3rd-place game (and the bid to Easterns) can be second-guessed similarly to the scrutiny placed on a football coach who goes for the 2-point conversion to win the game in regulation," said coach Garrett Dyer Monday evening. Dyer has been candid about NC State's mental toughness goals, all of which are born from past struggles.
The Wolfpack continues to pursue an emotional, statement win against a top program — it'd be all the sweeter against Wilmington or UNC, both of whom have owned the Atlantic Coast in recent years. After notching five straight wins in Pool D and taking out Tennesse in quarterfinals, NC State drew Wilmington for their semifinal matchup and narrowly missed the win in a 14-16 loss. "We left it on the field in that UNCW game," said Dyer.
NC State was comfortable going point for point on offense with Wilmington and benefitted from the adrenaline of the matchup. Dyer watched offensive stud Jake McGoogan enter his top gear with the pressure on and his offense hung on against the deadly speed of the Seamen defensive lines. "The bigger the challenge, the better Jake's decision-making becomes and the more he uses his legs to create," Dyer observed.
The Wolfpack in turn conceded resets to Wilmington's handlers, choosing to spend their energy on locking up downfield cutters and forcing high stall decisions — that Xavier Maxstadt operated for much of the game without his co-captain Luke Hancock was all the better for the NC State defense.
In crunch time, however, Hancock was able to mitigate his ailments and enter the game and NC State lost the edge at the most inopportune time. Dyer noticed the shift immediately and noted, " Luke's presence changed the UNCW's O-line dynamic." NC State missed an upwind break three times after that shift, and the game slipped away.
With their top cutters exhausted, NC State matched up in the third place game against Auburn and we know what happened next. "[Auburn] got 4 breaks in the first half and the game was essentially over," said Dyer. He benched his offensive starters when they began to look ineffective against Auburn's hungry defenders,and when their own defense made it on the field, Wolfpack players were unable to generate turns. The bid to Easterns, the very public goal for NC State coming into the weekend, escaped their grasp in a 15-8 loss.
Instead of returning to Myrtle Beach, NC State will head to Maryland for Roll Call at the end of March where they'll look to solidify their mental toughness against a variety of familiar Atlantic Coast contenders. Dyer hopes that at Roll Call, his players will adhere to their systems and stay mentally strong: "Regardless of the outcome, if we come away believing that we've been nearly 100% successful at those two things, we'll be ready for the series."
Georgia Finds Their Legs After Disheartening QCTU
Dissatisfied with their performance at Queen City and banished indoors by bad weather, Georgia entered arrived in Myrtle Beach knowing that they needed to grow as a team before coming back to the South Carolina coast in late March. UMass, Wilmington, and Michigan had all exposed weaknesses in the Georgia offense in Charlotte, and Easterns Qualifier had to be a weekend focused on…focus.
"We as a team were never 100% invested in the game at hand," said Georgia veteran Sam Little of their regular season debut. "We really want to utilize [Easterns Qualifier] to look within ourselves and continue to grow together as a team."
Grow and improve they did. Though their path to the final against was perhaps the one of least resistance, Georgia made sure their wins were strong. Outside of the 16-17 loss to Wilmington, no opponent registered double digits against the team. Georgia racked up big leads and kept it that way all the way through their 15-5 runaway win against Auburn in the semifinal.
Efficiency was at the top of the list of achievements for Georgia. They capitalized on mistakes all weekend and encountered a Wilmington team that had showed weakness already against NC State. Though they could not be reached for comment at press time, Georgia must be pleased with their seed-holding result. They've had two looks at Wilmington now, and while the double-game point loss can sting, Georgia has proved that they can play with one of the top teams in the country.
As the weather warms up here on the East Coast, we can expect to see more practice and focus taking hold in the Georgia lines. They'll be ready to step back up to top level competition at Easterns.