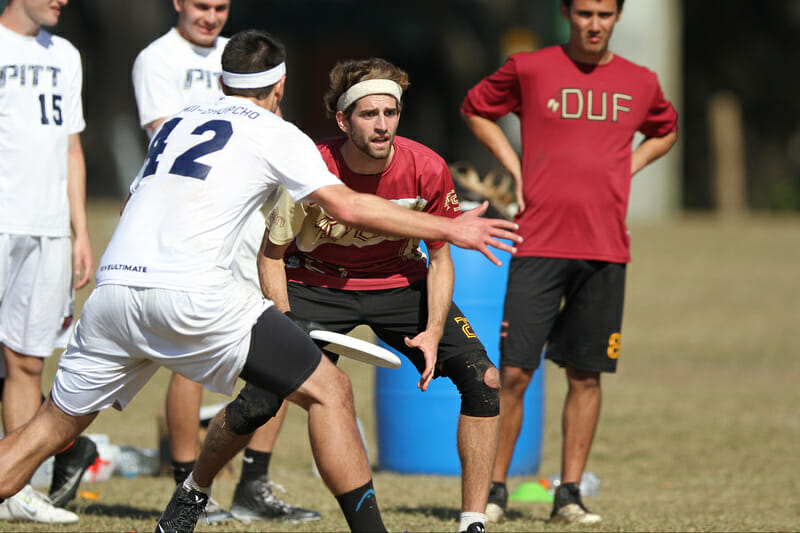 The lessons learned from Warm Up: A Florida Affair last month in Tampa seemed to set an intriguing template for what was likely to go down this weekend at the Stanford Invite.
Turns out, though, that it had almost nothing to do with what happened Saturday in Fremont, CA. Three of the four Warm Up semifinalists are already eliminated from championship cotention, with the sole exception being the only team that's truly taken care of business and done it cleanly: Pitt.
Though they look primed for another tournament title, they weren't the only story Saturday. Here's some of what we learned.
Auburn Surpassed All Expectations
Fake it till you make it, so they say. Already having a secured an Easterns bid two weekends ago, Auburn proved their mettle on Saturday of Stanford Invite. Coming into the tournament the second-to-last seed and facing what was probably the toughest pool (Wisconsin was the third seed), Auburn went 3-1, only losing to Oregon on double game point, to take second in the pool on their way to a Sunday quarters matchup against Pitt.
Continually breaking the mark, timing their hucks well, and, most importantly, getting it done in crunch time, Auburn excelled by simply playing well together. Down most of the game against ASU, Auburn never put their heads down or stopped playing hard defense. In the end they waited out ASU (who played the game without their star handler Nate Bridges) by being more efficient when it mattered. Their endzone offense was particularly effective all day, as they used the breakside effectively and gave their handlers plenty of space.
Not overtly athletic or stacked with star players, Auburn never acted like they were out of their element. They played confidently and trusted each other, particularly in their Wisconsin game. In an oddly paced game full of marathon points and quick turn and burn scores, Auburn once again played like they were meant to be there. Not having the depth to match Wisconsin, Auburn's offense took what the Hodags gave them, which meant a lot of around breaks and uplines.
In their prequarters game against Western Washington—who played close against every team they faced—Auburn used a junky zone to slow down Dirt's hucks, while hucking it to a streaking rail cutter on the turn. The game ended anticlimactically, on a point lasting over twenty minutes (with a five minute argument about a foul). In the end, the game really could have gone either way, but once again Auburn finished it when it mattered most. Fake it till you make it, and it today Auburn made it.
Washington Continues To Rise
It seems like with each new tournament, we're waiting in anticipation to see if Washington really is the real deal. If for whatever reason winning Santa Barbara Invite over Arizona State and beating Colorado en route to nearly taking home a Presidents' Day Invite title wasn't enough, the Sundodgers just added to their list of 2015 accomplishments: winning a pool at Stanford Invite.
Though their victories over Tufts, UC Santa Barbara, and Carleton may not have been by the greatest of margins, and each of those three teams definitely had a shot up until the final points were scored, Washington just looked like the better team. One of the best teams at the tournament actually.
Their combination of flowing breaks, leading huck throws, and a shifty zone that clogs downfield has consistently proven to be a hassle for opponents to navigate and contain.
The Sundodgers will still need to come out hard against Wisconsin Sunday morning, as well as put together a great semis performance afterwards, to really cement their status as an unquestionable contender. But almost regardless of what happens tomorrow, Washington is a team to watch come Nationals.
Oh, and they just added this guy to the mix. The rich get richer.
Oregon Does Just Enough
Everyone knew what Ego was supposed to do today, and they did it. Sort of.
Wearing basketball jerseys in a not so subtle nod to the ball-out style they like to play with, Oregon could have used a bit more NBA swagger today. Coming out flat in all their games, Ego eventually (and always) turned it on late when it mattered, but they spent most of the day frustrated with themselves. In the end they swept their pool and earned themselves a bye into quarters.
It's clear Ego's one of the most talented teams here, and are experienced enough to be confident in crunch-time. But one thing's for sure: if they play tomorrow like they did today, Ego could get knocked out early. They face an athletic, up-and-down Texas team who could easily take advantage of a flat Oregon, if Ego lets them.
Colorado Bounces Back
After their underwhelming showing at Pres Day, one would be forgiven for thinking that Colorado was doomed to a down year. (A down year being not making quarters of Nationals). Considering their performance Saturday, that prediction might need some rethinking.
Not only did Mamabird win their pool, but they did so by playing the well-trained gritty Colorado style they made popular over the last few years. Unlike in San Diego, their continuation cuts were flowing, their breaks were there, and their man defense was suffocating. Multiple times during their upset over FSU players on the DUF sideline could be heard screaming "No around" only to see that advice go to no avail.
Coach Brent Zionic said that a lot of things played into Mamabird's comparatively weaker Pres Day results, including experimenting with some new offensive mechanics. But now, Colorado has sorted out more of those kinks and have reclaimed some of their former glory.
Moreover, Mamabird accomplished all this without Stanley Peterson, who suffered a ligament injury last month and might be out until Regionals, Zionic said.
Wisconsin, Texas Showing More Polish
Wisconsin and Texas were both coming out of good but not great Warm Up performances (finishing eight and ninth respectively) and both fought hard to earn themselves a spot in quarters and a chance to do something bigger this weekend.
Notorious for their inability to practice outside until late spring, Wisconsin's offense looked much smoother today than at Warm Up, a deep ho-stack that took the unders when given to them, but persistently chugged hard for the deep ball all day. Though they still turned it a decent amount via mental and execution errors, their defense contested under after under and kept getting them the disc back. Frustrated after their final pool play loss to Auburn, the Hodags came out and punched FSU in the mouth in prequarters, taking half 8-4 on their way to a convincing win and a chance to take it to Washington tomorrow.
To call Texas streaky might be a little harsh, but Tuff were definitely riding on the seat of their momentum all day. Tuff definitely passes the eye-test; the team is chock-full of tall, athletic runners, with enough throwers with confidence to put it up to them. But Texas sometimes has trouble vibing together, and lets teams go on runs against them when they're down on themselves. Pitt put them to bed early, Texas with almost no sideline presence or voice by the fourth point.
However, Tuff was too much for Rutgers and Stanford, winning almost all contested hucks in both games (these skies being the difference in the latter game). Pulling it out in a game that could have gone either way against Carleton (again winning via the air), Texas drew Ego in quarters, a match that actually suits them well as Ego is a team that could let Texas get the confidence they need.
Florida State Again Flops At Stanford
What could take a team from stampeding through one of the biggest tournaments of the year — outside of their flogging at the hands of Pitt in the Warm Up final — to dropping out in prequarters at a similar tournament only two weeks later? If FSU knew the answer to that, they'd probably still be in the bracket.
But it really was tough to say what happened in that intervening time. DUF still has all the weapons and athleticism, and they still hit the floor on defense without restraint. For whatever reason though, FSU just couldn't put it together against Colorado and Wisconsin.
That is, those games were over shortly after halftime. Combinations of errant throws, dubious decision-making and a much more fractured flow on offense left FSU getting repeatedly broken by teams they would have likely crushed in Tampa.
Maybe DUF is just that kind of streaky team. But if they want to remain considered a very real contender for the championship they're going to need to figure out how to assert and maintain themselves, even when things aren't always falling their way.
UC Santa Barbara Showing Growth
Building upon their solid performance at Pres Day, UCSB came to Fremont and completed one of the biggest upsets of Saturday in the opening round, besting Carleton on universe, 12-11. Despite both teams playing exceptionally sloppy with loads of easy drops and baffling throwaways, Black Tide kept their energy up the whole game and managed to squeeze it out in the end.
UCSB's victory over Tufts went down much of the same way. Black Tide managed to just make a few less mistakes.
But the curiously high amount of questionable looks they took in all their games might soon catch up with them. UCSB will match up against a clean, efficient-looking Colorado, that will likely be much better at punishing those crucial mistakes.
Carleton Still Flat
Yet another Warm Up success story that floundered in Fremont. Carleton showed a confusing range on Saturday, often looking like a team so stacked with weapons one would be left feeling somewhat hopeless as to how to contain them, but much more often looking like a team that would do 90 percent of the job right but then just forget how to do simple things like catch the disc or complete a dump pass.
Part of the reason could be attributed by the stacking of their O line with most of their stars, making ti difficult for their defense to convert breaks. But if that were solely true, then they wouldn't have been broken so many times and wouldn't have had to fight their way back into games like they did multiple times Saturday.
One is tempted to give a program like Carleton the benefit of the doubt and believe they'll be a completely new team by Nationals. But in order to really believe that, one would need to see a more consistent CUT squad show up Sunday and at Easterns.
Arizona State Comes Back To Earth
Riding high off their gritty and inspired play into semis of Warm Up, ASU came into pool play looking to continue make waves as the Southwest's best answer to the rest of the country. Unfortunately Prime kept coming up short today. Missing their offensive fulcrum Nate Bridges, Prime couldn't convert on defense to finish off Auburn and ended up letting the Tigers take the game late, doing the same against Wisconsin later in the day. Their junky zone consistently generated panicky turns from teams and their offensive cutting was aggressive, but Prime frequently stalled on the endzone. In the end, ASU just couldn't finish their games despite playing every team hard and close.
The only thing to really say about Pitt on Saturday is Watch Out. Or perhaps Not Enough. Despite thrashing Texas, their coach was grilling players on missed assignments and their sidelines barked assistance to their teammates throughout the game. The only team to truly take care of business all day—they didn't even have a close game, even their first against Stanford which they won 13-10 really wasn't that close in reality—Pitt is poised to make a deep run tomorrow. Honestly if they do anything less than win the tournament it will be surprising. Watch Out.