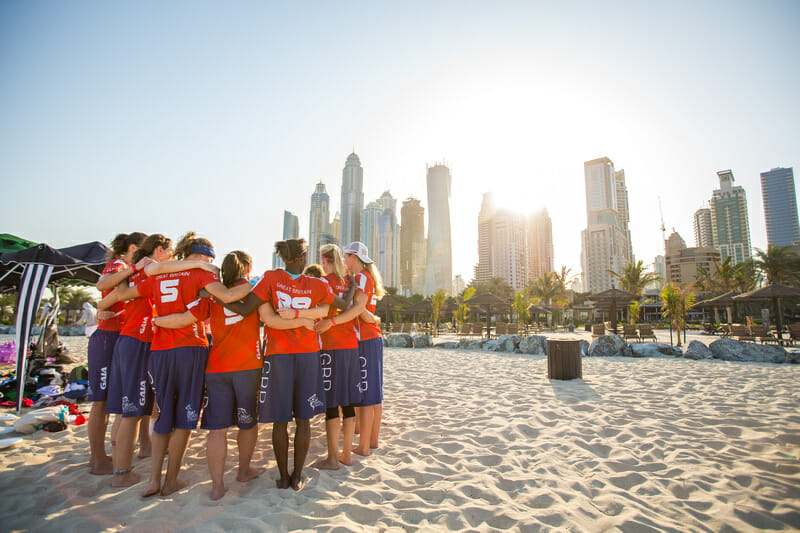 The World Championships of Beach Ultimate are winding down in Dubai this week as most divisions are scheduled to hold their finals tomorrow. Here's a rundown of the latest from WCBU — you can find lots more information, news, and video at the WCBU site.
Mixed: Canada Defeats USA In Semis After Controversial Call
A tight and exciting game between Canada and the USA in the semifinals of the Mixed Division has been overshadowed by what looks to be a very poor foul call on double game point by Canada's Jeremy Norden. Here's the clip of the call after Eli Friedman laid out on the mark right near USA's goal line for what appears to be a clean hand block:
Jeremy Norden Foul Call v. Eli Friedman hand block – USA v. Canada – WCBU 2015 Mixed
Canada would maintain possession after the foul/contest and go on to win 6-5. People have been buzzing about the call, including this series of tweets from Jimmy Mickle:
https://twitter.com/livelaughlime/status/576079238811406336
https://twitter.com/livelaughlime/status/576079425227206656
https://twitter.com/livelaughlime/status/576079514888876033
https://twitter.com/livelaughlime/status/576079647047192577
https://twitter.com/livelaughlime/status/576079817633767424
https://twitter.com/livelaughlime/status/576080364407431168
Here is the full game video:
WCBU 2015 – USA v. Canada Mixed Semifinal
Open: USA Narrowly Defeats Philippines After 20 Minute Double Game Point, 7 Minute Spirit Timeout
Controversial foul and travel calls were also the story of the end of the highly anticipated USA v. Philippines matchup in the semifinal. The USA would ultimately win, 8-7, but not after a drawn out double game point featuring multiple questionable travel and foul calls, most notably on what would have been a game-winning backhand from Mario O'Brien to Tyler Degirolamo. After more calls, the teams took an extended spirit timeout that brought the game to a halt.
Get Horizontal's Ravi Vasudevan got interviews with both captains after the tense game.
Here's the full game video (the travel call against O'Brien comes at 59:55):
USA v. Philippines – Open Semifinal – WCBU 2015
USA Wins Gold In Mixed and Women's Masters
Sean Murray and Tyler Grant led the way for Team USA in the Mixed Masters Division with two goals and two assists a piece as the US defeated Canada 9-5 in the final. It was an easy gold medal run for the MXM team in a division that often showcases the depth of talent in the US.
Here's the game video:
USA v. Canada – Mixed Masters – WCBU 2015
The Team USA Women's Masters team was even more impressive in Dubai, finishing up with a no-doubt 8-2 victory over Canada with contributions from up and down the roster. Here's the game stat sheet and the video:
USA v. Canada – Women's Masters Final – WCBU 2015
Tomorrow's Schedule
Here's a look at the final games for tomorrow:
Open: USA v. Great Britain
Mixed: Canada v. Germany
Women's: USA v. Russia
Open Masters: USA v. Canada
Grandmasters: USA v. Sweden