Tad Wissel recaps Ireland's Siege Of Limerick tournament in the way only he can.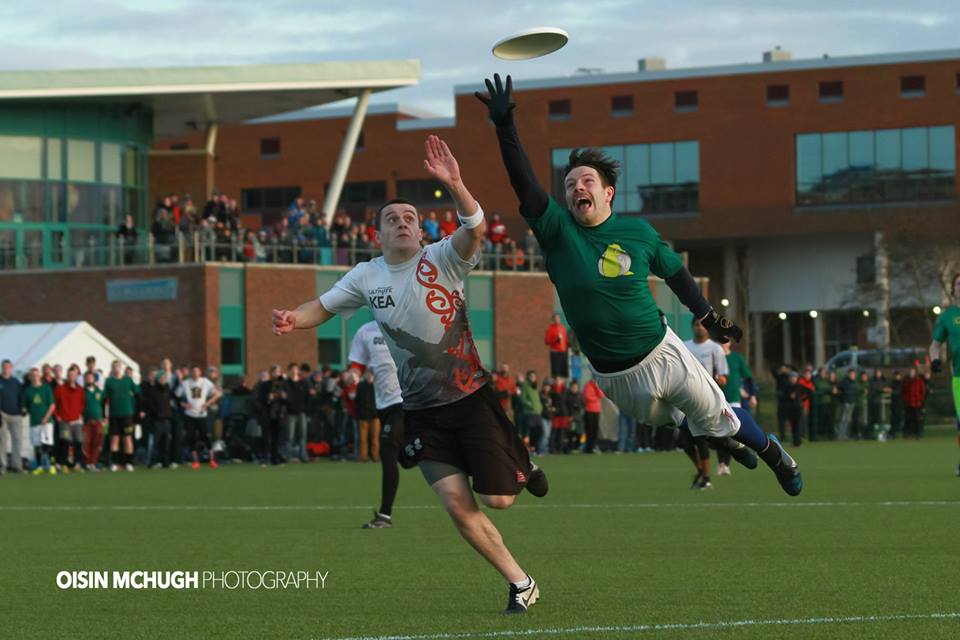 It's tough to accurately compare a US tournament to The Siege of Limerick.
On one hand, there's a college alumni tournament kind of vibe with most players knowing one another… but then there's also a major effort with filming and photography. There are some serious post game festivities…and a heavily spectated final that tops most American professional games.
The Siege is probably more like a wedding.
You've got this big, beautiful venue and every little detail — from the awards ceremony to the avocados in the provided lunches — has been meticulously thought out. Then, like any good union, there's an outrageous party with a live band and the drinks are going down easy.
Weddings are really fun. So is this soiree in Limerick.
Put on your skeptic hat if you like. Maybe all European Ultimate events are like this. Really, I have no basis for comparison. I'm just some rube whose international experience has been one underage trip to Canada to drink and gamble.
I have been to a lot of tournaments though — and there is nothing quite like The Siege going on in the States.
***
"The past few years have been huge for us," tournament director Barry Walsh said after Sunday's games. "We have been able to attract more and more foreign teams over the past few years, made a name for the tournament in the European ultimate scene, and got a lot of ultimate sponsors on board – Friction Gloves, Five, Get Horizontal."
With Ireland, Great Britain, Germany, and Belgium represented across a 24 team open field and an eight team women's division in 2015 – The Siege has indeed seen marked gains in the last few years.
A lot of that growth has been the tournament brass' ability to stay proactive. In the seven year history of The Siege, they've made some creative moves like shipping in household Ultimate names like Ben Wiggins, Brodie Smith, and Melissa Witmer of Ultimate Results.
Aside from bringing in players and people to improve the overall level of the tournament, there are a lot of other features that separate Limerick's home contest from the pack.
– The tournament is held at the University of Limerick which boasts Europe's largest all-weather sports facility. That means every game of the tournament is played on a plush turf field. The pitches are immaculate and there's a bar overlooking the championship games. You don't have to watch the radar before the weekend because the fields will always be playable. It's a gorgeous facility.
– A noticeable film and photography presence was on hand.
"It's something we love to have at the tournament," Walsh explained. "Let's face it, who doesn't love looking at photos and clips of themselves playing?"
Great point.
Within 24 hours of the last game the finals, complete with score-by-score graphics and slow motion replays of big plays in the finals had been posted.
Inside each box of tournament provided food, you'll find cold cuts, sliced cheese, jugs of water, fresh sandwich rolls, hummus, rice cakes, avocados, cream cheese, and Haribo gummy candies, among other things. It may seem like a little thing but this is far different than the tournament fare I'm used to; a box of unripe bananas and a finger point to the location of the nearest spigot.
There were six TDs running The Siege this year. Division of labor like that makes the extra stuff possible, rather than one dude who is a player first and a tournament director second.
Through American Eyes
Limerick's club team, Pelt Ultimate, was kind enough to let me pick up with them. Also picking up with Pelt was Liam Grant of Skyd Magazine's Through Irish Eyes series. Over two nights of drinking, bullshitting, and Liam's totally clutch ride to the Shannon airport Monday morning, we joked about a Through American Eyes segment.
Here are a few things that might stick out to American Ultimate players.
On Field Spirit is Really Important
Not that spirit isn't a big deal in the United States, but spirit in Ireland is on a whole other level.
For example, when a call made there aren't nine dudes immediately yelling, "No way, man!"
There was also genuine deference to the player with best perspective, no egregious or intentional marker fouls, and, really, just fewer calls in general.
Players were more focused on getting the call right rather than "winning" the call, which, let's face it, is not always the order of priority in the US. Even though my conditioning was to go nuts or at least get involved on calls I disagreed with, more often than not the right call was found through calm discussion. It was refreshing. And honestly a little embarrassing that this was not the approach that felt natural.
Part of the tactful on-field behavior was due to the spirit circle.
The first and only time I'd ever been in a spirit circle was at High Tide in 2008. It was…not comfortable. At The Siege, there were spirit circles after every single game. Still not a totally natural feeling but as the weekend went on, I lost the initial "whore in church" sensation and started to understand why it was happening a little bit more.
In an era officiated games and observers, the word "spirit" is pretty polarizing. Maybe a more relatable term for "spirit" is "accountability."
At the end of each game you have to put your arms around two dudes who aren't on your team and look a bunch of other dudes in the eye. If you were out of line, you must face your accusers. If you weren't, you stand there and listen to what made the game fun and get some strategic feedback.
Pelt had a game or two that I personally didn't think were poorly spirited, at least by my Joe Blow American standard. However, there were a lot of calls and long discussions, which no one enjoys, and those were addressed by the captains in the spirit circle. I think it was beneficial.
Interpret that however you like. I'm not going incorporate spirit circles into my weekly pickup but I had some helpful takeaways.
There's more than one way to police the game and person-to-person accountability can be an effective option.
WFDF rules. WTF?
I had a number of "Dumb Yank" moments. Many of them, like buying several bottles of Buckfast, were completely my own doing. Other follies, like not knowing the key differences between USAU rules and WFDF rules, I'll take partial blame for.
The Contact Rule
USA Ultimate is beating American players over the head to use "contact" instead of "foul." The WFDF rule on contact is that it only drops the stall two counts, like a fast count. I screwed this up.
The Brick
If a pull lands out of bounds – wherever it is in the field – you can either take it on the sideline there, or at the marked brick. If it's OB at half field you can't center it unless you walk it back to your brick. I also screwed this up, but not until after thinking about how badly someone else who didn't center the disc screwed this up.
Tapping the Disc Into Play
Maybe this is more of a stylistic thing but NO ONE checked the disc in. There I am, reaching my hand out like an asshole to tap a disc in and the thrower is pivoting around me for a break. I screwed this up with a violation call, too.
Irish Hospitality
I'm happy to throw the entire island under the umbrella of "extremely hospitable" but, at the very least, the Limerick guys I met and stayed with were gracious hosts.
Here's the stat of the tournament for you. The Limerick Ultimate community housed about 125 of the tournament's 450 total players. That's unreal and totally unheard of.
As a white American mutt who is inherently some parts Irish, I had a lot of questions about Ireland. Even after a few pints, when my tactful question game was a little… off – people were happy to provide perspective. I'm talking about not-so-streamlined, shamefully ignorant queries like, "In four sentences or less, what's the deal with the whole Northern Ireland thing?" and "Do you guys like Notre Dame?" The hosts were able to explain it to me like I was a grown up, drunk child and without seeming horribly annoyed. Being from Pittsburgh, I don't know if I could provide the same courtesy if an Irishman asked me to explain the Steelers/Ravens rivalry without getting belligerently upset.
Am I the last guy on Earth to find out about the sport of hurling? In a nutshell, a bunch of dudes with wooden axes try to crush a ball into a net on a huge field. The Limerick dudes I stayed with patiently explained the rules to me. It's bad ass. We watched a couple of the more entertaining hurling games of the last few years (basically the Pats/Seahawks of hurling) and it was wild. Hurling is all the physicality of hockey, with the constant movement of lacrosse, and the sweet home run shots of baseball — but without all the standing around. Most of the Ultimate players I stayed with had athletic backgrounds in Hurling and Gaelic Football, which is interesting because those are big time contact sports.
Leaving the Emerald Isle
"The tournament brings every player together in competition, spirit, socializing and partying," Barry Walsh remarked when asked about the mutual respect between the teams in attendance. "I love how players from all over Ireland and Europe can drink together all night long and then battle it out the next morning on the pitch."
The Siege isn't a "party tournament" the way we think of it in the US. Partying and playing are both taken seriously but don't really overlap like they do (for many) at Fool's Fest or Wildwood.
A distinction between competition and nightlife is important. Play, then party. That's a good formula to continue to attract high level European competition in coming years.
"[The Siege] really is considered one of the best tournaments Ireland has to offer," Walsh added. "…and we pride ourselves on the professionalism and quality we bring to running it."
Notes
– My flight from Pittsburgh to Boston got cancelled and I couldn't find any way there via plane until the following day. So, like the start of any good buddy comedy, (or horror film where one stranger cuts another stranger's Achilles tendon with a pair of tin snips), a dude I met at the airport bar and I decided to drive the 10 hours to Bean Town so he could get to Providence, Rhode Island, and I could make the next day flight to Ireland. I didn't learn this guy's name until we got into the rental car. Turns out his name is Tom. He will be the godfather to my children one day. All told I spent about 52 hours in Ireland.
– I was on the field when Joram Mossink made that insane catch in finals and it looked even better in person. Yikes.
– Credit where credit is due, people in Europe have just been drinking way longer than Americans. These guys are pros and we're a bunch of jokers. If the United Nations had a bar we'd be the obnoxious 21 year olds ordering shots of crème de menthe and yelling into a cell phone for our roommates to come pick us up.
– At some point during the party Saturday night, myself and a bunch of dudes start doing the Ric Flair "Woo!" This is basically the male body's natural reaction to alcohol. It's a long story… but a couple years ago I stumbled upon Flair's phone number in conversation with some random dudes at a bar. So me and a bunch of Irishmen step outside in the rain and leave Flair some kind of long, Woo-ridden voicemail.