Harvard hasn't lived up to their lofty expectations this season. Can they bring it all together in time?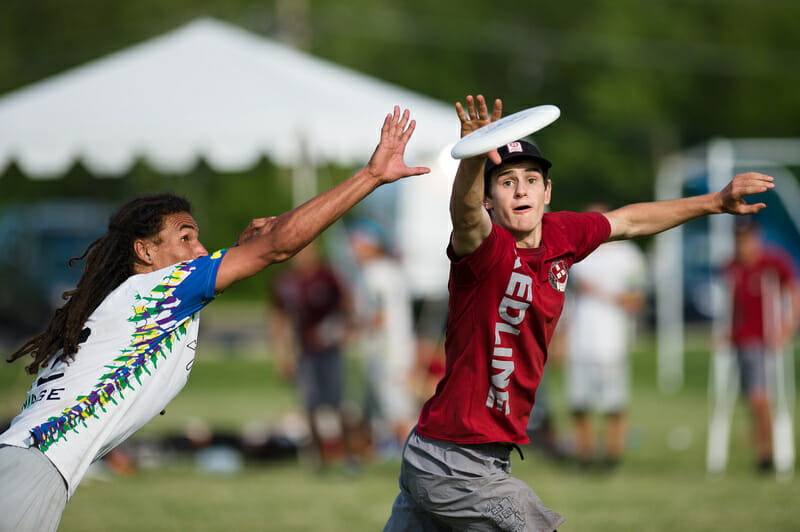 "The way that we always approach the season is to become the best Harvard Red Line team that we possibly can," Harvard coach Mike Mackenzie said.
The question is, then, just how good can this year's Harvard team become? Last year their season ended on a double game-point loss in prequarters to eventual semifinalist UNC Wilmington. In 2013, they also placed T-9th, losing in prequarters to the UNC. Can Red Line get over the pre-quarters hump this year? Can they even advance from New England Regionals in what is shaping up to be a dogfight?
Strengths And Question Marks
Harvard's biggest strength is their players' dedication to each other and their system. They prefer having a balanced attack offensively and defensively, as opposed to focusing everything around a few star players. This comes as no easy task for the youthful Red Line team, however. This year Harvard's roster includes 10 rookies, nine of which are freshmen.
"We've got 10 guys who, Queen City [Tune Up] was their first meaningful spring tournament," Mackenzie said. "I think those guys want it, and want to get better and I think that they know that it's up to them and, really, a big part of how far this team goes is going to be how hard those guys work and how much they develop."
The team saw mixed results at QCTU, coming out of pool play with a 2-2 record. They recorded an impressive victory over Michigan to reach the semifinals, but UNC-Wilmington stopped their run with a blowout win.
Harvard's offense struggled with spacing and timing, something Mackenzie attributed to the team's youthful inexperience.
"When you've got a lot of guys who haven't played a lot, they're still seeing the field not as quickly as you want, so recognizing 'where do I need to cut, when should I cut,' those things are things we need to work on," he said.
Mackenzie added that the team kept their strategy simple for the first tournament in an effort to emphasize the basics of the game.
Harvard's youth seemed to be exposed again at Centex where they finished 15th out of 20 teams. They were unable to close out tight games, perhaps due to their inexperience, posting a 2-5 record. Though they beat Wisconsin-Milwaukee 13-4 and Arkansas 14-11, they lost to Florida (11-10), Colorado (13-10), Missouri (13-11), Colorado College (15-14), and Iowa (15-10).
Still, Mackenzie was pleased with the team's overall growth.
"Centex showed that we have the ability to be competitive with a lot of the teams we'll line up against," he said. "We saw a lot of growth between QCTU and Centex, which is encouraging with our young team.  The challenge from here is continuing to improve on the weak spots that were exposed during Centex, which will help to flip the results on those close losses to wins."
Returners And Losses
The most notable loss for Harvard is 2014 New England Player of the Year Jeremy Nixon, whom Mackenzie confirmed would remain out for the rest of the season with various injuries. Nixon, who won't begin rehab until after the spring, will be transitioning into an assistant coaching role with the team this season.
Harvard also had a number of key players from last year's team that have graduated. Cutter William Dean, a four-year starter who played for Wild Card this past summer, as well as 6'5″ Daniel Broudy, a key defender for Harvard in past years, have both graduated.
Red Line does return some key starters, though. Sophomore John Stubbs, junior Mark Vandenberg and graduate student David Reshef headline the returning core, but other players like sophomore Alexander Hem and junior Harry Stone provide Harvard with the depth to compete in a tough New England region.
Mackenzie will be looking towards those players to "step into larger roles" and help guide the rookies as the season progresses.
Goals
Harvard's primary goal is not to win Nationals. Yes, that is the outcome they are striving towards. But instead, they are focused on the preparation and process it takes to get to "where they want to be," as Mackenzie put it.
Mackenzie knows there a lot of challenges that come from a large roster turnover and a young team, but says Harvard is ready to face those challenges head-on.
"That's our biggest goal, to really help our rookies come along as quickly as possible and get them experience in big games," he said.
That is what Mackenzie believes Harvard needs to do to take the next step—to "keep the focus on developing our young players and addressing the mistakes that hurt us in those tight games at Centex."
Though the New England region currently only holds one bid to the College Championships, Mackenzie said he was not concerned about the bids available to any region. "We can only control our performance and development," he said.
So just how good can this year's Harvard team become? Can they get past the pre-quarters hump this year? Can they even make it out of New England, where Massachusetts is the odds-on favorite in a (currently) one bid region? Mackenzie is not sure of the answer, but he's excited to find out.
"You try and prepare the best you can for [Nationals weekend] and you go out there and try and perform the best you can based on that preparation," he said. "I don't know if there's anything in particular we're doing to prepare for trying to advance or take that next step or get to quarters. We're trying to be as good as we can be and how good your opponents are, that's all uncontrollable. If we take care of business we feel like we'll have a shot to do what we want to do this season."
Harvard's remaining regular season tournament is Easterns.