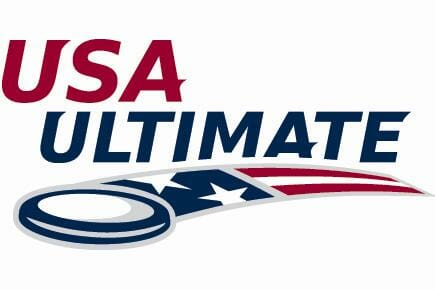 The preliminary end-of-season rankings have been released by USA Ultimate, and we are now able to see the full bid picture, which, barring final adjustments to scores and eligibility, will be the bid allocation for Regionals and Nationals.
MEN'S DIVISION I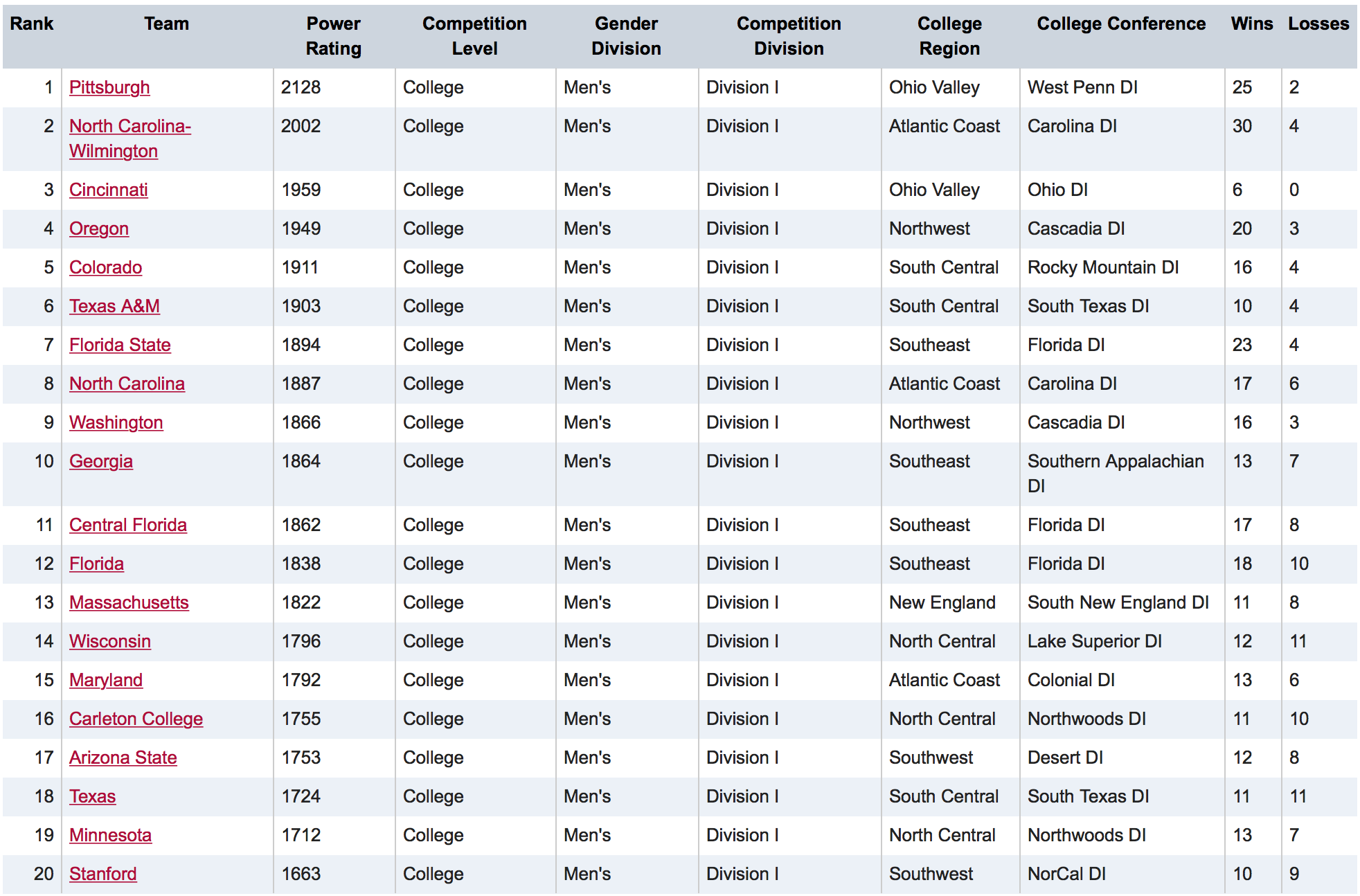 PRELIMINARY BID ALLOCATION
Southeast: 4
Atlantic Coast: 3
South Central: 3
North Central: 2
Northwest: 2
Ohio Valley: 2
Great Lakes: 1
Metro East: 1
New England: 1
Southwest: 1
ANALYSIS
To be perfectly honest, there just aren't a ton of surprises in this bid allocation! Maryland's great Easterns boosted them into bid earning territory to nab the Atlantic Coast a third bid. The Southeast fell to four after Auburn came back to Earth at Easterns (although Tulane winning Huck Finn almost boosted them high enough to land in the top 20).
Some tough breaks for New England, who missed out on a second bid despite having #21 Tufts and #24 Harvard. The Southwest is also stuck with one bid yet again, as #20 Stanford didn't earn a bid. It's worth noting here that UC Santa Barbara had many of its early results disqualified for academic eligibility issues — those may well be resolved. It's not likely they will land high enough to earn another bid, but their reestablished results (like their wins over Cincinnati) could have some ripple effects.
One question mark is the exclusion of British Columbia, also for academic eligibility issues at SB Invite and the Stanford Invite. They were in bid earning range for the Northwest at #17 last week, so if their results are reinstated they could well end up earning a third bid for the Northwest. That would most likely come at the expense of Texas and the South Central. Something to watch for as the final rankings are tabulated.
Minnesota is on the outside looking in as well, and it's unlikely any changes at this point could pull them up to get a third bid for the North Central.
It seems that at this point the only plausible change coming is a shift of one bid from the SC to the NW, if UBC is reinstated. UCSB was at #21 last week, so their return to the rankings wouldn't likely have a first order effect.
WOMEN'S DIVISION I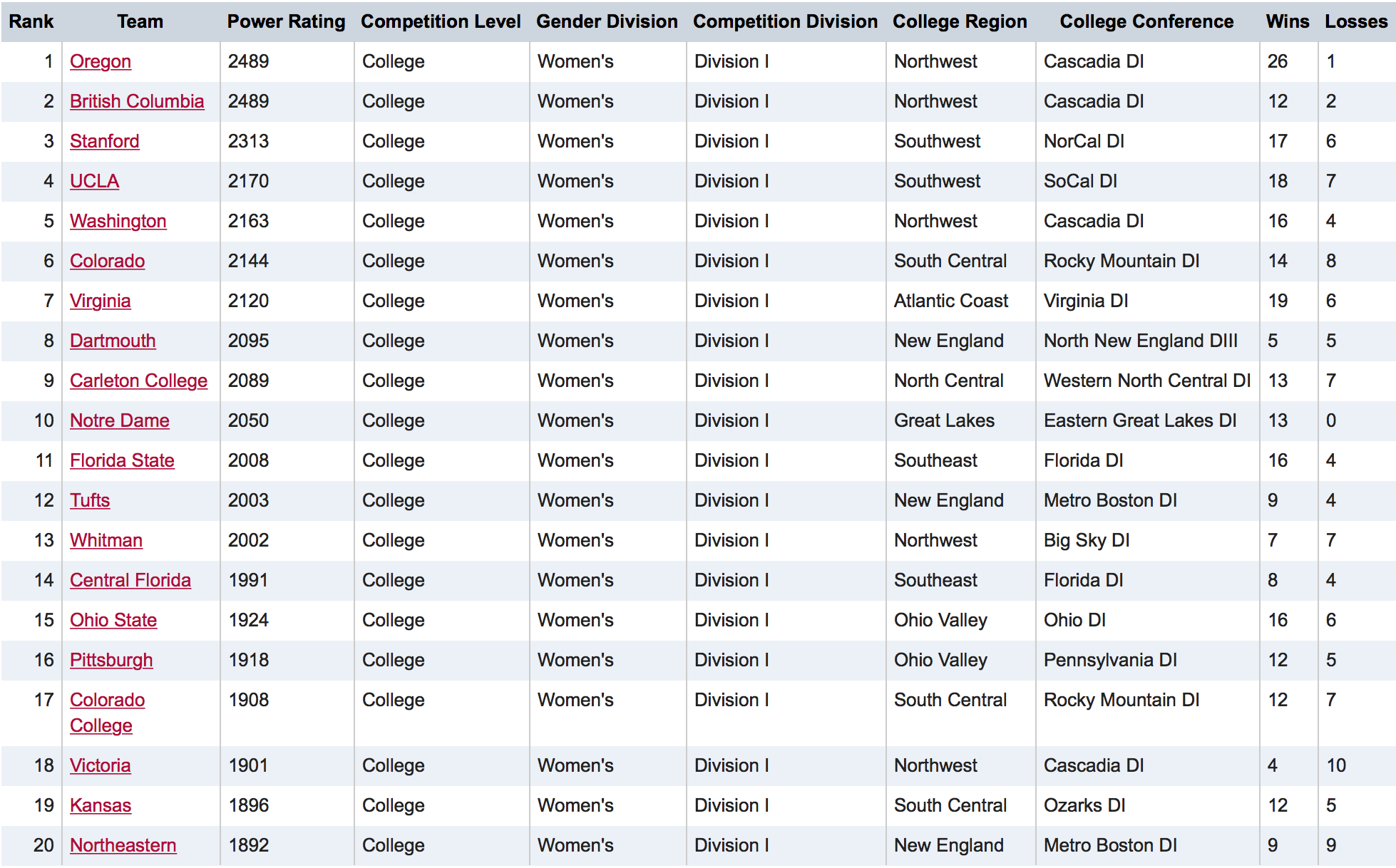 PRELIMINARY BID ALLOCATION
Northwest: 5
South Central: 3
New England: 2
Ohio Valley: 2
Southeast: 2
Southwest: 2
Atlantic Coast: 1
Great Lakes: 1
Metro East: 1
North Central: 1
ANALYSIS
Colorado College is in. Northeastern and Western Washington are out. Kansas is safe.
When the dust settled Tuesday night (well, as settled as it can be prior to final verification), it was the South Central emerging with three bids, after Colorado College's unblemished Centex performance earned them an increase of 44 points and 4 spots in the rankings. Going 6-0 at one of the bid allocations most impactful events was huge for the school hoping to return to a second straight nationals, as they powered their way from Tier II and beat three Tier I teams Sunday. Centex has treated the region well, as Colorado State won a third South Central bid last year by going undefeated from Tier III.
Losing out is New England, with Northeastern and Middlebury both coming close; Northeastern missed the cutoff by just four points. That actually may be misleading, as Central Florida's ineligible results (due to a rostering error for Florida Winter Classic and Queen City Tune Up) actually helped Northeastern and hurt Kansas, the team at the other end of that four point gap. Now the NE will pit bidwinners Tufts and Dartmouth – the heavy favorites – against a Northeastern team hungry to return to the show and upstarts Middlebury and Harvard for the two bids.
The Northwest also found themselves short a seat at the table after Western Washington stumbled through the Northwest Challenge and suffered a lot of blowout losses. Injuries may have played a key role in WWU's troubles, and a last round 12-10 victory over Carleton couldn't save their record. Now they'll head to Northwest regionals needing to knock off one of the five bidwinners (whom they are 0-5 against): Oregon, British Columbia, Washington, Whitman, or Victoria.
The past week was loaded with important action that finalized the rankings. Clemson was in line for a bid for the AC, but had to dominate their foes at Easterns. They lost a pair of games and played some close ones that pulled them down from their surprising slot. Not too far away at the I-85 Rodeo, Georgia and Wisconsin watched their slim chances fade away while Pitt received a serious scare in a two-loss weekend. Middlebury went into the final undefeated, both at the tournament and on the season, and potentially able to lock up a shock strength bid for New England, but they were cast aside in the final by Georgia.
On top of all that, Victoria, Dartmouth, and Western Washington all did battle at the Northwest Challenge. Dartmouth put together a very solid weekend that locked up their spot. Western Washington, faced with some key injuries, finds themselves on the outside looking in, and focused on the division's most competitive regionals. Victoria's tight losses to rival/fellow Northwest squads Washington and Whitman may have saved their season.
The two bid regions are not surprising at this point. The Southeast's duo of Florida State and Central Florida have put together solid years, including FSU winning Centex and UCF making it to the final of Florida Winter Classic. Even with some of their results invalidated, Central Florida has done enough. The Ohio Valley is a first-timer in the multi-bid region club, courtesy mostly a a good showing by Pittsburgh at Queen City Tune Up and an upset over Virginia at Commonwealth Cup. Pitt was one of the teams sweating it out today after being upset by Middlebury at I-85 Rodeo this past weekend, and contextually as the team trapped behind Ohio State, who has dominated the region for years now.
The Southwest also claimed a pair of bids, a disappointing showing from early season expectations. Stanford and UCLA have held onto top spots all season long, but a bevy of SW teams bounced around the 20-40 range, beating up on each other and performing inconsistently weekend after weekend. Southwest Regionals is notorious for the amount of pressure and potential for upsets, and teams like Cal, UC Davis, UC San Diego, and UC Santa Barbara will be plotting and scheming on how to knock off the top ranked favorites in what could be an explosive weekend.
The one bid regions were pretty predictable from the year's beginning. The Metro East has had very little success on any national stage. The North Central's tentpole team is Carleton, but Wisconsin, Minnesota, Iowa State, and Iowa have all flashed moments but more often come up short. The Atlantic Coast flirted with two bids behind the surprising rise of Clemson, but they were unable to sustain their undefeated record and high ranking. The Great Lakes saw the rise of a new top dog, Notre Dame, unfortunately coincide with the fall of another in Michigan. Each of these regions will have the typical drama of a one bid Regionals, where the margin for error is paper thin.
Interestingly, the top five ranked teams hail from two regions, so the top seeds at the College Championships are far from settled. #1 Oregon, #2 British Columbia, and #5 Washington will all potentially see one another at Regionals (and at Cascadia Conference Championships), making the Northwest teams heavy favorites for the top seed. However, #3 Stanford and #4 UCLA are on pace to meet up in the Southwest final and could capitalize should things go wild in the Northwest series.
MEN'S DIVISION III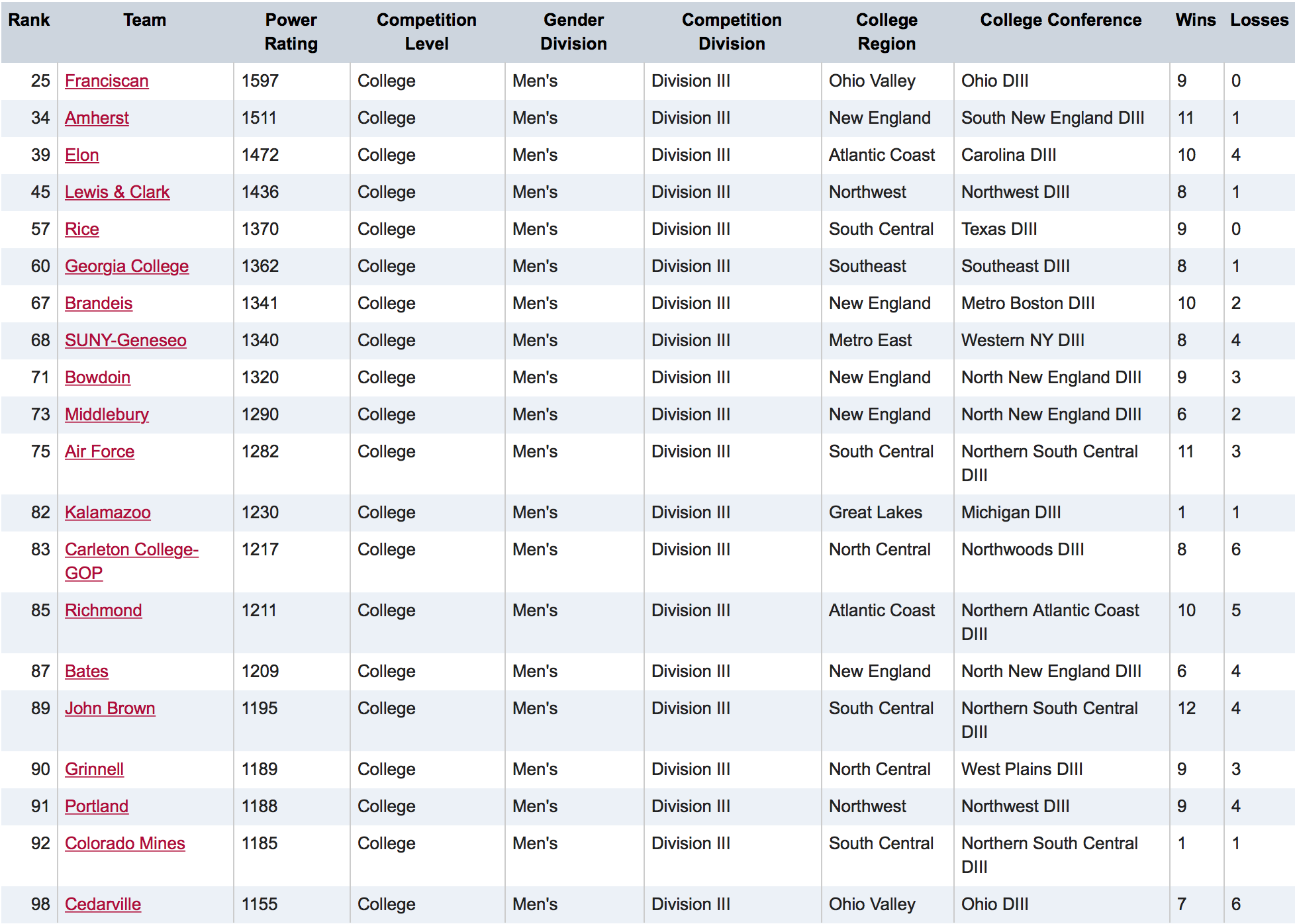 PRELIMINARY BID ALLOCATION
New England: 5
Atlantic Coast: 2
South Central: 2
Great Lakes: 1
Metro East: 1
North Central: 1
Northwest: 1
Ohio Valley: 1
Southeast: 1
Southwest: 1
ANALYSIS
The preliminary men's DIII rankings were released to quite a bit of surprise. I advise everyone not to put too much stock into them as they will likely shift a bit in the next few days.
The biggest takeaway is that New England is earning five bids. Amherst and Brandeis have played great ultimate and were expected to lock down two bids. Bowdoin, however, earned the region a third with a stellar Garden State (8-0) and Middlebury earned a fourth despite only participating in DIII Easterns. Bates is currently holding the last strength bid so there's a decent chance that it will be reallocated.
Also noteworthy is the absence of Messiah. All of Messiah's results were wiped out due to "Academic Ineligibility," according to USA Ultimate. The team believes that this should all be sorted out by the final rankings. If Messiah is reinstated, there's a decent chance that they should take a strength bid away from Bates. On top of that, if Messiah's results become valid, Cedarville (currently #20) will pick up a nice five point victory against a top team. If the Ohio Valley is left with just a single bid, it'll be Franciscan vs. the world.
Claremont is absent from the rankings, but this holds no bearings on bid allocation as the Southwest will earn just one bid regardless.
Kalamazoo is also currently earning the auto bid for the Great Lakes (#12 in the country!), which is insane given that they've only played four games — getting maxed in two of them.
Right now, John Brown is just on the outside looking in, one spot short of a strength bid. If they were to find a way to earn a 3rd bid for the South Central, that would be pretty incredible. Rice and Air Force, currently earning bids, both feel overseeded in their own right and a third bid for an untested region doesn't feel right at all.
Honestly, I'm not sure what to make of what's next. There will likely be some other changes that come out of the woodwork to sway points here and there, but it's hard to see the bid allocation changing too drastically.
WOMEN'S DIVISION III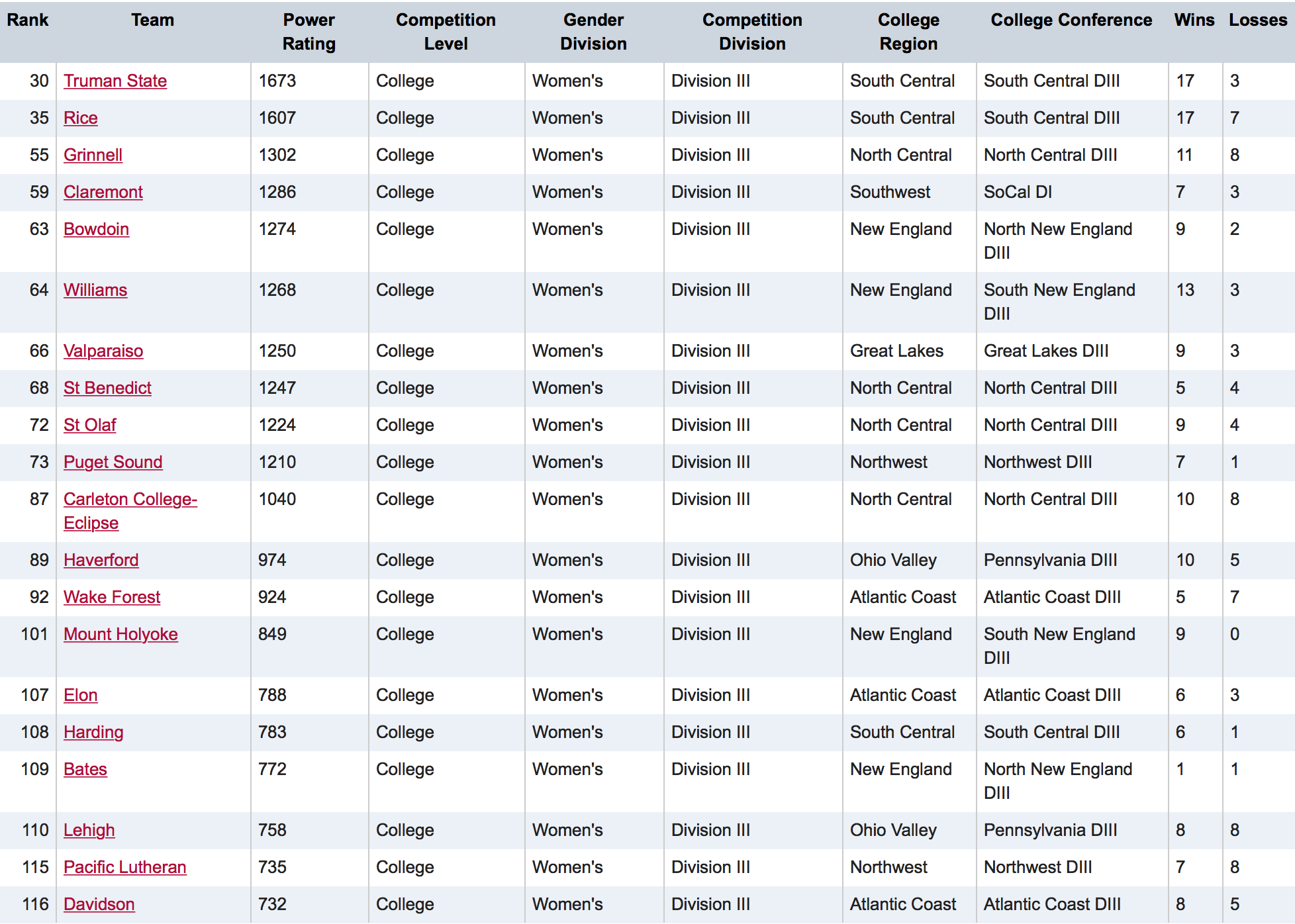 PRELIMINARY BID ALLOCATION
North Central: 4
New England: 3
South Central: 2
Atlantic Coast: 1
Great Lakes: 1
Metro East: 1
Northwest: 1
Ohio Valley: 1
Southeast: 1
Southwest: 1
Some teams had tournaments or even entire seasons wiped away due to various eligibility issues. Many of these issues could be resolved over the coming days, which could impact these rankings. Here is a list of ineligible teams.