The MLU Eastern Conference still runs through Washington DC.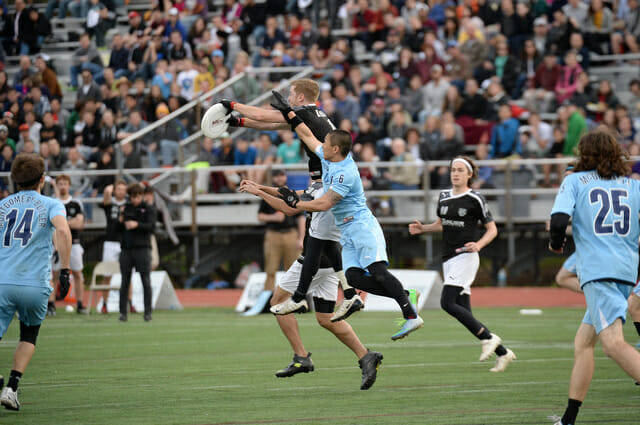 Disclosure: The author is a player for the MLU's Philadelphia Spinners.
Year three of Major League Ultimate starts this weekend. The 2014 season saw the end of one team's undisputed dominance (Boston) and the rise of a new team in the MLU East. That team was the Washington D.C. Current. Combining an offense that utilized Alan Kolick's ability to give-and-go down the field with big throws to dominant deep receivers Jeff Wodatch and Peter Prial, Washington put the pressure on opposing offenses to try to keep up.
The New York Rumble started off pacing teams, but some key injuries stymied them down the stretch. The Philadelphia Spinners started slow, but ended strong, narrowly missing out on a playoff spot. The Boston Whitecaps had an up and down season, but they ended up in the playoffs and had a tight game with the Current. However, when the dust settled, D.C. used their number one offense to become champions of the league.
If there is one thing that the past MLU seasons have taught us, it is that anyone can surprise us and rule the East. Since the MLU champion has come out of the East the past two seasons, let's take a look at the changes that the Rumble, Spinners, Whitecaps and Current have made since last July.
Washington D.C. Current
Returning: Alan Kolick, Markham Shofner, Peter Prial
Adding: Chuck Cantone, Charles Furse, Tim Jackson
Lost: Sean Keegan (13G, 15A, 212 throws), Dan Kantor (8G, 3A, 5 blocks), Eddie Peters (12G, 8A)
The 2014 D.C. Current were obviously the MLU's best team. They boasted a record of 9-1, a point differential of +42, an offense that scored more points than any team, and a championship performance that left little doubt about who was the class of the league. They also boast Mr. Undefeated, Peter Prial, who has yet to lose a Major League Ultimate game in two seasons.
The strength of the Current is in their system. They play to their own strengths, mostly in the name of Alan Kolick, by using the entire field efficiently. There is no team that uses the width of the MLU field better than D.C., which is why they score so easily. Their second main handler, Markham Shofner, compliments Kolick's strengths well. Where Kolick moves the disc quickly and gets it back even more quickly, Shofner is a shooter, looking to stretch the field with big throws from anywhere. Coach Moldenhauer puts his team in a position to succeed, and the results reflect that. GM Matt Dewhurst says the Current has the "next man up" philosophy, saying he expects Lloyd Blake and Eric Minor to step up and he is "excited about getting them more involved." They proved last year when Kolick went down that their system is good enough to win without all the pieces in place on a given day.
Why They'll Win in 2015: Experience
They have their big weapons back, not just handlers Kolick and Shofner, but cutters Prial and Jeff Wodatch as well. The Current were the champions of the league last year, and will continue to be until proved otherwise.
Why They Won't Win in 2015: Repeating is hard!
Probably the hardest thing in sports is to repeat as champions. Every game they will get the best out of their opponent, as teams look to unseat them. They know the feeling, after being the first team to beat the Boston Whitecaps after their undefeated run in 2013. They will need to stay focused in the critical middle part of the season or they will find themselves losing games.
Boston Whitecaps
Returning: Jeff Graham, Josh Markette, Jack Hatchet
Adding: Will Neff, Vincenzo Vitiello, Cody McInnis
Lost: Brandon Malacek (17G, 26A, 327 throws), Danny Clark (16G, 11A), Alex Cooper (4G, 11A, 3 blocks)
Last year, the Boston Whitecaps came in with a giant target on their back. They had an undefeated run through the MLU championship, and were looking to repeat. However, some late game heroics by a familiar face showed that while Boston remains a top team, they were mortal. After losing a heart breaker to D.C., the Whitecaps also lost one game to each of the Rumble and Spinners. After a close loss in the Conference Championships, it was official: Boston's reign as MLU champs was over. Now, as 2015 looms, the Whitecaps look to once again claim their spot atop the mountain.
In order to reclaim their crown, Boston will first have to face some challenges. The most obvious one is replacing some key cogs in their normally consistent offense. Out is the "rocket launcher" himself, Brandon "Muffin" Malacek. Boston will miss his ability to open things up with deep throws from anywhere on the field. Also leaving is Danny Clark. Clark opened things up opposite Malacek, using reliable hands and perfect timing to gain big yards downfield. According to coach Sam Rosenthal, Boston has the talent to limit the loss of those guys: "Fortunately, we had many talented new faces at tryouts." The first few weeks will show how well those new pieces fit in.
Boston does welcome back two members of their championship run D-line, Mike Miller and Will Neff. Neff is always a force when he is on the field, a physically imposing defender who will lay out past you just as easily as he'll go over you. Coach Rosenthal echoed that change is required for this Boston offense. "You can't replace Muffin or Danny," he said." The guys we'll have out there have different skill sets, so the O will have a different look." If their defensive reinforcements can get some extra breaks, the dependable Boston offense can always churn out points.
Why They'll Win in 2015: The Big Three
Jeff Graham, Josh Markette, and Jack Hatchett. Graham and Cricket remain two of the more dynamic and difficult matchups in ultimate, and Jack Hatchett is one of the country's elite defenders. Few other teams can match the top 3 that Boston can put on the field in any given situation.
Why They Won't Win in 2015: Tough Winter
The weather and schedule. It is already tough for Northeast teams to prepare for a season that starts in April, but add on the winter that Boston has had, and you're looking at few practices outside leading up to opening day. It is going to be difficult for Boston to be in rhythm from the start, and the fact that their first three games are all on the road mean they are in danger of starting the season off slowly and having a mountain to climb.
Philadelphia Spinners
Returning: Nick Hirannet, Jake Rainwater, Patrick Lindsey
Adding: Nick Purifico, Billy Sickles, Kenny Wells
Lost: Art Shull (12G, 5A, 8 blocks), David Brandolph (15G, 11A, 264 throws), Frederick Brasz (2G, 13A)
The 2014 Spinners ended their season feeling like they were competitive with almost anyone. Their second half of the season included two wins over Boston, and a late win over New York. The only team Philadelphia could not handle was the Current, but as we saw in the championship game, nobody could handle them.
At the end of the year, head coach Billy Maroon said that his team was the second best team in the league. Bold words for a team that finished the season 4-6 and outside of the playoffs. Now they have to deal with the loss of a couple big pieces on defense in Art Shull and Frederick "Frecka" Brasz.
The good news for coach Maroon and Spinners fans? The majority of the team is back. The team returns 11 of 14 opening day starters from last year, and all seven O-line players. The depth players may be different, the Pitt contingent is gone, and some pieces may be moving around, but the major pieces are all there. Coach Maroon says his team "shouldn't miss a step" from last year's strong finish. Look for new faces Kenny Wells and Billy Sickles to help out on offense, and you literally cannot miss Nick Purifico back from a year off. The defense will look to Purifico, and University of Delaware defensive specialist Charlie McCutcheon, to replace the blocks that Shull and Brasz generated. If Maroon's confidence leads to a continuation of the Spinners late season success last year, Philadelphia could be a competitor all year.
Why They'll Win in 2015: Continuity and Confidence
While some pieces may be moving around, the majority of the Spinners roster is intact for the fourth straight season. Add to that the confidence they have right now, and the Spinners look good on paper. Said Coach Billy Maroon, "I expect us to do the same thing DC did last season. .. go from 4-6 to the Championship."
Why They Won't Win in 2015: They haven't done it yet.
This team has had the talent and confidence to win in the past, but have not been able to put things together. They have had stretches where their defense has been good, and stretches where their offense looks good, but they have not put things together for an entire MLU season. Until they prove that they can consistently compete, that confidence is meaningless.
New York Rumble
Returning: Chris Mazur, Sean Murray, Marques Brownlee
Adding: Chris Kocher, John Wodatch, Charlie Patton
Lost: Isaac Saul (4G, 24A, 320 throws), Jack Marsh (9G, 10A), Dan Heijman (4G, 6A)
The NY Rumble started off strong last year, going 2-2 through the first four games. However, some close losses lead to a 0-8 stretch to end the season. They played Philadelphia close, all games decide by one point and including a double overtime heartbreaker with the game literally in hand before an endzone drop, but the Rumble had trouble against Boston and especially D.C., going 0-3 with an average deficit of over nine points.
This year, New York has to deal with the loss of their number one handler, in terms of volume, Isaac Saul. Saul and Chris Mazur dominated the disc for New York, and without Saul's presence, opposing defenses may be able to key in on Mazur even more. However, if New York can find a way to replicate Saul's touches without his 29 throw-aways, they may be able to adjust. New York also looks to replace big time cutters Jack Marsh (9G, 10A, 76 catches) and Dan Heijman (4G, 6A,69 catches) with NexGen alum Chris Kocher among others. Head Coach Anthony Nuñez feels that this Rumble team is mentally and physically stronger than last year, and more of a team. He believes that "the team game is what's going to keep us in games, not one or two specific players." If that is true, then players like veterans Sean Murray (who just dominated for USA at Beach Worlds with 15 goals and 18 assists in just 9 games) and Michael Hennessy can step up. New York may improve their 2-8 record from last year. Coach Nuñez might have said it best: "This year's team [has] a stronger player buy in, everyone is staying mentally and physically strong, and our record will certainly improve because of it."
Why They'll Win in 2015: Possession Cutters
Their cutters do not throw the disc away. One of New York's great strengths is that they let their big throwers throw the risky throws. Over 25% of the Rumble's throw aways last year came from either Mazur or Saul (61 of 231). If their cutters continue to value the disc, they can win games.
Why They Won't Win in 2015: Handler Depth
Mazur can only throw so many passes. Without Saul, New York may not have enough throwers to compete late in games. Coach Nuñez says the young guys are ready to step up, but only time will tell if they are ready.
Outlook
On paper, the D.C. Current remains the favorite in 2015. They had the best team last season, and very little player turnover. They should be able to integrate their new players slowly, not asking anyone to replace huge minutes or numbers. Coach Moldenhauer already had his team utilizing the big field better than anyone, and he had an entire offseason to continue to grow and tweak the offense. They are also motivated, trying to build a dynasty that they feel D.C. deserves.
Both Boston and New York have major questions coming in, having to replace key players on both sides of the disc. New players will have large shoes to fill as the throws of Saul (NY) and Malacek (BOS) and goals of Clark (BOS) and Marsh (NY) need to be replaced. To make it even tougher for those teams, the Northeast has seen a snow filled winter, one that has made it difficult for anyone to get outside and practice full field. This gives an edge to Philadelphia and Washington, both who have seen somewhat better weather and have fewer players to replace.
D.C. should continue to be the class in the East, and for now the question is: who will play them in the playoffs? New York has strong cutters, but does not seem to have the throwers necessary to compete with the big time throwers in Markette, Kolick, or Hirannet. Expect Philadelphia to come out strong, winning games early in the year. Boston has early season difficulties that could have them starting slow, but expect them to improve as the year goes on. The June 27th game in Boston may very well determine who gets into the playoffs for a chance to represent the Eastern Conference in the MLU Championship game.