Just one bid for the Great Lakes, and it's anyone's to grab.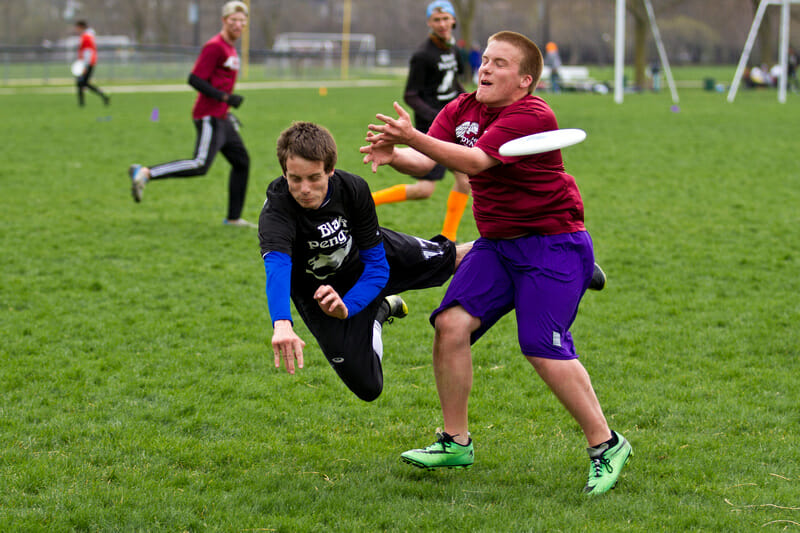 Eight teams will take the fields in Rockford, Illinois, on April 25-26 – all of them with the season-long goal of making it to DIII Nationals. However, there is just one bid for the Great Lakes region. There are certainly a few favorites, but it is impossible to rule out any of these teams heading into the tournament.
The unpredictable nature of this region is partly due to parity, but is also due to the lack of connectivity between the teams; several teams only had a handful of tournaments this spring due to the cold weather and lack of complete rosters. With Nationals this year also located in Rockford, a comfortably close location for all of these teams, every school will be gunning for a shot at national glory in their own backyard.
Here is a look at the favorites, Olivet Nazarene and North Park, as well as the other teams aiming to prevent either of them from once again representing the Great Lakes at Nationals.
The Favorites
Olivet Nazarene
Last year's Great Lakes representative was able to exit the Conference Championship without a loss and may earn the top seed for regionals this year. But how realistic are their chances at repeating last year's Regionals title?
For starters, they do not have any significant injuries and should be in great physical form heading in to the tournament. This should surely play to their advantage.
One of their strengths has been the offensive line, lead by senior captain Zac Carlton, fellow senior cutter John Gargiulo , and junior handler Nick Schoon.
"Our O-line is solid all around. We don't have a superstar on the line, but everyone is solid and we play well together," said Carlton. "We are definitely where we need to be heading into regionals."
The Black Penguins may not have as high of a ranking as North Park or Indiana Wesleyan, but they certainly tested themselves in the fall and spring, and have plenty of returning talent from last year's run. Other teams seem to be in agreement — among all the captains and coaches from the region I talked to, Olivet was universally listed as one of the top two threats to take the bid. "We need to stay relaxed, and keep it chilly," said Carlton. A steady mindset will be key in their quest for the repeat.
North Park
Failing to make Nationals last year was an unusual experience for this team, having won all three bids since USAU's inception of D-III nationals in 2011. North Park coach Cam Hodgkinson said at the start of the year that it was made clear the goal was going to be to return there.
"Not coming in as the #1 seed [for regionals] has lit a fire under us and we hope to go out and prove that we are still a team to be reckoned with," he said.
Despite not having a full roster handy for most of the tournaments this year, the Lost Boys managed to notch several quality wins against other teams at major tournaments like the DIII Midwestern Invite where they scored wins against Cedarville and Cornell, and DIII Easterns where they defeated Wake Forest and SUNY-Fredonia.
North Park's success starts with defense, mainly a zone with aggressive marks. "This year we put an emphasis on trying to dictate what we want the other team to do, rather than reacting to what they want to do," added Hodgkinson.
The handlers that control the offense are Tom Williams, Brent Gustafson, and Brad Johnson. They will be working the disc to cutters Timmy Krumland on the under, and Eric Dahl as a deep threat.
Given a full, healthy roster for this tournament, and the big game experience from this year, North Park might just be the favorite to make the short journey to Nationals.
Contenders
Indiana Wesleyan
Indian Wesleyan is perhaps the biggest question mark heading into Regionals. They have arguably the single best talent in the country in AUDL star Travis Carpenter, and they were able to rest several players at the Conference Championships last weekend. They also beat Olivet and North Park at earlier tournaments this spring, while also making a run to the championship game of the DIII Midwestern Invite. Having said that, they have also struggled at times, losing most of their games at DIII Easterns.
Regardless, the matchup issues IWU will present for other teams this weekend go beyond Carpenter. Handler Xavier Payne is fast, skilled, and often seen getting huge layout blocks. "Payne is on a different level than many opponents he matches up against," says Carpenter. Often, Payne is throwing to cutter Nik Evans, who assists or scores on a ton of points for Huck Dynasty.
Carpenter hopes the lack of experience in a "game to go" scenario will not put too much pressure on the team, but instead bring out the best in them. "We are going into this weekend with nothing short of first place in our mind," said Carpenter. "We have gotten a good look at the other teams and are confident no one else will stand a chance against us Sunday."
Valparaiso
Somewhat surprisingly, it was Valparaiso and not IWU who came away with first place in the East Plains Conference Championship last weekend. Deus Vult is a team that does not have a high USAU ranking and did not win a lot of big games in spring tournaments, but have proven they can compete with other teams in this region.
"Great Lakes has a bunch of teams that I feel can beat each other if one is having a rough day," said captain William Haenni.
Valparaiso will rely on junior handler Jesus Osorio to play the vast majority of points, as well as throw for a large portion of their scores. His main target is cutter and fellow junior Max Carpenter. Meanwhile, junior Zach Paradis will aim for a great weekend of layout blocks all over the field.
In order to contend, Deus Vult will have to continue their focused play from last weekend. "We weren't making stupid decisions. People we running hard on our team and wanted the win," said Haenni. What remains to be seen is how this team matches up against Olivet and North Park, since they have yet to meet on the field this season.
The Rest Of The Field
Rounding out the field are Knox College, Bradley University, Wheaton University, and Kalamazoo College. Of these four teams, the Kalamazoo "Ultimate Buzz" would seem to be the best bet for a surprise streak. They completed a run to the top of the East Plains conference championship; their only loss came when they split a pair of 11-10 decisions against Indiana Wesleyan over the weekend. Additionally, they tallied wins against Drake and Johnson during the DIII Midwestern Invite, proving themselves against other competition at this level.
Knox is a bit of an unknown at this point, but they are competitive every year, and there is no reason to doubt they will be so again this weekend. They only had one loss at Conferences, and that was to an Olivet team that won every game on the day. However, the lack of big tournament participation this spring makes it hard to read their true potential. "Our mindset is to push ourselves to the max these next few days at regionals," said Knox captain Rodrigo Arcibar. "If we can keep our intensity and focus, we will come away with the results we want to see."
The final two teams, Bradley and Wheaton, are clubs that for the most part struggled this spring and are still works in progress. It would be most surprising to see a deep run from either squad against the more proven upper tier of the field.
Regardless of the outcome, it is going to be an entertaining weekend of ultimate as these eight teams compete for the lone Great Lakes bid to Nationals.