The Ohio Valley's two bids give security to the two favorites, but both Pitt and Ohio State both want to plant their flag at Regionals.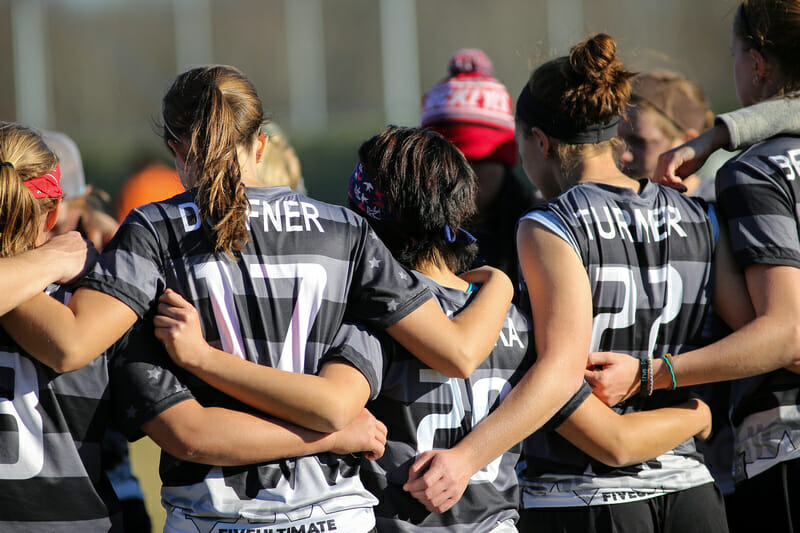 For the first time in forever, the Ohio Valley has two bids. #17 Pittsburgh and #14 Ohio State both have had strong enough showings this season to earn a strength bid along with the automatic bid. With Penn State and Case Western Reserve as the next highest seeds in the region, it looks like there still won't be any surprises this weekend. It is less a battle for to get to Milwaukee as it is to win Westerville.
Tournament Profile
Date: April 25-26
Location: Westerville, OH
Bids Available: 2
The Favorites
It has been a very long time since Ohio State Fever has had an exciting Regionals. Just one of the current players were on the team back in 2011 when Fever beat Penn State to make their first appearance at Nationals. Since then, Fever has rolled through their regionals, allowing just 13 points to be scored against them in 7 games in 2013, and 19 points in 2014. While this year's team may not be the strongest Fever has had in recent years, they're finally getting into rhythm and are still the favorite to win the tournament.
Pittsburgh Danger may live up to their name, as they have had a great season, and rightfully earned themselves their own bid to Milwaukee. They've placed in the top three teams at Regionals since their last nationals appearance in 2010, but this is the first year that anything but a first place finish will matter. That being said, no one expects Pitt to go into this weekend and play for second place. Dethroning Fever from the top spot has to be on their minds, and the final game on Sunday should be one to watch.
Despite Ohio State and Pittsburgh both attending Queen City Tune Up and the Commonwealth Cup, they have yet to play each other in a sanctioned tournament. There was a scrimmage back in January, with Ohio State, Pittsburgh, and Penn State all playing each other in a round robin. In the game against Fever, Pitt hammered out an early lead, but Ohio State came back to beat them in the second half.
Ohio State has had some mixed results this season, but still capable of doing damage at Nationals. Stevie Miller has gamebreaking ability and a dangerous backhand huck, but handler Jenna Galleta is just as, if not more, important to Fever's success. Katie Backus and Caitlin Ramsey diversify OSU's threats somewhat and give them strong downfield defenders. Fever will be relying on their discipline and execution more than their brute athleticism and skill.
Meanwhile, Pittsburgh is incredibly handler driven. Carolyn Normile has broken out as a premier handler and is the team's toughest matchup. When push comes to shove, its Normile they will look to. But Katelyn Loughery and Vaughan Skinker are able to absorb heavy touches and win their one on one battles. Their handling strength allows them to eat up zones, but zone sets that can pressure the throwers can be effective.
Both teams have improved since their early scrimmages, and if both appear in the final game this Sunday, the game could be an interesting one. Both squads have handlers capable of beautiful hucks, so between Normile and Miller, there should be plenty of opportunities for big plays. At this point, these teams are playing for pride as much as the bid to nationals, and Pitt – who plays with a chip on their shoulder – is likely eager to show they're no second banana.
Everyone Else
The rest of the region is made of up teams that have been strong in the past, but just haven't shown up in recent years. A few of the teams could make a game slightly more difficult for Fever or Danger in pool play, but it's pretty unlikely.
Penn State is the next highest seed and ranked at 75 by USAU. They've had a few solid tournaments this season, including an upset over Maryland at Winta Binta Vinta Fest in January to go undefeated in pool play and finish third overall. However, they also played both Ohio State and Pittsburgh in unofficial scrimmages in January, where they were beaten pretty handily. They could come together in the last round of pool play against Ohio State, but they will have to be at the absolute top of their game.
Case Western has always been a little bit of a presence in the Ohio Valley, but they have done steadily downward in the past years with the loss of most of their experienced players. They haven't done much this season, but could still be around for semis on Saturday afternoon.
Last year's Regionals surprise, West Virginia, has a chance to make some noise with their zone taking advantage of the windy weekend and getting them to a second place finish. If the wind comes back to help them again this year, don't be surprised to see them in a semifinals game, and maybe even the final or backdoor game.