This coming weekend marks the tenth anniversary of the Southeast's oldest and most integral high school ultimate tournament, The Paideia Cup.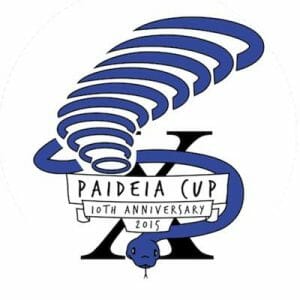 Known for its high level of competition and tradition of honoring the game, The Paideia Cup has for years been an important tournament for many elite teams from all over the country. Prior to the Paideia Cup's creation in 2006, elite high school tournaments existed only in the Northeast and Northwest (Amherst, Mudbath, and Spring Reign, to name a few).
"The basic idea," said Paideia's Varsity Boys' coach Michael Bacarinni, "was that we wanted an event akin to the Amherst Invite, but down south. Both to increase top competition without us having to travel for it, and to foster growth in the Atlanta area and beyond." Paideia alum and current coach for Paideia's Varsity Girls' team, Miranda (Roth) Knowles remembers the days when Gruel had to travel out of Georgia for every tournament they competed in. Since its genesis, Knowles said, "the tournament has always served as a place for high-level teams from around the nation (and more recently around the world) to come and compete."
The girls' division, going on its ninth year, has witnessed a lot of progress in the world of women's ultimate. "There are four teams from Georgia competing this year which is a big deal in terms of fostering local competition," said Paideia Varsity Captain Ollie Peterson. With eight teams in attendance (as many as are in the boys' division), Pi Cup promises a weekend of seat-gripping play.
This year's results are difficult to predict. The 2014 champions were a team of girls from the Middle East, touring with Ultimate Peace. The definite dark horse of the tournament, UP had been ceded third in their pool under both Holy Family Catholic and Paideia. "No one had seen them play before," said Peterson. "We were definitely all very surprised and impressed."
Previous year's winners have also included Paideia, Seattle Fryz ('11), and Saga ('13). Ultimate Peace and Seattle Fryz will not be attending Pi Cup this year. Saga, the North Carolina All-Star team and back-to-back Southerns champs, will also be absent from the tournament. However, North Carolina's YCC team TYUL Warhawks will be taking their place. The Warhawks' roster has players from each of the Triangle Area girls' teams: TOM, Koi, SMUG, and Eclipse.
Senior player Amanda Maxson is looking forward to this weekend and said that "this particular Paideia Cup is going to be a different experience for us because we have not all played together before." The team, however, will not be inexperienced. "Some of us played together at the Tidewater Tuneup in the fall as a last reunion of our prior team, Saga," she said. "We went on to win the tournament."
For the Paideia Varsity Girls' team, Groove, the Warhawks will be the team to beat. In 2013, Groove placed second to Saga at Paideia Cup and Southerns, where they lost on double game point. In 2014, Saga beat Groove 12-6 in the finals of Southerns, again.
Coach Knowles, however, is very glad to see the Triangle Area back on Paideia Cup's roster. "I'm excited to see what the North Carolina girls' team brings," she said, "as we haven't seen Saga or anything like it this season yet." Part of this excitement might be due to a long awaited chance at redemption. Groove has had a stellar season thus far; with a perfect record, they've been regularly winning games by huge margins.
They defeated Ultimate Peace 11-4 last month in the finals at HS Terminus, and beat Holy Family Catholic 13-6 in the finals at Deep Freeze. Groove's success this season must be accredited to their new coach. Knowles, whose stupendous ultimate legacy has brought the Fryz fame and Frisbees to China, returned to her alma mater in the fall of 2013 to teach biology and coach Groove.
Paideia Athletic Director Marty Hays remembers Knowles from when she played ultimate with the Paideia Boys' team, Gruel. "What (Miranda) has done for ultimate begins with what she did in high school," he said. "Now, as a coach, she has brought the girls' program up to the next level. She is as dedicated a coach as we have on our staff, and I am most impressed with what she has done."
Other local competition includes Paideia's JV team, Demi Groove, Grady High School, and WD Muhammad. All four teams have played regularly at local tournaments.
Demi Groove, coached by Ozone player Alee Stargel, will celebrate its one-year anniversary this weekend. Since its creation, the team has come a long way. Along with local teams Grady, Woodward, and WD Muhammad, Demi Groove has brought life to Atlanta-area high school girls' play. Friendly rivalries have arisen, too, between Demi Groove and the Grady High School Knights. All three games between the two Atlanta teams have ended on double game point, and both teams look forward to settling scores at Paideia Cup.
Grady, also coached by two Ozone players, Emily Lloyd and Haley Reece, boasts a huge roster with a lot of potential. Fortunately for Atlanta, all of the local players have had opportunities to play in various leagues and get to know one another. Players to watch will be Grady Captains Sally Cummings and Eavan Hendry as well as Ayah Rashid, captain and creator of her team at WD Muhammad. All three girls have played for Atlanta's YCC team along with others. 
Holy Family Catholic's team, Revolution Omega, returns to the South for the second time this season. This group of home-schooled ultimate players dedicates an impressive number of hours to the sport in addition to coaching the fledgling players from the program's younger teams. Last month Omega drove from Ohio to Chattanooga, Tennessee, in order to attend Deep Freeze. At last year's Deep Freeze, HFC brought home gold after beating Groove 12-2 in the finals.
Omega also performed fantastically at Paideia Cup last year; they beat Saga 12-2 in the semifinals and lost 10-6 to Ultimate Peace in the finals. At Deep Freeze this year, Omega placed second, losing 13-6 in the finals to Groove. Omega's other tournaments include Cincinnati's River Town Throw Down and the Neuqua Knockout in Joliet, Illinois. Omega won gold at both tournaments, and beat fellow Paideia Cup competitor Neuqua Valley eNVy 10-8 in the finals at Rivertown. Neuqua Valley hosted its own tournament, Neuqua Knockout, last weekend.  The Illinois team took third place, losing to Rush! in the semi finals. They have reported a strong team of experienced players and the South is excited to see what they'll bring.
Also competing is University School of Nashville. This is their sixth year attending Paideia Cup. They have attended Deep Freeze and HS Terminus this season and placed third at both. USN has always had a strong program with incredible spirit. Senior captain and star-handler, Metta Devine-Qin, is looking forward to Paideia Cup. She sees it as "a great opportunity for the team to improve, bond, and challenge (them)selves by playing experienced high school teams."
We're all looking forward to it!