It was no contest...Cincinnati dominated every team but Pittsburgh.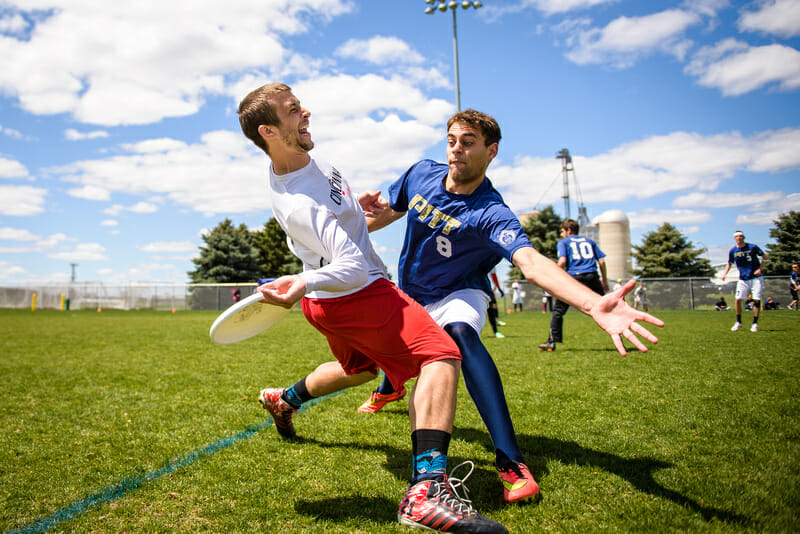 Somehow, through all the comment section vitriol and pious 140 character lectures that lingered around Cincinnati like fog, captain Dan Latz was able to find teammate Kieran Kelly with a quick inside flick to the shallow break space, capping a decisive 15-8 win over Ohio State, and sending his team to Nationals for the first time in program history.
Lost in all the controversy surrounding how they secured the second bid is the fact that Cincinnati is a pretty good team — something that was underscored at Regionals.
The 2015 two-bid Ohio Valley Regionals is in the books and Cincinnati will join Pittsburgh at Nationals in Milwaukee, Wisconsin.
Finals
It was a foregone conclusion that the region would belong to Pitt. Even with two bids and only needing to win one game, there was little margin of error for a team trying to get to Nationals for the first time. Still, Cincinnati played Pittsburgh tough to 13-8 before eventually sitting the starters for the final two offensive points – a tricky situation handled nicely by coach Jonathan Brodhag.
"We felt like the points were going quick enough," Brodhag said after the finals. "Obviously not in our favor as much as we wanted but we wern't in situations where we were in marathon points where our guys were getting super gassed."
At halftime Cincinnati decided to keep trotting out the starters and play it by ear. If your team is in shape, there's no reason not to.
"We had a real long first point that I thought was very reflective of what a Nationals point looks like," Brodhag said of his team's fitness. "It didn't go our way but all seven walked back on the line ready to go."
Fitness is something Cincinnati will need in spades at Nationals. Brodhag would know, having played at college Nationals with ultimate blue chippers like North Carolina and Michigan. His experience should prove valuable over the next five weeks.
Pittsburgh didn't get a real game until finals. Even during the semifinals the last round Saturday, Ohio University heavily rested starters against the top seed. Not much to take away from a 15-3 win.
Rather than let Regionals be a detriment, Pitt's coaching staff found creative ways to try and foster growth.
"It provides us with a unique circumstance," Pitt assistant coach Dave Hogan said following the 15-8 finals victory. "We switched up our lines for everything except [finals]. We switched up our O and D lines and our goal was to create trust in every one of our players…We required people on the bottom of our roster to make plays and to play well. I think those players really stepped up."
Another embarrassment of riches for Pitt.
The Road to the Game to Go
OSU and conference rival Cincy met for the first time all year during pool, as Leadbelly fell 15-9.
Cincinnati took care of business on Saturday, winning their pool, then thumping Penn State in semifinals, 14-6. This format really favors those who make hay early in the tournament. That earned them a 1 PM start. In finals they played Pittsburgh tough, all the way to 13-8, before pulling starters and getting mentally prepared for the game to go.
Ohio State had a lot of work left to do on Sunday morning. Leadbelly came out at 9 AM to play the first of three do-or-die games. They handled Carnegie Mellon, avenged a bad loss to Penn State from regionals 2014, and crushed a big, fast Ohio team in the backdoor semifinal.
By the time these teams met in the 2/3 game, Ohio State had almost tripled Cincinnati in total points played, 67 to 23.
A major advantage in energy was more than Cincinnati needed to stake their claim on the second bid.
"We knew that this [year] was going to be something special from the get go," elated fifth year captain Dan Latz told Ultiworld after the mob of his teammates had cleared the field. "Our offense has been clicking like no other. We knew that if we get a lead on anybody our defense can carry us the rest of the way."
This was indeed a much more polished offensive team than we saw at Regionals in Toledo a year ago. They reset the disc well, they have several different guys that can send the disc deep, and they have playmakers that can go up and get it.
When the O line did turn the disc over, UC had a fire and a sense of urgency to regain possession; an effort that yielded zero Ohio State breaks.
On defense this team was like their old 2014 team. Bid City, USA.
Ohio State cutters were met with constant pressure, both in hard man and from poachers. Laying out is often cultural. Teams that get layout Ds layout all the time. You can tell that's something Cincinnati values.
"We just rely on our athletes to make big plays," Latz explained about his team's defensive mentality. "People like Kieran [Kelly] and [Zach] Warner and Little Scott [Alverson]. Bidding's just natural to us. It's just what we do."
This mantra was exemplified at 12-6 when UC sophomore Sophainara Long laid out for an insane block on a break backhand by OSU's Paul Arters. The sidelines exploded. A few throws later after his team converted the break, Long, who had to take an injury after the D, was mobbed by teammates.
Ohio State fought hard but were clearly feeling the effects of playing three straight elimination games. Cincinnati broke to start and never looked back, taking half 8-4 before going on to win 15-8.
Good On Ohio State
Ohio State shattered seed. They made the best of a terrible fifth place finish at Conferences and rode a nine seed all the way to the game to go. The run they made through the backdoor bracket was a great example of a team coming together at the right time.
As for next year?
"I'm the only one on that last line that last line that's not coming back," fifth year Leadbelly standout Ben Krumpelman said after the game. "There's one other guy, maybe two that aren't coming back. The personnel are going to be there. The talent's there for sure. We're not worried about losing that. It's just a question of 'will we come back with the mindset to improve from this moment?' and attack next season."
Krumpelman reminded that only three short years ago Ohio State experienced some major roster turnover, returning eight of 24 players.
"We fought back from that," he said. "Now we're here fighting in the big game again."
How Good is Cincinnati vs. Nationals Competition?
After the weekend it looked like Cincinnati had at least two wins over a Nationals qualifier when Tulane made it in the Southeast. That only lasted about 30 hours.
This team has a couple things going for them. First, they're not hiding anybody out there. Cincy has enough depth to put competent, fit starters on each side of the disc to compliment stars – and they have some of those, too.
Cincy has been going to some quality tournaments the last few years. In 2014 UC went to Centex, Santa Barbara, and Warm Up. This year they went back to Santa Barbara. It's not Nationals but it's practice paying the money to fly to a tournament to play the big boys which can be overwhelming and uncomfortable.
One thing Cincinnati does lack is a lot of quality competition this spring. Competition they probably would have gotten, had they gone to Huck Finn.
Do they have enough experience against good teams to make some noise?
While his team cooled down, Pitt assistant coach Dave Hogan shared some of his thoughts on Cincinnati while watching the game to go.
"It's weird. I think that not playing at Huck Finn was the right choice. [But] I think it hurt them in that they need to be playing top level competition," Hogan remarked. "They have some guys like Kelly and [Adam] Turner and Warner – both Latzs – who are very, very good. They shore up a few weird turnovers — they're going to be a dangerous team."