UNC crushed UNC Wilmington 15-7 in the AC final as Maryland took down Virginia in the game-to-go.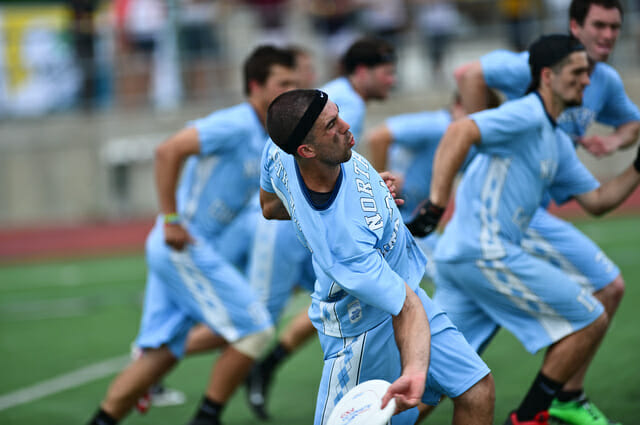 Despite unseasonably chilly weather in Axton, VA and an odd bracket format, a third bid on the men's side kept things interesting at Atlantic Coast Regionals this weekend. A surging North Carolina was the class of the men's division and Maryland took care of business after a rocky start Saturday morning.
No More Questions about UNC
Shaky offensive performances and trouble converting after the turn were the story so far this year for Darkside. The team that took this field this weekend was confident, efficient, and charged up by the loudest and silliest sideline at the tournament. With health returning for their vets and a full set of previously unused junks and zones to play with, UNC looked unstoppable.
In the preview, I discussed that the return to form for Ben Snell would be crucial for fellow veteran Jon Nethercutt to unleash his full throwing ability. That's exactly what happened. Snell is a big presence, both emotionally and physically, on the field for Carolina and lent his talents to each aspect of his team's games this weekend. He was a force on defense commanding the downfield deep space in various sets, chased down full field hucks from Nethercutt, and was a critical release valve for resets in the style that Jimmy Mickle was for his Colorado team during last year's final.
"It's always a good feeling when your legs are churning and you don't feel like you're running through sand the whole time," Snell said while de-cleating on Sunday. He's had a long road to recovery since his ACL tear at Easterns 2014, but his on-field prowess was a welcome addition for Darkside, particularly because it allowed Nethercutt to find his spots and literally throw himself back into the Player of the Year conversation.
Nethercutt seemed all the more composed and deadly with Snell back in the mix. "The ability to have someone on the field that you always know where they are and what they are trying to do is invaluable, and he's one of those guys for me (and I for him, I think)," he said of his teammate. Together they may have shined the brightest in big moments, but plenty of other players were making the Darkside machine hum.
The raw athleticism from UNC's younger players started to gel into their defensive sets. Instead of last-second high bids to tip the disc away from streaking cutters, Darkside defenders were sneaking into passing lanes and practically walking into interceptions. After the turn, players like Nick Macleod and JD Hastings punished their matchups with speed while Norman Archer joined with Aaron Warshauer as big downfield targets for Nethercutt and Snell.
"We built depth all season long so those guys could thrive when it mattered," coach Mike DeNardis said of his younger players. "They got those reps at Easterns and Centex and don't shy away when they're in [big pressure] situations."
DeNardis seems to have had his eye on Regionals and Nationals all year long. Darkside spent much of the regular season using their athletes to try and go toe-to-toe in man defense and saved a few cards for the postseason. "This is the first tournament we started using everything in our toolbox. In spite of some of our top guys being injured, the sets we run and the depth we built is designed for this tournament and Nationals," he said. Nathan Kwon, Aaron Wan, and Macleod were dangerous in junk and zone looks for Carolina.
Finally, the towel-waving, somersaulting UNC sidelines seemed to keep the mood light all weekend, something that Snell thinks is critical to focusing on having fun and makes DeNardis shush his players with a wry smile when talking to the media. "Our sidelines are as loud as they've ever been in Darkside history and that really helps us — it's a huge boost for us on the field," Snell said rather diplomatically.
It seems the only question left to ask about North Carolina is whether or not they can keep this level of play going in Milwaukee. With all the weapons they have and a speedy bench, Darkside is right back in the conversation as a potential semifinalist or beyond.
UNCW Comes Down to Earth
During their 29-0 run from Queen City Tune Up to their loss to Pittsburgh at Easterns, doubters of UNC Wilmington were humbled. A suffocating defense defined the biggest change between 2014 and 2015, while the offense featured largely the same personnel from last year's run to semis — though even more slick and flashy. In moments when the offense faltered during that run of wins, the defense roared back generating turns and willing their way into more breaks.
Wilmington came to Axton with the Conference Championships title belt and, though some starters were dinged up, the wins continued all the way through to Sunday afternoon. Then it was Wilmington's turn to be humbled. North Carolina Darkside handed the Seamen a brutal 15-7 loss, their flashy offense muted by UNC's defense. "They took it to us. We had no answer…hats off to them," said Coach Greg Vassar after the game.
Xavier Maxstadt and Luke Hancock rested for half the day on Saturday, both of them worn down from the long string of high intensity wins. The depth of Wilmington's bench and the heroics of Charlie Lian and Jack Williams overpowered all opponents before their final game and beyond a close game with Maryland, the Seamen went largely untested through to their rivalry bout with Darkside.
Against Carolina, however, things started to unravel. A few contested calls went against Wilmington, Maxstadt hucks missed or sailed out of bounds, and Hancock was outmatched in speed after the turn while trying to cover the Darkside D-line. Williams was still brilliant, fighting through to the last point and emerging perhaps as the Seamen's most fearsome competitor.
Chatting after the loss, Vassar put his team's impressive 2015 performance so far in perspective. "Sometimes as a coach, you like to have losses at certain times. I think this is one of those times where it's okay," he said. The team has rebounded well this year; a mediocre showing at Carolina Kickoff spurred them into high gear for the win streak, and another mini-run of 12 straight began at Conferences.
Though Wilmington was visibly frustrated and somewhat shook up as Sunday's action wound down, they still walked away from the weekend a top competitor on the national stage. This team has a month to regroup and is deadly at full strength — a loss to their talented regional rival is no final blow (just as UNC's loss to Wilmington in the Regional finals in a similar situation last year didn't stop them from reaching the National final). Erik Esposto had an excellent return to form in spite of the loss, Cale Ward continued to stand out, and the leadership now has plenty of time to heal and focus before Milwaukee. "We're not afraid to compete with anybody or where we'll be seeded," said Vassar.
For the First Time in Program History
It was far from the first time Mark Lin had charged into the open-side lane and ripped a flick huck, but at 14-9 in Sunday's final match, this one was different. The disc took a high floating arc out past the stands and sailed into the grasp of a leaping Issac Kinton, who touched down in the endzone. With that, the Maryland Space Bastards got over the hump and qualified for Nationals for the first time ever.
This team took their share of punches early in the season, beginning with a performance pockmarked with tough losses at Queen City Tune Up in February. Steady improvement carried Maryland through to a bid-earning performance at Easterns in March, an undefeated weekend at Colonial Conferences, two respect-earning games with Wilmington and Carolina, and culminated in commanding second half against Virginia to secure the last Atlantic Coast bid.
"I'm really pleased. We rose to the challenge," said Coach Ben Slade as his team hugged and continued to celebrate Sunday afternoon. "There were a lot of phenomenal teams [at the tournament] and we had zero blowouts this weekend. Every team fought us close."
In spite of their bid-claiming weekend, the Space Bastards had a shaky start on Saturday morning. A feisty South Carolina forced double-game point and nearly walked away with a first-round upset. Then, fellow Colonial Conference competitor and 16-seed Towson jumped out to an early lead and kept things close. Without a late 3-0 run to end the game, the weekend could have started to slip away.
"I think the guys were nervous at the start of Saturday — it's a big stage. It's always a little bit nerve-wracking when you have a winning streak going and we've had a streak going since our Oregon loss at Easterns," said Slade about his team's less-than stellar opening. "It took a little while for us to settle down a little bit and get out those Regionals jitters."
With expectations and nerves somewhat under control, Maryland took on Wilmington in their crossover and Carolina in semifinals, giving both top teams a run for their money. Though somewhat undersized, the Space Bastards channeled an athletic bench to mitigate height mismatches — throughout the weekend, Eric Biggs led the team in a bidding warm up to shake out any second guessing. "We don't have as many 6-footers as other teams do, but the guys we do have are phenomenal athletes and so even though we may give up a couple of inches, I feel like we can close the skies down when it matters," Slade said.
After the loss to Darkside in quarters, Maryland put their athleticism on display as they ran through first a tired, but valiant Appalachian State team, and finally a thin Virginia squad. Though the Space Bastards remained the odds-on favorite to take the third bid, the cloud of "won't-believe-it-til-we-see-it" skepticism didn't clear from the tournament's sidelines until Kinton's feet finally landed inbounds for the score.
The Best of the Rest and Other Notes
A quiet regular season kept Virginia off the competitor radar. Led by the dynamic backfield play of Jordan Robarge, Night Train sneakily out-bid, out-hucked, and generally outplayed their competition in the postseason, taking both the Conference title and the fourth spot in the region. Perhaps most notably, they trounced a headcase North Carolina State team in Saturday's game for Pool D, initiating a tailspin that the Wolfpack were unable to correct before their bid and bracket hopes fell out of reach.
Speaking of NC State, their battle with inconsistency in 2015 continued. Kiron Allen and Daniel Schmitt handed in impressive performances, but Jake McGoogan started the weekend missing on deep shots and kept missing through their Saturday afternoon losses. The Wolfpack was unable to get out of its own way for extended runs this season, but with some big game experience notched into the belts of their youngsters, 2016 shines a little brighter.
When the final standings were made official, Virginia Commonwealth (VCU) stood tall at 5th in the region. On the backs of uber-athletes Dominique Gibson and Tim Jackson, the Villains spent their entire season surprising and upsetting the competition, starting with Harvard back in February at QCTU. This is the best finish in program history and a fantastic building block for a team that isn't too far removed from unsanctioned mixed tournaments without a coach or direction.
Entering the tournament at 13 and leaving at 7, William & Mary produced results that may have been greater than the sum of their parts. Cody Johnston, a known ultimate mind and experienced talent, was all over the field for Darkhorse. This was the biggest jump in the rankings all weekend and it started with a thrilling last-minute victory over Georgetown.
The three-bid format turned out to be brutal for a few unfortunate teams. Georgetown's single point loss above was the second game on Saturday in which Catholic Justice bled four points in the closing minutes, previously conceding a 12-10 lead to NC State to lose 14-12 in Saturday's first round. To have Sunday hopes slip away after seemingly having the bracket spot in hand was crushing. Delaware suffered in similar fashion when crossover pit them against South Carolina, overall the 8 v 9 matchup, which ended in a slight upset for the latter 13-11. With the top seeds from each pool playing each other for bracket placement in crossover, the 2 v 3 pool matchups were loaded with emotion.