The one bid Southwest is as compelling as ever.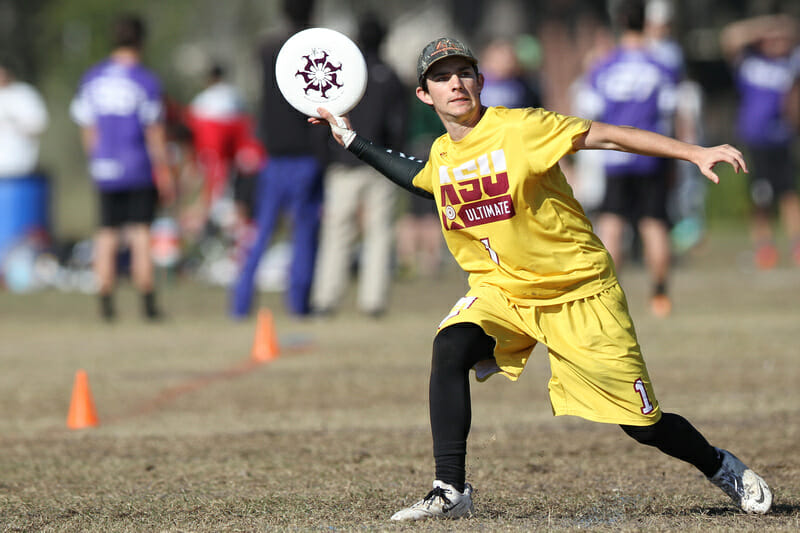 If there's one thing the Southwest region knows, it's dogfights.
For the last few years, regardless of whether teams have been battling it out for one or two bids, Regionals has been an all-out brawl, with as many as eight teams very much in the running to advance.
Even when things went theoretically according to plan, like UC San Diego's complete regional domination last year, it's rarely been a lock for even the most seemingly secure teams. Take, for instance, the Air Squids' near-momentous upset at the hands of Cal in the semis last year were it not for a heartbreaker of a double game point turnover on the goal line by Cal.
Moreover, the parity might be even greater this year. Even the top squads have pretty much all lost to or finished lower than each other at some point this season.
Arizona State may remain the likely favorite, but the weight of a program's first berth to Nationals is the kind of pressure that can't really be overlooked until it's overcome. As such, more tenured programs like UC Santa Barbara and UC San Diego, both doing a solid job of ramping up as the season has progressed, look that much more threatening.
But it's been a year of firsts around the country, with teams like Cincinnati and Maryland qualifying for Nationals for the first time in their programs' histories. There's a good chance ASU could be next in line to do so.
Here's a glance at the main competitors looking to climb to the top of the heap this weekend in Antelope, CA.
ASU Seeking To Fulfill Early Season Promise
Even before the 2015 season began, everyone knew ASU was going to be good this year. Prime had a solid run last year and graduated only a few players.
The mere return of All-Region handler Nate Bridges, cutting dynamo Danny Bellissimo, and defensive monster Andrew Kohl already assert ASU as a formidable presence. But when complemented by strong role players like Josh Walker, Aaron Flegenheimer, Dan Howe, and Michael Grazzini, Prime can be downright nasty.
Their shifty zone has flustered opponents all season long. Their focused patience at converting breaks makes them one of the most efficient teams in the country. And their steady base of dump-swing and break throw fundamentals ensures they see plenty of good looks and open lanes in every contest.
So, then, what is one to make of their stumbling at Stanford Invite, where they dropped three very close games to very strong opponents and ended up in the consolation bracket after an exceptional Warm Up: A Florida Affair performance? The answer is: likely not much.
Few teams in the Southwest are as good as Auburn, Wisconsin, and Oregon, and if any of them are, it's likely ASU. Plus, Prime had to play a good portion of those games without Bridges, which totally changes their ability to open up and take advantage of space downfield.
Bridges has healed up since then, though. And while ASU hasn't got to play any other high-level opponents since that early-March tournament, one can only expect them to be that much more intent on living up to the potential they know they have.
UCSB Eying A Return To The Show
No other team in the Southwest has the kind of pedigree that Black Tide does. Two separate three-peats as national champions and enough trips to the College Championships in their history for a dozen programs gives a team the kind of buttressing that can really come in handy in the postseason.
But of course, no team can ever rely completely on past success. Luckily, Black Tide have put in the work this season to build their own worthy addition to UCSB's history.
Their impressive resume this year includes victories over Cincinnati, Tulane, Minnesota, Carleton, and Tufts, the likes of which only ASU can also boast. Prior to Conferences, UCSB hadn't lost to a team below the top 20 all year.
Though a curious 10-13 loss to UCSD in pool play changed that, Black Tide regrouped quickly and got their revenge with a convincing 15-11 win over the Air Squids in the final to take the Conference Championships.
Now they turn their sights on securing another Regional title and look to be in the best position out of any of the challengers to upset ASU. Hunter Corbett and Will Turner aim to lead their mostly faceless legion of soldiers back to Nationals.
While poor decision-making and a certain lack of patience have occasionally prevented UCSB from breaking through into the more elite levels of the college game this year, there's good reason to think they'll be able to smooth enough of those mistakes out this weekend and make a deep run through the Sunday bracket.
Stanford A Bit Shaky
Much like UCSB, Stanford comes into the weekend with a rich history of finishing high atop the Southwest (and former Northwest) region. Unlike Black Tide, however, Bloodthirsty haven't quite had a season that inspires much confidence.
Losing key pieces like Jordan Marcy and Cody Mills has left Stanford somewhat shorthanded in the area of big playmakers. Elliot Chartock and Peter Maraccini have done a fine job of leading Bloodthirsty's young squad, and Nolan Walsh has come down with enough hucks to make one wonder how he gets open deep so often.
But the fact remains that Stanford has some odd 2015 results. Wins over UCSD, ASU, and Minnesota sit next to puzzling losses to Missouri and Ohio State.
Perhaps the biggest question mark, however, is their 8-15 smashing at the hands of Chico State in the final of Conferences.
Certainly more credit is due to the Wildcats than is likely afforded to them in the wake of such a befuddling upset — if only on the basis that such massive trouncings like that don't exactly fall out of the sky – but nevertheless, such a huge loss to a non-elite opponent doesn't bode well for Bloodthirsty's chances at stealing the lone bid.
Yet, once again, Stanford has a history of showing up at Regionals, even when their regular season results don't hint at much.
This time, though, they'll need an almost otherworldly performance in multiple matches in order to claim the regional title.
Can Chico State Shock Everyone?
Regionals has yet to go down and Chico State has pretty much already had its most successful year in program history. With their first Conferences title already in the books, even if the Wildcats tank this weekend and finish near the bottom, nothing could take away from what's transpired.
The funny thing is, little to nothing from their regular season results could have hinted at their surprise victory in Livermore two weeks ago. Chico State beat a bunch of low-level teams at Colluvium, Stanford Open, and Trouble in Vegas, but also lost to Carleton-GOP, Victoria, and Colorado State.
Not exactly the resume of a top contender.
Maybe that doesn't matter, though. Even if the Wildcats haven't played a lot of elite opponents — or even that many mid-level opponents, for that matter — as long as they can put enough of a performance together over the course of one weekend, that just might be enough.
They have a tall team, with a handful of guys over six feet, and they like to play very aggressive.
While Chico State is likely to continue defeating at least a few more good teams, it's admittedly tough to see them besting enough of the competition to make it to the game-to-go, let alone pull it out.
Then again, that's exactly what most would have thought two weeks ago.
UCSD Looking For The Repeat
Last year, UC San Diego lost zero games to in-region opponents, only occasionally experiencing any real tests in the Southwest.
After graduating a large wealth of their main contributors, however, the Air Squids returned in 2015 severely diminished.
They lost to UCSB and Stanford at Santa Barbara Invite; UCLA and Cal at home tournament Presidents' Day Invite; and even Kennesaw State at Terminus. But UCSD isn't a typical college program subject to wild deviations or deep lulls. Their triumvirate coaching staff of Kevin Stuart, Matt Parisi, and Andy Curtis, along with their extensive alumni network, ensures that the Air Squids are always in a state of growth, even when they have to start some seasons at comparatively lower points.
As such, it becomes clearer how UCSD was able to upset UCSB in pool play at Sectionals, albeit before losing to them the next day in the final.
That is, the Air Squids may not have as talented a team as last year, but that doesn't mean they're not still a contender. Squirrelly handler Cody Kirkland has plenty of breaks and gargantuan hucks and 6'6" Trevor Purdy is going to come down with his share of deep looks regardless of his defender.
Other key contributors like Chris Liu, Nikhar Abbas, and rookie Anfernee Goon round out a well-coached and fundamental team that has a chance to pull out any match when they're all in sync and opening up space for each other.
They may not be as powerful this year, but expect UCSD to at the very least play spoiler to a number of hopefuls on Sunday.
The Outsiders
– UCLA has been on the cusp of having a breakout year all season. Despite losing to the likes of Dartmouth and Cal Poly-SLO, Smaug managed to pull out a win over UCSD and came close to upsetting UCSB and Stanford. If they can figure out how to put the pieces together, they can surely end some seasons in bracket play. Look for inspired play by Nicholas Alexander, Ryan Flamberg, Nils Clauson, and Jacob Bartholomew.
– They have some tough losses to teams like Colorado State, Brown, and Cal, but Cal Poly-SLO looked stronger than they've been in a while at Conferences. A pool play win over UCLA looks good, and with a modest team of contributors willing to stay within their means, SLOCORE might just upset a team or two this weekend.
– After losing the main core of their playmakers, perennial contender Cal has had something of a down year. Despite promising victories over UCSD and even Massachusetts, Ugmo have also fallen to the likes of Oregon State, Iowa State, and Wisconsin-Milwaukee, as well as regional rivals UC Santa Cruz and UC Davis. Cal is a strong program, though, so expect Kohji Sugioka and Andrew Goldstein to keep them in some close matches this weekend.
– UC Davis is also in the midst of rebuilding. They notched wins over Cal and UCSC at Sectionals to finish third, but the rest of their season results don't look too hot. Expect Ben Souvey to keep pushing his name into All-Region talks, but other than that, the best the Dogs can probably wish for is a few good wins over some good opponents.