The premier New England high school tournament featured some of the most talented teams in the country,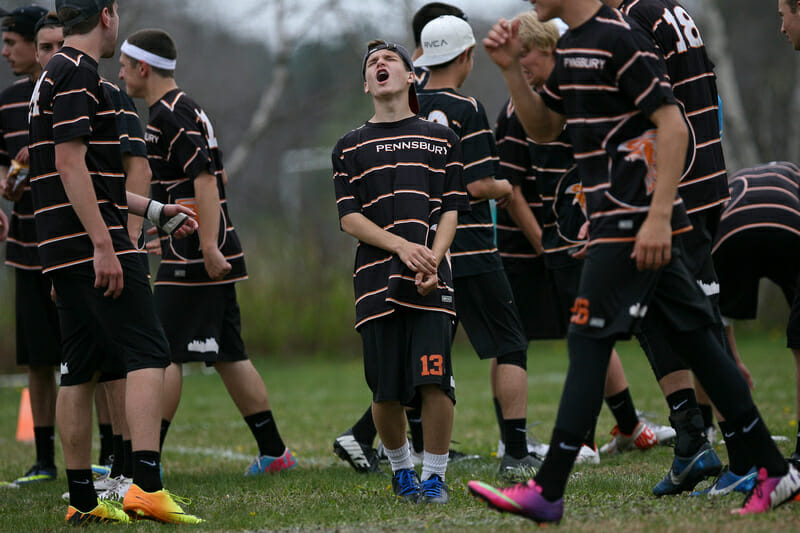 "Amherst runs the best high school tournament that I have seen in all of my years of both playing when I was a kid and watching my son play now. It's the most organized and best run tournament there is." These sentiments, shared by a parent of a player on a visiting team, were echoed time and time again throughout the weekend by the hundreds of ultimate players and fans who converged upon Amherst, MA, for the 24th annual Amherst Invitational, the longest running high school ultimate tournament in the nation. Despite the fact that the tournament was executed to perfection, many would agree that what truly made it a special weekend was the extraordinary caliber of both girls and boys ultimate played by the 30 teams in attendance.
Amherst Girls Win Again, But Not Without a Fight from Watchung Hills
For every year since senior captains Jacqueline Mathers and Nina Wolff Landau were in middle school, the Amherst Hurricanes Girls Varsity team has come out on top at the Amherst Invitational. The 24th iteration of the tournament was no different, as Amherst beat the Watchung Hills Lady Warriors 15-8 in a battle that was much closer than indicated by the final score. Both teams went undefeated in pool play and the Hurricanes felt particularly confident heading into the finals, considering they gave up a total of nine points in the five games leading up to the finals. Watchung Hills had been challenged by Lexington on Saturday, but had pulled out a 10-8 win and defeated Lower Merion 13-7 in the semis. Both days brought excellent conditions in the form of sunny skies and calm winds.
In the finals, Watchung Hills came out in a man defense and Amherst countered with their signature side stack. Amherst timed its downfield isolation cuts perfectly and relied on dangerous up-the-line resets when the stall got high. Consistent small- and moderate-length passes with the occasional huck quickly put Amherst up 5-0.
But the spirited Lady Warriors persevered despite the score. They demonstrated strong fundamentals in their horizontal stack offense and patience on the goal line, which led to a complete shift in momentum. After scoring three points in a row, a hammer to the back of the endzone brought them within one. On the next point, two of Watchung's biggest talents, junior Katie Stoll and her classmate Jessie Sun, connected to knot the score up at 5-5. The energy rose higher and higher on the Watchung sidelines and the concern was palpable among the Amherst players.
In the following points, Amherst relied on the talents handlers Jo-Z Coppinger and Jacqueline Mathers and the strong cuts and defense of Lily Gould, as these three combined to score the next four goals to make the score 9-5. Watchung Hills countered by point-blocking Amherst on their own goal line and Katie Stoll hit her receiver with a hammer. Stoll caught a forehand huck on the next point, demonstrating her dual threat capabilities as a handler and receiver to bring Watchung within two.
On the next point, junior April Weintraub of Amherst point blocked her opponent and cut long for the stuff-and-score to put Amherst up 10-7. From that point on, fatigue started to slowly set in for both teams, although it seemed to take a greater toll on Watchung, as they only scored one more point over the course of the game. Meanwhile, Coppinger and Mathers seemed unaffected by the previous five games they had played that weekend, as they burned their defenders and kept the disc moving in Amherst's side stack offense.
With their talents, the first half nail-biter wrapped up quickly, as Amherst scored five of the final six points and finished the game by a seven point margin. Amherst coach Josh Nugent attributed the victory to his team's strong man defense. Looking ahead, he said, "We are going to see Watchung at Northeasterns in two weeks. And they are going to come to play and they are going to want to get us back. Anything could happen that weekend."
It will surely be an exciting tournament for both of these dynamic, talented teams.
On Repeat: Pennsbury Boys Win Second Consecutive AI
You might say that Pennsbury came late to the party by not beginning to attned the Amherst Invitational until the late 2000s. But no one is holding that against them, especially seeing as they have now won it three times, including both of the last two years.
Pennsbury came into the AI undefeated on the season, including a recent win at Born to Dive in Yardley, PA. In pool play on Saturday, Pennsbury maintained its spotless record, despite close games against Masconomet, Four Rivers, and Radnor. In the quarterfinals, Pennsbury came out a little slow against Northampton, taking half 8-5. From there, they found their groove and won easily, 15-7.
In the semis, Pennsbury played Lexington for a rematch of last year's AI championship game. In 2014, Pennsbury ran away with a 15-8 victory, but this match would prove to be much more exciting. The game got off to a slow start with plenty of turnovers the first few points. Both team attempted many hucks, but were unable to convert on most of them due to a combination of errant passes and strong defense. Senior and UMass-Amherst commit Tannor Johnson showed impressive skills for Lexington as both a cutter and handler.
At times, the team seemed committed to getting the disc in his hands and Pennsbury assigned its strongest defenders to cover him. Johnson's adeptly thrown righty and lefty scoobers were things of beauty and not something you see at your typical high school tournament. Pennsbury utilized a more balanced attack out of its horizontal stack. Cole Drummond and Pat Ward were heavily involved handling the disc, while their teammate Christian Duess played tremendous defense. These three players will respectively attend West Chester University, Penn State, and Bucks County Community College in the fall. Throughout the first half, Lexington and Pennsbury traded points, neither establishing a lead of more than a point until Lexington took half 8-6.
During halftime, Pennsbury coach Casey Startzell encouraged his team to boost their focus. His words must have stuck with his squad, as Pennsbury scored the next five points to take an 11-8 lead. But Lexington's Johnson and senior teammate Tim Schuch refused to go down without a fight. Down three, Johnson completed a pair of hucks to Schuch for two scores and Schuch passed to Mark Rosenberg for a third. Suddenly, the game was tied at 11 and the cap was on; game to 13.
Pennsbury junior Lee Farrell successfully urged his teammates on the sideline to root for their guys on the field and the energy carried over as Ward and TJ Arias scored the final two goals and Pennsbury won 13-11. After the game, Lexington's Schuch, who is headed to Carleton College, said that his team often struggles with "coming out flat after halftime," but he and his teammates are eager for a rematch against Pennsbury at Northeasterns.
In the finals, Pennsbury competed against another school from the Philadelphia suburbs, Radnor. This was the third time these teams had played each other this season, including the prior day in pool play. Radnor opened the game in a zone defense, the key to their semifinal victory over Amherst. Pennsbury, however, shredded the zone and quickly took a 6-1 lead. Radnor switched to a man defense, but Pennsbury's horizontal stack was too potent.
Despite strong play from senior captains Spencer De Roos, Nate Donaher, and Michael Ing, Radnor could not put a run together to balance out the score. Pennsbury took half 8-3 and Radnor looked visibly frustrated, as a couple players threw their hats to the ground. Drummond, Ward, Duess, and Arias continued to lead the way as Pennsbury cruised to a somewhat anticlimactic 15-9 victory. Looking back, the Radnor captains attributed the loss, in part, to only having 11 players at the tournament, two of who were brought up from JV for the weekend. Meanwhile, Pennsbury was ecstatic to come out on top of a very competitive field. Lee Farrell of Pennsbury shared that "winning [the Amherst Invitational] is awesome. We have a great team. We worked our butts off. It was a well-deserved win."
Close Wins for Radnor and Amherst in Earlier Rounds
The most exciting quarterfinals game came out of the Masconomet-Amherst matchup. Last year, "Masco" bested Amherst 15-8 and their aggressive four-man cup was a key to their success. They utilized the same defense and it paid dividends again, as they dashed out to a 4-0 lead. Masco senior Connor Whiffen contributed to his team's success on both sides of the disc early in the game. Meanwhile, ARHS struggled to get the disc past the cup.
When they did, they hurriedly tried to keep moving downfield ahead of the defense, leading to several turnovers, which Masco was able to capitalize on. After an Amherst timeout, the team's execution improved and a huge layout D bookended with a goal from junior Kale Wenczel brought the score to 4-3. Masconoment countered with another 3-0 run, but that is when Amherst's zone O really started to click. Balancing patient handling with sometimes aggressive popper-to-popper passes, Amherst went on an 8-2 run and the game finished with Amherst the victor, 11-9. Amherst coach Joe Costello attributed the win to his team's fresh legs. "Our depth is definitely our strength," said Costello after the game.
Amherst's win over Masco brought them into a semifinal matchup with Radnor. The two teams traded points early on, as Radnor played an aggressive four-man cup and a vertical stack on offense. Amherst could not find its groove offensively and Radnor took a 9-7 lead with the soft cap making it a game to ten. Amherst mustered up another goal, but on a deep huck, Radnor's Spencer Dodge skied two defenders to win the game. A Radnor captain shared: "We knew that they were a good man offensive team. They were really good at moving the disc, so we came in knowing we were going to play a lot of zone… Towards the end, something clicked a little bit and we got a little more energy and we realized that we wanted to win and we could win."
Disappointed Amherst senior Avi Elkin, who is heading to Pitzer College in the fall, said, "We let [Radnor] dictate the energy of the game." Fortunately for Amherst, they went on to beat Lexington in the game for third place by a score of 14-5.