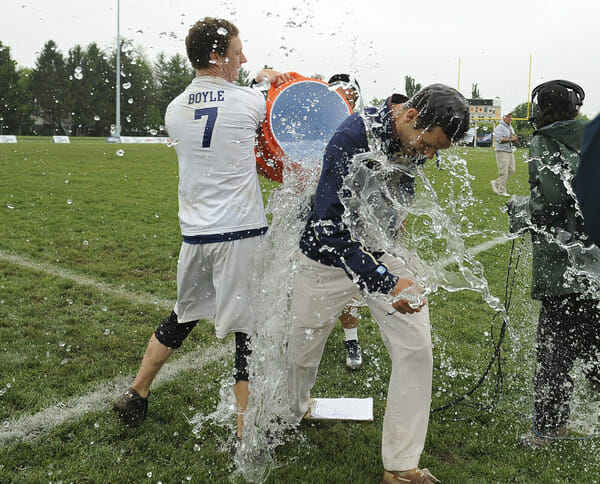 Allow me to set the scene. It is double game point of the championship game at Easterns, and Pittsburgh needs to go upwind to close out the game. Pulling to them is the UNC Wilmington defense that has played amazing all weekend, giving Pitt's offense everything they can handle and then some. The pro-Wilmington crowd is becoming deafening, both sidelines packed with players and fans echoing the infamous "WILLLLLLLLLLLLLLMINGTOOOOOONNNNNNNNNNN" chant as the pull goes up. If you were about to play that point, with the Easterns title on the line and a hundred people screaming their lungs out at you, what are you thinking about?
For Pitt's players standing ready to receive, it was simple. "We went around, each of us, telling each other what we love about this team, what we love about everyone who is in the huddle with us, what we love about this game. It was all very heartfelt personal things." That was how Marcus Ranii-Dropcho described the mood before that final point.
Despite the pressure of the circumstances of the game, the screaming fans, and Wilmington's defense, Pitt was able to keep their focus internal. By keeping focused on their program and their mission, Pittsburgh keep their minds strong and let their play take care of itself, which it did when they marched past Wilmington's zone and put in the winning score.
There are so many variables that go into who wins a game, let alone who emerges at the end of the year with the title, that skill and talent alone cannot guarantee victory. Pittsburgh may be the most talented team in college, but what truly sets them apart from the field is their mental game, which is an edge they will need to maintain if they want to end the season as champions.
Composure And Confidence
Despite all of the impressive things Pittsburgh did on the field at Easterns, what really stood out was their composure. This is no accident, as Nick Kaczmarek and his coaching staff pride themselves on winning the mental battle, and having the strongest inner focus of any team they will play. Physical preparation gives the team the ability to perform, and mental preparation gives Pitt the confidence and composure to perform under any circumstance.
Coach Kaczmarek declined to comment on the exact specifics of the mental training the team undergoes. For a program that takes itself very seriously (very seriously) keeping their methods among the members of the team makes sense. The brotherhood is real for Pittsburgh, and so is the buy-in by the players into the team's identity and ideals. Keeping the means of their internal focus close to the vest ensures that the bond they create stays within the team.
Confidence and composure are more valuable to Pitt now than ever before. At Easterns, everyone wanted to be the team to take down the top ranked team, and by virtue of that Pitt got everyone's best shot. Despite having every opponent game planning for them and going all out against them, by and large En Sabah Nur were able to play their game the way they wanted to.
Perhaps the best example came against UMass in the 1-2 game of pool play on Saturday. Pitt gave up a break on the first point when Jeff Babbitt got the kind of jawdropping layout D that could rattle a mentally weaker team. With Massachusetts' sideline roaring and its D-line fired up after getting a whiff of blood in the water, Pitt battled for a crucial hold. They then proceeded to turn the game from a contest to a formality, coolly ripping off a 7-2 run that cemented their status atop the pool.
On Sunday, Pittsburgh got good performances from every team they faced. Wisconsin's defense played with unparalleled intensity, Florida State's deep game was on fire, and UNC-Wilmington took them all the way to double game point. Throughout it all, Pitt's resolve and collective calm carried the day. Pittsburgh's players never seemed fazed by anything Wilmington's players or fans threw at them, and when they walked off the field after their win in the final, it was hard to not be impressed by the triumph of their serenity in the face of the hysteria of the Wilmington fans.
Controlling Motivation
Despite their reputation and conditioning, even Pittsburgh is not immune from the sort of mental letdowns and traps that sink teams every year. On the biggest stage, it only takes one crucial mistake to define a whole season.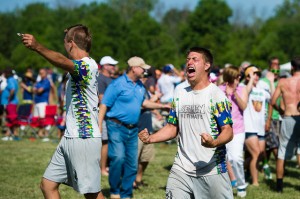 The roster of this 2015 En Sabah Nur squad is almost identical to the 2014 team that lost in dramatic fashion to Wilmington in the quarterfinals at Nationals. The 2014 season showed that this crop of Pitt players have undeniable talent, as they reached the finals at both Stanford and Easterns on their way the second overall seed at Nationals. Despite those accomplishments, 2014 will go down as a missed opportunity for Pittsburgh, as they became the first team since the reformatting of Nationals to win their pool and not reach the semifinals.
It was a lack of mental edge, not talent that cost Pittsburgh in 2014. Simply put, they came up short in their three biggest games of the year, losing in the finals at Stanford and Easterns as well in the quarterfinals of Nationals.
A key ingredient in Pitt's disappointing results last season has been identified by Pittsburgh's own coaching staff was their problematic approach to motivation. The team was using external sources of motivation instead of the internal ones that the program preaches. At Nationals, three of Pittsburgh's pool B opponents — Michigan, Texas A&M, and UCF — had all beaten Pitt at points during the regular season, and a large swath of Pitt's players were looking for revenge.
The "revenge tour" as some Pitt players dubbed it on Twitter, became a primary source of motivation for the team. They wanted to prove once and for all that their early season losses were not representative of the dominant team they felt they had become. The players did just that by comfortably taking the pool, proving their dominance over their foes, and successfully completing their "revenge tour." Then, with the tour over, they came out and lost their next game.
It is obviously reductive to blame the loss to Wilmington exclusively on the "revenge tour" and a lack of motivation, but it is no coincidence that the team's mental plan of attack this year has been focused internally. By placing their source of motivation in the identity of their opponents, or in anything outside of themselves, the team lost control over that element of the game.
"It is no secret that many teams are motivated to beat teams that they've lost to before," said Kaczmarek. "We took advantage of that in some of our pool play games last year. The issue is that this is not a sustainable source of motivation. This year, we seek to stay in the moment and to play the situation." There are a lot of reasons, both micro and macro, that contributed to Pittsburgh's defeat at Nationals last season. Clearly for the Pittsburgh coaching staff, motivation and internal focus were a big takeaway and a point of emphasis going into the 2015 season.
It speaks to the new mental strength of Pittsburgh's team that when given a chance to get revenge on Wilmington in the emotional cauldron that was the final at Easterns this year, Pitt's attention was nowhere other than on themselves and on the task at hand. "We don't want a source of motivation that goes away depending on who the opponent is," said assistant coach David Hogan. "I didn't hear a single mention, anywhere on the sidelines about last year. Not on universe point, not when we were trying to come back." Pitt's ability to seal out the emotions brought on by last year's loss during that final is a good sign that the team has learned their lesson, and will be mentally strong enough to do what they could not last season.
Chasing History Or Chased By It?
Looking ahead to Nationals, Pittsburgh's mental game will be given a new test. They already know what it is like to face the best from each team they play, and that won't change in Milwaukee. In fact, the new challenge that they will face has little to do with anything their opponents do or don't do. This is because one of Pittsburgh's biggest obstacles moving forward will be playing under the weight of their own success.
This season Pittsburgh has won Florida Warm-Up, Stanford Invite, and Easterns in succession without losing a game. There are generally two ways history treats a team that puts up such gaudy regular season results. Either they are an unstoppable juggernaut bound for preordained glory, or they have sacrificed development for regular season success and will ultimately be exposed for it in the crucible of Nationals.
One only has to go as far back as 2012 to see this narrative play out, as both Oregon and Pittsburgh came into Nationals having ransacked the regular season. Both teams made it to the semifinals, and both played poorly for a big portion of their respective games against Wisconsin and Carleton. Pittsburgh engineered a miracle comeback to reach the final which they would win, while Ego's bad day continued into the second half and the team that went 30-1 in the regular season fell short of a title.
History remembers 2012 Pitt as the undisputed champs, a team that got all the little things right and was finally able to win a title for a program that had been paying its dues and getting better every year, while history remembers 2012 Oregon as a team that couldn't play their best when it mattered most and had too much fun hucking their way through Centex to prepare for Nationals. The lasting memory of each team's season came down to a narrative based off of one game.
The same will be true of this Pittsburgh team in 2015, because if they do anything short of winning a national title their regular season success will be brushed aside. They will be another example for those who believe that regular season excellence is not hitched to postseason success. The winning that Pitt has done is a burden, not only because it makes them a target, but because with every win the implications of losing get bigger and bigger. The better a team does, the higher they go, the farther they have to fall. When they take the field at Nationals this year, Pittsburgh will be playing not only against their opponents, but also against this tide of expectations that their success has created.
This is why for Pittsburgh, the mental game will be such an important part of their training and preparation as they take the final steps towards their third title in four years.
At Easterns, Pitt seemed unshakable, and when that kind of mental resolve is paired with the truly impressive depth and talent at En Sabah Nur's disposal, it is clear why Pitt is the consensus favorite to take the title. Any team whose emotional stability and focus comes from faith in their own abilities can maintain their confidence and composure when things are going well. Pittsburgh's mental game is so strong because they go deeper than simply believing in their on-field abilities. They believe in their program, in their mission, in their brotherhood. So long as those pillars are there for them their players will be ready to take the field and do what needs to be done.
"We want to be internally motivated for the joy of winning, for the joy of playing," said Hogan. "It isn't fake, it is completely organic, it's where we are as a team." If Pitt can continue to keep their focus internal and ignore the mounting pressure on them, both from opposing teams and expectations, then they have a chance to finish a historically dominant season that people will remember for years to come. But if the Pitt players and coaches are to be believed, it won't be the historical greatness of the season that resonates with them, it will be the internal victories they accomplished together that mean the most.