Carolina Friends School used their powerhouse underclassmen effectively to claim their 2nd straight Southerns crown.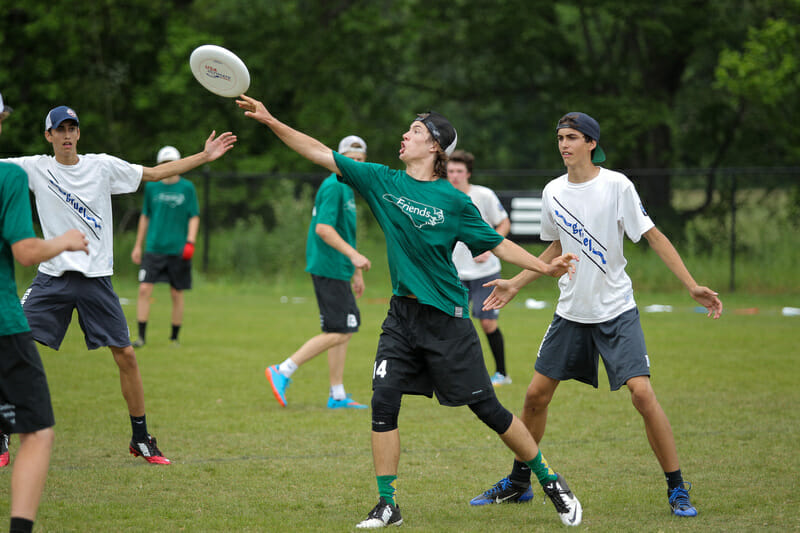 Disclosure: This post is brought to you by CUT Camp. All opinions are those of Ultiworld. Thanks for supporting the brands that make Ultiworld possible!
WINSTON-SALEM — Carolina Friends School looked dominant this weekend as they secured the regional championship at USAU High School Southerns for the second straight year.
The Fighting Quakers of CFS won all six of their games by three or more points, capped by a 13-7 victory over Paideia School in the finals. All weekend, CFS pulled away from teams by switching up defensive looks to force errors and capitalizing on offensive chances with precision hucks from their standout players, Dillon Lanier and Liam Searles-Bohs.
The 2nd seeded Fighting Quakers earned their berth in the finals with a hotly contested win against 3rd seeded Carrboro High School in the semifinals, their closest game of the weekend. "Our mindset after the Carrboro game was to play aggressive, have fun, and just enjoy and cherish the opportunity of playing in the finals," said CFS head coach Augie Kreivenas. "We had not played Paideia at all this year, so we did not quite know what to expect from them."
CFS started on offense in the final, and the two teams traded points before a rare unforced error by the Fighting Quakers' handlers gave Paideia their only break of the game. Down 2-1, CFS scored five straight points to gain a 6-2 advantage, with Lanier and Searles-Bohs demonstrating their offensive chemistry and the range of hucks, hammers, and break throws in their arsenal. This momentum-shifting run was capped by a bookends play from Josh McClain of the Fighting Quakers, laying out on defense then immediately sprinting to the end zone to bid for a huck from Lanier. Though Paideia found their offensive rhythm on the next point, using quick crossfield swings to narrow CFS' lead to 6-3, CFS then strung together three quick completed throws to take half.
This decisive first half set the tone for the game, as CFS continued to tally breaks in the second half despite Paideia settling into a more consistent offensive rhythm led by their handler duo of Jack Smith and Stanley Birdsong, who excelled the entire weekend. Paideia never fully developed a strategy to contain Lanier and Searles-Bohs, who combined for a significant number of the Fighting Quakers' goals, assists, and defensive blocks. Even when these two were neutralized, McClain, Daniel Johnson, and Aaron Wynmor were able to step up for CFS, with all three registering important plays throughout the day on Sunday. In a fitting end to the game, Searles-Bohs looked off an open cutter to throw a break to a covered Lanier to give CFS the 13-7 victory.
When asked about the victory, Coach Kreivenas recognized the leadership of captains Lanier, Searles-Bohs, and McClain, saying that they "are 'monsters' out there on the field on offense and defense, and really make things go for us." However, he also emphasized the collective spirit of his team, saying, "[we have] the goal of improvement each time we practice or play or work out in the gym on rain days … from the sidelines to the players out on the field, everyone honestly contributes to the team."
Catholic High School and Carrboro High School Tie for Third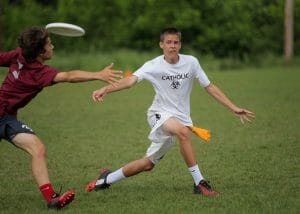 Catholic High School from Baton Rouge, Louisiana, was the talk of the tournament on Saturday. The 13th overall seed and bottom team in Pool A, they came out swinging, notching an upset against 8th seeded Apex and taking overall first seed Apex to double game point before defeating Woodside. After Apex defeated Lakeside in the final round of pool play, Pool A found itself with three teams tied after pool play with a 2-1 record. Point differential gave Catholic the first-place pool finish and a bye into quarterfinals, and dropped Lakeside to a tough prequarters matchup against a dangerous Blackman squad.
On Sunday, Catholic pulled away in their quarterfinal matchup against Grady High School, registering another convincing win, before falling to Paideia in the semis. Though Catholic's Johnny Sims consistently came up with huge plays on both sides of the disc, it was their depth helped them stun teams at this tournament, with all 20 players in attendance rotating into Saturday's games.
"We pride ourselves on being a top-to-bottom team all season long," said Catholic coach Michael Aguilar. "We have a lot of guys who are committed to the program, and we like to honor that depth and let them play." He attributed Catholic's success at Southerns to the fact that Catholic's early-season subbing strategy gave their whole roster valuable game experience, allowing them to have fresh legs at times when opponents were tightening their lines. 13 of the team's players scored at least once.
Carrboro High School came into the weekend off a statement regular season, with victories at QCTU and TYUL Easterns as well as a second-place finish at the YULA Invite. Carrboro looked strong on Saturday, winning games against Grady, Woodlawn, and East Chapel Hill and earning a bye into quarterfinals on Sunday. Carrboro coach Britta Jones said, "The Clams have nearly a dozen YCC-level players on their roster and were able to sub deeper than many of the teams in our division," allowing them to have the energy necessary for a grueling Sunday.
In their quarterfinal against Blackman High School, Carrboro's depth showed: with every player on the field a threat, Blackman's zone defense couldn't contain the Clams. As Carrboro pulled away on the strength of Marc Rovner's hammers, quick disc movement from Matas Zdanavicius, and heads-up end zone play from Rees Braam, it became clear that their path to the championship would take them through CFS in the semis.
The Clams looked to a combination of Rovner and Ethan Cole to contain Carolina Friends School's duo of Lanier and Searles-Bohs. However, despite their tenacious man defense, Carrboro wasn't able to overcome their offensive miscues, as several hucks sailed out of their intended receiver's range as the wind picked up in the second half. Though Carrboro fell 7-10 to CFS, Jones feels there are valuable lessons to be learned from the game. "The Clams' defense was as effective as we can expect against a powerhouse like CFS," she said. "The Clams have to click on offense next weekend to challenge CFS for the [NC] state title."
Increasing Parity Across the Region
With the Southerns regional title in contention, teams from Virginia, North Carolina, Tennessee, Georgia, and Louisiana showed that high school ultimate in the South is more competitive than ever. Throughout the weekend, it was commonplace to witness comeback rallies, double game points, and huge game-saving plays by athletes who had only been playing the sport for a few years. East Chapel Hill High School had all of their games decided by three or fewer points, with three of those games going to double game point. Eventual runner-up Paideia was behind 4-9 to East Chapel Hill, only to battle back and take the lead 10-9 and eventually win the game 13-12. East Chapel Hill was plagued by illness and injury all weekend, but they could be dangerous next year, with many top players returning.
In the prequarter round on Saturday afternoon, all four games were still being played when the hard cap horn sounded, as eight teams battled for a place in the championship bracket on Sunday. While an under-ranked Blackman team closed out a 13-5 victory over top-seeded Lakeside to send them out of the championship bracket, the other three prequarters games were evenly matched. East Chapel Hill notched a 10-7 victory over Yorktown while the other two games came down to the final point. Independence High School from Nashville, TN earned the 7-6 win over Apex High School to advance to quarterfinals after an impressive showing from Independence's Jacob Bell and Boone McClellan throughout the day on Saturday.
Meanwhile, the game between Chapel Hill High School and Grady High School continued on the adjacent field. Starting on defense, Chapel Hill High School's aggressive man defense forced three turnovers during double game point, but they were unable to convert any of their chances. After several huck turnovers, Grady High School's patient offensive flow earned them the point and the 10-9 victory, giving them a spot in Sunday's championship bracket.
Top 7 Players (not in order)
Liam Searles-Bohs, Carolina Friends School #12
Dillon Lanier, Carolina Friends School #14
Stanley Birdsong, Paideia High School #19
Marc Rovner, Carrboro High School #9
Johnny Sims, Catholic High School #1
Boone McClellan, Independence High School #10
Beau Waldron, Blackman High School #7
Additional reporting from Xavier Stewart.