The Carolina Friends School boys continue their dynastic run while the HB Woodlawn girls capture their first Southerns title.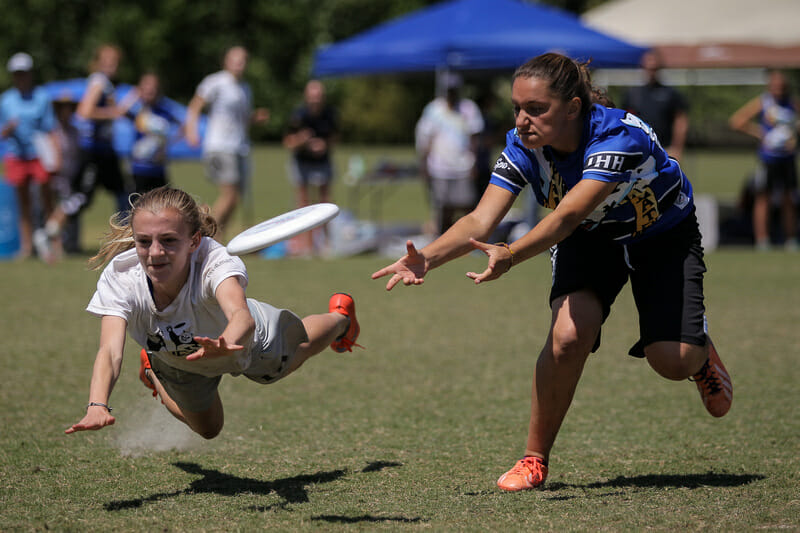 The article is presented by CUT Camps; all opinions are those of the author. Please support the brands that make Ultiworld possible and participate in CUT Camp!
Top Seeds Roll In Boys A & B Pools
We're going to talk about Pool A without mentioning Carolina Friends School, who — as we mentioned in our preview — are in a class of their own. As expected, they were not challenged on Saturday.
The rest of the pool was a tossup from the start; Washington-Lee and Carrboro split their regular season series and neither had previously faced the strong 4-seed, Blackman. The pool lived up to expectations, finishing in a three-way tie.
The most exciting game came in round three when Washington-Lee battled Carrboro to universe point. After taking half 7-6, the Slarenegs were unable to score again and took an 8-7 loss after an eight-turn universe point. Although Yuma Kobayashi was the center point of the offense, Dean Merritt was perhaps the most impressive player on Carrboro; throughout the weekend, he made impressive catches and throws look routine and always provided a bailout for an easily stalled Carrboro offense.
After the tight loss, Washington-Lee was able to rebound from their 0-2 start to take down Blackman by the three point margin they needed to finish on top of the tie-breaker and stay alive for the bracket. August Wagner and Gabe Westergreen were solid cutters for the boys from Arlington all weekend and the unsung heros of the Slarenegs. Andrew Roy, who will compete with the Portugese Mixed National team at WUGC this summer, kept the offense moving, often getting every other reset and finishing the weekend with 18 assists. For Blackman, Grant Waldron was one of the most impressive players at the tournament; he played every point with a smile on his face and ran the show for Blackman. Behind him, the team was a faceless army that looked impressive at times but struggled with execution towards the end of the day.  
Pool B belonged to Paideia from the beginning. 6'4" junior Luke Smith stood out as a top handler with a plethora of good break throws. Junior Worlds player Stan Birdsong was of course another standout, displaying consistent throws and flashy catches. Gruel's closest pool play game came in a 13-9 victory over University School of Nashville, though the result never appeared in doubt. Despite this loss, Brutal Grassburn managed to finish second in the pool.
Cardinal Gibbons came into the weekend as the pool's second seed and had high expectations, but failed to live up to either. They had one of the largest benches at the tournament, but were unable to generate much offensive flow.
Bethesda-Chevy Chase went winless on the weekend, but not without its share of drama. In a consolation game against Catholic High School from Baton Rouge, the Barons caught fire after being down 9-6 to take an 11-10 lead. Kevin Versteeg was unstoppable at times, twice making huge catches while sandwiched by two taller defenders during the run — it was really incredible. Not realizing that caps were 15 minutes longer on Sunday, BCC had been running universe lines for the several points to earn their lead. A deeper Catholic team then rattled off three straight points against the gassed Maryland stars to claim a 13-11 victory. Bethesda was the only team to roster more than two girls for the tournament. They also has some of the coolest jerseys at the tournament with a full sublimation of starry night.
East Chapel Hill and Grady Take Hard Fought Pools
HB Woodlawn was the most interesting team in the tournament. They took a page out of UNC Darkside's playbook with their whole sideline sporting pool noodles and inflatable sea creatures. They cheered just as loud after being scored on and genuinely looked to have the most fun. Both they and East Chapel Hill were able to take care of business against Lakeside and Independence in Pool C. Lakeside's inexperience showed throughout the weekend as they had a tough time figuring out zones and their offense really didn't have a lot of flow to it. Independence was definitely a talented team, but lacked the consistency to keep up with the top seeds.
Pool C reached its climax when top seeds HB and East Chapel Hill met in the last round of the day. HB came out firing and jumped out to a 6-4 lead. The wind picked up and both offenses ground to a halt. East was more aggressive with larger swings and creative throws through the cup, whereas HB was content to take minimal yardage gains. Neither strategy looked pretty, as each point was filled with miscues and drops. East would grind their way back to tie the game at 7-7 on an extremely casual greatest. After a HB hold, Tyler French would then pop up an inside backhand that Tommy Williams brought down in the back of the endzone to bring the game to universe. HB changed their mentality and suddenly looked for aggressive shots trying to end the game. They were unable to connect and French once again found Tommy Williams for the score to take the game and the pool.   
At the start of the day, Pool D looked to be playing the most competitive ultimate. Yorktown and North Carolina School Science and Mathematics were locked in an offensive showcase. Jeffery He ran the show for SMUF and was very impressive in getting the disc back at will and running the offense without trying to do too much. Yorktown ran a patient offense, only taking deep shots in motion and not being afraid to reset the disc multiple times in a row. Receiving on universe point, Yorktown worked the disc up the force side before Jonathan Malks threw a bladey huck that trailed onto the break side and into the arms of Matt Tornquist for the victory. Unfortunately, SMUF's lack of depth showed as they became gradually less competitive over the course of the day and finished winless at the bottom of the pool.  
The match-up between Grady and Yorktown saw an increase in wind which Yorktown really struggled with. Grady put on more defensive pressure than Yorktown was used to, generating multiple in-cut and reset turns. Together with a strong deep game, Grady was able to jump out to a 7-2 halftime lead. Junior Drew Di Francesco is the face of this Grady team but they really got contributions from across the board. Jacob Dillard, Mack Hodges, and Kiran Potula are all solid players that seemed to know each other well and work together seamlessly.
Despite coming in as the 16 seed, Catholic proved to be a very solid team, playing both Yorktown to within one and Grady to within two before knocking off a tired SMUF in the final game of the pool and earning a berth in the crossover round with a chance to qualify for the championship bracket.
Girls Pool Play Sticks To The Script
Meanwhile, pool play in the girls division was much less eventful. All four pools went perfectly to seed and many of the games were blowouts. Reigning champion Paideia looked especially impressive, only giving up four points in their three games, all scored by Maggie Pendleton of Yorktown/Washington-Lee. Paideia was less quick to punt than most teams of the division when the wind picked up, and were very confident in their resets. Ollie Peterson was an immediate standout for Groove, as she burned her defenders on in-cuts repeatedly and rarely stopped running.
Millie Negron was the centerpiece of the Brookwood offense, always picking up the disc and taking the shots. Her strong play kept Inferno close to East Chapel Hill near the top of Pool C, but they could not quite pull off the upset. Brookwood also had the advantage of a much larger roster than most teams in the division, carrying 28 players for the weekend.
SMUF was on the other end of the size spectrum — coming into Southerns with just 12 players. Despite their short roster, they were able to play their most competitive ultimate of the season getting a pool play win over Blackman (only their second victory of the season) and playing other teams close.  
Wind A Factor In Crossover Rounds  
The wind hit its peak during the crossover rounds on Saturday and it showed it the scores, with most games barely reaching half.
In the boys division, HB Woodlawn came out extremely flat against a much weaker Cardinal Gibbons team, and were lucky to escape the game with a win. Meanwhile Yorktown and Blackman played a low-scoring slugfest. The first point took upwards of 10 minutes and it didn't get much better from there. Grant Waldron did everything he could to keep Blackman in the game with some possession-saving grabs and upwind hucks, but Blackman just wasn't able to string together enough passes to march a full 70 yards. Yorktown, for better or worse, never gave in to a huck-and-D game and continued to run its conservative offense. Its first upwind break came on a 105 throw possession that left spectators in awe. With Yorktown's 7-4 victory, all three Virginia teams advanced to the quarterfinals.
On the far field, Independence took on University School of Nashville in a rematch of the Tennessee state finals. USN would take the first three breaks of the game and never looked back. Nicholas Farren and Matthieu Agee were both big, athletic, and fiery for USN and were crucial in pulling off the upset to avenge their loss from the state championship.
On the girls side, each of the 2v3 games went in favor of the 2-seed by large margins. Just like on the boys side, USN and Independence played a rematch of the Tennessee state championship. Also like the boys, USN came away with the victory, scoring a blowout win.
Playing a different format than the boys, the girls crossover round also included 1v1 games to determine seeding for Sunday's bracket. Paideia was able to easily dispatch of East Chapel Hill by a score of 10-3. In the only upset of the day, HB was able to knock off Carrboro in a game that was close the whole way. With the win, HB importantly ended up on the opposite side of the bracket as the favorite, Paideia.
Crosstown Rivals Play Thrilling Girls Quarterfinal
Yorktown/Washington-Lee and HB Woodlawn know each other very well, having played together up until last year and being physically separated by just over a mile. The first half of their quarterfinal match-up went back and forth with neither team ever leading by more than one and big plays coming from both sides. HB relied on excellent cutting from sophomores Ella Juengst and Caroline Tornquist to repeatedly beat their defenders to the force side. Juengst was especially impressive as she scored seven out of the team's ten goals in the game, along with notching two assists and making some fantastic plays all over the field.
Maggie Pendleton continued to be a goal scoring machine for the YLee Coyotes, with five in the game. Their backfield ran through Sydney Kane and Rachel Hess, who were both premier throwers all weekend. Kane also made numerous impressive defensive plays as the deep help to keep YLee in the game. After taking half 7-6, YLee would concede two breaks on hard fought points. With the score at 9-8, Juengst threw a blade just inches away from the outstretched arms of Hess to seal the two-point victory for HB. In a quirk of scheduling, the teams will face again this weekend for the Virginia state championship.
Elsewhere in the girls quarterfinals, Paideia continued its dominance with a 13-1 victory over USN. North Carolina teams East Chapel Hill and Carrboro also scored big victories over solid Georgia teams, Grady and Brookwood.
Boys Quarterfinals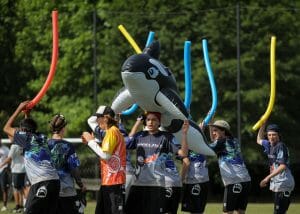 The quarterfinal round started with a bang. HB started the day completely differently than they had ended the last one; they came out pool noodles thrashing against Grady. Adam Norbom put up a huge backhand to Austin Alvarado who was about two steps behind his defender. Alvarado closed the ground and made an incredible layout grab in the back corner of the endzone to give HB an early 3-1 lead. Grady would close that gap but were eventually worn out by the relentless energy and pressure from HB. Norbom has played primarily in his twin brother's shadow for the last four years, but really had a standout weekend. He was very confident with the disc and took some great aggressive shots. Conversely, Gus Norbom stood out as the best defender on the team. HB would finish off Grady 10-7 to draw the unenviable Carolina Friends School match-up in the semis.
Meanwhile, one field over, Yorktown and East Chapel Hill played one of the better first halves of the weekend with East Chapel Hill breaking for the first time to take half 7-6. Ben Priess continued to be a goal-scoring machine for Yorktown. Despite being just a sophomore, he was consistently getting open both deep and under and had some pretty serviceable throws. Hunter Shumaker isn't the first player you'll notice on Yorktown, but he's a workhorse of a cutter that rarely makes mistakes. Shumaker has the potential to be a star for NC State next year. Coming out of half, East Chapel Hill really clamped down on defense and caused enough short field turns to run away with the game. Tyler French continued to be the best all-around player on the field with some great break throws and quickness around the endzone.
HB And Paideia Girls Overpower Opponents In Semis
After the results of the crossover round, it looked imminent that these two storied programs were on a collision course to the finals. However, they still had to jump one last hurdle in the form of North Carolina teams East Chapel Hill and Carrboro. Carrboro and Paideia played close to start but eventually Paideia was able to open up a gap. U19 Worlds player Kate Lanier was the obvious star for Carrboro, as the best thrower on the field and centerpiece of the offense. However she was guarded by athletic fellow Worlds teammate Isabel Arevalo. Although Lanier wasn't taken out of the game by any means, the difficult resets didn't do Carrboro any favors. Carrboro struggled most when they had to go from cutter to cutter, which resulted in many unforced turns. In the end, Paideia just made fewer mistakes and earned their fourth consecutive trip to the Southerns finals.
Even coming off a hard fought quarterfinal match, HB Woodlawn showed no signs of fatigue in their semis. Ella Juengst and Caroline Tornquist continued to beat their defenders to the force side end zone cone, Maddy Boyle continued to rack up assists, and HB really hit their stride in this game. With no seniors on the roster, East Chapel Hill has a bright future and should be an early favorite to do big things in 2017.
East Chapel Hill Makes Last Run
The Paideia and East Chapel Hill boys played the most exciting and high energy semifinal at the tournament. It was a game of runs and momentum as East jumped out to an early lead, only for Paideia to roar back and take half. Stan Birdsong was all over the field for Paideia, making countless athletic plays to save possession. However, the wheels started to come off for Paideia in the second half. East Chapel Hill rattled off five straight points using a suffocating zone to all but seal the game. Paideia was taking uncharacteristic risks against the zone that usually didn't pay off. East Chapel Hill was very good at isolating space in a short field for their athletes Tyler French and Teddy Randby. In the end, they were able to hold off Gruel, 12-10.
One field over, HB Woodlawn would put their endless energy and positivity to the test against the formidable Carolina Friends. CFS would take an early lead and never look back. HB played a pretty good game, but just made too many mistakes and didn't have the depth of defenders to match up with CFS's plethora of athletic cutters. Aaron Wynmor in particular was a match-up nightmare as a speedy cutter that often found himself all alone in the endzone. James Reed is listed at a generous 5'4" for HB, but was one of the most impactful players on the field. All weekend he played with a lot of intensity and made plays that you wouldn't expect a player his size to make.
Carolina Friends Confirm Their Dominance
The final saw a rematch of the North Carolina state finals which Carolina Friends won 13-10 over East Chapel Hill. While East Chapel Hill entered this game on a high, Carolina Friends had yet to be challenged on the weekend and were focused on a repeat performance.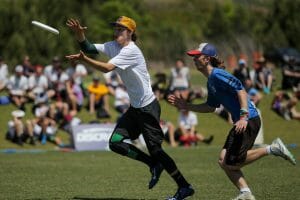 The final started off in East's favor; after a CFS drop in the endzone, they worked it back down the full length of the field for the first break of the game. The teams would then take turns trading breaks. When CFS broke through the East Chapel Hill zone, it was a thing of beauty to watch. As soon as the disc got through the cup, nobody would hold the disc for more than a second and the defense didn't stand a chance of recovering. CFS would go on a run to take a 6-3 lead that East Chapel Hill was never able to recover from. Although East Chapel Hill would make their share of plays from their usual stars, they ultimately weren't deep enough to make a run to close the gap.
Carolina Friends really proved that they were on another level from every other team at the tournament. They would make mistakes, but it never seemed to rattle them and they never let the other team take momentum. Liam Searles-Bohs threw fewer hucks than he has in the past, but just the threat of his throws let CFS take easy unders all day. With all that Searles-Bohs has already accomplished, its really amazing that he still has another year of high school left. Dillon Lanier, who will be attending Carleton next year, remains one of the best fundamental players in the division, finishing the tournament with 16 assists and just five turnovers. Although it felt criminal to not mention these two players, the dominance of Carolina Friends really was a team effort. Every single player on the field had a solid understanding of cutting and was able to play their role to perfection. CFS truly has built a dynasty.
HB Denies Paideia Repeat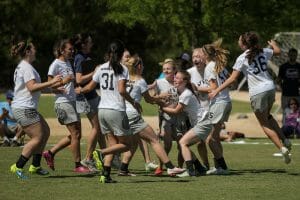 The HB-Paideia girls final would be much more back and forth. After easy holds from both teams to start the game, Ellie Heil would make an great full extension catch for HB's first break of the game. From there, HB made the plays they needed to to open up a 6-3 lead. Maddy Boyle was a real standout against Paideia's zone defense, with countless difficult throws through the cup and crossfield swings.
Paideia really struggled on the end zone in this game, which may have been due to more defensive pressure than they had previously seen during the weekend. Despite this trouble, they were able to change the momentum and cut the lead to one at 7-6. After an absolute marathon of a point, they would seemingly score to bring the game to universe point, but an extremely late call brought the disc back 0– both teams were already preparing for the next point when it surfaced that a foul was called in a pile up. Paideia looked devastated and was unable to convert a second time. HB then quickly turned it around and found Ella Juengst in the endzone for their first ever Southerns title as their own program.