Franciscan closed out their undefeated season with a DIII Championship.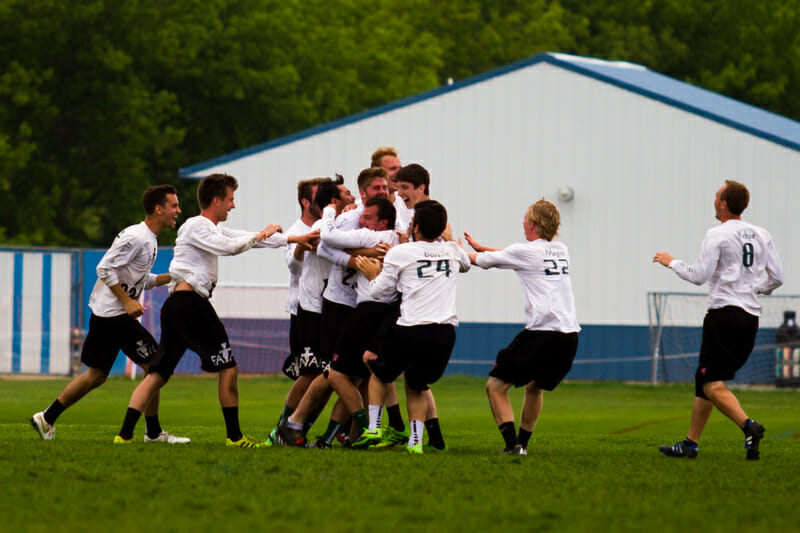 Disclosure: Elan Kane plays for Brandeis and Patrick Stegemoeller plays for SUNY Geneseo.
ROCKFORD, IL. — Franciscan Fatal defeated Brandeis TRON 13-9 Sunday afternoon to earn the program's first Division III College Championship.
On a windy afternoon in Rockford, Franciscan demonstrated the same dominant and consistent play that had led them to 27 straight victories prior to the final. Fatal came into the game having just beaten SUNY-Geneseo on double game point 12-11 in the semifinals. With the victory in the championship game, they finished the season with an undefeated 28-0 record.
Franciscan showed their aggressive defensive pressure on the first point when a Franciscan defender got a layout block on the second throw of the game from Brandeis. Though TRON ended up getting the disc back and scoring, the block foreshadowed the pressure that the Franciscan defenders would put on Brandeis throughout the game.
With winds reaching up to 20 MPH, it became clear early on that the team that could score more upwind breaks would be the team that would go home with the gold medal.
Franciscan led for most of the game and had an impressively large sideline of fans supporting them, but Brandeis showed resilience nonetheless. The crucial moment in the game came during the 17th and 18th points. Down 9-7, TRON broke upwind, forcing a Fatal timeout.
Following the timeout, Brandeis came out in a junky defensive look, and Franciscan's handlers could not find their receivers downfield. TRON handler Ben Rosenfeld got a block on a handler swing pass, but after a contested foul call, the observer upheld the foul, and Fatal calmly marched the disc into the hands of Stephen Babcock in the end zone for the upwind hold. At that point Franciscan ran away with the game, breaking Brandeis' offense to take an 11-8 lead. Though Brandeis scored on offense to come to within two points, soft cap went off and Franciscan scored the next two points to clinch the victory. Fatal's winning point came on a catch from Jack Nash during what was perhaps the story of the game for them — an upwind break-point.
Brandeis started the game on offense with the wind at their backs. After both teams traded points, Fatal got the first break on an upwind point to take a 2-1 lead, one they would never relinquish. Fatal's defensive unit scored another break-point just minutes later to take a 4-2 lead.
Both teams' offensive lines finished the half with multiple holds as Fatal took an 8-6 lead into halftime. Shortly after halftime was when Brandeis got the aforementioned upwind break, but that was all the team could muster with regard to a comeback.
Although there was considerable wind, neither team went to traditional zone-defensive sets. Franciscan mostly defended Brandeis with bracket-style defensive looks, with one person guarding under cuts and another guarding deep cuts. Brandeis, meanwhile, threw a number of different junky and man defensive looks trying to get Franciscan out of their comfort zone. Fatal's players like Tony Bort and phenom freshman Dominic Schuster appeared undeterred by the pressure of the defense and the moment, and their precision upwind offense won the game for them.
Brandeis cutter Brian Gzemski said that the game came down to some Brandeis mistakes and the polished offense of Franciscan.
"On our side there were a lot of execution mistakes, like floating around breaks that can't be floated, and some mental mistakes like putting up throws that shouldn't have been put up with that much wind," Gzemski said. "Franciscan's offense was well disciplined. They just kept running their system. They ran their system to get sure under's and up-lines upwind. They didn't put up anything they didn't have to. Their movement was fluid."
Franciscan received big performances from Schuster and John Paul Bort. For TRON, Stephen Gross and Hansen Yang and cutters Noah Newberger and Sam Zuckernik had impressive showings as well.
***
While the end result of the weekend was to seed with #1 Franciscan winning it all, it would be a big mistake to assume that the rest of the proceedings were as predictable. Multiple one seeds were taken down in pool play, bottom seeds broke through into quarterfinals, and several games went down to the wire as the top teams in the country did battle for two days.
While Franciscan and Brandeis, the top two seeds, advanced to the final, the other semifinalists were #5 seed SUNY Geneseo Snail and #9 seed Bryant Craze, who both emerged from the frantic Pool D.
Geneseo recovered from a shocking first round upset to sixteenth seeded St. Olaf to take the pool on two straight double game point wins. The second game, against #4 seed Lewis and Clark Bacchus had high stakes, as, due to tiebreakers, winning the game would seal the pool for Snail while a loss would eliminate them from contention.
Bacchus came out strong behind dazzling play from Will Shaw and broke Snail on the first point. They would gradually expand on the lead until the soft cap blew, signaling a game to 13. The teams traded points to make the score 12-9, with Bacchus leading and looking to break for the win. Snail would hold, and then rip off an improbable three break run to win the game, and the pool.
The next morning, Snail would face a third straight double game point game against the Claremont Braineaters in the quarterfinals, this time featuring an even more improbable comeback.
Claremont came into the weekend seeded 11th, but the 2014 semifinalists were certainly not content to just hold seed. Surviving the brutal pool B, which placed three teams in the quarterfinals, they blew the doors off of Elon in the pre-quarters game on Saturday afternoon. Both Claremont and Elon were victims of Bentley's title run last year, each team had lost large second half leads to Icehouse in the semis and finals respectively. The prequarters game would allow one team to continue on their quest for redemption after last year's collapse, and the other would fall short again.
It would be Elon going home early this year, as the third overall seed was upset in emphatic fashion by the Braineaters. Claremont was clearly the fresher team, as Elon's top players had been forced to do so much heavy lifting in pool play. Able to work the disc effectively upwind, Claremont punished Elon's mistakes early and often, cruising to a 13-6 win and ending Big Fat Bomb's season.
Geneseo and Claremont took the field Sunday morning to find that the wind, which had been a factor on Saturday, had picked up significantly from the day before. Claremont did an excellent job early on in the game getting around backhands upwind, and jumped out to a 6-1 lead. Following a timeout, Geneseo adjusted their marks and began to take more aggressive upwind shots earning back a few break to close the gap to 8-5 at halftime.
Snail came out of the second half refusing to let their season end, and ripped off four straight points to give themselves a 9-8 lead with the game capped at 10. Claremont got a hold to set up universe point, but were unable to stop Snail going downwind, and Geneseo captain David Abbott beat his man upline for the win to cement the emotional comeback.
With round times shortened in order to avoid the thunderstorms forecasted for the afternoon, the first pull of the Geneseo and Franciscan semifinal went up minutes after the end of quarterfinals. Unforced turnovers from Snail and fantastic offense from FATAL put Geneseo in an early hole. Fransican's stalwart handlers Dominic Schuster and Tom Koch were unafraid of the steady 20 to 25 mph winds blowing down the field, launching aggressive upwind hucks and inside flick breaks that connected much more often than not.
FATAL took half 8-5 and then quickly expanded their lead to 10-5. The game looked all but over, but once again Geneseo would fight back.
After getting a key upwind break, Snail was able to generate some real momentum for the first time in the game, and slowly pulled themselves back into the game. Franciscan had a few uncharacteristic drops that gave Geneseo an opportunity to pounce, and off of an Abbott high release backhand break into the endzone, the game went to double game point.
This would make four straight down-to-the-final-point games for Geneseo, and the closest Franciscan had come to defeat all year. With the raucous sidelines packed, Franciscan made it clear than another miracle comeback was not in the cards for Snail, and that their quest for an undefeated season would not be denied. A botched switch by two Geneseo defenders in the endzone left a man wide open for John Paul Bort to find with a touch flick that ended that game and sent undefeated Franciscan to the finals.
The other semifinalist, Bryant Craze, had an up and down weekend with emotional highs and lows. After their zone dismantled Lewis and Clark in their first pool play game, they were unable to stop Geneseo from working the disc through their defense. Despite having an unblemished mark themselves on the offensive end, Bryant lost on universe 13-12 in a game with no breaks.
They rebounded by stomping a gassed St. Olaf's team in the last round of pool play, and finishing second in the pool, which meant they had to gut out a pre-quarters game against John Brown. They were able to polish off JBU and advance, but having the extra rest could have proved vital on Sunday.
Craze would go on to face Georgia College in the quarterfinal matchup Sunday morning. Georgia College Disconnect had broken seed, finishing ahead of last year's finalist Elon in pool play and earning a bye to the quarterfinals. Georgia College may come from a weak region, but they have proved time and time again that they belong at the top of the division, and unseating Elon was another example of how good this team has become.
The Bryant-Georgia College game played out in the same fashion as many of the other elimination games on Sunday, with both teams throwing zone looks in the wind to force the other team into a crucial error. There were plenty of turns in the first half, but upwind scores were at a premium, as the teams traded to 7-7. Georgia College was able to get the break for a halftime lead of 8-7, and then ripped off two more points out of half to take a 10-7 lead.
At this point the game got very chippy, with the observers getting involved multiple times per point as Bryant looked to keep their season alive and Georgia College tried to shut the door. After a two point run by Craze and the soft cap horn, the score stood at 10-9, game to 11. Georgia was receiving with the wind for game, but after a turn Bryant got the disc back. A floaty upwind huck was tipped by the pile of bodies waiting for its descent, and a diving John-Paul Saggal was able to reel in the swill for Bryant and send the contest to double game point.
With Bryant pulling downwind, Georgia College had their work cut out for them. They got close to the endzone, but couldn't punch it in on multiple occasions. Bryant was unafraid to play field position with immediate downwind shots off of turns that made Disconnect go the full 70 upwind. Finally Bryant connected on a downwind look and sealed the game, 11-10, booking a trip to the semis against fellow NE team Brandeis.
Just as Geneseo went from one double game point game to the next, Bryant found themselves in another tight battle in the semifinal that would go down to the wire. Brandeis got an early break and managed to take half 8-5, feeling confident after going largely untested up until that point. Bryant would give Tron everything they could handle in the second half, as Craze's standout sophomore Jacob Garfinkel elevated his game to aid his team's fight for survival. The young star played nearly every point for Craze, and with the score at 9-7 engineered a big unwind break for Craze.
With the score 9-8 in a game to 10, Bryant would need two more breaks to keep their underdog run alive. They got the first one on a downwind point, but could do nothing about an excellent lefty backhand into the endzone from Tron's Noah Newberger that sent Brandeis into the championship game and turned Bryant's carriage back into a pumpkin.
While Franciscan and Brandeis ended up holding seed and reaching the championship game as the first and second seed, the play of teams like Bryant made the weekend extremely compelling. Upsets, huge comebacks, players elevating themselves into heros: that is what sports are all about, and we got plenty of it this weekend in Rockford.