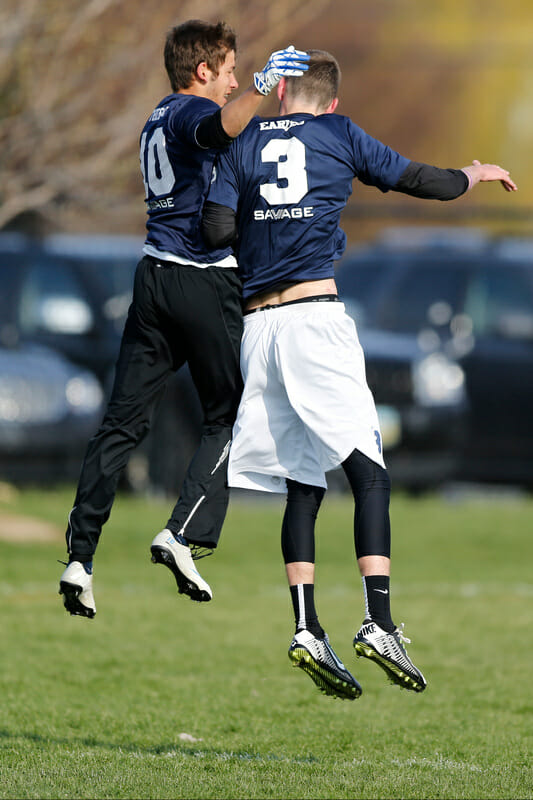 "Between 1,500 and 3,000 would be a pretty good guess."
It's a wide range but it sounds about right. The figure is big enough that it doesn't matter if you're off by a hundred or so. After all, this is a nine year body of work for two college seniors who began playing together as eighth graders on a high school team.
The number in question was Henry Thorne's estimation of career goals thrown between his youngest son, Max Thorne, and long time teammate and partner in crime, Pat Earles.
Even in an era where ultimate is spreading like wildfire at the youth level with high school and middle school leagues, clinics, and camps – where kids are learning the game earlier than ever – the career that Thorne and Earles have woven together is nothing short of amazing. They will look to add another chapter in Milwaukee.
***
Max and Pat became fast friends some time around third grade when their older brothers started hanging out together. They went to different elementary schools in the same district but kept in touch and were reunited in seventh grade.
Earles' path to ultimate follows a script that should sound pretty familiar to most players. Like many, his athletic endeavors started in other arenas.
"I was pretty good at pitching but I was always trying to throw my hardest," Earles recalled. "So I threw out my arm, hurt it, and then during the rehab where I couldn't play baseball, my brother was hanging out with Alex [Thorne] a lot, so I would just kind of tag along because I no longer had baseball practice."
It was there, in the fanatical and cultish home of the Thorne family that Pat Earles began to experiment with a disc.
"If you're at the Thorne's house it's impossible…they will suck you in," said Earles. "They just play ultimate on the street, they catch in the yard, there's Frisbees all around their house. It was inevitable that I was going to get into the game of ultimate."
As a community, Pittsburgh is lucky enough to claim the Thornes as their first family of ultimate.
Henry Thorne is a current USA Ultimate board member and has served off and on since 1997. He won three World Championships in the Masters division with Seven Sages of the Bamboo Groove. Karen Thorne discovered Ultimate while at Penn State, later played on a team captained by the woman who USAU's female Spirit Award is named for, and qualified for club Nationals with several Pittsburgh women's teams.
Alex, Max's older brother, has done a couple things here and there, too. Al played on the Junior Worlds team in 2008, helped found a North Hills high school team that would go on to win six consecutive league championships, and was a Callahan finalist with Pittsburgh in 2012.
But even with all they've done in Ultimate, the Thornes are just your run of the mill, summer-tournament-going, kind and enthusiastic Frisbee people that this game so often seems to attract.
In a household that ultimate-centric, Max never stood a chance.
"I don't remember any of this but I supposedly was throwing rollers," said Max Thorne, sort of chuckling along. "I would sit on the ground with my dad before I was a year old and he would throw a roller at me. It would hit my thigh and I would throw it back to him."
Babies. Rollers. What?
"I think there really was something to those rollers. Kids – little babies – cannot actually throw a Frisbee because it's bigger than they are. What they can do is roll the thing on the ground," Henry Thorne explained. "[Alex and Max] could roll it forever before they could walk. They could roll it 30 yards. As soon as they were walking, that became a flick."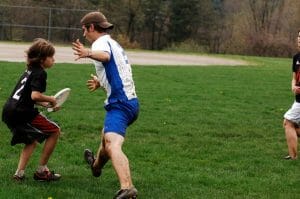 By the time Alex and Max were five and three, respectively, they were the halftime show at summer league games and mixed tournaments. They were tiny kids that could throw 40 yard flicks.
"We did drag them to ultimate tournaments forever, those poor kids. It was generally hot in those summer tournaments like Poultry Days, so by all rights they should have hated ultimate," said Henry Thorne jokingly. "But they thought the Frisbee part was fun, so it kind of stuck."
***
Now back in the same school as seventh graders, Max and Pat began to learn to play the sport truly together. Both made Impulse, Pittsburgh's youth club team, as freshmen and led teams together with wild success in high school.
As eighth graders they started their own team and played against high schoolers in the varsity division.
When they finally got to high school they had their own team but were forced into the junior varsity division, since there was already a North Hills varsity squad. However, the winner of the JV division would auto qualify for the varsity playoffs. So North Hills JV, led by two freshmen throwers, one of them about 5'1" and the other a skinny lefty, would end up making it all the way to semifinals before being bounced from the bracket by their own varsity team.
"All through then, me and Pat, we ran everything," Max said, thinking back. "We were the leaders, the captains, the organizers… hung out all the time."
So Max, Pat, and some their small roster teams went on to win the next three PHUL championships (though they would have a close call in 2010, down 8-4 to future Pitt teammate Joe Bender. Check out the teenage hammerfest!).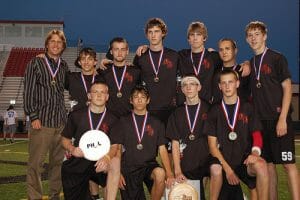 North Hills was a powerhouse at that time. It wasn't just the Thorne brothers and Earles; there were plenty of other great players mixed in during that six year title streak like future Pitt players Colin Conner and Aaron Watson, and Ben Funk, who would go on to be a star at Stanford.
Since Max and Pat graduated, North Hills has not fielded a team.
As players, high school ultimate allowed the duo to get experience playing a lot of points, trying a lot of different things, and, inherently, building chemistry. That chemistry was fostered year round on Impulse, Pittsburgh's YCC team, as well as various open club teams like Swagger U and Oakland, where Earles and Thorne qualified for Nationals in 2011 – with a bunch of guys from Pitt, oddly enough…
The Talk
There were lots of future Pitt teammates for members of the Pittsburgh High School Ultimate League around 2009 and 2010. That's no coincidence.
Earles describes a discussion between several members of Pittsburgh's YCCs team roster that took place on the sidelines at College Nationals in 2009.
"We had a joke. It was called 'The Talk,'" Earles said. "'The Talk' was just we're all going to go to Pitt, we're all going to play on the Ultimate team, and we're going to try to win National Championships. It was just a dumb joke… it was a joke that just brought us closer together."
Joke or not, "The Talk" worked.
In 2012, six of the 13 freshmen and sophomore players on Pitt's A team were products of PHUL, including Marcus Ranii-Dropcho and Joe Bender, current starters for Pittsburgh.
***
Like many teams, Pitt is loaded with great players. Like many teams, a lot of guys at Pitt play club together in the summer. There's tons of parity in the modern age of college ultimate. Everyone's good.
What other teams don't have is two of their top five guys who have been playing together – and winning together – for nearly a decade. The chemistry Thorne and Earles have is a big part of the reason Pitt holds the top seed in 2015. Can they keep it going for four more days?
It didn't yield a championship, but 2014's Nationals were significant for Pitt. Earles had a breakout game in pool play against Central Florida, making college ultimate stop and take note of a crazy six assist, two goal, and zero turnover stat line.
Then there was another takeaway. On Sunday Wilmington showed the bulk of Pittsburgh's roster what it takes to win a gritty dogfight in the bracket – and how it feels to lose.
As a freshman Max Thorne caught a Nationals-winning inside flick from his brother Alex in 2012 for Pitt's first of back-to-back titles. A win at this year's Nationals may bring back a familiar feeling if Pitt is able to capture their third championship in four years.
"We're like brothers at this point," Thorne said of Earles. "That was probably the best thing about winning college Nationals with my brother; we were family, and we had a different level of chemistry…me and Pat have that."
***
Pitt released their 2015 graduate videos earlier this week, reserved for members of the team who will not be returning next year. You'll note that neither member of the senior tandem seems to have one…
Postscript
There was no good way to include this in the piece, but Henry mentioned that the Thornes are somehow related to the Titcomb family of Five Ultimate fame. Apparently they're long lost (found?) cousins, dating back to the 1800s. Henry Thorne mentioned it in an email and John Titcomb confirmed. Titcomb then said that they are both related to a man named Peter Thorne, who set a Guinness World Record for… "the longest duration, days' worth, frisbee throw'n'catch, accomplished sometime in the '70's." I couldn't find the record but if that's true, that's completely insane. I'm not a scientist but the Frisbee Gene is probably a real thing.