Amherst ran away with the title again this year at Northeasterns.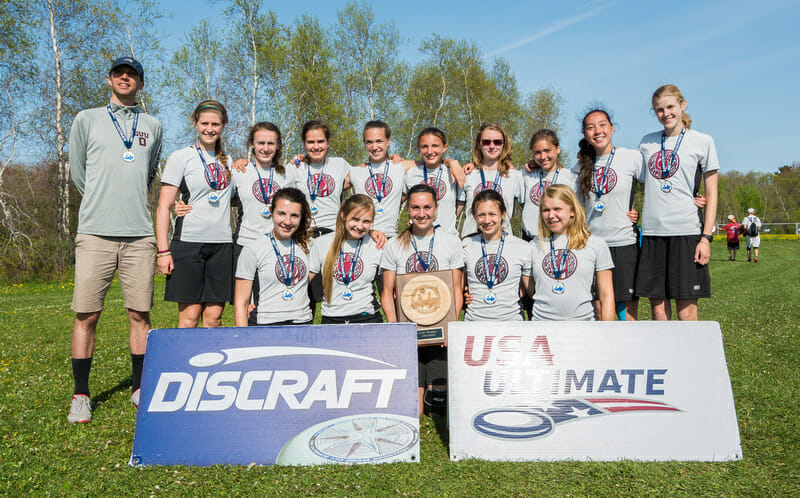 Few times last weekend did the Amherst Regional High School girls seem challenged at the 2015 High School Northeasterns. After a semifinals matchup against their JV counterpart, it's clear that the Massachusetts powerhouse wasn't quite ready to give up its stranglehold on the division. This was only the most obvious fact in a tournament filled with surprises.
Champions Once Again
For the fifth time in a row, Amherst has emerged as the champion of their region. The Amherst side stack along with their star packed roster were simply too much for the rest of the Northeast. No team scored more than four points on ARHS all weekend, and two of their games this weekend ended in shutouts. Amherst went unopposed this season showcasing depth and talent the likes of which no team could match.
For their JV team it was practically the same result. Despite one loss to Pioneer Valley Performing Arts, the lower Amherst team went undefeated until their matchup against their varsity squad. As a result, the graduating seniors can hardly even dim the bright outlook this team has for the future, and that's bad news for the region.
Favorable Ending
Lexington played this tournament just like they were supposed to; they simply couldn't overcome Amherst in the final. But there's still plenty of positives to take away from this season. Lexington was able to avenge their loss at Amherst Invite to Watchung Hills, knocking them out of the tournament in the semifinals. Lexington also proved that they were definitely elite in the region. With a pair of talented freshmen in Mira Anderberg and Tess Johnson (coming in 1st and 2nd in goals this weekend), Lexington's future in this region look bright.
Watch Out For Watchung Hills
Before their 9-8 loss to Lexington in the semifinals, the Lady Warriors looked like a team that could challenge Amherst in the final. They handled every team they crossed easily, and after beating No. 2 seed Pennsbury 13-5 they looked like the top challenger in the region. The best, however, seems to not yet have come for the Warren, New Jersey based team. They had only two seniors playing this year and the majority of their YCC players are coming back next season. With another year of summer polishing and a tough loss to a team they can beat, expect this team to come back hungry and looking for blood next season.
The Best Of A Bad Situation
Pennsbury PUFF can't be blamed to much for their early exit in bracket play. They ran into Amherst in the very first round after losing the #2 seed in their pool to a surging Cape Elizabeth team. They then lost the 5th place tie game to that same Cape Elizabeth team. Either way, Pennsbury will be back next year, better than before. The Pennsylvania team brought no seniors to Portland for Northeasterns meaning they will have a wealth of experience to draw on for next year's season.
The Cinderella Of Maine
Pool play is so exciting because it gives every team an equal chance to win their pool as any other and #11 Cape Elizabeth had to take advantage. They were dominant by no means as they lost to Watchung Hills 13-0 in their first game, but gritty they certainly are. They won their games by an average of 2.5 points, grinding out victories against higher seeded opponents on their way to a quarters matchup against Amherst JV. The clock had struck midnight on that story however, losing  13-6 and sliding into the 5th place tie game. Again they met Pennsbury, this time beating them 13-8. Whether this was a matter of a team that matched up well against certain opponents or a program on the rise is yet to be seen.
Quick Hits
– What happened to Stuyvesant? The No. 7 seeded team came into the tournament before plummeting down to finish 13th. One factor could be their short roster. Sticky Fingers brought only 14 to the tournament and over two days against top competition they simply ran out of steam (not to mention the large burden placed on their top players). Stuy will need a more collective effort in the future.
– On the flipside #13 Greeley was able to surge to tie for 7th place. Riding their YCC talent they were able to overcome West-Windsor Plains and Stuyvesant to sneak into bracket play. Again their short roster prevented them from going too much further, falling to Lexington 13-2 in the first round. The Cumberland based team doesn't seem ready to compete with the major programs of the region, but they can sure make things interesting.
– The girls' YCC field from the Northeast is going to be special this year. With Riptide, BUDA, and DEVYL all featuring quality athletes, the addition of new programs to the tryout pool can only make these teams stronger. Expect all of these teams to be in contention for a bracket play finish.