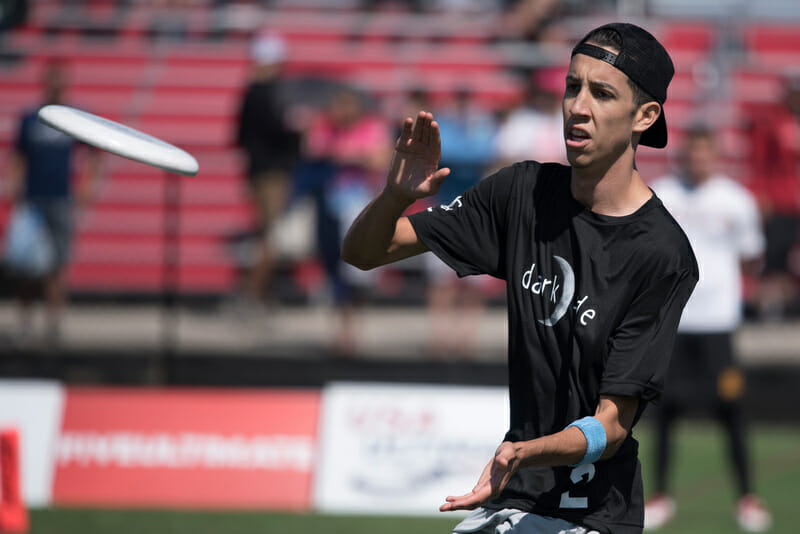 Here is a recap of the fourth round pool play games on Friday at the Division I College Championships.
Pool A
Wisconsin Handles Auburn, 15-9
Both games of the second round of pool play for Pool A were very similar. Wisconsin jumped out to an early lead over Auburn, taking advantage of some first game jitters. Once Auburn solved their offensive problems, they effectively attacked the break side though handler dishes and continues to the around space, and then with flat inside breaks from cutters. When their offense is clicking, Auburn benefits from having a roster deep enough in throwers to continue attacks down the break side of the field. Auburn's strong throwers also dealt effectively with Wisconsin's zone look, in spite of swirling winds. At one point they managed to throw five scoobers to dispatch the Hodag zone.
Offensively, Wisconsin's handler movement was much improved from their performance against Texas. Turns still occurred, but the resets were more reliable and set the Hodags up to attack downfield. When they did turn the disc, Wisconsin had a plan: the Hodag offense would set a zone with Craig Cox quarterbacking from the deep position. Auburn still managed to notch a few breaks, but not to the extent they needed them. The first half of this game was too monumental to come back from, with Wisconsin converting four of their seven first half break chances. To make matters more difficult, Auburn's generally smooth throwing fell short in the second half to a combination of the wind and Wisconsin's poachy man defense. Auburn will quickly have to turn around and play Pitt in the final round of the day.
Texas Rolls Past Georgia, 15-10
Texas surprisingly dealt with favored UGA with ease. Freshmen Sebbi Di Francesco and Nathan Haskell, who played lights out in their first round against Pitt, couldn't get anything going in the first half.
Texas' D-line squandered very few break chances with Chase Cunningham playing both ways to provide much needed offensive efficiency. Cunningham's three assists and one goal in the first half propelled Texas to an 8-2 halftime lead over the two seed in the pool.
The first half featured a surprisingly disconnected deep game from Jojah, with hucks being thrown too low and fast for receivers, or too floaty, creating pile ups. Though the wind was clearly a factor, Texas, in contrast, persevered and continued to come down with deep shots, albeit a few on hustle-play, second-chance layout grabs. Chase Cunningham and Dillon Larberg carried their lines to scores by generating blocks and connecting with each other deep, while Elliott Erickson had an oddly quiet half for UGA.
The Jojah offense improved in the second half, but the consistency of the TUFF O was too much. Jordan Taylor led the potent O to a five point victory. Texas looks like a team in a great mental place, coming out with intensity each game, cheering mid-point even after turns, and entering half times of games singing "Just a Friend." They're playing loose and confident.
Pool C
North Carolina Rides A Strong Second Half To A 13-10 Win Over FSU
Pool C is shaping up as expected: the toughest pool on the men's side.
On the showcase field, Florida State looked to extend their impressive performance from game one against Oregon by taking down North Carolina in a game that may have likely produced the pool winner. In the face of a tricky crosswind, both teams ran out tight lines featuring the best of their best, but Carolina would grind back from a deficit to go on a 5-0 run in the second half, eventually winning the game 13-10.
Carolina found themselves in a hole early, with FSU handing in two punishing breaks early on. Carolina spent the rest of the half clawing their way into holds, with the trio of Chris Larcocque, Andrew Roney, and Connor Holcombe spiriting FSU onwards with big hucks and big blocks at crucial moments to keep points alive in the wind.
Meanwhile, Jon Nethercutt and Ben Snell had some trouble finding a consistent rhythm, their turns building into Darkside's worst enemies while DUF capitalized. At the end of the first half, DUF was in a familiar position: 8-5 and set to receive to start the half.1
The story of this game was the resilience of the Darkside defense.
First came one break, then another. And another. Before long, Carolina had strung together a 5-0 run and was sitting on a 12-8 lead. Norman Archer, Justin Moore, Ben Snell, Nathan Kwon, and JD Hastings all came alive on the D-line, while LaRocque, Roney, and Holcombe started to tire.
Even as the wind and the drops slowed the last two points to a crawl, Carolina's excellent defense had exposed the thinner top lines of Florida State, and they held on for the hardcap win.
Oregon Falls Further, Dropping A 15-11 Decision To Maryland
Just beyond the showcase field, Maryland met Oregon in a critical matchup for both teams. Back during the regular season, a 15-man Ego team just barely took down the Space Bastards at Easterns by a slim two-point margin, a part of Maryland's bid-earning performance that weekend.
Today, Maryland was even more ready for Oregon.
Both teams took the field coming off hard losses in winnable games, but Maryland seemed to have great composure as they charged out to an early two-break lead and stayed ahead the rest of the game. In spite of some excellent play downfield from Dylan Freechild, Maryland went unfazed to a big 15-11 win.
Preparation played a key role for Maryland. Team leadership had seen Oregon's use of their deep-set horizontal stack earlier in the season, and their deep, athletic bench stayed tight with cutters streaking into the large swaths of open space. After the turn, College Park cutters repeatedly shook their coverage and scored. In particular, Maryland freshmen contributed eight scores, six of them coming from John "Johnny Frisbee" Walden.
It was another rough out for Oregon and a redeeming win for Maryland. The latter will wait for the Pool C finale (UNC v. Illinois) to find out where they stand heading into tomorrow.
---
FSU was up 8-5 at half on Oregon earlier today. ↩