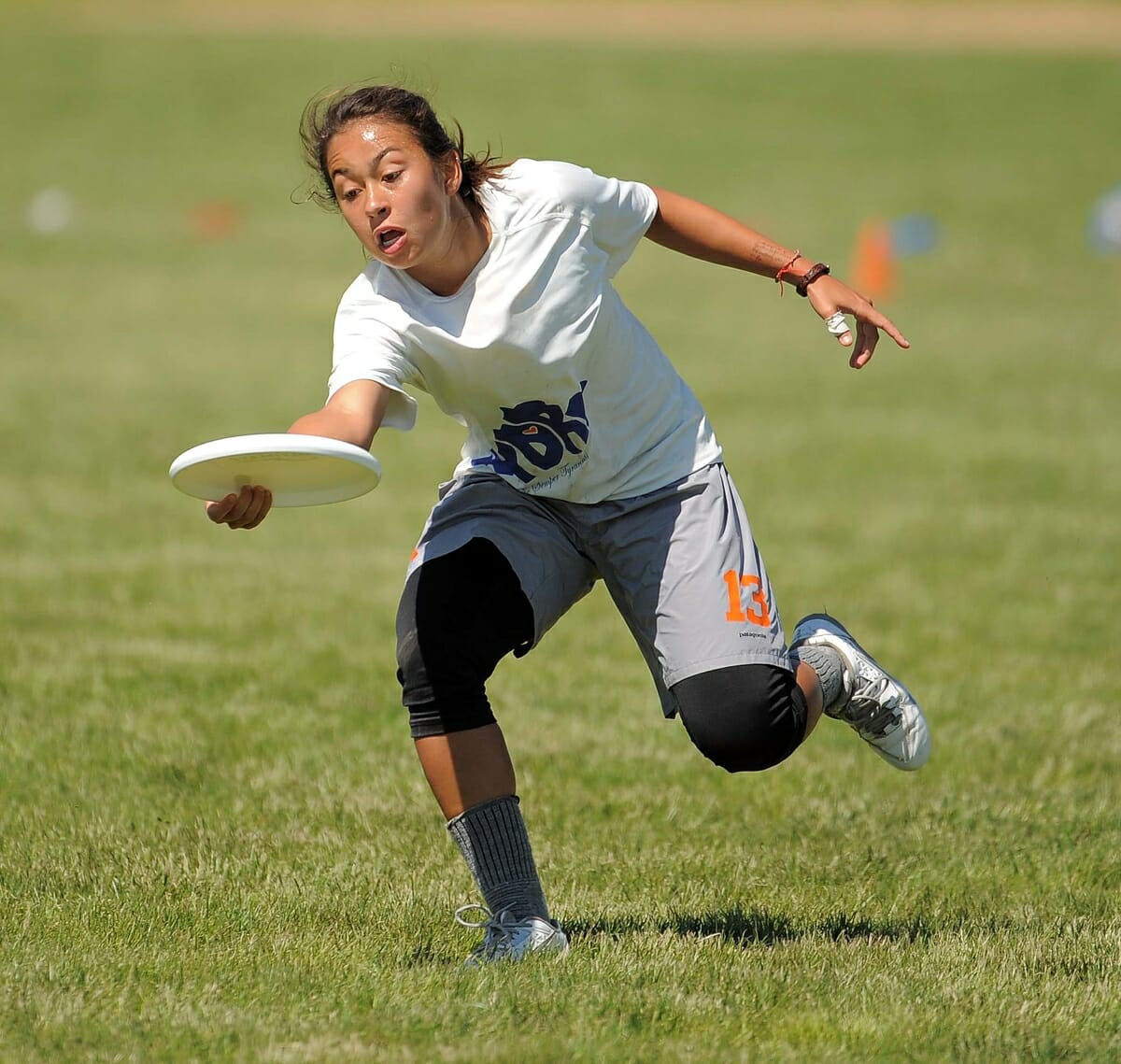 Pool A
(1) Oregon vs. (17) Victoria
Northwest foes Oregon and Victoria faced off in the final round of Friday, and Oregon pulled away in the second half to win 15-9.
The early game quickly went in Fugue's favor, who pushed the pace against a Vixen team that was coming off an upset victory over Florida State the round prior. The lead quickly went to 6-2 with deadly efficient offense after the turn. However, Oregon turned the disc six times in one point. After that, UVic found some rhythm and pushed back before Oregon claimed the half, 8-5.
The beginning of the second half was Victoria's best run. Kate Scarth had a hand in Victoria's two goals out of half to make it 8-7. But at 10-8, Oregon tightened up their play – even with open lines – and pulled away, capped off by a lethal possession from the reverse brick ended when Alex Ode bombed a forehand to Bartruff outracing Scarth for the goal.
The top performers were the usual suspects. Victoria was led by Scarth (2G, 1A, 3D) and handler Naomi Redmond (2A, 2G, 2D). Bethany Kaylor spearheaded Oregon's attack (1G, 3A, no turnovers), backed up by Ella Hanson (2G, 1A).
Pool B
Washington (11) vs. Middlebury (18)
Five seed Middlebury upset the ambitious three seed Washington in the final round of the day, 15-13. They stole the game early, and Washington let them carry it away.
Middlebury rolled quickly through an early 2-0 break, and they held their lead throughout the first half with confident play from Aly Fassett-Carman and Hayden Shea. Washington struggled: they seemed surprised to need to keep pace with the pumped up, feisty Lady Pranksters.
"I think teams here underestimate us," gushed captain Fassett-Carman after their win, "We just came into this game so excited to play."
Middlebury's game was fast, burning through cuts up the line and giving handlers an easy power position. Their execution wasn't perfect; Middlebury is still a young team, and their nerves showed late in certain stalls and late in the game.
But it was Washington's execution on the cutting block in the final round. Players up and down the roster dropped easy discs in uncharacteristic fashion for the hyper-focused northwest team. Their strategy and approach was clear, but in the first half they couldn't see it through. Middlebury took half 8-4 quickly.
"We came out flat," said Washington coach Kyle Weisbrod, "We weren't pressuring them defensively, and we dug ourselves a pretty big hole."
Washington scored out of half with a huge layout from Tess Young, 5-8. They adjusted their defense on the Middlebury handlers, sagging in lanes and crowding the Lady Pranksters' space. But Middlebury was patient, and during one point they worked the disc up the field from endzone to endzone through the Washington zone to score, 10-7.
Aly Fassett-Carman was the defining force of Middlebury's game: beyond her 4 assists and her 5 goals, she launched several nearly full field hucks that put her team in easy scoring position. Washington rarely contained her despite their range of defensive experiments.
Lauren Sadler started to take over late in the game, earning four assists in the second half. Her increased presence on the field made a difference, leaving the lingering question of what she could have done in the first half.
Middlebury continued to march on, and while Washington's offense improved, they were still too far behind. But at 14-10, glimpses of the team Washington has been, could be, and should have been started to show. Despite Middlebury having the downfield offensive advantage, Washington broke back three times before Middlebury could close the coffin with an up the line score to Nina Job, 15-13.
This game could make or break Washington's tournament if they fail to respond mentally. They have given themselves a hefty plate to eat tomorrow.
Pool C
(3) UCLA vs. (19) Texas
UCLA and Texas kept it close, basically trading points until late in the game when Texas pulled away to end it 14-10. UCLA fought back all game, with spectacular huck looks and defense that kept Melee on their toes. The Texas mens team and spectators kept the noise level up, and were constantly cheering back and forth, while the sidelines for UCLA attempted to make themselves heard.
Sylvia Liang and Camille Wilson were instrumental in UCLA's offense, both with 3 goals, and Wilson made herself known as threatening presence on defense and getting credited with 6 D's. Han Chen also made her mark, finding receivers for the score 4 separate times and helping out downfield.
Kelly Lavine was everywhere on the field for Texas, getting multiple touches each point and making herself the catalyst for many of Melee's better plays. Nikki Gilbert was a threat in the cutting lanes, although she only ended with 3 goals and an assist. She kept the disc moving by being active downfield as well as challenging UCLA players on defense.
There were plenty of turns from each team, and plenty of chances for UCLA to pull ahead, but Texas buckled down and played their game to finish it.
Pool D
(4) Colorado vs. (5) Virginia
The classic 4-5 battle in Pool D was potentially the most anticipated matchup of the day, but it wasn't as close as hoped, and Virginia won 15-10.
After Virginia notched a pair of breaks to take a 3-1 lead, Colorado settled in to make it close. A big layout D by Megan Cousins helped get Kali back in it, with an Amy Leder goal tying it at 5-5. Virginia put together a 3-0 run to take an 8-5 edge into halftime. The high seed wouldn't concede momentum, utilizing some big plays by Celeste Havener helped draw it to 8-7, but soon after, Virginia notched a break to make it 10-8.
Virginia's defense clamped down and their red zone offense tightened up, punishing Colorado mistakes in the late game. Sarah Hansen (5G, 1D) was Virginia's biggest impact player, effectively neutralizing Cousins when she was on D and churning out yards on O. Colorado's offense struggled to match Hydra's efficiency in the late game.
"Virginia did a great job capitalizing and walking in their possessions," said Colorado Coach Lauren Boyle after the game.
A 5-1 run sealed it for UVA, who, despite a strong game from Lisa Doan (3A) and Havener, pulled a pseudo-upset over Pool D's top seed, Colorado. The win pushes Virginia to 2-0 so far – and firmly into the pole position in the pool – with Whitman and Princeton on the docket tomorrow. Colorado drops to 1-1, scheduled to play Whitman and South Central rival Kansas.