UNC's defensive adjustments have stumped their opponents all weekend.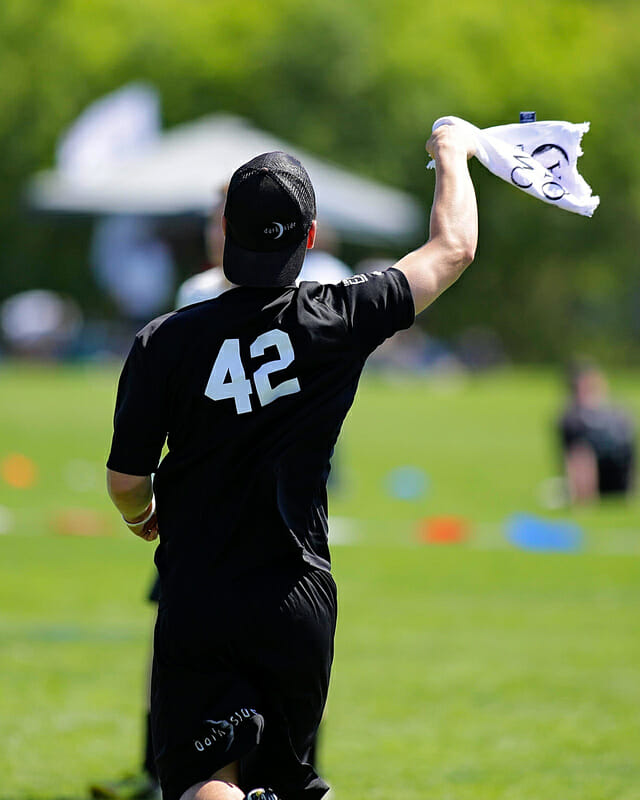 UNC is returning to the finals after a strong performance against the tournament's hottest team in semifinals. Darkside dominated the Dogs of War from wire to wire, winning 15-10 in the scattered showers. The win was standard practice: no team has come within three against Darkside this week. The theme of domination has been simple. UNC finds their opponent's biggest strength and takes it away.
Florida State was UNC's first real challenge. FSU had a great first half and led 8-7, but adjustments were coming. Florida State lived on the deep game and flowed through their main handler Chris Larocque. Down 8-5, UNC changed their junk zone look to force Larocque to run more to support the drawn out O points. A quick break forced the DUF line back onto the field, thus beginning a wear-down of the top three players for FSU.
The sideline trap forced FSU into rushed deep looks. UNC rattled off five straight, leading them to a 13-10 win.  "You try to find the strength, and attack it," Darkside head coach Mike Denardis said. "You poke at it and take it from them."
UNC cruised into quarterfinals. A rematch with Colorado was another challenging hurdle in their Nationals run, but they were prepared. Colorado loves to work the disc through the break side, and then find handlers in power positions for big hucks to Stanley Peterson and company. To counteract that strength, UNC adjusted their zone to put more pressure on the around throws. They sacrificed movement through the "cup," but forced Stanley Peterson to stay near the disc and throw through the front line of the defense. Colorado was uncomfortable for the whole game, and they fell 15-9 to Darkside. "I'm dissecting teams throughout the year," said Denardis. "I take the top ten teams and figure them out throughout the year."
But could they handle the blistering hot UCF who had hardly worked to reach the semis?
UCF had won their pool outright, and dominated their quarterfinals opponent, Pittsburgh, 15-9. The Dogs of War then found the only team that could compete with their emotional tenacity. The Dogs of War are a big team, and they love to put up huge hucks to their athletes. The gameplan for UNC was simple: make them move laterally and apply pressure. Repeat. 
Dennis Tarasi developed an offensive strategy centered around Callahan winner Jon Nethercutt. The offensive system travels with Nethercutt, making the defensive offense almost as effective as the offensive one. With the deep looks gone for UCF, the Dogs of War offense became impatient. UNC threw double coverage at deep looks. They got the turnovers. An astounding seventeen break chances for UNC gave Darkside more than enough chances to convert and put the game away early. The "towel squad" of UNC took the game from UCF emotionally, leaving no room for a comeback.
For tomorrow's match against Oregon, Denardis hinted at the plan. JD Hastings and Nathan Kwon are defensive specialists for UNC, and will take some of the more difficult matchups that Oregon will present. "They're better than anyone in the country, so we just isolate them in a short field," said Denardis. Hastings is improving more every point, and Kwon has more poise than his age would suggest. The gameplan will be set for Ego tomorrow, only UNC now can take advantage of the opportunity laying in front of them.