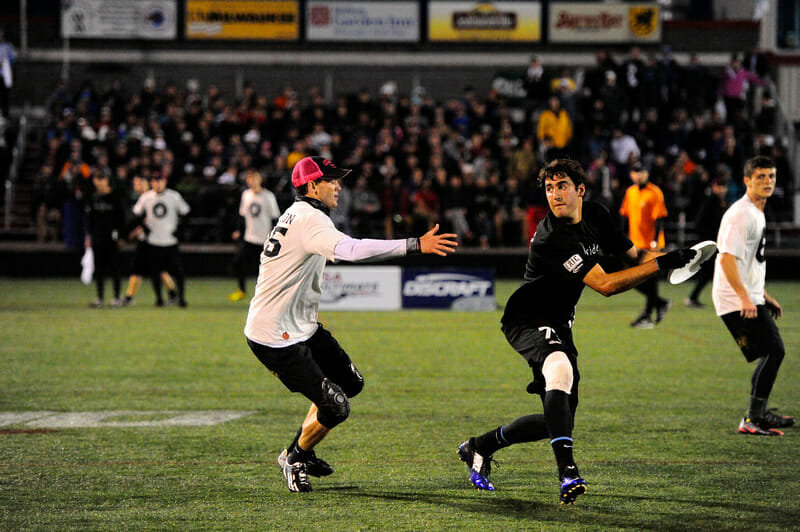 A win is a win. It doesn't have to be pretty.
While North Carolina's 15-10 semifinals win over Central Florida may have lacked a certain aesthetic appeal, it revealed another thing Darkside can do: grind out games.
For the second time in as many years, UNC moves on to the finals.
***
"Let's be honest about it; 34 assists. Jonathan Nethercutt. The next highest assist guy has four. It runs through Jon," UCF head coach Andrew Roca told Ultiworld before the game. "If we're able to contain and control Nethercutt, we're going to have a good game. If Nethercutt gets going… It's hard to stop him."
It's actually 35. Nethercutt, who won the Callahan a few hours prior, had an incredible 35 assists heading into this game. And the semifinal Roca is referring to is last year's contest when Nethercutt went off against UNC Wilmington and dropped five second half assists on the in-state rival.
Even against a gritty defensive team like UCF, elite players like Nethercutt are going to get their touches. Darkside would be tested early and often but Nethercutt and the O line would find ways to get through multi-turn points and manufacture critical holds.
"Early in the season we were struggling with our attitude after turns but now we've made a joke of it," Nethercutt explained while taking off his cleats in the rain after the victory.
"The sidelines will say 'Happy birthday!" or something – just ridiculous – when we turn it over. 'Another perfect throw!' is one of our favorite lines. I think that mentality helps a lot… it's no one's fault. It's a team effort."
Nethercutt's not kidding. When the handshake line was over, UNC circled up and sang the full "Happy Birthday" song.
Leading 2-1, Central Florida got their second sniff at a break when Alex Bullock made a massive layout D on a Jon Nethercutt in cut. UNC was unfazed. After another turnover and another redemption, Nethercutt eventually found Vikram Sethuraman wth a hammer for the hold.
The Dogs of War would not lead for the remainder of the game.
"When you shoot deep as a team consistently you're going to have lots of turns over the course of a season," Nethercutt said. "As such, you turn it over a bunch 70 yards down the field and your O line learns how to play defense."
Nethercutt's description is deliberate. Not one tournament or one day. "Over the course of the season." Sometimes you miss deep. Time to play defense. Carolina is a team that's been worried about Nationals and Nationals only.
The UNC O line had lots of different looks ready on a turn. They ran some nice poaching. They had some nice zone transition looks to keep UCF from ripping it deep early in the possession to one of their athletes.
With the missed break chances came some offensive miscommunication for Central Florida – who let up a 7-1 run to go down at half 8-3.
"Our goal is to turn them into the team they don't want to be," North Carolina head coach Mike Denardis said as his team warmed up on an auxiliary field. "Has to take unders, has to move the disc quickly and methodically as opposed to taking one or two looks and having an easy goal. That's what we're going to try to do."
UNC stuck to that game plan. They ran a zone with a three man front that would push the disc to the backhand side and clamp down once trapped. Once the disc got to half field where there's less space for the huck, Darkside would fall into man.
Denardis' group would score out of half to make it 9-3, which made the game officially out of reach. UCF wouldn't get their first and only break of the game until 13-9. Three points later, UNC freshman Matt Gouchoe-Hanas would find Aaron Warshauer with a pop scoober for 15-10. Game.
This was a chippy match and observers were calling it tight, handing out nearly 10 infractions for language, TMFs, and technicals. Observers were also brought in to rule on a number of fouls. The first half of the game was reminiscent of how college Ultimate used to be; bumping on the mark and rampant vulgarity. It seemed like USA Ultimate was really putting everyone on notice; be on your best behavior in the ESPN3 televised games or else.
Nethercutt would finish the game with seven assists, three blocks, and 10 turnovers or birthday parties or whatever they're called.
Central Florida manhandled the University of Pittsburgh in quarters, 15-9. Against Pitt, the Dogs sent it deep, while the D line offense converted break chances.
You see it all the time across college sports. The "trap" game. One team gets a huge upset win, like UCF did over tournament top seed Pittsburgh, and they drop the next one. This meeting had no donut game feel. Central Florida had chances. North Carolina was just the better team.
***
UNC has some interesting specialists. JD Hastings and Nathan Kwon are both under five and a half feet tall but are freakishly quick defenders with high motors. While they aren't overly skilled throwers, you'll often see them set up as the dump because Denardis values their ability to reset the disc. These guys found themselves back in the red zone handle set a few times because of their ability to get a open and get a fresh stall count.
After watching last year from the sideline with a torn ACL, captain Ben Snell is back in uniform and making big things happen for UNC. "I woke up this morning with a smile on my face," an elated Ben Snell told Ultiworld following the game, still smiling. "Just so happy to have the chance to put my cleats on."
Keep in mind that last year North Carolina beat Colorado last year at the Stanford Invite with Snell before falling to Mamabird in the National final with Snell unavailable.
This is a deep Darkside team. Nethercutt is going to do most of the dealing, but UNC had 11 different receivers register a goal in this game.
***
The Dogs will experience some major roster turnover next year. Brawley Adams, Alex Bullock, Jeremy Langdon, and several others will not return next year. The cupboard is never bare in Florida. It's just a question of how long it will take Roca to turn pure athletes into Ultimate players.
"[Central Florida] isn't your traditional program," Roca said following the loss. "It isn't your area that's gifted with high school talent. It isn't your area that's gifted with middle school talent. It's an area of ultimate that's untapped…You have to build from the ground up."
In that building process, Roca has helped mold not only great players but a great program that has competed in the College Championships four years in a row. There's no reason they can't do it again.
***
Darkside coach Mike Denardis didn't get to see the clean and efficient game he may have wanted in semifinals, but he saw a dominant win over a red hot opponent. Now in their second straight finals appearance can UNC keep it going after a year alone with that silver medal?
"They're ready," he said. "They've been ready all weekend and the last couple months. It's been building to this."