Who will reign supreme in Corvallis, Oregon?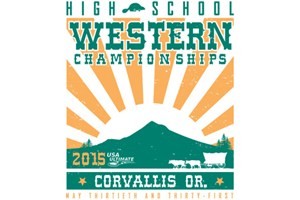 Former Northwest School and current University of Washington coach Alex Wells contributed to the article.
We look to the West this weekend as some of the top programs in the region battle it out in Corvallis, Oregon. With four pools and 14 teams this year, the Crystal Lake fields will be teeming with an exciting display of high school ultimate.
The 2015 Western Regional High School Championships are taking place in Corvallis for the third consecutive year. The top five teams have a different look than what we saw in 2014. Two teams, one from Colorado and California, are set to battle for the number one spot with top Washington teams Nathan Hale, the Northwest School, and Franklin. Keep an eye on those newcomers. They are seeded high and you never know what kind of upsets we might see.
The team from Colorado is Monarch A, who won the Colorado State Championships. From California, we have the Atascadero Mud Pit Gladiators who won the California State Championship. Another team of note is Oregon's Summit Storm, who took the Oregon Boys State Championship title this year over South Eugene and Crescent Valley.
Note: Washington does things differently under the organization DiscNW. They run their own state championship tournaments with the boys' season occurring in the fall and the girls' season in spring. This means that teams have the opportunity to compete in both a DiscNW State Championship and a USAU Sanctioned State Tournament.
Pool A
Nathan Hale Raiders (1), Berkeley Coup (8), Ballard BUF (11), Ingraham Rams (14)
Nathan Hale is starting out on top at Westerns this year with the number one seed — and rightfully so. Last fall, Nathan Hale became the first public school to win the DiscNW State Champs in at least a decade, defeating Bush in the semis and Franklin in the finals. After placing 7th at Westerns in 2014, they have a chance to show us what they're made of, especially with new contenders in the top 5. Next in the pool is Berkeley High School. After placing second at Westerns in 2014 and seeded 8th this year, it will be interesting to see if they can pull ahead again. The game to watch here will be between Nathan Hale and Berkeley, but we can't discount Ballard who tied for 3rd in 2014 and Ingraham who has yet to prove themselves at their first Westerns. Ingraham made it to the finals with Franklin at the USAU sanctioned Washington State tournament.
Pool B
Franklin Quakers (2), Summit Storm (7), South Eugene Axmen (12), Gunn Control (13)
Franklin is the number two overall seed. The Quakers were the first to defeat The Northwest School since 2011 in the semis at this year's DiscNW Boys State Championships (not USAU sanctioned). Franklin also went on to win the USAU Washington Boys State Championships. They'll be battling it out with two Oregon teams who are thirsty for revenge and newcomer Gunn from California. Summit is seeded 7th this year and is looking to improve after placing 10th in 2014. It will be interesting to see how they perform after upsetting South Eugene for the Oregon State Championship. The South Eugene Axmen return after placing 13th last year, most likely looking for another chance to prove themselves. Gunn (cleverly named Control) is new to Westerns this year and has an opportunity to show what they are made of in a Northwest-heavy pool.
Pool C
Monarch A (3), Roosevelt Rough Riders (6), Garfield Purple Haze (9)
Monarch A is new to Westerns and fresh off of their Colorado Boys State Championship win (this helped!). They will compete against two Washington teams: Roosevelt, 7th in 2014, and Garfield, tied for 11th in 2014. Both Roosevelt and Garfield gave top Seattle teams a scare in the DiscNW Boys State Championships. While they weren't a state semis team, Garfield had a notable upset of Franklin to reach the semis of Seattle Invite. This pool only has three teams so these lucky teams get a first round bye to start the tournament.
Pool D
The Northwest School (4), Atascadero Mud Pit Gladiators (5), Corvallis Spartan Force (10), Cleveland HS (15)
After losing the championship title to Franklin, the Northwest School is under pressure to prove they've still got it. They'll have to battle the California Boys State Champions from Atascadero: the Mud Pit Gladiators. Perhaps the other teams are lucky there is no rain in the forecast this weekend. This pool is the most diverse with a team from almost every state represented at Westerns. Oregon's Corvallis High School and Washington's Cleveland HS will have the chance to prove their worth against two of the top five teams.