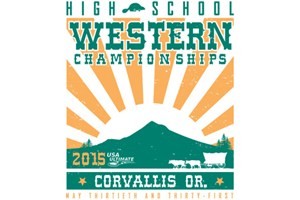 Disclosure: The author plays for Ingraham.
USA Ultimate High School Western Championships are set to begin on Saturday in Corvallis, Oregon. Teams from California, Washington, and Oregon will be in attendance.
Pool A
Pool A has the team to beat this year at Westerns: Lakeside. After coming off of a huge win against The Northwest School in the DiscNW girls' league finals and going undefeated at Seattle Invite, Lakeside is fired up and ready to put on the heat. The Loins are also bringing along their dominant senior and newly made Seattle Riot player Jaclyn Verzuh, make sure to stop by one of their games to see her in action.
The next closest ranked team in pool A is the Roosevelt Roughriders, featuring an impressive depth of talent led by senior captains Anna Wysen and international level player Frances Gellert. Along with being the only team to have beaten Lakeside this season, Roosevelt has a new coach in Charlie Eide and a quickly growing program.
The newly made Ingraham girls' team is in the next slot behind the Roughriders. Livia Amorosi leads the team in blocks and points. Livia's athleticism and true grit makes her a thrill to watch. In their first season competing in the girls' league, the Ingraham Rams surprised many with their strong defense and athleticism, in what was supposed to be a developmental year. In what seems to be a quickly growing rivalry, Ingraham will square off with Roosevelt in their first game on Saturday.
Garfield, which is known for their exceptional spirit and strong squad of handlers, makes them a hard team to ignore. The group's fifth seed, Summit, has had some success this year using the aggressiveness of their handlers. Summit also surprised a lot of teams this year at Seattle Invite with their stamina and speed. Summit and Garfield play each other in their first game on Saturday, in what looks like it will be a close game.
Pool B
Franklin, the second seeded team coming into the tournament, is one of the most athletic teams competing this year. After getting to the semifinals in the Disc NW playoffs, and dropping a thrilling game against Lakeside at Seattle Invite, Franklin is ready for their second shot. Senior Samiya Ismail is also a player to watch on this team; she connects well with her teammates on deep looks making games very fun to watch.
Nathan Hale, the pool's second seed, became a force this past season with their strong freshman class, including stand out player Ally Constantino who makes layout Ds look like a walk in the park. Ruby Cassidy is also another name worth mentioning: her smooth handling mixes well with the rest of the team's athleticism. Hale has never been more ready to enhance their reputation as one of the best teams in the region.
Cleveland is also not to be forgotten. The team, which like to look deep, has handlers who can put it and speedy cutters who are more than willing to chase down whatever is thrown their way.
The only team representing the state of Oregon in Pool B is South Eugene. At the Seattle Invite earlier this year, South Eugene competed against the highly-ranked Corvallis squad and lost in a close game, 7-9.
Pool C
Northwest is coming into Westerns seeded third after making it to the finals of the DiscNW playoffs. Bringing a killer four-person cup to the tournament and a strong group of seniors including stand out player Josie Gillett, Northwest will be tough to beat.
Corvallis, the pool's No. 2 seed, came out strong at Seattle Invite, playing some intense games and beating Hale (10-8) and Northwest (10-5) but losing to Lakeside (7-10).Through their internationally experienced player Clea Poklemba, Corvallis is looking to capitalize again on some those close games and compete with the Seattle teams just coming from the play offs.
California Roll, a combo team from the Bay, is this year's wildcard since they are the only team from their part of the country. Watch out for this team in the future as the growth of girls' ultimate in the Bay area is on the rise.
Crescent Valley will also be strong competitor in Corvalis, having had close games at the Seattle Invite beating Ingraham (8-5), losing to Garfield (6-7) and Roosevelt (7-8) by just a point each. Crescent Valley is known for having contagious spirit for the game on and off the field and a zone defense that can shut down handler movement without any hesitation.