Looking for the best destination beach tournaments in the world? Here's that bucket list.
After having my 2014 season ended earlier than expected, I started to think of the world's best tournaments, the ones that I should try to hit up before I finally hang up my cleats for good. Here's a list compiled with help from some friends, both of the top events I've played in and also the ones I haven't made it to yet.
Bangkok Hat
– Location: Bangkok, Thailand
– Division(s): Mixed
– Level of Competition: 5/10
– Scenery: 4/10
– Field Quality: 3/10
– Vibe: Play hard, party hard
– Party: Drinking at the fields
The basics:  350 players in 16 hat teams playing from 8 AM throughout the day, with great Thai food served right there at the fields. What's not to like?
The stories: "I went to Bangkok Hat one year and drank so much Singha I was completely toasty for days. The fields were nothing special, the level of competition was mediocre and there were only enough people for 16 teams but meeting people from all around the world and all around SE Asia left me with friends for life." – Tony Leonardo, author of Ultimate: The Greatest Sport Ever Invented
Website: Bangkok Hat
Bubblepest
– Location: Budapest, Hungary
– Division(s): Mixed
– Level of Competition: 5/10
– Scenery: 2/10 at the field, 9/10 in the city
– Field Quality: 9/10
– Vibe: "Super friendly and fun. Only 8 teams so you get to know lots of the other players" – Tom Abrams
– Party: Party boat!!
The basics: A relatively new tournament, Bubblepest is an indoor tournament using a huge 3G field inside a protective bubble, held in the middle of winter. It is therefore a chance to stretch the legs in the off-season, make fun teams with friends you normally don't get to see, and to enjoy the nightlife. It's all organised so you only play in either the morning or afternoon, allowing everyone a chance to explore the host city – something ultimate players rarely get to do – and it all centres around the boat party.
The stories: Tom: "Start the night off with a boat tour on the Danube where you can see lots of sights and then head to a bar to party the night away. For anyone who prefers to live without sleep there are plenty of ruin bars which stay open until the morning." While it's a young event, the organisers are clearly keen to keep standards high: "To give you a good idea of how awesome Bubblepest is, Gabor (the TD) asked for ANY negative feedback because unlike standard tournaments they just don't get any."
Website: Bubblepest
Dream Cup
– Location: Fuji City, Japan
– Division(s): Mixed, Open, Womens
– Level of Competition: 7/10
– Scenery: 8/10
– Field Quality: 4/10
– Vibe: Hard-fought ultimate in a dust/mud bowl
– Party: Non-existent
The basics: Dream Cup is the biggest tournament in Japan, features the very best players from across the nation, is played as a straight elimination event, and is all under the imposing background of Mt. Fuji. Every few years a high profile opponent is flown in for practice games, including Sockeye & Fury in the past, and most recently the 2013 USA All Stars. Most of these US teams seem to lose at least once to the top teams in Japan – Buzz Bullets, UNO, or MUD, for example – so you know the ultimate is about as good as it gets. Expect a sharp drop off outside the elite teams though, as this is a HUGE event; 140 teams and over 2000 players in 2013. While the social aspect of the tournament is a bit quieter than most on this list — there's a creche instead of a party — there are ample opportunities to enjoy the…quirky Japanese culture.
The stories: Dylan Tunnell (Former Chain, Team USA): "Dream Cup was pretty awesome. It seemed surreal that we were comped an entire trip to Japan just so we could play frisbee. I did enjoy every minute of it."
And have a good laugh at the Google translations of your teammates' names. Tunnell: "We saw those ridiculous translations. Hilarious."
Website: Dream Cup website
Kaimana Klassik
– Location: Waimanalo, Hawaii
– Division(s): Open, Womens
– Level of Competition: 7/10
– Scenery: 10/10
– Field Quality: 10/10
– Vibe: Hula holiday!
– Party: Dance all night
The basics: One of the best things about playing ultimate over most "regular" sports is when the opportunity arises to visit one of the world's most beautiful venues with 15 of your mates.
The stories: Brett Matzuka (Bravo): "My favorite off season tournament (hometown pride?), this tournament consists of camping on the beautiful beach in Waimanalo, then walking across the road each day to play in the astounding valley of the island on usually lush polo fields. The atmosphere is the best you can get from ultimate players with people from all over the world (great international presence, especially for the middle of the Pacific). The teams are highly competitive with nationals caliber talent abundant on each team. The party is at the field in a huge open tent where teams converse and party together uninhibited, dancing 'til the wee hours and enjoying the beauty of the area. The tournament puts spirit at a paramount and is also sponsored by a beer company giving unlimited beer all day, every day. You can't go wrong with this one and a must on the bucket list!"
Tony: "Kaimana Klassik is tons of fun. It's nothing outrageously special or anything but it's a heathen free-for-all, the competition is good, the parties are great and booking an extra week to hang around the Big Island before or after the tournament is an absolute must. So get on it!"
Website: Kaimana website
London Calling
– Location: St Albans, near London, UK
– Division(s): Open, Womens
– Level of Competition: 9/10
– Scenery: 5/10
– Field Quality: 8/10
– Vibe: All business
– Party: What's a party?
The basics: Held at the same venue that will see U23 Worlds later this year and WUGC in 2016, London Calling has been a mainstay of the European calendar for 5 years and continues to grow every year. The best teams in Europe attend, and there's always an evening show game to watch. As well as the usual top European clubs, 2012 saw WUGC semi-finalists GB and Sweden in attendance, and Clapham took on Bad Skid in last year's show game. Expect to see some national teams in attendance as a warm-up for this year's European Ultimate Championships in Denmark. Don't expect a party unless you start one in your Travelodge.
The stories: This is a tournament for upsets. Clapham beat GB here in 2012, and 2014 saw a French team reach semis by defeating the Swedish powerhouse Viksjofors.
Website: London Calling entry on UKU
BO (formerly Monkey Foo)
– Location: Grenoble, France
– Division(s): Mixed
– Level of Competition: 6/10
– Scenery: 10/10
– Field Quality: 7/10
– Vibe: Ultimate in the mountains
– Party: Hedonism
The basics: The former Monkey Foo tournament has been rebranded and relaunched, and whenever I'd been, it has been a truly wonderful experience and a personal favourite. Set in a stunning natural bowl, surrounded by mountains, the fields were fantastic and the whole weekend had a fun and friendly atmosphere throughout. Game of Pétanque inbetween rounds, with camping, or – for the lucky few – a cabin. Oh, and the tournament was all-you-can-drink; you paid up front then could help yourself.
The stories: The parties were obviously brilliant – especially in 2005 when there was a huge thunderstorm so we were all crammed inside — even if it did mean sleeping in a puddle. We rented one of the few chalets the following year, and had to play 'spoons' for the last bed; chaos! There was also an optional afternoon of beach ultimate in a city center beach volleyball facility. Genius.
Website: Monkey Foo website
Potlatch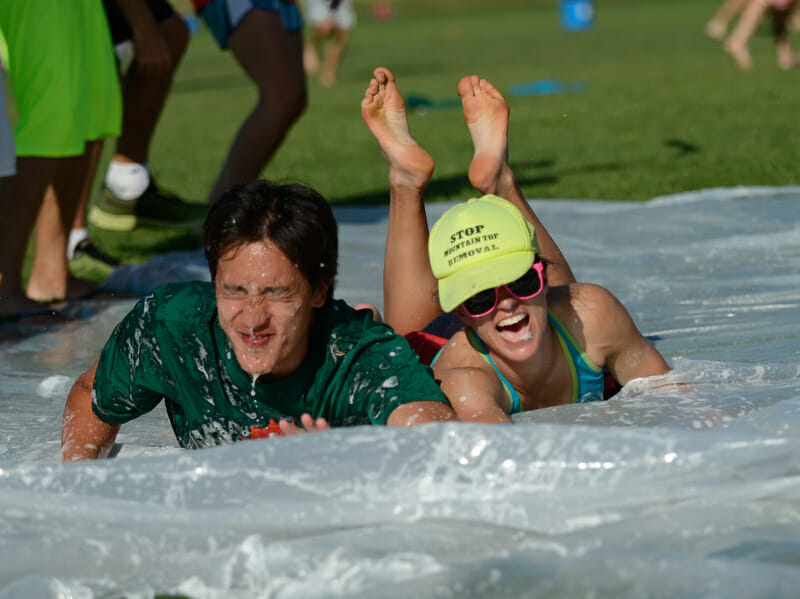 – Location: Redmond, Washington, USA
– Division(s): Mixed
– Level of Competition: 8/10
– Scenery: 6/10
– Field Quality: 7/10
– Vibe: Fancy dress
– Party: DIY
The basics: Fancy spending the Fourth of July weekend camping in the Pacific Northwest with a dozen friends, dressing up in costumes? Sounds fun. While playing ultimate? With over 100 teams and extremely competitive play – in between shenanigans, of course – this is probably the biggest and most competitive mixed tournament in the US. Expect the usual party antics, although most teams do their own thing. Tournament has been affected a bit in recent years due to clashing with US Open.
The stories: Matzuka: "extremely competitive with over 100 teams coming together for competitive play, shenanigans, and good 'ol fashion ultimate culture. Teams camp on the fields, and get up in time to try to win the title. The atmosphere is amazing."
Website: Potlatch website
Poultry Days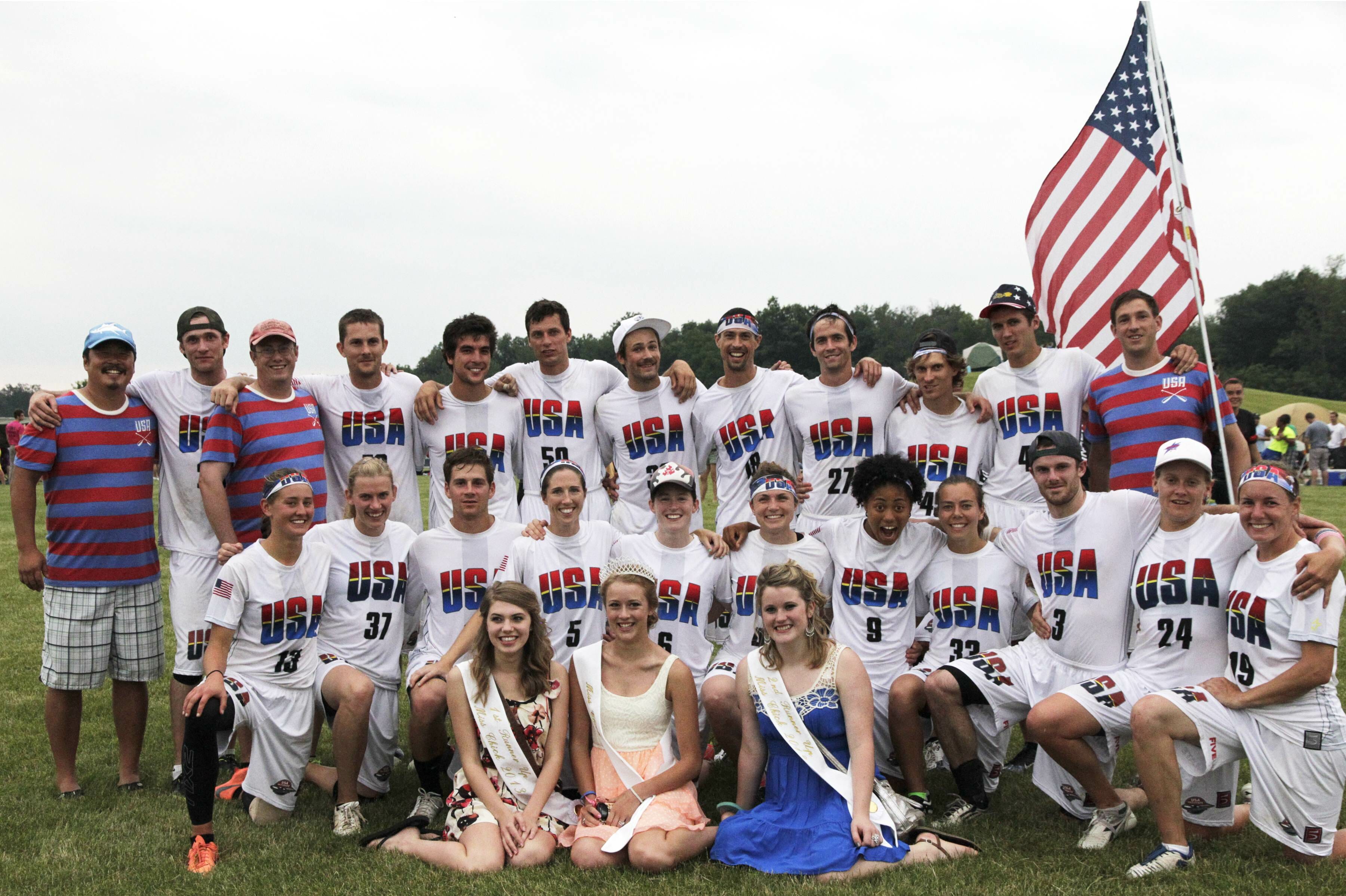 – Location: Versailles, Ohio
– Division(s): Mixed
– Level of Competition: 7/10 (10/10 in a World Games year)
– Scenery: 4/10
– Field Quality: 5/10
– Vibe: All the fun of the fair
– Party: All night at the fields
The basics: Whoever thought to tack an ultimate tournament onto a huge roast chicken festival is a GENIUS. There's a fairground too, so after games you can sit on a ferris wheel. And eat chicken. They roast them by the thousand, and people come from miles around to try; each stall does their own variety, so you're really spoiled for choice.
The stories: In 2009 we also got to take part in an international parade – players from USA, Canada, Taiwan and GB all sat on a float as part of the parade, and we naturally threw discs into the crowd and ran along high-fiving the slightly bemused kids who lined the street. In between games you can use the swimming pool and springboard too.
Tony: "The whole tournament still reminds me every year of a really awesome Grateful Dead show…Off the charts fun"
Website: Poultry Days website
Spinning In Paradise
– Location: Jelsa, Croatia
– Division(s): Loose mixed
– Level of Competition: 2/10
– Scenery: 9/10
– Field Quality: 4/10
– Vibe: Ultimate-based holidays
– Party: Changes daily; talk to Vinko for the latest info
The basics: SiP really flips the normal conventions of ultimate tournaments upside down with its unique format: play ultimate in the morning and evening, with a 6 hour gap in the middle of the day to explore the beautiful island of Hvar; hit the shallow beaches, or take a snorkelling trip, or drive to a viewpoint, or maybe just eat like a king and take a nap.
SiP is a hat tournament where play is entirely optional, just sign up in the morning if you want in! In the evenings, take part in a Playstation tournament / karaoke sing-a-long / dance-off, hit a local bar or whatever madness the incredible TD, Vinko, comes up with. This year, there's a beach edition with a boat party planned… see you there!
The stories: As Mike 'Tank' Natenberg says: "A reminder of one of the main reasons we fell in love with the sport – the community." I can vouch for the "Peka," a slow-roasted goat dish that Vinko called a local restaurant to arrange for us.
Website: Spinning in Paradise website
Torneo Eterna Primavera
– Location: Medellín, Colombia
– Division(s): Open, Womens
– Level of Competition: 6/10
– Scenery: 7/10
– Field Quality: 9/10
– Vibe: Super serious on pitch, super fun off pitch
– Party: Guaranteed… somewhere, at some point
The basics: No-one hosts you quite like the Colombians… somehow they just cram in more passion than seems possible. TEP doesn't run every year, which only makes each experience that bit more special. Sam Harkness: "The tournament is hosted in a stadium central to the city – Medellin is an amazing city to visit period – which is right next door to where one of their national soccer teams play. Basically it's a giant pro soccer stadium that is surrounded by an even larger sports complex which was open to the public. F**KING AWESOME, RIGHT? Just don't expect anything to start on time…
The stories: Sam: "Mauricio + all other facilitators are extremely accommodating and hospitable. They run on an extremely relaxed timeline, where you shouldn't really believe that blank round starts at blank time until you actually have an opponent with seven players across from you and a score keeper asking you to play. This literally goes for everything. Site seeing plans, conferences, parties, even up to the finals."
Website: Torneo Eterna Primavera website
USA Ultimate Nationals
– Location: Dallas, Texas
– Division(s): Open, Mixed, Womens
– Level of Competition: 11/10
– Scenery: 5/10
– Field Quality: 10/10
– Vibe: All business
– Party: Post-elimination only / "Where's the Daiquiri Deck?"
The basics: Sadly, I never achieved my ambition of playing in Sarasota. And since most people I spoke to don't seem to like the new venue in Dallas, I'm hopeful that it might shift back before I'm forced into permanent retirement. It's the best of the best playing hard for the title. What more needs to be said?
The stories: Matzuka: "Largely considered the most competitive tournament in the world, you haven't lived frisbee until you have participated in this event which crowns the North American champion. If you have watched video, heard whispers of a famed player, they are likely here vying for the coveted gold."
Website: USAU series website
Windmill
– Location: Amsterdam
– Division(s): Mixed, Open, Womens
– Level of Competition: /10
– Scenery: 5/10
– Field Quality: 8/10
– Vibe: Festival atmosphere
– Party: It's Amsterdam…
The basics: Formerly known as "Windmill Windup," Windmill is now firmly established as a major event in the elite European ultimate calendar. Take 25 good quality fields on the outskirts of Amsterdam, put camping around the outside, and fill the centre with everything you need in terms of entertainment and food. Add the best teams in Europe. Mix together with Dutch hosting. No wonder the newly renamed Windmill is so popular.
The stories: Tom: "Windmill manages to hit the elusive combination of being fun and seriously competitive."
Website: Windmill website
WUCC / WUGC / WUBC / World Games…
– Location: Varies
– Division(s): Everything you can think of
– Level of Competition: 8/10
– Scenery: Varies
– Field Quality: 10/10 (except Lecco)
– Vibe: Varies
– Party: Varies
The basics: For a young sport, we sure do have a lot of "World Championships." The World Ultimate Club Championships (WUCC), World Ultimate and Guts Championships (WUGC), and World Ultimate Beach Championships (WUBC) are probably the big three, but I'd be remiss to not mention The World Games. All 'Worlds' tournaments have a fantastic atmosphere; every team is packed full of teams desperate not only to win, but also to represent their nation well, on and off the pitch. A must if you want to make friends from all over the world (then send them a Facebook message when you need somewhere to sleep while you're backpacking). It's a good job we're a friendly bunch, eh?
The stories: Just because the ultimate is 100% serious doesn't mean that teams aren't here to enjoy themselves. Whether its drinking games with Team USA (Beau always seemed to lose), diving into an indoor pool party in Colombia, sharing a taxi home from the 'Five Storey Club' in Prague with Ironside & Fury at 5 AM, or an orchestrated mass dance-a-long on a beach in Portugal, the international blend of cultures combined with the unique culture of ultimate means you're guaranteed a good time.
Brett: "Vying for a world championship, it doesn't get more competitive than that while having an equal importance on spirit and respectful play. The party and atmosphere here are unparalleled… Being able to fellowship with players from all over the world is always the greatest experience our sport allows"
Website: WFDF
*With thanks to all contributors
**Note: I didn't include any age-related categories in my divisions, otherwise I'd be there all day