JetBlue's business class cabin, Mint, is an awesome way to travel coast-to-coast.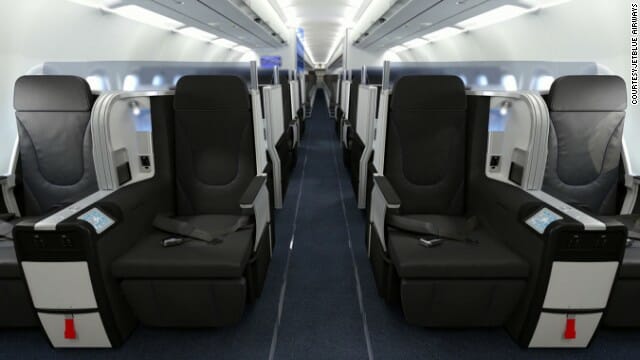 Here is an introduction to my Travel Series. More to come!
JetBlue is my favorite airline on which to fly transcontinental flights. Most major west coast tournaments operate in or near the San Francisco or Los Angeles airports, and JetBlue flies frequent non-stop flights from JFK airport in New York to both of those airports.
JetBlue offers ample leg room, great in-flight entertainment options including a full slate of DirecTV channels, and a good selection of free snacks. Add in the free checked bag (and the non-stop option, which my preferred airline, Southwest, doesn't offer coast-to-coast) and you've got a transcon winner.
So when JetBlue announced their new Mint premium cabin service for those long-haul flights, I couldn't wait to try it out. Having banked a lot of JetBlue points in their loyalty program thanks to the co-branded AmEx credit card and frequent JetBlue flights, I was sitting with plenty of points for a Mint class points redemption. I was going to fly in style for free.
I decided to book my Mint flight for a time when I could really take advantage of the lie-flat bed — a red-eye home from the Stanford Invite in March, departing around 10:30 PM Pacific and landing around 7 AM in New York. Here's my review of that trip.
I should note right up front that, due to a pilot getting sick and needing to divert, the plane that was originally supposed to take us didn't show up. So my departure was delayed for almost three hours. I was exhausted, so some of my photo work was not stellar. Luckily, though, I was able to take advantage of SFO's wonderful AmEx Centurion Lounge (accessed for free via my Platinum Card) before my flight. More on that in another post. It's also worth noting that JetBlue made us as comfortable as possible and even gave everyone $200 in flight credit for use on a future flight because of the delay.
Mint Overview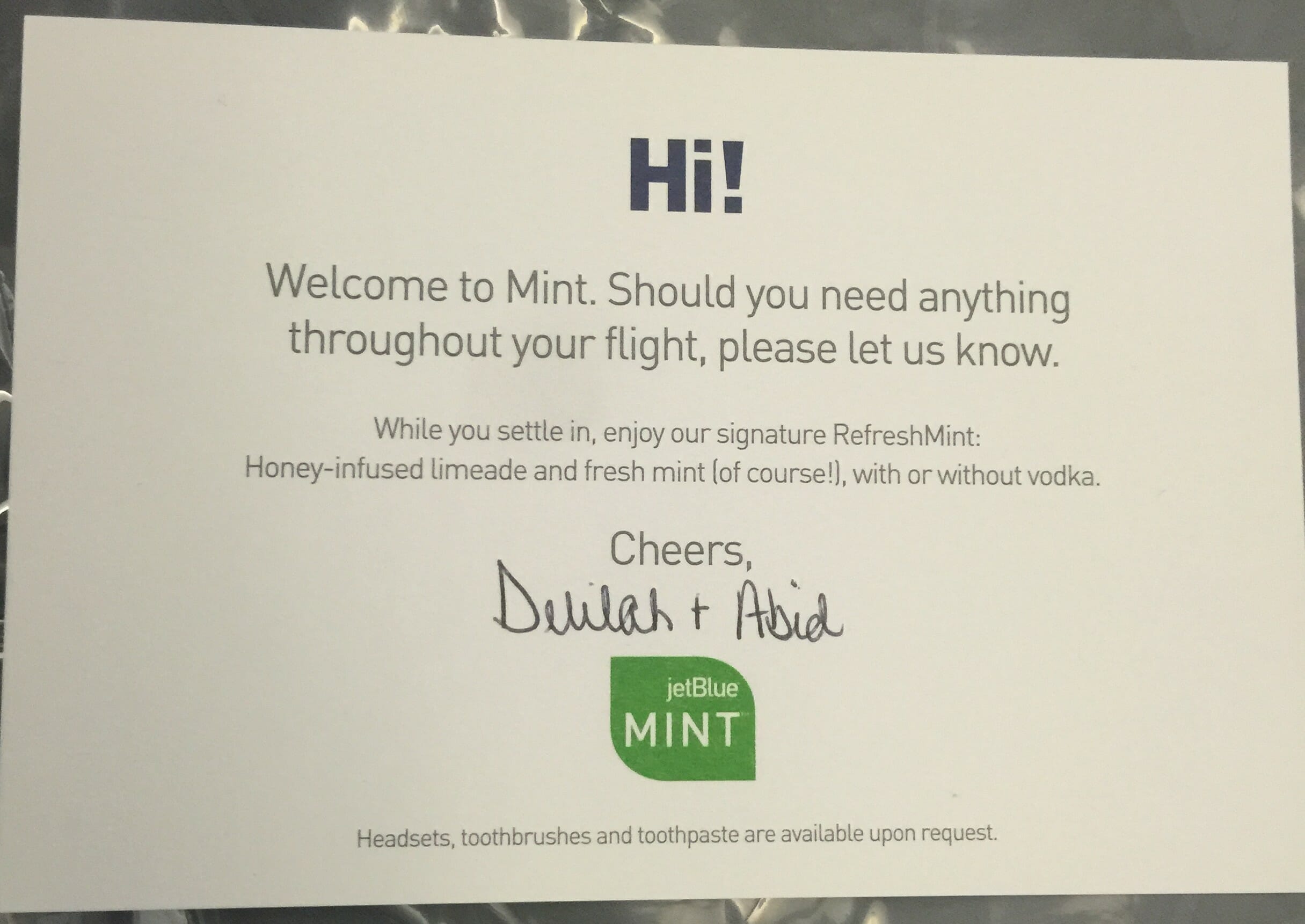 JetBlue's Mint service is a lot like most legacy airlines' business class offerings on the same JFK-SFO route. It offers a seat that reclines into a full lie-flat bed, a premium meal service, complimentary premium wines and cocktails, priority check-in and boarding, an extra free checked bag, an amenity kit, and priority baggage service.
The Seat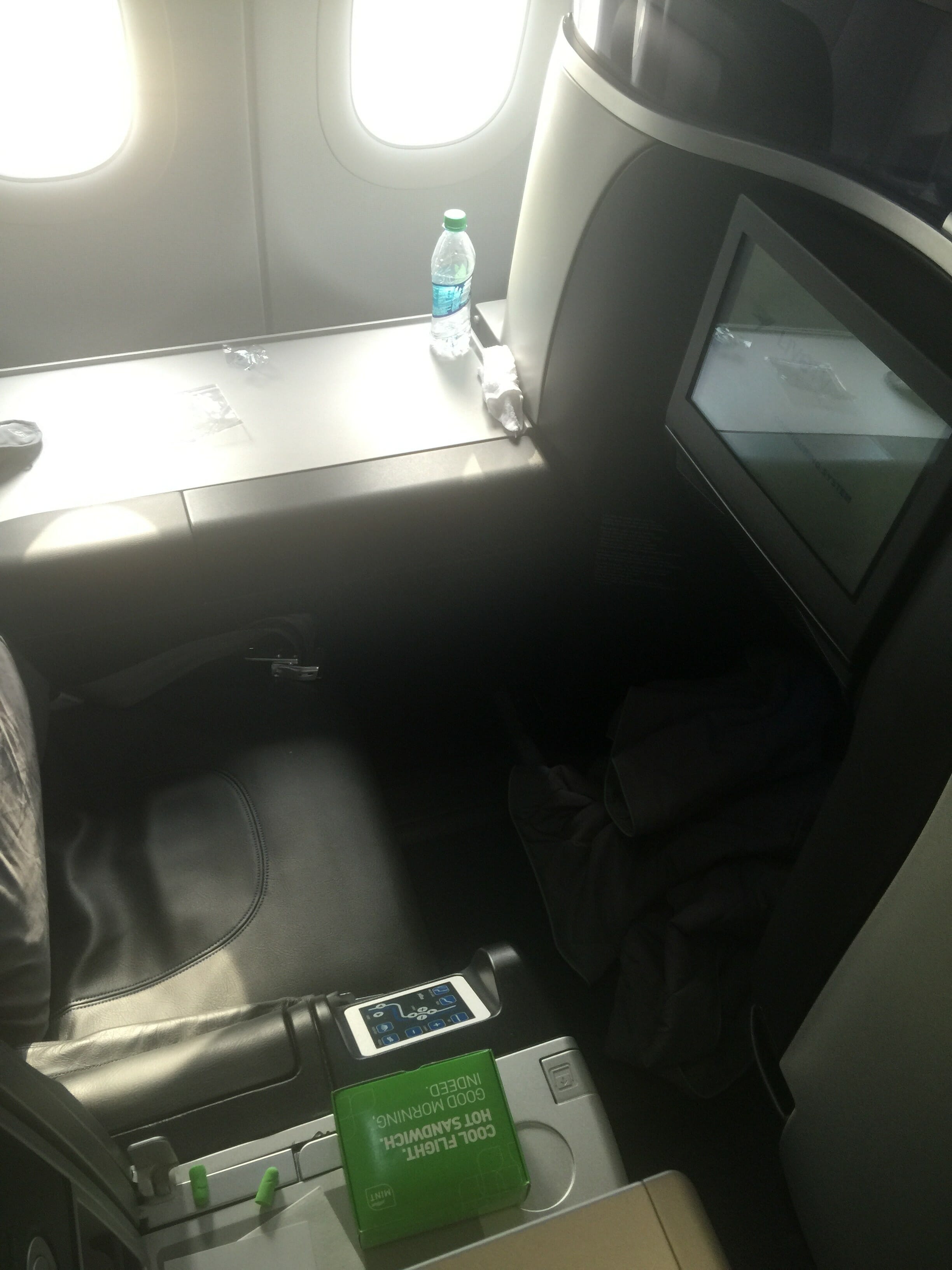 The seat is the #1 reason most people fly in premium cabins. With substantial legroom when seated, plus the ability to recline at almost any angle all the way to a flat bed, the Mint cabin seat did not disappoint.
I'm by no means an expert when it comes to business or first class travel. But I've flown in business class seats a couple of times (mostly on lucky upgrades) and the JetBlue seat measured up well.
You can see above the basic layout. There's a lot of armrest/storage space on either side of the chair, a TV right in front, and all of the typical amenities like a reading lamp, fold out tray table, and various storage areas.
I was fortunate to be able to book one of the "suite" seats, meaning I had the only chair in my side of the aisle. The Mint Cabin is split up into 2×2 and suite-style 1×1 rows. I had a lot of privacy with the sliding "door" on the aisle (see below).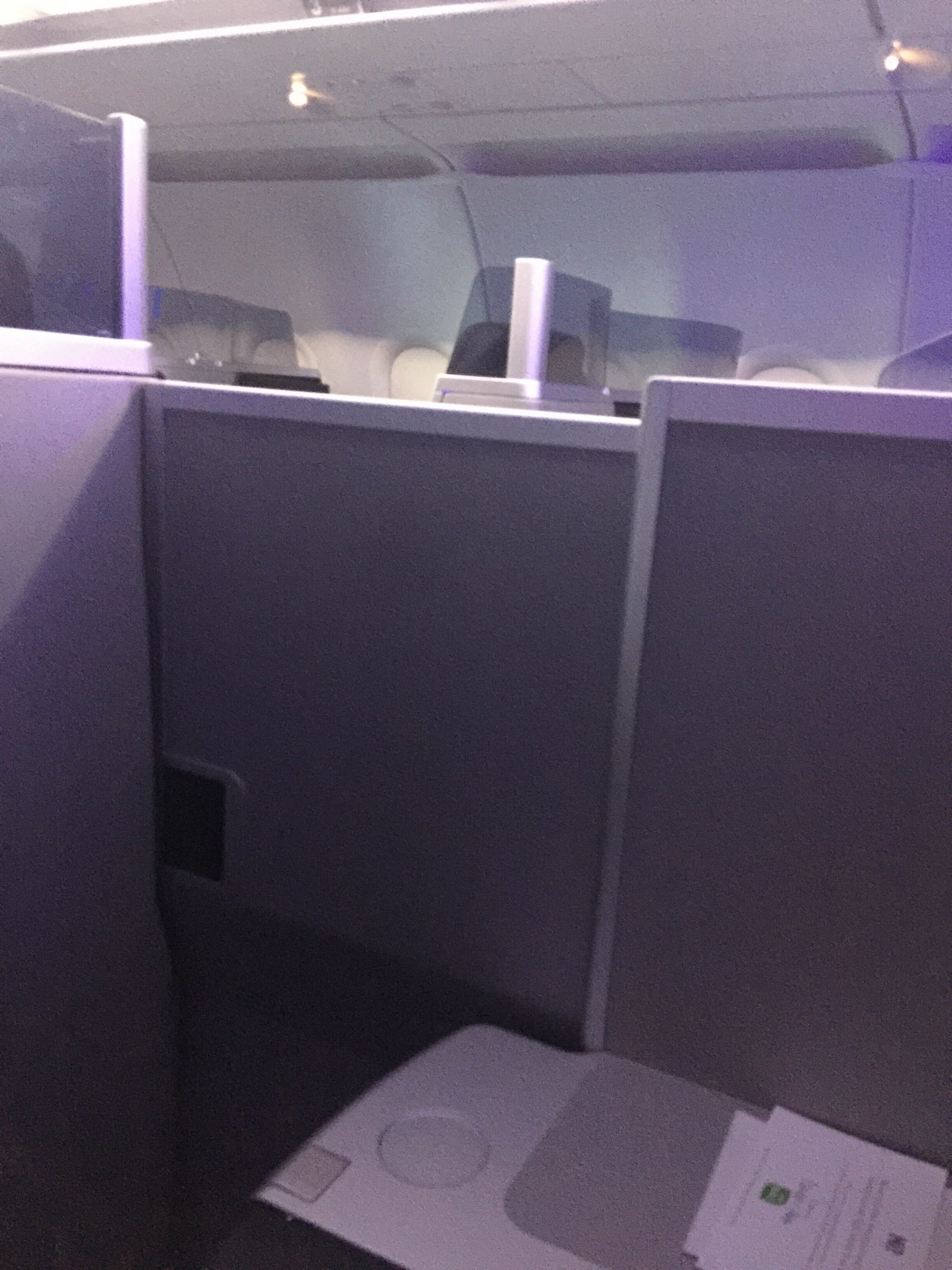 The seat could basically go into any angle you liked — upright (takeoff/landing), reclined, or flat. The massage feature was actually quite pleasant.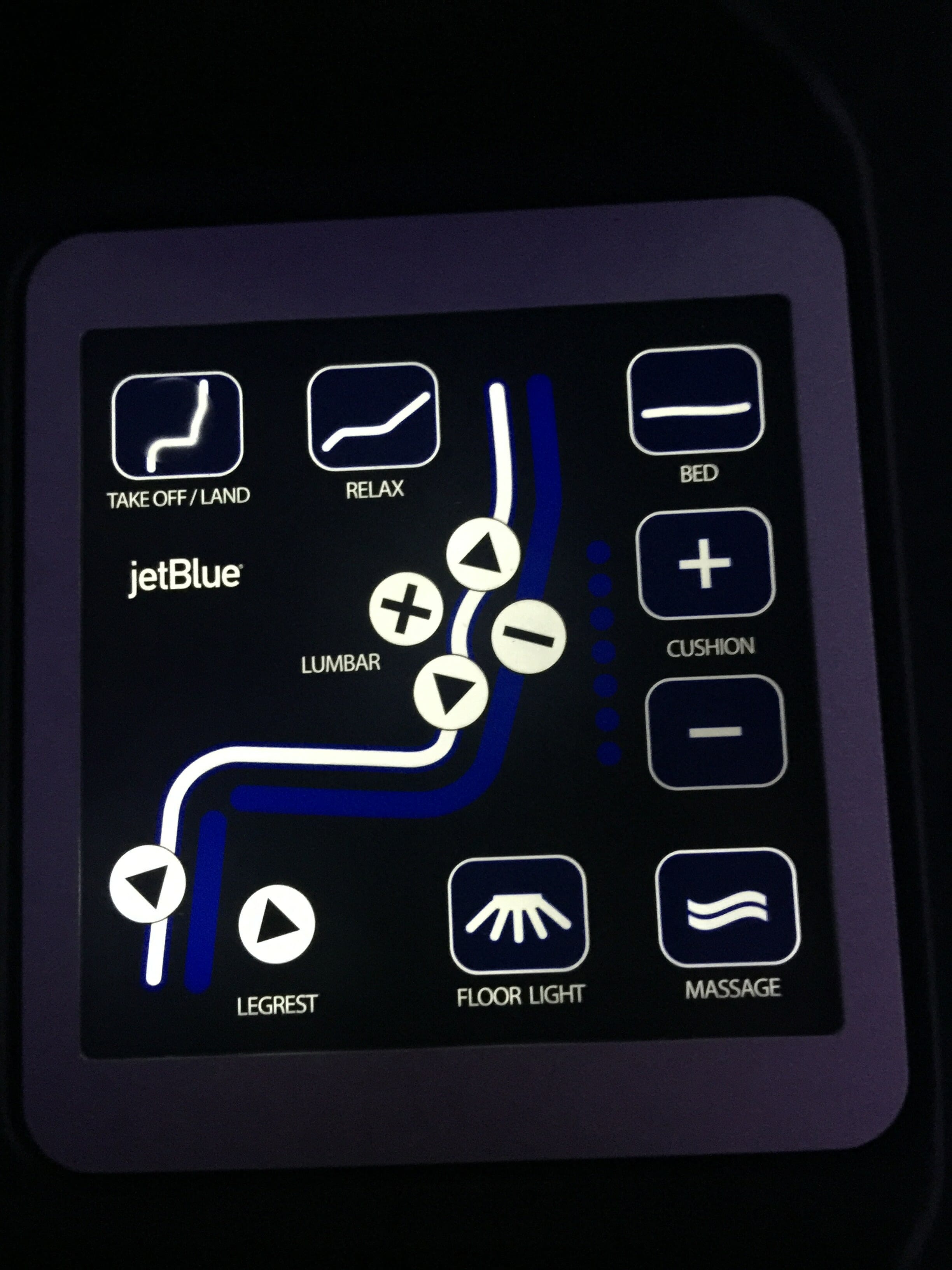 There was plenty of legroom in the upright position — certainly more than I needed to be comfortable.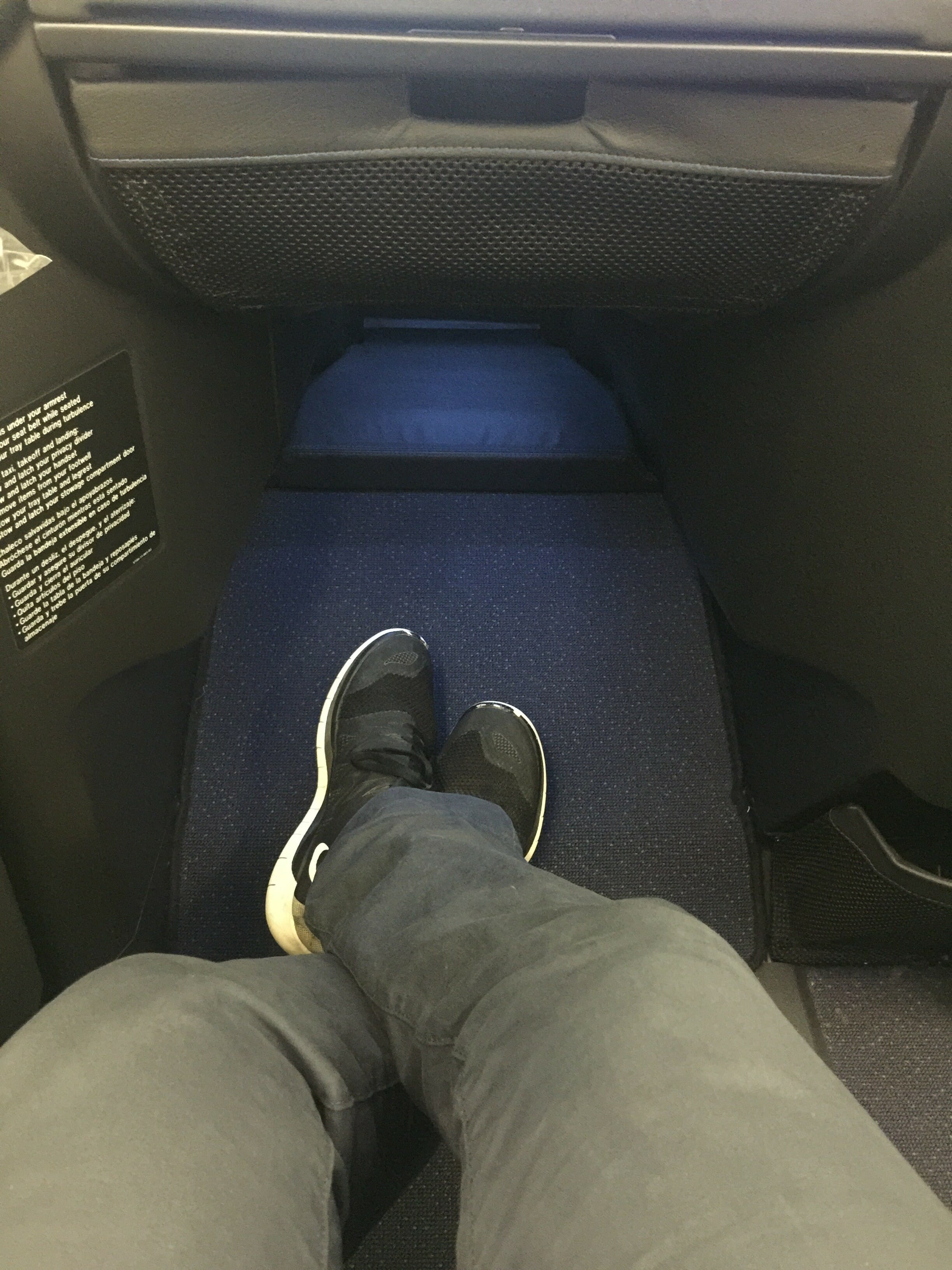 I didn't take a picture of the bed configuration, but I was extremely comfortable. After the dinner service, I went right to sleep and didn't wake up until breakfast was served five hours later. The earplugs and eye mask provided in the amenity kit definitely helped to make the sleep more pleasant.
The Food
Despite being exhausted when I got on the plane and ready to got to sleep as soon as we got in the air, I wanted to stay awake for dinner service. The Mint flight attendants were very pleasant from the beginning of the flight to the end, and they were happy to expedite the food service.
I began the flight with a delicious mint-lemonade. I took it without the vodka, but I'm sure it would have been good with it.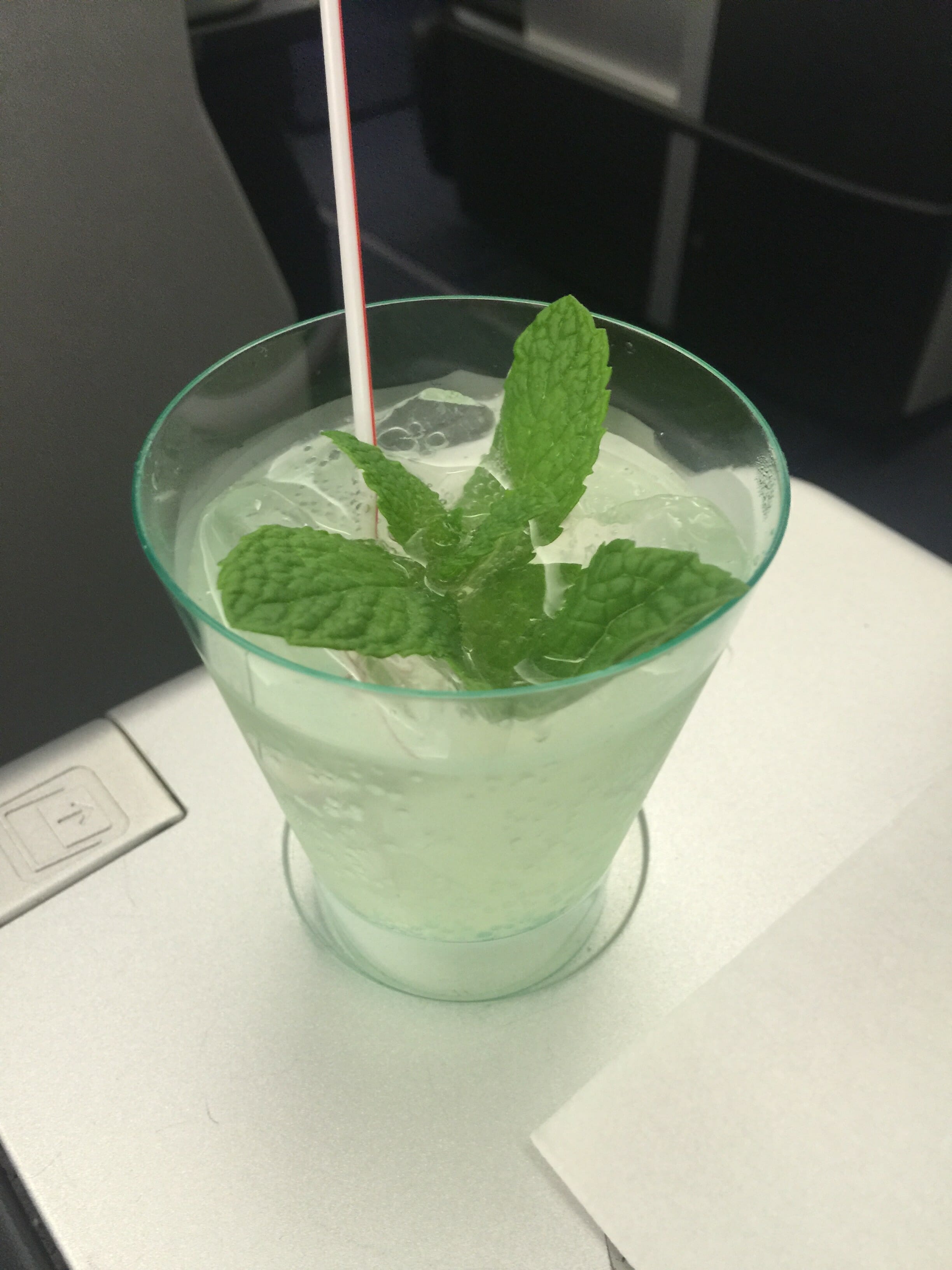 Mint's normal meal service comes with a list of five entrees from which you select three. But on the red-eye, they have a limited menu (my guess would be because fewer people have the meal). As you can see from the menu below, the food sounds delicious. It is. I was very pleasantly surprised at how good all of the dishes were, especially since all were served cold. I would have preferred to have some more options, but I certainly wasn't going to complain about anything that I had to eat.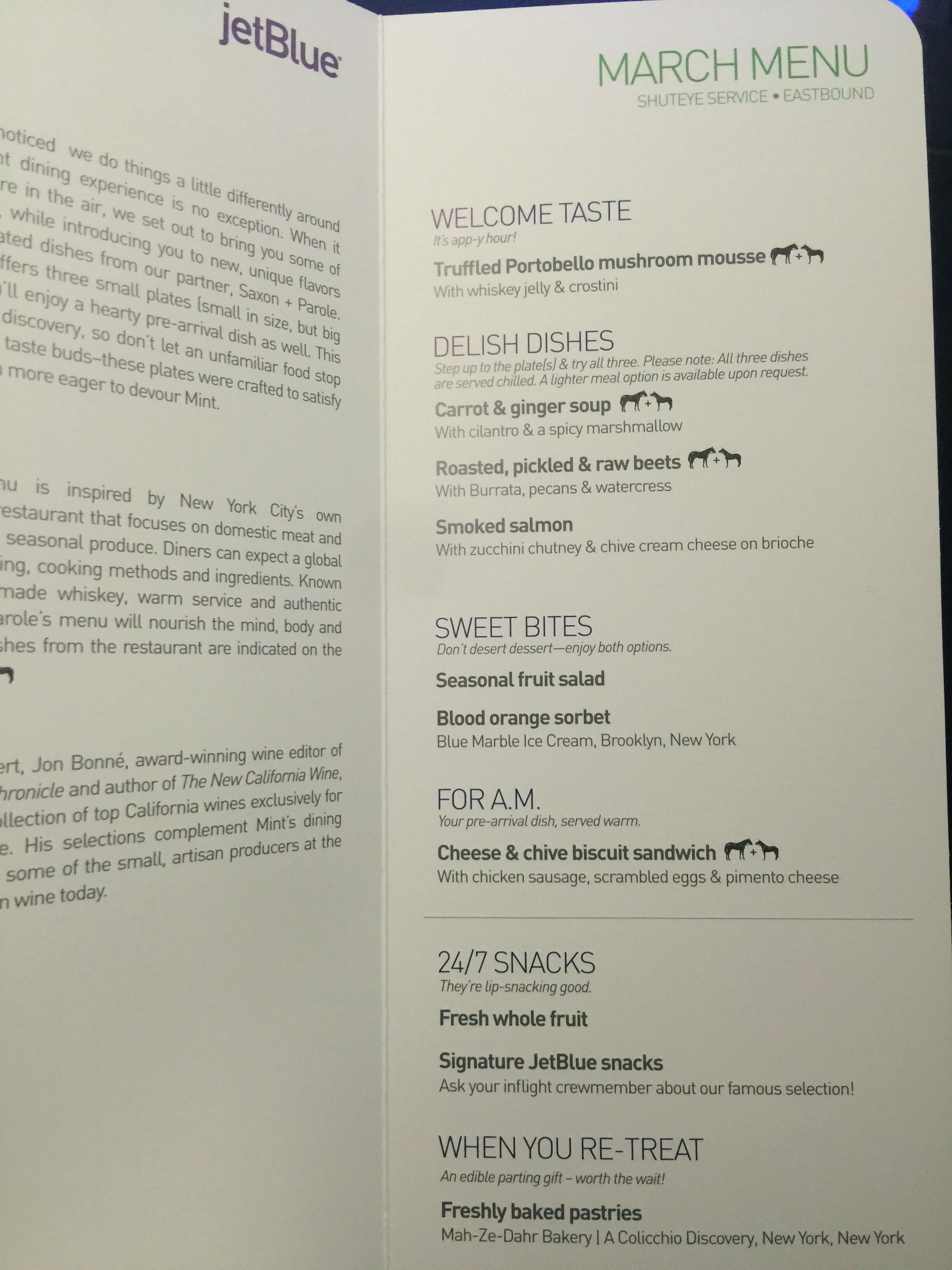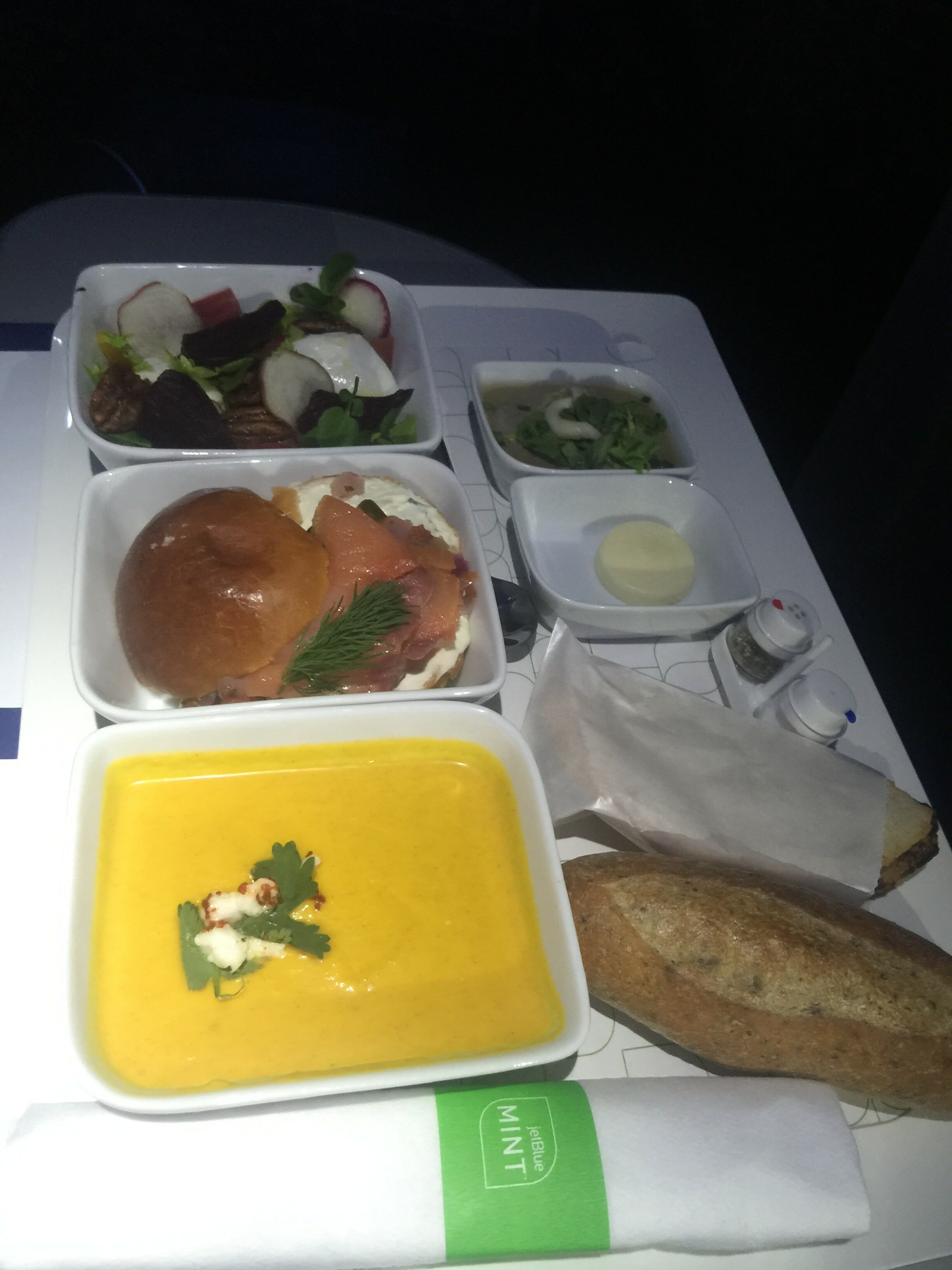 Of the three entrees, the carrot and ginger soup was my favorite: flavorful, crisp, and refreshing. One of the better cold soups I've ever had, honestly. The smoked salmon was probably the least appealing, but it was still good. I'm just picky because lox is done about as well as it can be done in New York.
The truffled mushroom mousse was…interesting. A very strong truffle flavor and a bit of a weird consistency. Not bad, just odd. It would have been better with a glass of nice wine.
I was too tired to stay up for dessert, but I've heard the Blue Marble ice cream is really good.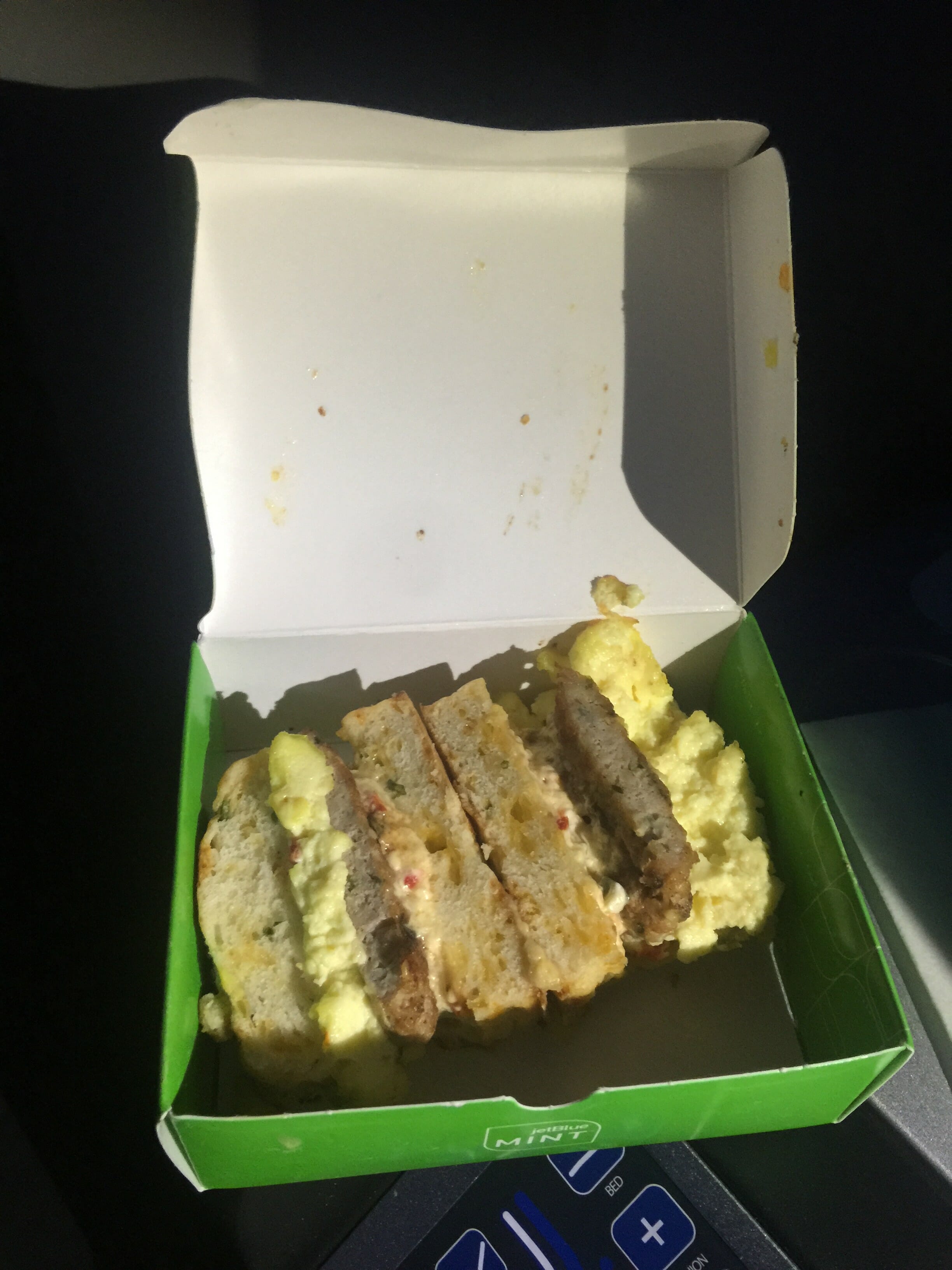 The breakfast sandwich was delicious and a great way to start the morning as we descended into the city. I'm normally a bacon sandwich guy, but the sausage was hearty and worked great with the chive biscuit.
All in all, a great food experience. Oh, and here's the wine list — I didn't partake because the flight was so late, but it includes solid, if not spectacular, booze options.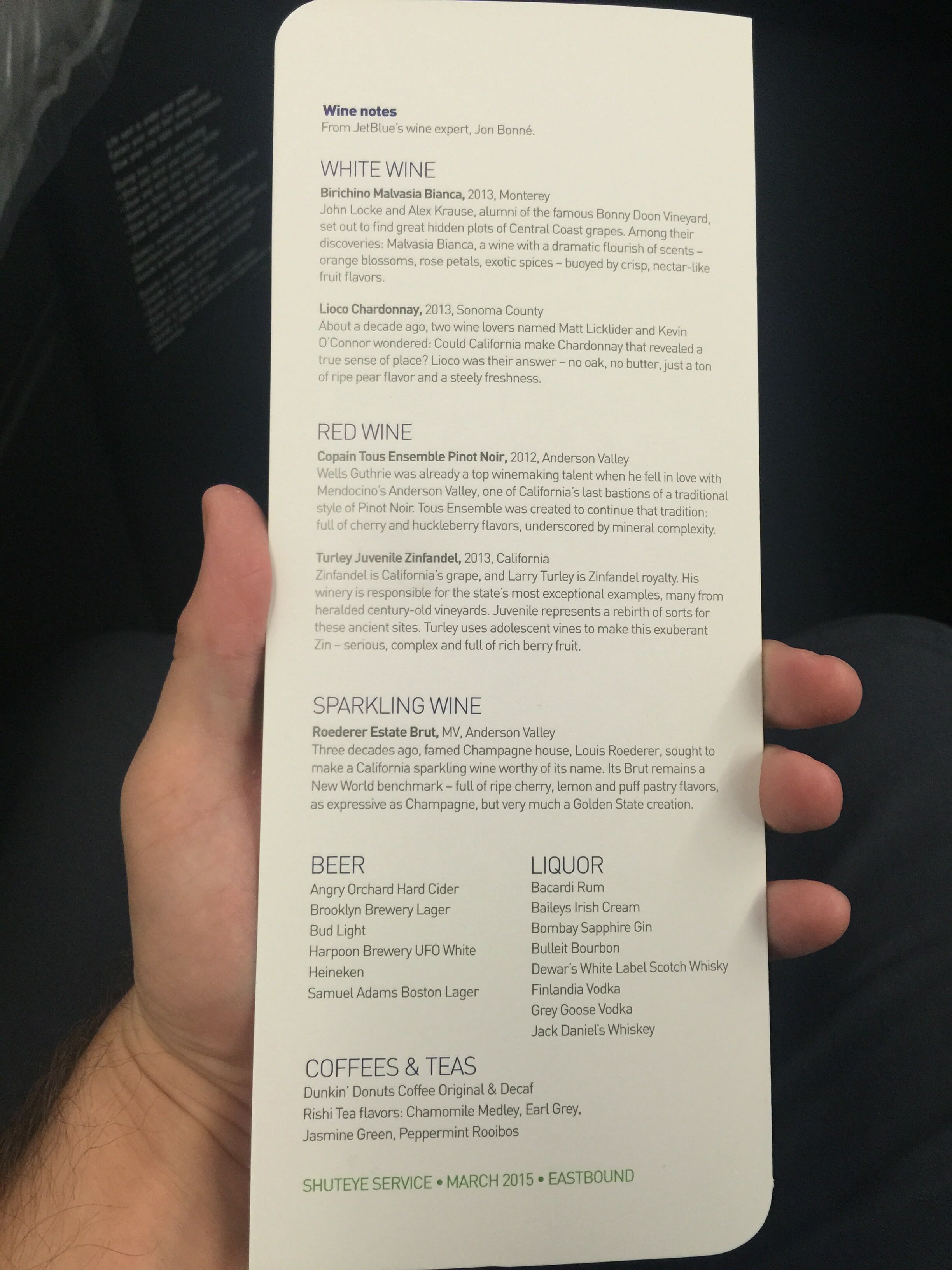 Other Perks

This was the most elaborate amenity kit I've ever seen from an airline. Sadly, I didn't take a picture of its contents, but it had everything from luxury soaps and hand lotions to lip balm and pomade(!). I gave a bunch of it away, but saved a few things for my toiletry kit. A nice touch as a parting gift.
This marshmallow treat was also a goodbye gift, but I didn't much care for it. It's a giant marshmallow. Too sweet. I would have preferred a smaller chocolate or something simple.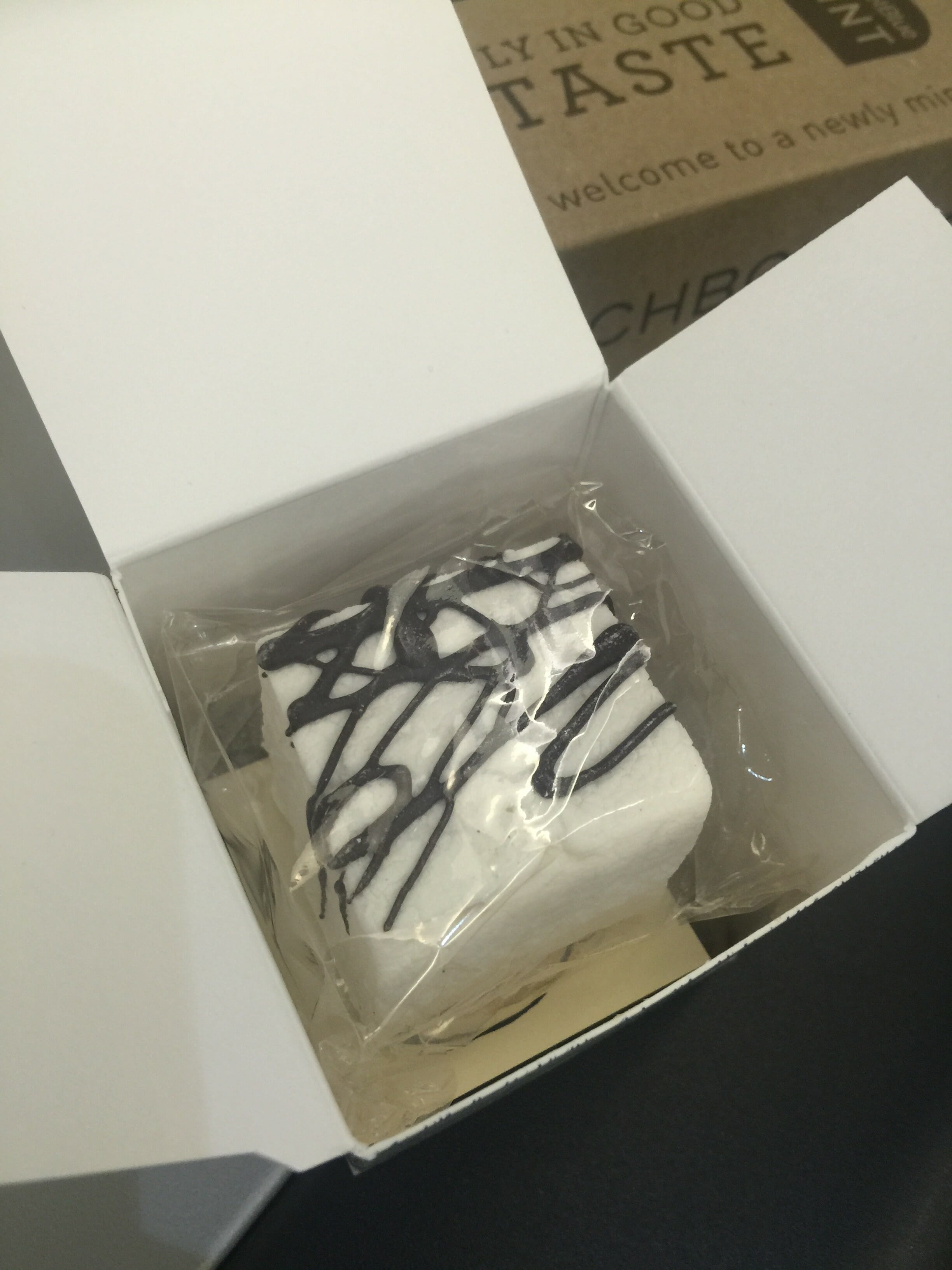 The extra perks — like the dedicated check-in, priority boarding, expedited security, and priority baggage handling — were all marginal parts of the experience. The check-in line was empty when I arrived at the airport so I didn't get much from the quick check-in. I have TSA Pre-Check so expedited security is usually not much of a benefit.
Getting on the plane early is GREAT when I'm sitting in coach, because I know I'll get overhead bin space for my bags (gate checking bags can be a real headache). It wasn't as vital when there was dedicated bin space just for Mint customers, but it was still nice to be first on the plane and enjoying my mint-lemonade during boarding.
Overall Review
Just a fantastic experience. I would even consider paying the $599 one-way cost if I had another California->New York red-eye, because the value of the lie-flat seat is just enormous when you need to get some sleep.
I'm not sure I'd pay if I was just taking a typical flight. If I just wanted to be working on the plane, I'm not sure the benefits of food and a more comfortable seat would outweigh the extra ~$450 you pay.
But for transcontinental business class travelers whose companies are paying for biz class or who can afford the upgrade, it's a downright enjoyable way to fly for six hours.
I would absolutely consider redeeming JetBlue points for a flight again. When I booked my ticket, I only had to pay 35,000 points (and there were lots of $499 fares). Now, most point redemptions are 45,600 points, not the absolutely optimal way to use JetBlue points, which go further in coach class. But as an aspirational use of points from what is already not a great loyalty program, I could highly recommend using the points for a Mint redemption.
The food was very good and well-planned and the seat was fantastic. The ability to book a suite-style seat with a sliding door at the same price as the 2×2 seats is amazing (and will probably go away at some point).
All in all, JetBlue has come up with a superb business class option for business travelers flying transcontinental. It is on-par with or better than most legacy airline options on the same routes.
Currently, Mint Class is only available on flights between New York/Boston and Los Angeles/San Francisco. They are adding seasonal service from JFK to Aruba/Barbados this winter.