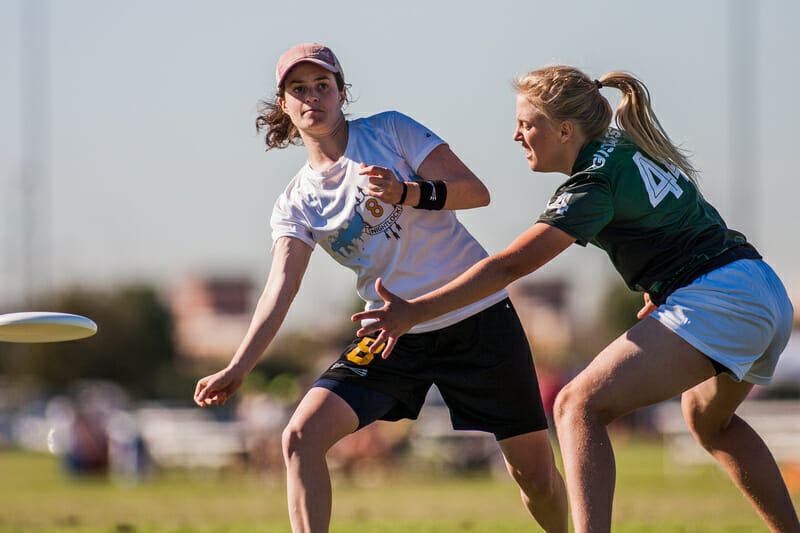 There is a cliché found throughout sports broadcasting that certain athletes "play the game the right way." These rhetorical paragons, whether they play basketball or water polo, are generally hard working veterans with a respect for the sanctity of the game. They are rarely flashy on the field, and often classy off of it. Their play and behavior represent the values that the sport hopes to present to the world.
Cliché or no, there are a handful of ultimate players that really do meet this description. Rachel Habbert of Nightlock is absolutely one of them, and while she isn't one of the most recognizable names in the game yet, the way she carries herself on and off the field is more than worthy of praise.
Mike Lawler, a longtime women's ultimate coach, is presenting Habbert with the first annual True Veteran Award, to celebrate not only her career but also to shine a light on the exemplary ways she has contributed to the game, supported the ultimate community, and demonstrated a real understanding of the spirit and pursuit of excellence that defines the best aspects of the sport.
On the field, "Rotch" is everything you could want in a teammate. As a key offensive handler for Nightlock, she is one of the steadiest players in the division. Habbert's play doesn't tend to leave people wowed, but by acting as a model of consistency she is essential to the O-line's success. Break throws that open up the offense and intelligent motion that creates tons of space for her team's handler flow to operate are the name of the game for Habbert. Her cerebral, industrious play creates a platform upon which her team's offense excels.
You should know about Rachel Habbert not just because of how well she plays, but because of how she lives the game and represents the best of what ultimate can offer. Her journey into, though, and to the top of the sport demonstrate why she is such a deserving recipient of this award.
***
After hoping to play softball her freshman year at Stanford, Habbert fortuitously shifted gears and decided to try out for Superfly, the juggernaut that was in the midst of a National title three-peat. Despite having never played before, she managed to win a spot on the team as a freshman, and began a journey that she described as one of the most fulfilling of her life.
In her time at Stanford, Rachel won two national titles, captained the team, and got to play alongside some of the premier players in the history of the Women's game. What she lacked in initial experience she made up for with intelligence and determination. Gwen Ambler, one of Superfly's most influential alumni, called Rachel a "true student of the game." Those attributes would stick with her, and helped eventually propel her to a leading role on one of the best women's club teams in the world.
A Cincinnati native, Habbert remained in the Bay Area after moving to Palo Alto for college, and quickly became a prominent member of the ultimate community there. Following her graduation from Stanford, Habbert played for a season on one of the area's several elite mixed teams, Mischief, before joining Nightlock for their inaugural season in 2012. Despite being only one year removed from college and not being one of the team's founding members, she was elected captain her first year with the team.
When you look closely at Rachel's resume, it becomes clear why she was given the honor and responsibility at such a young age. She had key experience as a captain at Superfly, and more than that, possessed an approach to the game that would be crucial in the leadership position of a developing team.
"We needed complete buy-in, everyone on the same page towards what we are working toward," said Habbert, as she commented on shaping that culture at Nightlock during the first few years. "We have been very intentional in the way we build our culture… we want people to be achieving individual goals every year, which I think it pretty rare in the club scene."
That Rotch would be so focused on the growth of each and every player on the team, and wanted to foster a culture in which growth was a point of emphasis, should be no surprise. From her first practice at Stanford, she has been consumed with improving not only her own play, but the play of those around her.
When asked about a favorite memory from her playing career, she outlined a moment from the club season in an otherwise meaningless game in which Nightlock was able to for the first time perfectly execute a play that they had been working on tirelessly. While the game itself was largely unimportant, and the specific point even more so, she experienced a moment of sublime bliss from the collective achievement her and her teammates had been able to work towards together.
"It is incredibly gratifying," said Habbert. "Those moments when we come together as a team."
***
Habbert will receive a $1000 prize from Lawler. The True Veteran Award was inspired by Brute Squad's Sara Jacobi and Scandal's Jenny Fey. Lawler wanted to give the award to someone he did not know well, and selected Habbert after watching the rise of Nightlock over the past three years.