What a week for Women's ultimate.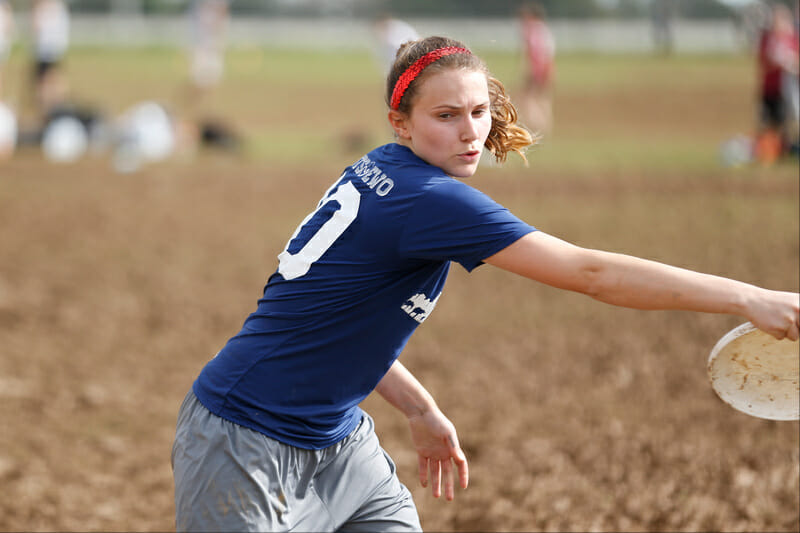 This has been a fantastic week for the world of women's ultimate and I have scrambled to keep up with all the news. What a great problem to have! Here is a quick rundown for those of you who may have missed something:
– Ultiworld published its first ever Power Rankings for high school girls. Sure there are problems with connectivity (report your scores, everyone) and sure few can comprehend how incredible the Seattle teams are, but all of these girls' teams played hard and deserved to be recognized. Brava to them all and bravo to Xavier Stewart for doing the research.
– Emily Baecher and Rachel Habbert won individual awards from Michael Lawler for their contributions to ultimate. These women deeply understand that being a committed athlete in this sport means more than just showing up at practices and games. I look forward to meeting the new recipients in 2016.
– Melissa Witmer of Ultimate Results is in the second year of hosting her popular online conference (Ultimate Results Coaching Academy) and early registration goes live this week. URCA is a great way to connect with coaches from around the world and more info can be found at ultyresults.com. Melissa also is one of the voices who consistently supports women's ultimate and we all are lucky to have her on our sideline.
– We just finished celebrating International Women's Ultimate Weekend and, again, I couldn't keep up with all the news. I saw photos of teams from around the world playing ultimate and hosting clinics. Check out their Facebook page. Our local women joined Brute Squad at a practice on Sunday and other teams hosted clinics throughout the weekend. I spoke briefly at our hat tournament captains' meeting on Saturday morning, specifically encouraging players to donate to…
– The All-Star Ultimate Tour! The brainchild of Qxhna Titcomb, this team of college players will travel this summer to cities across the US to play women's club teams. As of this writing, they have raised almost $2000 more than their original $35,000 target on Indiegogo. And they started raising funds last week! And I bet I am not the only one who has not contributed yet. Let's get these women to $50,000 or more. Let's fill the stands at every event, watch their livestream and marvel at how the community rallied in support of this enterprise. Thank you to Qxhna and her teammates for giving us this opportunity to step up.
– Thanks also to Jesse Shofner for her most recent post about the tour, called "Paving the Dirt Road." You should read the entire piece but here is my favorite part about Elsa, who Jess met recently at camp: "The one camper that was consistently asking for the biggest challenge, taking the toughest matchup and fighting to prove herself was a girl named Elsa. Elsa was an inspiration, and she is the player in every city that I am hoping to reach . . . I hope that the show we put on displays tenacity, strength, power, integrity, and unbridled confidence by relentlessly unapologetic women in sports." Damn. I love that.
– I also love that Heather Ann Brauer and Zara Cadoux will be speaking this Friday at the US Open Convention on "GUM: Building the Movement." They will be reporting on what they have accomplished this year and what more needs to be done. They are speaking at 7:30 and you should definitely attend and then stay around for the…
– Gender Equity Open Forum which starts at 8:30. This meeting is one of two that USAU has planned after their rejection of the GEO proposal. Members of USAU staff and the Board of Directors will be listening for suggestions on how to "enhance gender equity in the sport of Ultimate." And, no, I won't be there. And, yes, I wish I could apparate. I am excited to see footage from these two seminars and will show them to our campers all summer. I assume someone will be filming this for posterity's sake but I will also be happy to watch footage from anyone's phone. This is historic!
There has never been a week like this in women's ultimate. As I prepare to descend into the 4-week black hole of NUTC, I am uplifted by all that is happening on the surface. Our number of female campers has doubled since 2014 and we will hold a gender equity discussion each week for all campers. Sharing all of these current events will be exciting and inspiring, as they provide a blueprint for how to develop women's ultimate: build structures, promote visibility and make personal connections.
And humor. Don't forget humor. For those of you who need a good laugh, check out last week's Amy Poehler and Seth Meyer's takedown of a SI writer who tweeted that "women's sports in general not worth watching," I have watched it 5 times. Really.