Revolver is deeper than ever.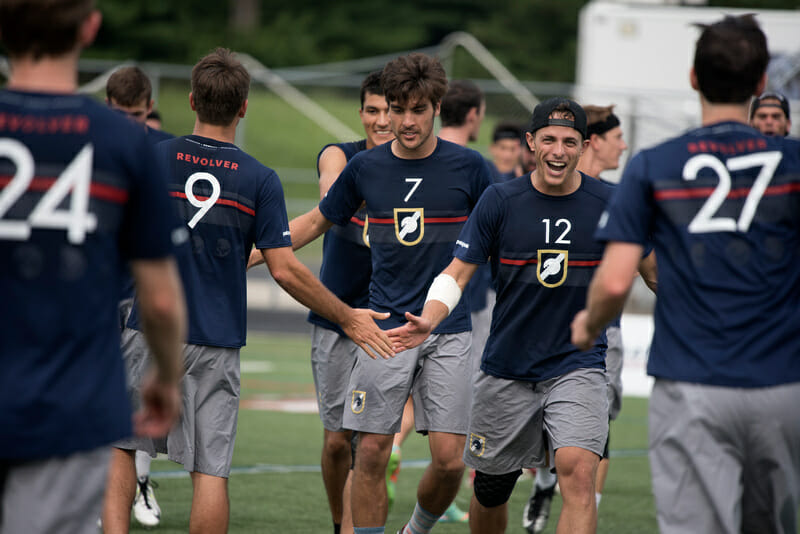 WEST CHESTER, OH — San Francisco Revolver used a dominant, turnover-free second half to fly past Toronto Goat 15-11 and win their third straight US Open title in the Men's Division.
GOAT, competing with just 16 players and missing a number of key players, ran out of gas down the stretch of the final. "I don't know how many players [Revolver] had — it looked like 38 or 40 people the way they just threw a new, fresh line out there each time," quipped GOAT coach Scott Hastie after the game.
Toronto was right there in the first half: they broke to begin the game after a Chris Kosednar huck to Beau Kittredge fell short of the target and Dave Hochhalter bombed a flick huck to Andrew Carroll. GOAT's sideline erupted — that energy carried them through an exciting first half.
The first 10 points of the game featured just two turnovers. GOAT's Isaiah Masek-Kelly couldn't keep his feet inbounds on a wild hammer up the sideline, and Revolver worked smoothly down the field before Lucas Dallmann hit Greg Cohen for the go-ahead break, making it 5-4.
It was Revolver's ruthless efficiency that truly made the difference in the contest. The defensive line went five for five on its break opportunities and the offense was only broken twice, both on unforced errors.
"Since I've been on Revolver and coached Revolver, our defensive O has been really bad, frankly," said Revolver coach Mike Payne. "We've really been working on fundamentals like pivots and mechanics and with the defense we've been working on breaking the mark.This was the first time ever the defense was 100% and the offense wasn't [100%] on Revolver."
In fact, GOAT's offense was the better of the two in the first half. The team's deep game was red hot, and many scores came within 10 throws or fewer. Jeff Lindquist, Masek-Kelly, Andrew Ouchterlony, and Thomson McKnight all had big throws for scores.
GOAT got its second and final break late in the first half when Christian Johnson dropped a pass on an in cut. Toronto took quick advantage of the short field as Hochhalter fired his second assist to Geoff Powell to make it 7-6, Toronto.
It looked like GOAT might take half up the break, but stifling Revolver defense on the half's final point forced a Toronto timeout. Adrian Yearwood fired an inside flick too high and turned it over. Dallmann got his second assist with a huck to Sam Kanner for the layout score and the 8-7 halftime lead.
The game stayed tight early in the second half, but some shifting defensive looks from Revolver started to stagnate the GOAT offense and eventually break it down. They tried a loose wall zone that forced a lot of passes and some high stalls, but GOAT beat it. The real key was a flat mark and cutter defenders backing their marks, effectively taking away the Toronto deep game.
A contested huck from GOAT's Sachin Raina got blocked by Russell Wynne. Pat Baylis put up a huck that was simultaneously caught by Revolver's Alex Evangelides and Wynne; the two playfully fought for the disc as the sideline erupted.
Revolver tacked on two more breaks to expand the lead to four. The final break to make it 14-10 was spurred by a stellar layout poach block by Jordan Jeffery on a swing pass after more excellent downfield defense from San Francisco.
Jeffery stood up and aired out a huck to an uncovered Greg Cohen streaking deep; GOAT was spent.
"With tired legs against tough defense, you're gonna make mistakes," said Hastie. "We got used to them leaving an open guy to reset to and they took that away and we got a little stagnant. Having a fantastic reset handler…" He trailed off. "I know a few of them that weren't here this weekend."
Indeed, GOAT could have really used the handling talents of Anatoly Vasilyev and Derek Alexander this weekend, especially in the final. Considering the personnel out this weekend, GOAT played admirably.
Payne thought so too. "They've got a very good top several," he said. "They need Vasilyev back and they probably need a few more guys to really be a challenger and they probably have them. They'll be great contenders this year."
Revolver clearly cemented their status as the #1 team in the country this weekend, however. They showed unparalleled offensive polish and bench depth; it was not a fluke that they pulled away late against many opponents.
"I think we are playing much more error-free ultimate than Revolver has ever played, maybe period, and definitely at this point in the season," said Payne.
Revolver also played most of the weekend without their top handler, Ashlin Joye, who had a wicked stomach illness. Robbie Cahill wasn't in attendance. They still feel that they have a lot of growing to do.
"Very clearly, we are not far ahead of other teams," said Payne. "Any team here could beat us on any given day."
If this is the beatable version of this Revolver team, though, it could be a special season for San Francisco.