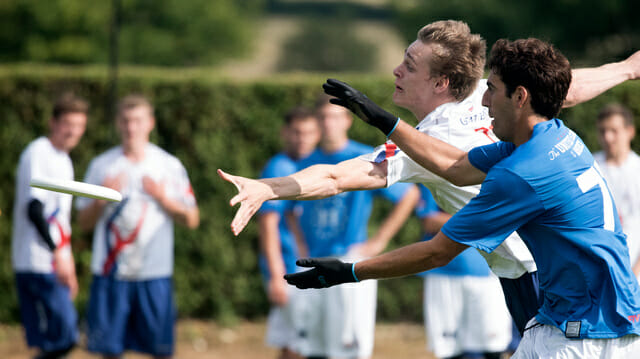 What a time to be a young frisbee player. Today, the Watford Football Club training ground played host to 23 nations and 41 teams. 
A cold and chilly day couldn't dampen the spirits of everyone in attendance. Professionally maintained fields teased the players; all but two teams will have to wait one more day for their first action. After customizable handcrafted pizzas for lunch, the teams gathered for the opening day parade. The only teams absent were the Men's U.S and Great Britain teams, who were warming up for the opening game.
As the players poured in, they were swarmed by an impressive volunteer structure. A few core members of UKU (United Kingdom Ultimate) head a team of 23 head volunteers. Those head volunteers each control a group of volunteers from all sorts of backgrounds. Part of why the system could be so effective is that every volunteer are specifically trained from things like parking procedure to score keeping. They know who to call for every situation. That way, when parking gets bad, for example, any member of the team can help pick up the slack. It was a promising start for such a large scale event.
***
Both teams quickly came to terms with the unpredictable wind on the showcase field. After a quick USA hold, the Americans squandered three straight chances to break. But sloppy offense from Great Britain gave the opposition plenty of chances. Chances that the U.S would only sometimes capitalize on.
"We dropped a lot of discs," said U.S Men's coach Bob Krier after the game. "A little bit of nerves maybe, a little bit of pressure. We weren't quite sure with each other."
All those issues added up to some wide open drops as the game went on (seven total by the end of the game). As the game progressed, the energy for Great Britain rose, but unfortunately so did their deficit. An English-heavy crowd went wild when the home squad got their first score six points in.
The U.S continued to show some anxiety, providing their opponents with plenty of chances of their own.
"In the windy conditions we had talked about taking the open unders and working hard," said Krier. "But we still took too many risky shots." In this stage of the competition, the risks worked. Athletes like Trent Dillon and Hunter Taylor couldn't be stopped on the jump ball, making it easier for the U.S to live with some questionable decision making.
Great Britain had some athletes of their own. #11 Will Rowledge was virtually unstoppable all game. Early in the second half, Rowledge got his third layout D of the game. A few points later, he caught a big sky outside the end zone, then completed a hammer to bring Great Britain back within one. Great Britain had the disc to tie it up, but turned it over and went on to lose 14-10 as a smoother and more consistent U.S offense closed out the second half. In a loss, Great Britain showed tenacious defense and clutch throws in the wind. Come bracket play, the home team could go far.
Krier admits that the process is still ongoing for the U.S men. "We have so much talent that it didn't easily divide itself between offense and defense," Krier noted. "We're trying to figure out who really is our O-line, and what groups work together well."
There were two main handler groupings that stood out: Dalton Smith and Chris Laroque, and Tyler Kunsa and Marcus Ranii-Dropcho. They contrasted in style, with LaRoque and Smith loving the long ball while the Pitt stars played more with the give-and-go. You can expect the pods to rotate even more throughout the week as the U.S tries to hit its stride by bracket play.
The crowd buzzed watching today's game in anticipation for their own chance at stardom. The announcer noted at the end of the day, "If every game is as exciting as this one, we're in for a great week." Tune in tomorrow for more coverage from London.
***
Some extra notes from a weary traveler:
To get here, I changed flights seven times, then took four trains, a bus, and a taxi.

When there's one train line at a stop, what are people doing not getting on? What could they possibly be waiting for?

Not having internet access forces you into a lost age of traveling by just winging it and asking strangers. I was indeed lost for a bit.

People were running cross country in the underground rail station. One woman had a numbered badge like you would have for a race. She got on at one stop, and off at the next. She probably won.

Ive spent my whole life in Georgia and Alabama. So trying to communicate with English people might as well place me in Scandanavia.