Molly Brown passed their first test with flying colors.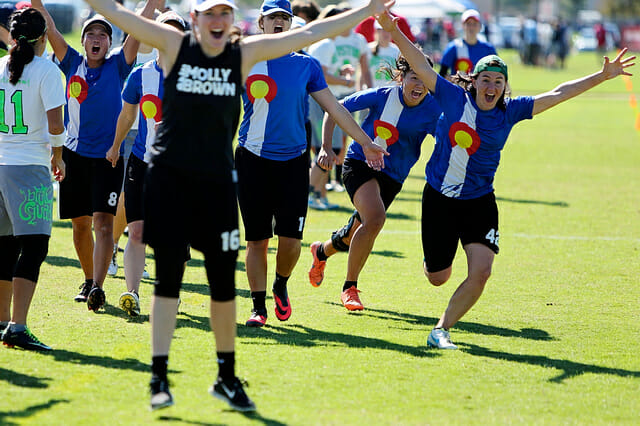 COLUMBUS — Denver Molly Brown got breaks on seven of the game's final nine points to fly past the Toronto Capitals and win the Elite-Select Challenge 13-5.
"We want to make our mantra extremely aggressive man defense," said Molly Brown captain Claire Chastain. "And I think we did that all day today on Sunday."
Molly Brown struck first with a hold and then a quick break, as Rebecca Miller found Sally Lambert in the end zone for the 2-0 lead. Miller was excellent all game, recording two assists, a goal, and a handful of blocks.
The Capitals kept it interesting for the beginning of the first half. They held three times in a row, all on assists from Darcy Drummond, the 2014 Canadian female athlete of the year.
Toronto added a break to make it 4-4, but that was the last time they would be within striking distance.
Denver shifted their defense to force cutters out and put on a flatter mark to challenge the Caps' offense to throw deep in the increasingly windy conditions. They struggled to do that and gave up five breaks in a row through halftime.
The Caps would score once more in the second half, but at that point it was already over. The Caps had no answer defensively, and a number of Molly Brown's breaks came on their first opportunity.
A Denver hold was followed by three more breaks. It was an easy 13-5 win for a Molly Brown team looking to break through into the elite tier of women's club ultimate.
The captains were pleased with their Sunday performance, especially after what they called a "lackadaisical" Saturday. The team's new pickups — especially the Scandal converts Octavia "Opi" Payne, Crystal Davis, and Ashley Morgan — were all extremely effective in the final.
"I think across the board we picked up a lot of really versatile players," said Chastain.
"Opi has a lot of knowledge about the game and gives a lot of awesome feedback that we utilized this weekend," added co-captain Maggie Chen.
Molly Brown, the #1 seed at the tournament, was obviously in a league of their own at the tournament. The Capitals had an excellent weekend, notching a good win over fellow Canadian team, Iris, in the semifinals. But they were no match for the deeper and more skilled Denver side.
The Molly Brown captains said they are looking forward to a chance to see more top teams at the upcoming Pro-Elite Challenge in Denver and then the Pro Flight Finale in Minneapolis.