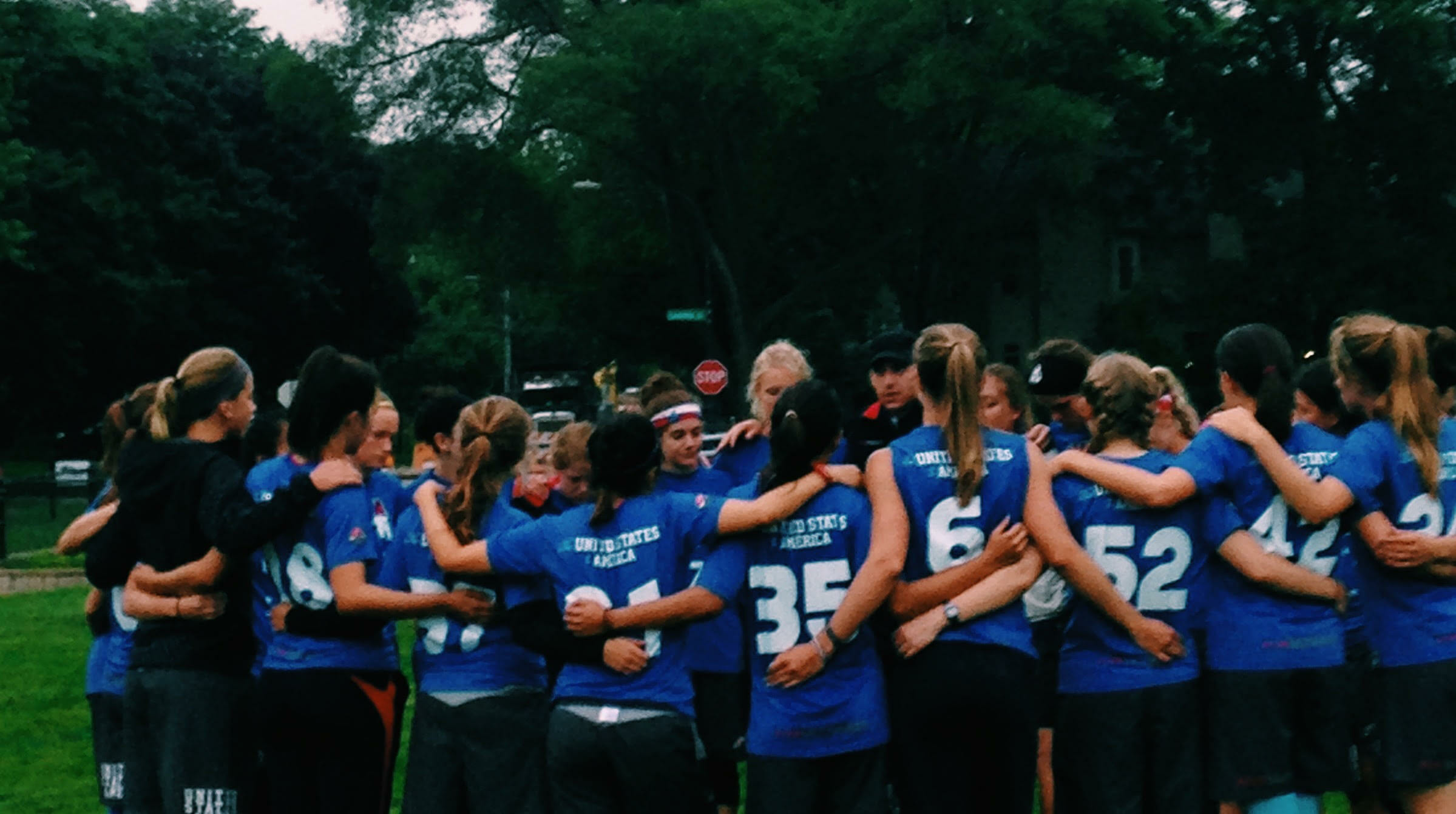 In 2013, Team USA competed in its first World Under 23 Ultimate Championships in Toronto, ON. Ten U23 women's teams from across the world were in attendance, and the United States won, beating Japan 16-14 to take home gold. It's easy to say the U.S. is the heavy favorite once more, but head coach Mike Whitaker refuses to see it that way.
"While the U.S. is the defending champion, this team is not," he said. "They need to form their own identity, and they will need to come into the tournament and establish themselves at a championship level."
The women who walk onto the fields in London today won't be strangers to that level. Between the 24 players they have nine titles: six national and three international. Here's the list:
College: 3 for Oregon's Bethany Kaylor, Alex Ode, and Jesse Shofner (2012, 2013, 2015); 1 for Ohio State's Stevie Miller and Caitlin Harvey (2014)
Club: Alika Johnston with Scandal (2013 & 2014)
WJUC: Jaclyn Verzuh and Claire Revere (2014)
WUCC: Shira Stern with Riot (2014)
U23 W: Julia Snyder, Lisa Couper, Shira Stern, and Michela Meister (2013)
Every woman on the roster, titleholder or no, has competed at an elite level. They know what it feels like to cleat up with a lot on the line. They've won the big games, and they've lost them.
Ultimate Instincts
The rosters for U.S. Worlds teams are frankly ridiculous to cover every year. Each U19 and U23 team surpasses the talent and skill of the last, pushing descriptions into hyperbole. Women on the 2015 roster are already making their marks on the sport, from young phenoms like Jaclyn Verzuh to collegiate stars like Bethany Kaylor and Alika Johnston.
"We just have a very high ultimate IQ on this team," said assistant coach Carolyn Matthews during training camp. "We're giving them the molecular details on some things — marking, cutting patterns — but overall they've come in very excellent players, so it makes our job easy."
Whitaker introduced a framework for players to work within, but they didn't spend their week of training camp whiteboarding plays. The coaches knew they were inheriting 24 experienced and intelligent players; why try to override their natural ultimate instincts when you can capitalize on them? Instead players worked out their on-field communication while the coaches worked on the nuances of their game.
Every player who has ever tried out for and earned a spot on a national team already has a high level of buy-in. They're representing their teams, their regions, and their country. That collective focus only strengthens as they practice and play with their Team USA teammates, building chemistry and trust.
National buy-in looks different at the U23 level because it captures players at a unique stage in their ultimate careers; most of the athletes are elite-level college competitors, which means they're joining a roster with many of the stars of teams they faced in May at the College Championships. Their brand of mutual respect is much fresher and more intimate than on other National teams.
As assistant coach Lauren Boyle put it, "They trust each other because they respect each other."
For the 2015 year, this trust and respect extends to the coaching staff: Mike Whitaker is also coaching Molly Brown this year, where Matthews captains and Boyle plays. They all know the system, they speak the same language on the field, and they trust each other.
A Faceless Army of Stars
You've seen a lot of these names before: on stats sheets, in writeups, and as Callahan finalists. They know how to be the every-other-throw players, the big-play defenders, the heroes. They have played the starring role on their teams, but on Team USA they're joining an ensemble. Whitaker doesn't build a deck of trump cards. Instead, he builds something far more agile and dangerous.
"We have a lot of hybrids, a lot of players who can handle or cut," he said, "and we expect them to be able and willing to do both. That makes us harder to defend, and that was important to us when we were assessing players."
Whitaker's strategy highlights the handlers' quickness and the cutters' throws. Look for cutters to take deep looks after their first cuts, opening up the field's possibilities. Beyond handling and cutting, Team USA also only features players who are both great offensive and defensive players. Players weren't chosen for the roles they were going to play on Team USA — there won't be strict O and D lines — they were chosen because they could play every role.
That doesn't mean you won't see Meeri Chang's low inside breaks from the backfield or Bethany Kaylor's big layouts on defense. Expect the same incredible plays that earned all of these women their spots.
The handlers are quick and lethal, and their downfield is taller than ever between Michela Meister, Jaclyn Verzuh, Chloe Rowse, and Maggie Kennedy. But inside Whitaker's framework, we'll get more than what the back of their playing cards would say. We have the chance to watch stars play on a team where they don't have to be the lone heroes.
The Butterfly Effect
Team USA is a safe pick to win most of their games. They already defeated New Zealand 17-1 to open the tournament; later today they will face their 2013 rivals, Japan. These games will define their tournament. Despite the deep level of experience on the team, most of these women will feel the familiar flutter in their stomachs when they place their cleats on the line and raise their hands. The little twinge that says, what I'm doing right now is big. It means something. 
"I'm excited to see how they embrace the butterflies," mused Whitaker as we sat in the stands at training camp. "If you don't have butterflies, I'd be concerned because it probaly means you don't care. Butterflies mean you care. And now it's just a matter of controlling your butterflies."
The women on Team USA know what they stand for when they raise their hands on the line, and they're ready to form their own identity as a national level team. They're playing at a point in our sport's history when exposure and representation matter more than ever. They're bought in, they care, and they're ready for a gold medal.