The best seven male players from U23 Worlds!
The best and brightest young talents in ultimate converged on London last week for the Under-23 World Championships. Competition was fierce as countries battled it out for a spot on the podium.
Here, we recognize some of the most impressive players at the tournament. We picked seven men that powered their teams throughout the week.
The players were judged on the following criteria: skill, leadership, and value to the team. While statistical performance is valuable, it takes more to be a successful player. All of the following players time and time again came through in the biggest spots. They willed their teams to their peak performance and earned a spot on our top seven.
MEN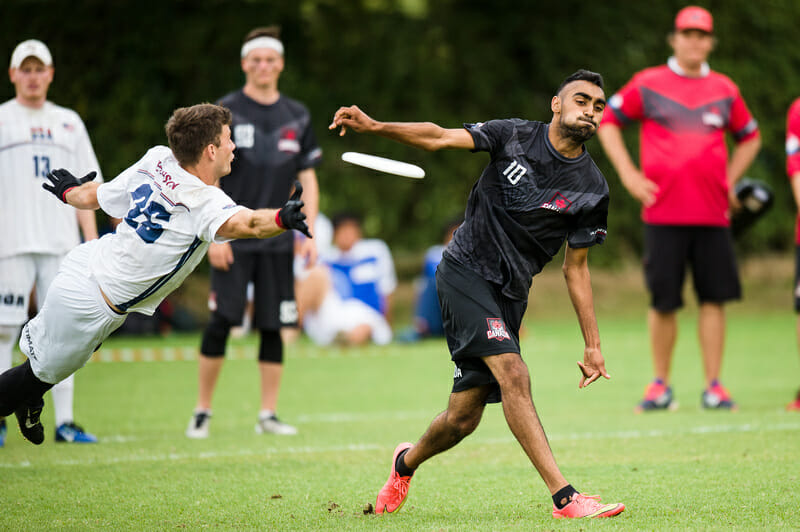 Gagan Chatha (Canada Men's)
In the Open final, Chatha was the best player on the field for Canada. Getting up over both Hunter Taylor and Stanley Peterson isn't easy, but Chatha was able to step up his game enough to do that and help Canada earn a silver medal in a talented Open Division. Chatha was a jack of all trades for his team. He was well versed in downfield cutting and handling, and usually found himself in isolation. His balance of upfield and backfield prowess is proven with his huge statline: 19 goals and 22 assists.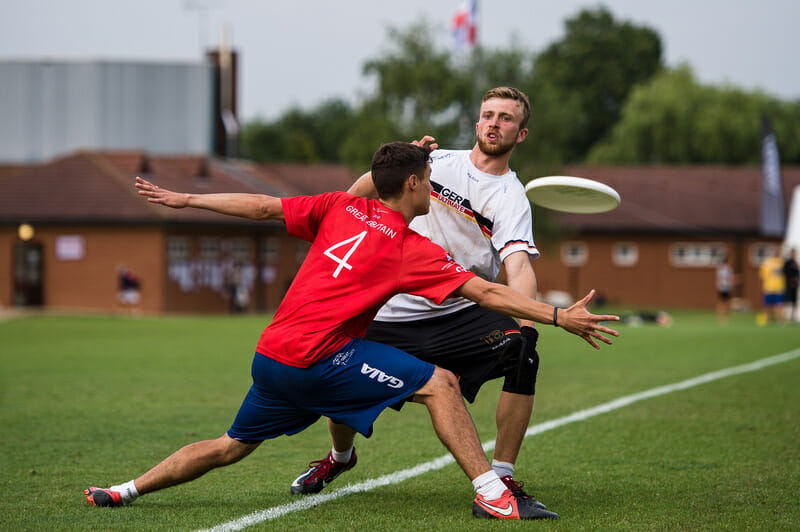 Mo Brucklacher (Germany Men's)
"There's no better guy to do it." – Germany head coach Tim Bucholz on Mo Brucklacher.
Coach Bucholz was right; there was no better man to lead the fiery and intense German squad. Brucklacher was making plays all week, as he led the German squad to a quarterfinals finish. He typically took the toughest matchup on defense, and always drew the best defenders from the opposition. While Nico Muller was the German offensive standout, Brucklacher did his part by playing both ways and getting blocks the team needed in critical spots.
In a disappointing quarters loss, he had three assists and one very impressive sky for his lone goal. On a balanced roster, Brucklacher finished near the top on the stats heets with 22 assists and six goals. An aggressive defense needed this level-headed leader that could turn on the fire at any moment. 
Note: Look out for Mo Brucklacher on the German Senior National team.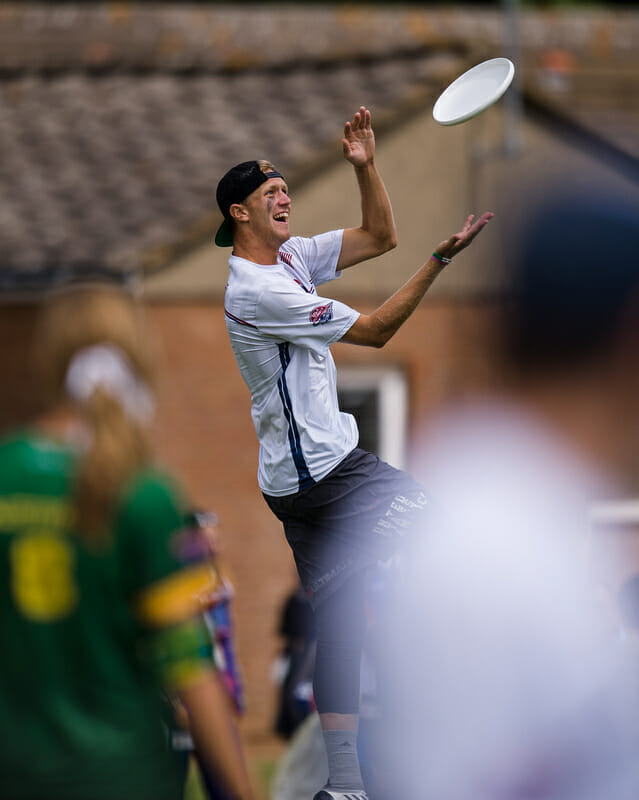 Simon Higgins (USA Mixed)
Higgins was huge for the gold medalist United States. On a team that spread out the playing time and the statistics, Higgins still managed to stand out. Similar to Chatha, Higgins often found himself in isolation. His ability to turn and throw deep off an under was a huge part of the potent offense from the USA. His 10 assists and 15 goals put him at the most combined for the squad. His scoring prowess could not be stopped late; he threw and caught two each in the gold medal game.

Will Norton (Australia Mixed)
Will Norton was clearly the best thrower on the Aussie squad. His spot on this list solidified when Norton hit Timocles Copland with a beautiful huck for the big upset over Canada in the semifinal. In a stiff wind, Copland made a cut from the handler set, drawing an extra defender. Norton took a deep breath and put the game winner on a dime through double coverage. In an arsenal of athletes, Norton was the consistent big gun that the Aussie offense needed to be successful. Their huck-happy offense led Norton to 29 assists on the weekend and a silver medal in the mixed division.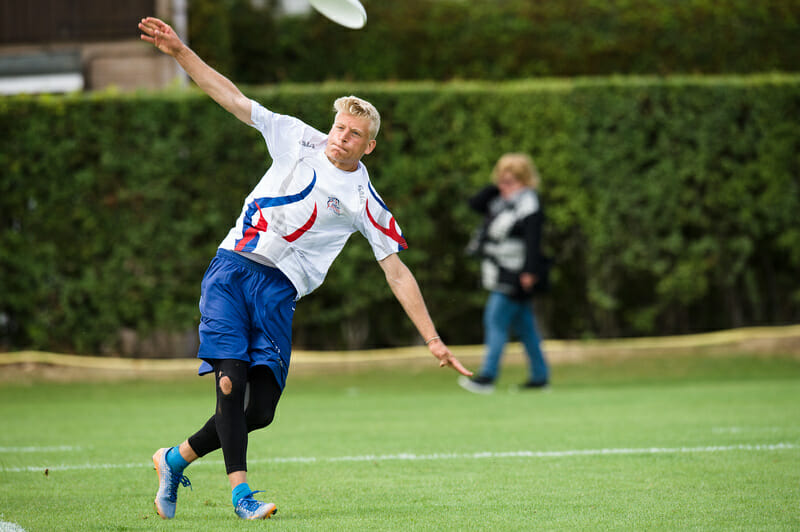 Joe Wynder (Great Britain Mixed)
Wynder was the statistical beast of the Mixed Division. In nine games, he threw 48 assists (the next closest player had 29 in ten games). In the Great Britain match against the United States, Wynder threw eight of the team's nine scores.  His performance in that game left the eventual gold medalists with only a one point halftime lead, but a startled USA squad locked in on the second half. Still, it was quite a performance.
Wynder was the offense for Great Britain. In front of the home crowd, he outperformed all expectations. He pulled, played tough defense, and found the end zone with his creativity and big time hucks. His ability to keep his team in games led Great Britan to a fifth place finish.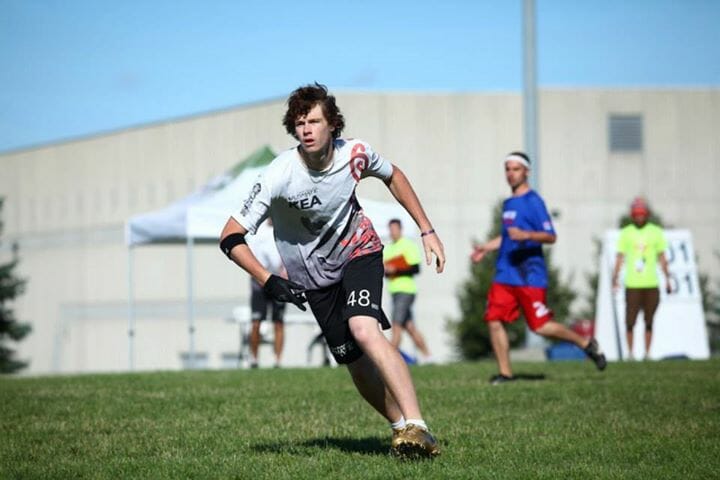 Matt Richardson (New Zealand Open)
New Zealand got a tough draw, having to face the United States in the quarterfinals. Richardson had six more assists or goals than his closest statistical opponent. He dominated the field with 23 assists and 28 goals, putting him on one end of 45% of his teams scores. Simply put, Richardson scored the rock. The deep game of New Zealand was a huge part of their success, with their squad utilizing a height disparity in most matchups. Richardson was a huge part of that, and most teams' best defenders couldn't slow him down.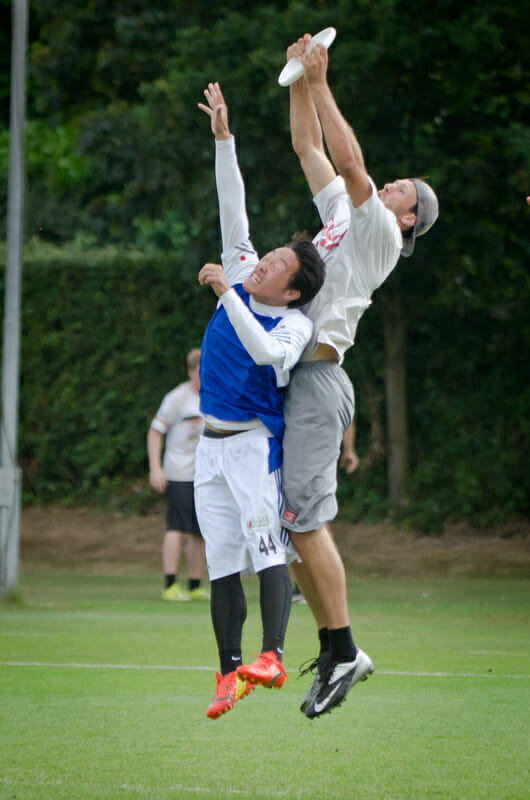 Michael Gaisl (Austria Open)
Gaisl was the emotional and physical leader for a team that finished one point away from the semifinals. His downfield movement and creative disc skills were a major component of the Austrians Pool C winning performance. In the team's game against Ireland, a tough wind took the Austrians a bit away from their gameplan. But Gaisl's outstanding leadership brought a team of multiple philosophies together under one system, and got them the win to clinch the pool. A massive comeback in the quarterfinals against Japan was only possible because of his three goals and three assists in that appearance. Gaisl finished third on the statistical leaderboard with 27 assists and 15 goals. 
Additional reporting from Eryn Ivey.