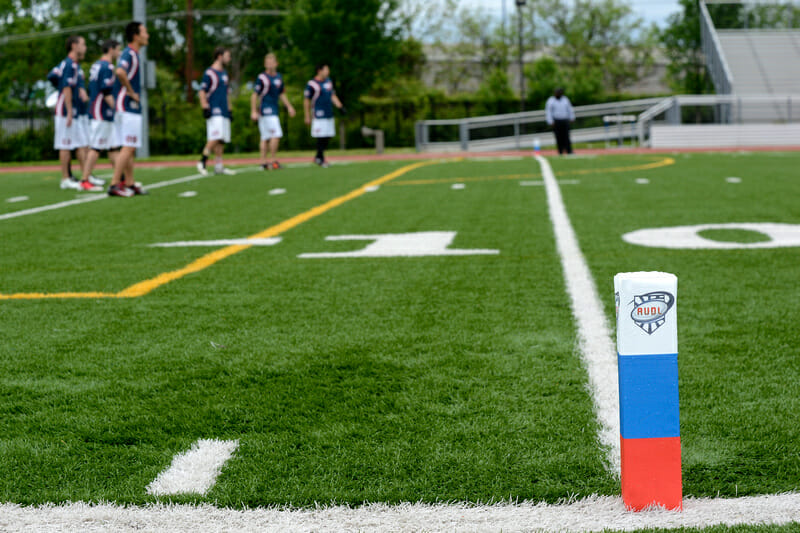 Last weekend, one of the most hotly contested games of the 2015 AUDL playoffs went down to the wire. Having led almost the entirety of the game, Jacksonville was poised to upset their hosts and send South Division #1 seed Raleigh home early.
But Raleigh clawed back to force overtime after tying it at the end of regulation. The Cannons won the toss and elected to receive to start the first overtime. With less than 10 seconds on the clock, the Flyers were able to generate a turn and punch in a score to tie yet again.
With that, one of the least-seen rules of the AUDL (last necessitated in Week 1 of the inaugural 2013 season) came into play: sudden death.
Per the 2015 AUDL Rulebook:

While there are understandably various differences between AUDL, USA Ultimate, and WFDF rules governing play, this particular rule (4.4.3) is patently unfair.
It is a fact that the offense has a significant advantage in ultimate, one that is exacerbated even more by the greater size of the AUDL field. Perfect offense beats perfect defense; like in tennis, service matters.
The team that receives in the second period of overtime, then, is being handed the game to lose. Obviously various immeasurable factors and elements of gamesmanship/strategy come into play (which seven players are on that line, nerves, conditions, etc.), but at the very core of this rule is a compounding of an already skewed advantage.
Further, it makes little sense as to why the second period of overtime should differ from the first. There will always be a competitive edge given to the team that starts the first period of any game on offense, but that edge comes into much sharper focus in shorter games. A game to 15 or 17 will inevitably have turnovers that give both teams opportunities to take the lead. A game to 1? Not so much.
While there is no perfect solution, the status quo is not the best option, and the AUDL ought to seriously reconsider its rules governing overtime in 2016. If there's to be one 5 minute period of overtime where a team winning a coin (or disc) flip gets to choose whether to receive or pull, then the natural result of a tie at the end of that period should be another 5 minute period beginning with the other team receiving to start in the manner of soccer.
You could also consider having a "break to win" sudden death, where the first team to break the other's offense wins. That's something akin to what happens in the fifth set of a championship tennis match, where you must win by two games with no pure tiebreaker.
The general reaction on social media during and immediately after the game seemed to indicate as much, with Jacksonville being more than aware of the implications the rule likely held for their hopes at Championship Weekend.
Thoughts? Sound off in the comments.